Disclosure: The Money Maniac is an Amazon Associate that earns from qualifying purchases at no cost to you. However, all opinions are our own. We stand by every recommendation we make, and provide only objective and independent reviews.
The term "vinyl cutter" is somewhat of a misnomer. In truth, the best vinyl cutters can do much more than just cut vinyl. Many vinyl cutting machines can print designs, draw and write on cards, and cut, perforate, deboss and even engrave hundreds of materials. Even vinyl cutters that strictly cut vinyl can be used for things beyond the scope of arts and crafts such as creating banners and t-shirts.
A great vinyl cutting machine can be a huge boon for small businesses. Why pay third parties exorbitant amounts of money to bring your ideas and designs to life when you can do so from your home or office? Most vinyl cutters also come with design software that you can install on your computer, laptop, or smartphone. This means you don't need special training or technical skills to operate them.
Unfortunately, there are hundreds of vinyl cutters out there for a variety of purposes and price points, which makes finding the best vinyl cutter for small business needs a challenge. To simplify the decision process, we compiled all of the top vinyl cutters on the market and reviewed them in this guide. Read on to find the best vinyl cutting machine for you and your business.
What Is the Best Vinyl Cutter for Small Business Needs?
The best vinyl cutter for small business owners is the Cricut Maker 3.
Everyone involved in arts and crafts, either professionally or recreationally, is aware of the Cricut brand. The Cricut Maker 3 is their latest and greatest vinyl cutter.
The Cricut Maker 3 is a professional vinyl cutter with incredible versatility. It can cut, score, perforate, emboss, engrave, and deboss over 300 different materials. The latest vinyl cutter in the Maker series has twice the cutting speed of its predecessor and 10 times the cutting force of the Explore series machines.
The Cricut Maker 3 is also the best vinyl cutting machine on our list because it is future-proof. That means that all new tools and accessories that Cricut develops can be fitted onto the Cricut Maker, so you won't have to replace or update your vinyl cutting machine.
5 Best Vinyl Cutters: Buyer's Guide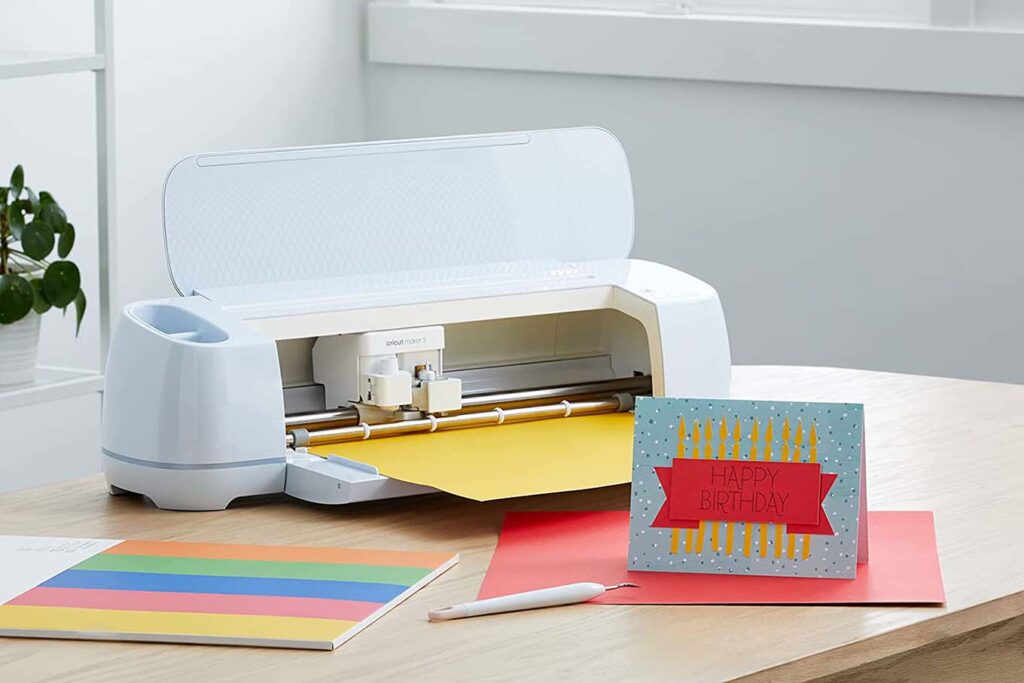 Best Overall Vinyl Cutter Machine
The Cricut Maker 3 is hands-down the best vinyl cutter for small business owners. This affordable home vinyl cutter is capable of handling fabric, cardstock, paper, vinyl, soda can metal, corduroy, iron-ons, and 300+ other materials. With its rotary blade, knife blade, and adaptive tool system, the Cricut Maker can even cut through thick materials such as wood and leather with ease.
If you need to score, write, deboss or engrave, the Cricut Maker is the most versatile vinyl cutter available. It comes with Cricut Design Space, which can be used on your computer or phone to create custom designs in just a few clicks.
If you feel limited by the simple cloud-based app, consider importing your completed artwork to the software. Adobe PhotoShop, InkScape, and other software are all compatible with Cricut Design Space.
Cricut Maker 3 also sports an adaptive tool system that lets you switch out blades without changing the housing. Plus, the professional vinyl cutting machine includes a basic perforation blade, knife blade, wavy blade, fine debossing tip, and engraving tip.
Features
Capable of cutting more than 300 materials, without a cutting mat
Maximum cutting width of 13 inches
Maximum cutting length of 12 feet
Ten times greater cutting force than other machines in the Cricut Explore series
Built-in slot for holding and charging smartphones and tablets
Future-proofed hardware: New blades and tips can always be added to the Cricut Maker
Cricut Design Space software allows you to save, edit and design from your smartphone or tablet
Limitations
Steeper learning curve than other vinyl cutters
More expensive than a basic, budget vinyl cutter
The Cricut Design Space software may not be sufficient for design professionals
Buy on Amazon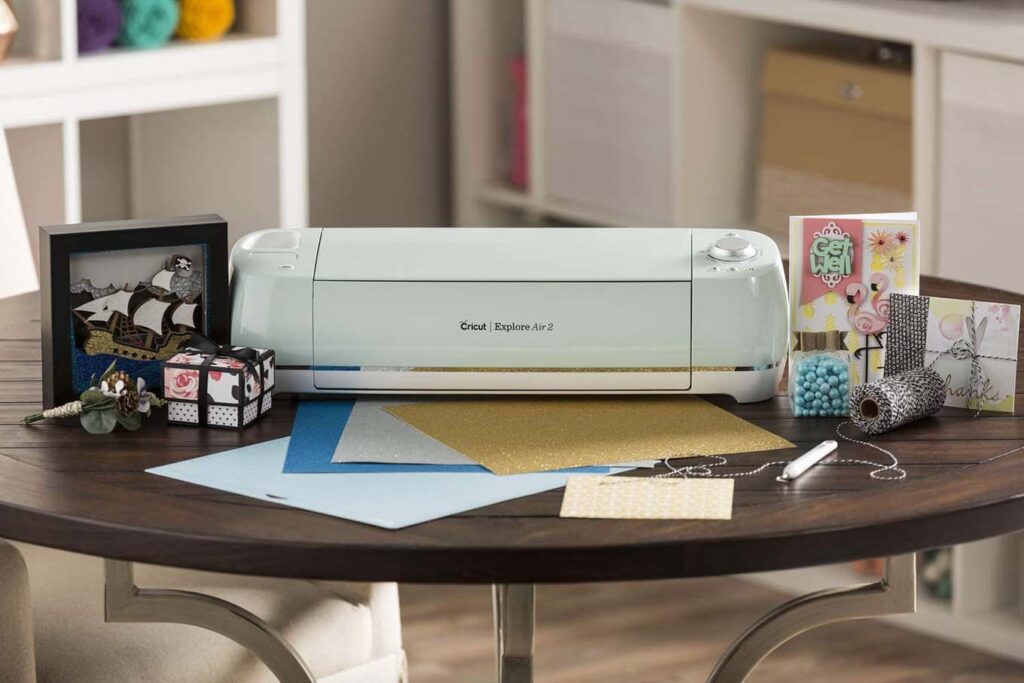 Best Budget Vinyl Cutter
The Cricut Maker is impressive, but maybe you don't need all of the extra cutting force and special add-ons. If your vinyl cutting business mostly uses vinyl, paper, cardstock, cork, and other thin materials the Explore Air 2 will do the job just fine – and at a fraction of the price.
The Cricut Explore Air 2 can cut, score and write on over 100 different materials, and it comes with a convenient knob called the Smart Set Dial, which allows you to quickly adjust the blade for different materials.
Like the Cricut Maker, the Cricut Explore Air 2 also comes with a built-in Bluetooth module so you can cut wirelessly. The machine includes Cricut Design Space, a cloud-based vinyl cutting software. But you can also connect to your computer with the provided USB cable and use other design software like Adobe Illustrator or Inkscape.
The Cricut Explore Air 2 is the best vinyl cutter machine for small businesses
that create t-shirts, vinyl decals, labels, cards, vinyl stickers, foil designs, and home decor. If you are serious about your craft but don't work with thick materials, this may be the right vinyl cutting machine for you.
Features
Affordable price point
Easy to use for cutting, writing, and foiling
Capable of cutting more than 100 materials
Maximum cutting width of 12 inches
Maximum cutting length of 2 feet
Compatible with the deep-point blade, bonded-fabric blade, foil-transfer tool, and scoring stylus
Cartridge slot allows you to upload previous Cricut designs
Limitations
Doesn't deboss or engrave
Not compatible with Cricut's rotary blade or knife blade
Can't cut thicker materials
Requires a cutting mat
Buy on Amazon

Best Commercial Vinyl Cutter
Counterintuitively, "small businesses" come in many shapes and sizes. A small business may be a one-person Etsy shop or a few hundred people at a local restaurant chain.
If your business is closer to the latter, you may need a commercial vinyl cutting machine capable of wrapping cars, creating eye-catching signage, or mass-producing labels and decals. For that, the Roland CAMM-1 GR2 series is likely the best vinyl cutter for your needs.
The GR2-540 and GR2-640 are the two vinyl cutting machines currently in Roland's GR2 lineup. With extremely precise, high-volume cutting at a maximum speed of more than 60 inches per second, the GR2s are the perfect commercial vinyl cutters for large signage, semi-truck prints, window tints, car wraps, or wall decals.
Features
Large format, professional vinyl cutter
GR2-640 has a cutting area of 64 inches by 50 meters
GR2-540 has a cutting area of 54 inches by 50 meters
Performs section cutting, auto-rotation, and segmental positioning for precise, high-volume jobs
Impressive cutting force expands media capabilities to include thicker materials and some metals
Capable of cutting vinyl, high-luminosity reflective sheets, sandblast masks, and other specialty materials
Versatile software with a variety of cutting functions like weed lines, job histories, and crop mark detection
Catch-basket attachment holds finished material
Limitations
The most expensive option on our list
A significant learning curve is required to operate the vinyl cutting machine
Best reserved for businesses that need to produce large products or mass quantities
Price
The GR2-540 is $4,995
The GR2-640 is $5,995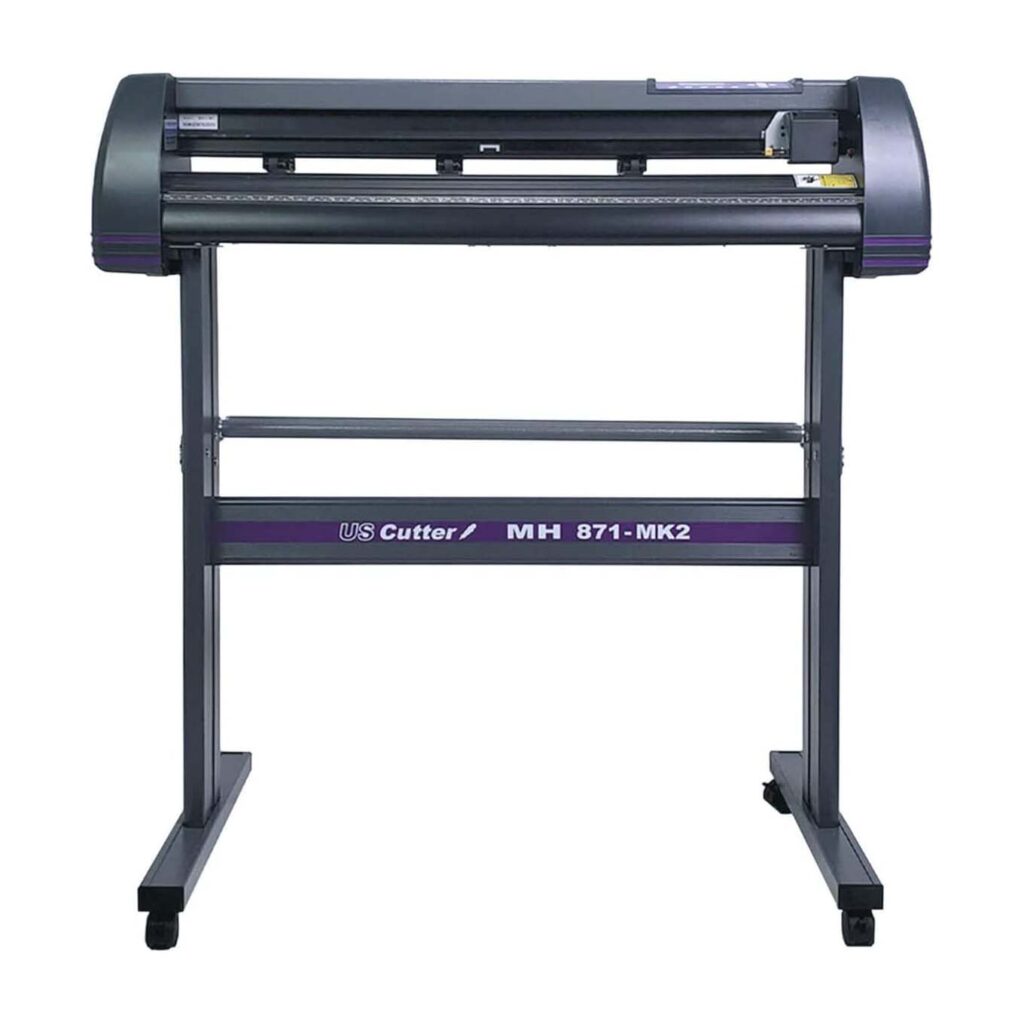 Most Affordable Vinyl Cutter for Large Jobs
Think of USCutter's MH series as an affordable commercial vinyl cutter. This machine is made for those looking for a mix of the industrial power of the Roland CAMM-1 GR2 and the professional hobbyist appeal of the Cricut Maker.
The USCutter MH series features six vinyl cutters between 14 and 53 inches long. The 14-inch desktop vinyl cutter is perfect for cutting vinyl decals, window displays, and stickers. The 53-inch standalone vinyl cutter, on the other hand, is built for wrapping cars, custom signage, and wall art.
The USCutter MH vinyl cutting machines all have similar features. The 34-inch midsize version, for example, has a maximum cutting force of 350 grams and a downforce pressure adjustment. This allows the MH series to cut fabric with precision and to cut stronger materials like sandblast masks.
Features
Flexible workspace, with vinyl cutting machines from 14 to 53 inches
Unbeatable price for small businesses with commercial printing needs
Features a built-in roll feeder
Simple to learn and operate
Impressive cutting speed of 39 inches per second
Includes three starter blades
Limitations
Design software is only compatible with PCs
Lacks the advanced features of some more expensive vinyl cutters
Can cut fewer materials than the Cricut Maker
Buy on Amazon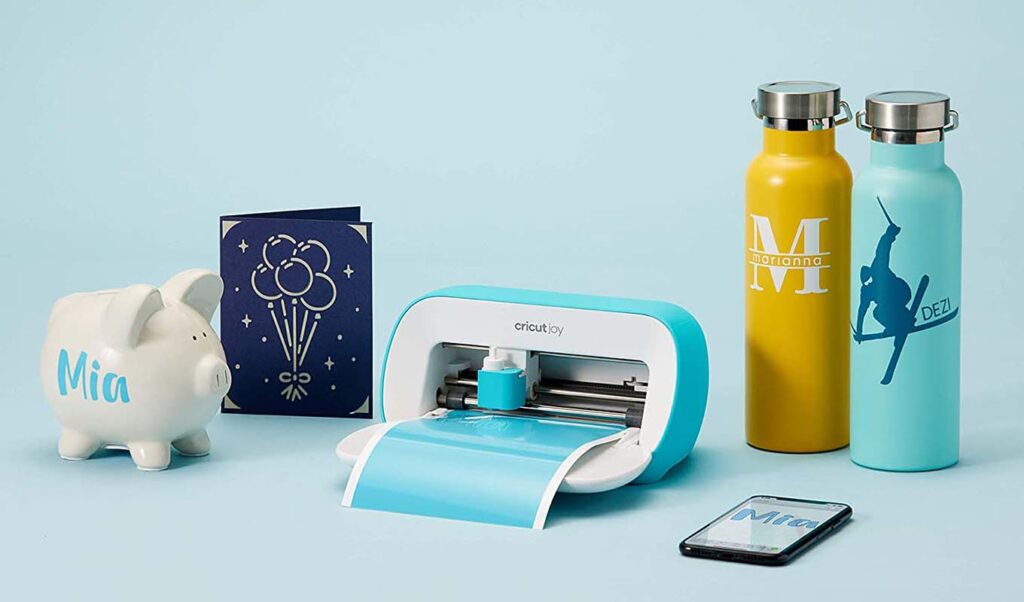 Best Vinyl Cutter for Hobbyists
In contrast to the last two vinyl cutting machines, the Cricut Joy is best for small businesses that are just getting started. At the most approachable price point yet, the Cricut Joy is a great machine for those who are new to the world of vinyl cutting.
While the Cricut Maker is the best professional vinyl cutter on our list, this Cricut vinyl cutter is perfect for Etsy stores with personalized stickers, wedding cards, or home decor.
The Cricut Joy is a tiny, but formidable little vinyl cutting machine that can cut over 50 different materials. It is also capable of writing and drawing. Weighing in at less than five pounds, the Cricut Joy is designed for portability and convenience.
If your business needs are relatively straightforward, this is the best vinyl cutting machine available for less than $100. Use it to print labels, decals, iron-on designs, and more.
Features
Capable of cutting more than 50 materials
Very simple to learn and operate
Cutting and writing can be done from a computer, laptop, or mobile device
Can cut and write continuously for projects up to 20 feet long
The portable pint-sized design saves space
Includes a cutting mat
Limitations
Maximum cutting width of only 5.5″
Only capable of vinyl cutting and writing
More serious hobbyists might consider more versatile vinyl cutting machines like the Cricut Explore Air 2 or Cricut Maker
Limited cutting force is unable to handle thicker materials
Buy on Amazon
How to Choose a Vinyl Cutting Machine
To find the best vinyl cutting machine for your small business needs, consider the following questions:
What materials does your business work with? Do you plan to scale your business to include a wider range of materials?
Are you more of a hobbyist interested in the business side of arts and crafts, or are you a professional with a large product lineup?
What, specifically, are your business's needs? Does your business produce large signage or require mass-cutting and printing capabilities? Or do you simply need to cut and print basic materials?
What is your budget?
Are you an experienced designer or are you new to vinyl cutters?
Once you have the answers to these questions written down, revisit the above buyer's guide on the best vinyl cutter for small business needs. You should be able to quickly eliminate a few options and move forward with your ideal vinyl cutter.
Final Thoughts
A vinyl cutter is an excellent tool for small businesses that need to produce high-quality, custom products. With so many great options on the market, there is sure to be a vinyl cutter that meets your specific business needs.
For complementary business tools, check out our reviews of the best laser engravers and heat presses for small business owners. These affordable machines can take your business to the next level by adding new capabilities and increasing efficiency. They open up a world of possibilities to make money quickly, if you just use a little creativity!
Vinyl Cutter FAQs
What vinyl cutter is the easiest to use?
The easiest vinyl cutting machine to use is the Cricut Joy. With only two primary functions, anyone can use the affordable vinyl cutter to go from idea to completed project in less than 15 minutes.
Can you make money with a vinyl cutter?
Yes, vinyl cutters are an excellent way to make money. If you have a crafty mind, you can produce a wide range of products with vinyl cutters, from home decor and apparel to car wraps and wedding cards.
What vinyl machine should I get?
The best professional vinyl cutter is the Cricut Maker 3. With its powerful cutting capabilities, large workspace, and wide range of compatible materials, the Cricut Maker 3 is the perfect vinyl cutting machine for small business owners and aspiring entrepreneurs.
How much does a vinyl cutter cost?
Vinyl cutters vary in price based on their capabilities and features. Entry-level vinyl cutters can be found for as little as $100, while high-end machines can cost upwards of $5,000. That being said, the right vinyl cutter for your needs depends on cutting force, cutting speed, and material compatibility.
How do I choose a vinyl cutter?
To choose a vinyl cutter, determine your budget, what materials you want to work with, and how large of a cutting area you need. Also, consider vinyl cutter reviews on Amazon to select a durable and well-respected machine.