Maintaining a budget can be a challenge. Fortunately, there's an entire market of budget planners designed specifically to assist you in staying on track. But might like budgets, budget planners are not one size fits all. To help you determine which one is best for your personal financial goals, we set out to determine the best budget planner on the market.
Our rankings are based on what each budget planner includes, and how it helps you monitor and manage your monthly spending. We look at what makes a good budget planner, and how features like expense trackers and debt trackers can help you reach your savings goals. Plus, we even recommend a few online budget tools that can help you create a dynamic money management strategy.
As you prepare to take control of your finances, consider these rankings of the 7 best budget planners available today.
Disclosure: The Money Maniac is an Amazon Associate that earns from qualifying purchases at no cost to you. However, all opinions are our own. We stand by every recommendation we make, and provide only objective and independent reviews.
What is a budget planner?
A budget planner is a tool, often in book form, that helps you store financial information, track income and expenses, and manage your money. These tracking pages serve the same role as a financial planner in helping you determine your net worth and your monthly expenses, and where you can make changes.
A budget planner forces you to look closely at your credit cards and every monthly bill. By reviewing your monthly receipts and bills in detail, you're likely to find many unnecessary expenses.
Once you've looked closely at your financial picture, you can then zoom out. The best budget planners include monthly calendars and a bill organizer so you can easily monitor your progress. This overview helps you track and visualize your financial goals, enabling you to make better financial decisions for the future.
Today, budget worksheets, planners, and tools are available both in hardcopy (paper/notebook-style) and online (apps, websites, and software like Microsoft Excel). As the world becomes increasingly digital, many people wonder if there's still a place for the physical budget planner book. While it's nice to have the option to use an online bill tracker, nothing makes your financial goals real like detaching from the internet and planning with pen and paper.
To avoid playing favorites, we have chosen to cover the best budget planner books and the best budgeting apps. But for anyone who has struggled with monthly budgeting in the past, we strongly recommend a physical budget notebook. Maybe it's just easier to ignore a website than the budget book on your desk? Whatever the reason, budget planners are a proven way to keep your monthly spending under control.
Related reading: 8 Sinking Fund Categories That Will Prevent Financial Distress
Should I use a budget planner?
If you want to track your budget, stay motivated, and achieve your financial goals, you should be using a budget planner. If your budget planner includes a bill tracker, it can help you avoid late fees by monitoring due dates. Debt tracking pages allow you to visualize progress throughout the year. The monthly calendar gives you a picture of your income, expenses, and any remaining budget for the month.
All of the features that budget planners include are designed to help you save money, build an emergency fund, pay off debts, and even plan for that long-overdue vacation.
In fact, once you have made the necessary adjustments, your budget planner will even highlight when you do have extra cash flow each month. When you're not bill-tracking or using best budgeting practices, it may feel like you're always running short or barely have enough money to get by. But by picking up a good budget planner, deciding how much you should save each month, and creating financial goals, you may shock yourself with the progress.
Nobody wants to hear another budgeting article shame them for their $5 lattes—we get it. To that we say, keep your lattes. Consider them your reward for using a budget planner and keeping an eye on your cash flow. That's the beauty of using a budget book: when you see where your money is going, you can decide how to change that (or if you need to at all).
What is the best budget planner?
With so many different types of budget planner books, apps, and templates out there today, you may be asking yourself what the best budget planner available is. The short answer: there's not just one "best" budget planner book for everyone. While that may be unsatisfying, it's true.
However, to help you determine which budget planner book is best for your unique financial situation, we reviewed every budget planner we could get our hands-on. Below is our list of the best budget planner books available in hardcopy. And if it turns out a budget planner book doesn't do it for you, we also ranked the best online budgeting apps.
Best Budget Planner Books For 2023: Our Rankings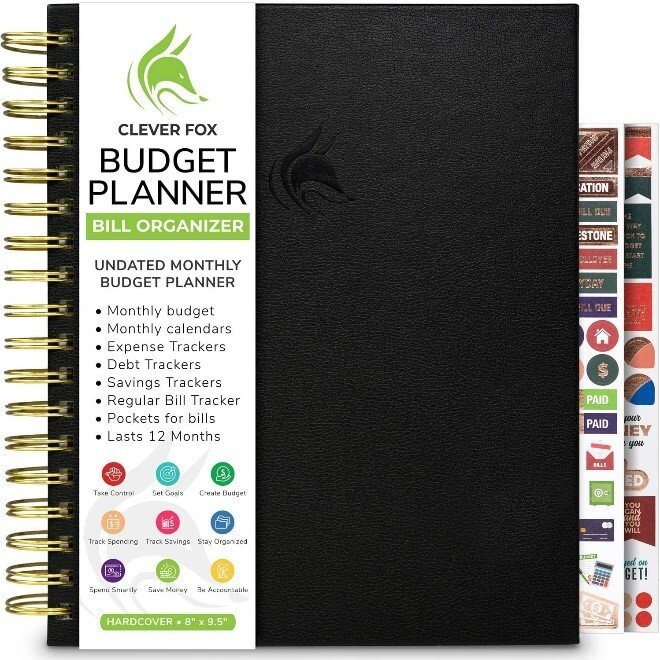 Key Features
The Clever Fox Budget Planner is great for beginners because it helps with financial planning, mind mapping, and strategy. It even has a simple user manual that helps you get started using the budget planner and bill organizer. The Clever Fox Budget Planner includes savings, debt, and expense trackers. Plus you can aggregate your income, expenses, and more on the monthly budget summary page. The Clever Fox Budget Planner is designed to show a full month on a single two-page spread, keeping monthly budgeting simple enough for anyone to manage.
Many Amazon reviewers mention the eco-friendly perks of the Clever Fox budget book. The cover is made from premium vegan leather and Clever Fox vows to plant one tree for every order. Customers also love that the planner includes stickers, color-coordinated labels, and double-wire binding for durability. On more than 7,000 reviews, the Clever Fox Budget Planner currently holds over a 4.6-star rating.
Included Pages
User manual
Two pages of stickers (226 total)
Expense tracker
Debt tracker
12 monthly calendars
Christmas and holiday budgeting pages
Pros
Includes pockets for bills
Premium construction and quality
Includes multiple trackers and budgeting resources
Can be paired with another Clever Fox budget book or journal
Money-back guarantee
Cons
The premium design might be more than a new budgeter needs
The 8″ x 9.5″ size is larger than comparable budget planners
Weekly budgeting is not included
Buy On Amazon
Key Features
The Legend Budget Planner comes in a variety of colors and measures 5.5″ x 8.3″. The cover sports an embossed design made of faux leather, and the planner comes with a pen loop, embossed cover design, elastic book closure, and ribbon bookmark.
The budget planner's undated pages allow you to start planning whenever you are ready. With debt tracking, savings tracking, and a monthly budget review, this planner helps you set and accomplish 1-year financial goals.
The unique brainstorming space sets this planner apart, as does its "notes" section where you can keep tabs on when bills are due, what's been paid, or how you're planning to create meet your monthly budget. The Legend Budget Planner holds a 4.6-star rating across more than 3,000 Amazon reviews.
Included Pages
Instructions
109 stickers
Mind map
Savings and expense tracker
Monthly budget and calendar pages
Annual review
Pros
Undated planner for maximum flexibility
Pouch for cash envelopes
Holiday budgeting tools
Money-back guarantee
Cons
Only available in small and medium sizes
No bill pockets
Could use more pages dedicated to debt tracking
Buy On Amazon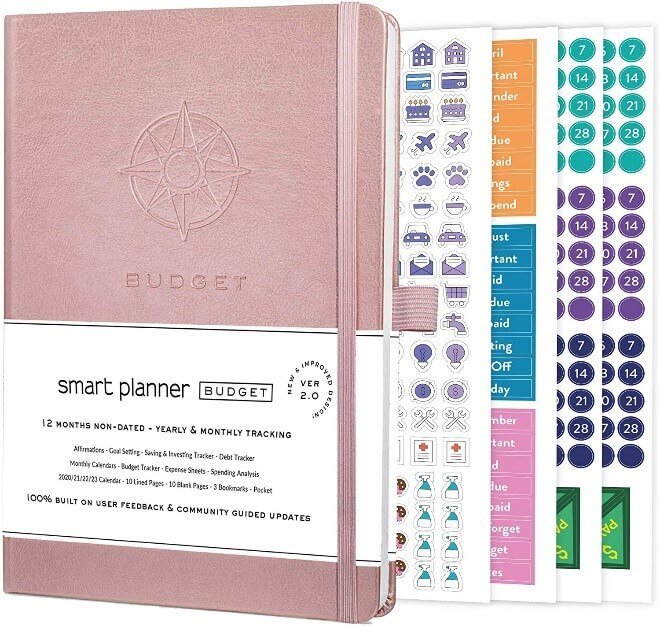 Key Features
The Smart Planner is one of the best budget planners we reviewed because it has something for almost every need. This advanced budget book is available in a variety of colors in the A5 size of 5.7″ x 8.6″. The budget planner features a pen loop, an elastic strap closure, three bookmarks, and an expandable inner pocket for bills, receipts, or cash envelopes.
The dateless budget book allows you to track your finances for 12 months beginning whenever you want. The 176-page budgeting planner includes monthly calendars for bill tracking, expense sheets, and space for a spending analysis. There are also 10 blank and 10 lined pages for your notes.
Included Pages
4 sheets of stickers
Monthly budget planner
Monthly calendar and financial to-do list
Goal setting and affirmations
Pros
Undated planner for maximum flexibility
Monthly financial review included
Wide selection of colors to choose from
Premium quality paper and vegan-friendly construction
Cons
Budget categories come pre-filled and may not meet everyone's unique needs
Buy On Amazon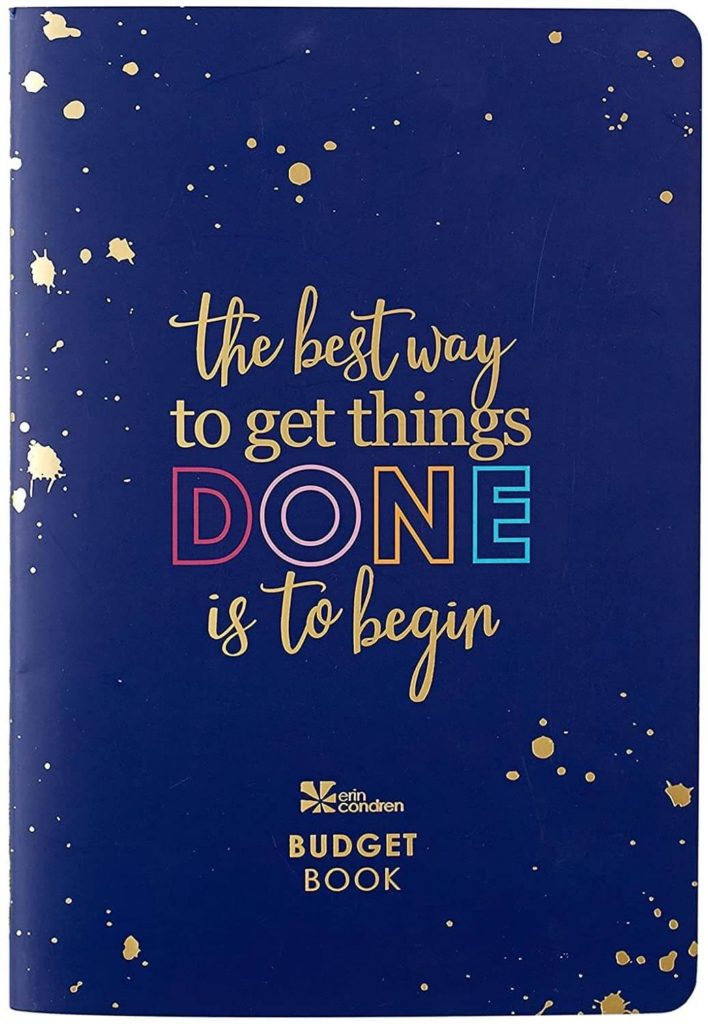 Key Features
This fun, stylish budget planner by Erin Condren is designed for women on the go. At 5.8″ x 8.3″ and only a quarter-inch wide, this petite planner will easily fit into most purses. With four unique cover styles, you can choose whichever budgeting planner suits your taste.
The Erin Condren Petite Budget Planner includes a monthly expense tracker, pages for savings and debt tracking, and a built-in pocket for receipts or cash envelopes. It's also worth noting that the Erin Condren store offers a larger version of the budget planner, as well as coil-bound books.
Included Pages
1 sheet of stickers and 1 quote page
Monthly spending summaries
Savings and debt trackers
Pros
Specifically created for budget planning
Thorough monthly expense tracker
Portable size for easy transportation
Cons
No calendar included
Pre-labeled expense categories are less flexible
Limited room for writing notes
Buy On Amazon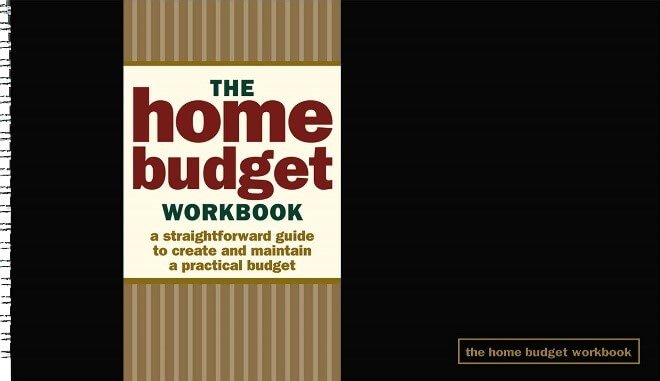 Key Features
The Home Budget Workbook is an affordable budget planner that can help anyone take control of their finances. The unique shape of the spiral-bound budget planner book offers plenty of room for budget planning, expense tracking, and monitoring your finances. There are a total of 48 pages in this budget notebook, including easy-to-follow worksheets for creating a monthly budget and managing your income.
This budget planner teaches simple principles of personal finance and budgeting, and even offers tips on bank accounts, debit cards, and more. This practical budget planner book skips the frills that many other budget planners include, and instead focuses on developing the knowledge and implementing the strategies to build wealth.
Included Pages
Monthly budget pages
Daily expense tracking sheets
Money management tips
Balance sheet assistance
Planning goals
Notes
Pros
Undated planner for maximum flexibility
Spiral binding stays flat for ease of use
Developed by a certified financial planner
Guided worksheets
Very affordable
Cons
Larger than most other planners at 7.0″ x 10.3″
Limited writing room beyond structured worksheets
Buy On Amazon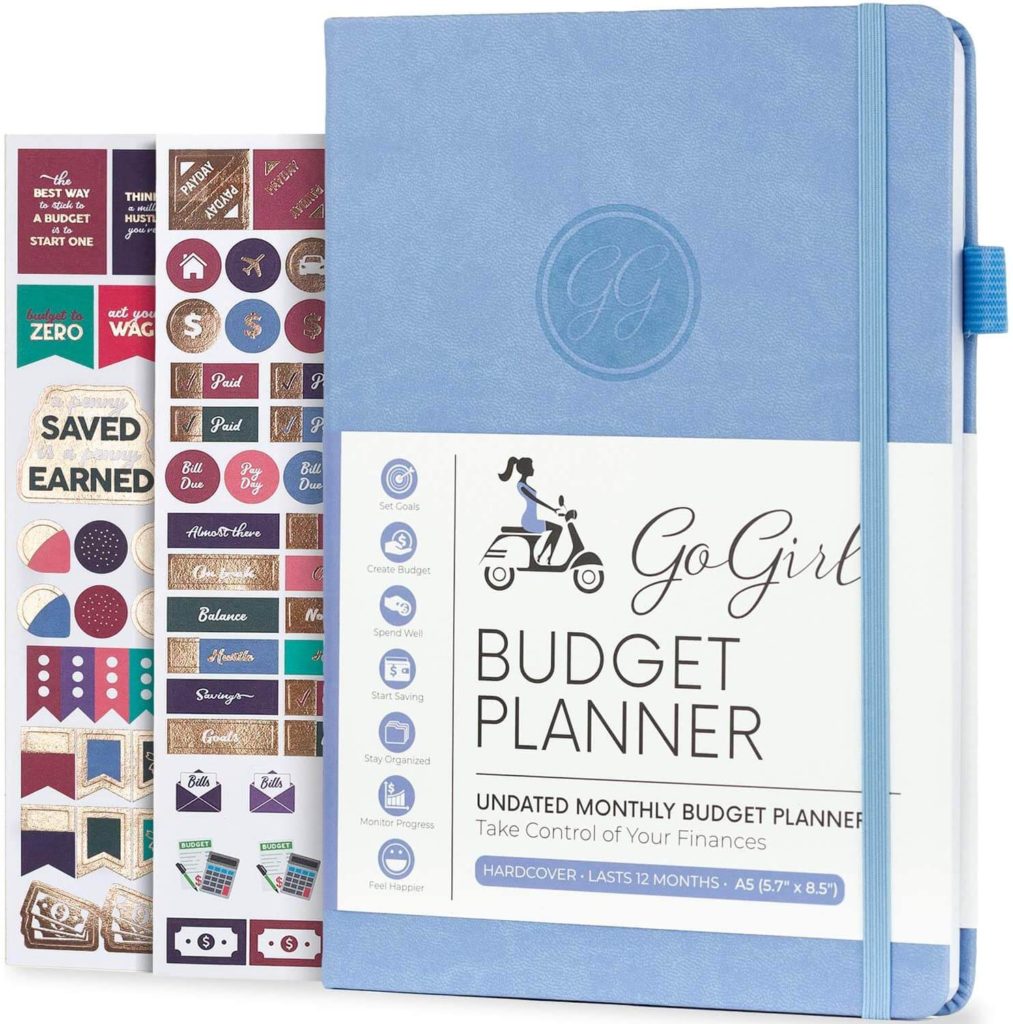 Key Features
The GoGirl Budget Planner is a popular choice for the woman who's in charge of her finances. The budget planner book is available in a dozen different colors, and two different sizes: 5.3″ x 7.7″ or 5.7″ x 8.5″. The faux leather cover adds a premium finish, and the inner pocket is perfect for storing receipts, notes, or money.
The GoGirl budget book features savings, debt, and expense tracking pages, as well as a space for holiday budgeting. With a pen loop, elastic closure, bookmarks, and stickers, the budget planner has everything you need to start setting your financial goals.
Included Pages
91 stickers
4 debt trackers, and 4 savings trackers
Monthly budgets to track expenses
Holiday budget
Annual financial plan
Pros
Undated planner for maximum flexibility
Premium quality materials and construction
Flexible and comprehensive layout
Money-back guarantee
Cons
Pre-filled budget categories
Thin inner pocket
Buy On Amazon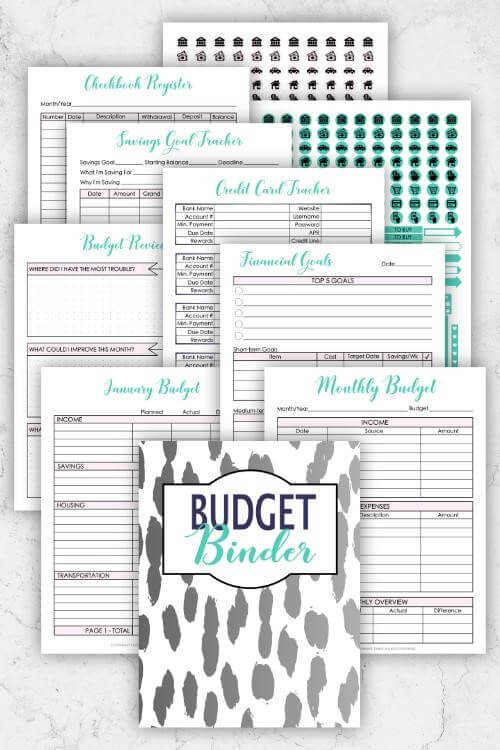 Key Features
This budget planner book is the leading choice for people who want a reusable binder for their budgeting needs. Plus, it's available for immediate download, which can save you the time of visiting a store or waiting for delivery. The 55+ page printable planner helps to track expenses, pay off debt, save an emergency fund, and reduce stress.
We recommend hole-punching your printed pages and placing them in a binder to keep your budgeting planner together. As years go by, you can simply reprint the undated pages and add them to your binder rather than repurchasing a new budget planner. So for those willing to do the printing and assembly themselves, the Money Tamer budget binder is one of the most economical choices on the list.
Included Pages
Cover and table of contents
Monthly budget sheets and calendars
Income, credit card, debt, and savings trackers
Annual budget summaries and overviews
Notes pages
Pros
Available for immediate download
Re-printable as needed
Standard U.S. letter-size pages (8.5″ x 11″)
50+ comprehensive budgeting worksheets
Cons
Requires a printer, and time and effort to assemble
Less portable than other budget planners
Price
$29.00 for the PDF file
Things to consider when buying a budget planner
As you can see from the considerations above, choosing the best budget planner is a personal decision that depends on your unique money goals. After all, everyone has their own style when it comes to budgeting.
As you decide what's best for you, consider the size and quality of your budget planner. Some people are fine with budget-friendly, poly-cover books. Others prefer the premium feel of a book like the Clever Fox budget planner. While there's no right or wrong choice, keep in mind when and where you plan on budgeting. If you'll be on the move, a durable cover might help keep the paper inside clean, dry, and protected from the elements (or a Monday morning coffee mishap).
You'll also want to consider the pages included in the planner. Are you looking for weekly or monthly budgeting? Do you need debt tracking or holiday budgeting pages, or worksheets for following the flow of your money? Keep in mind that not all planners offer the same type of budgeting, financial planning, or goal-setting content. And if you intend on tracking your expenses for years to come, do you want planners with refillable pages or not?
As we ranked our best budget planners, we kept the following in mind:
Price
Quality of materials
Budgeting style and content
The flexibility of the pages (labeled versus non-labeled and non-dated planners)
Companion planners or budgeting apps
As you embark on your budgeting journey, you deserve a budget planner that appeals to you and fits your tastes. Like those lattes we told you to keep, this is one place where you can treat yourself to a planner that you just plain like to use.
Related reading: 13 Fun Budget Challenges To Supercharge Your Savings
What are the best online budget apps?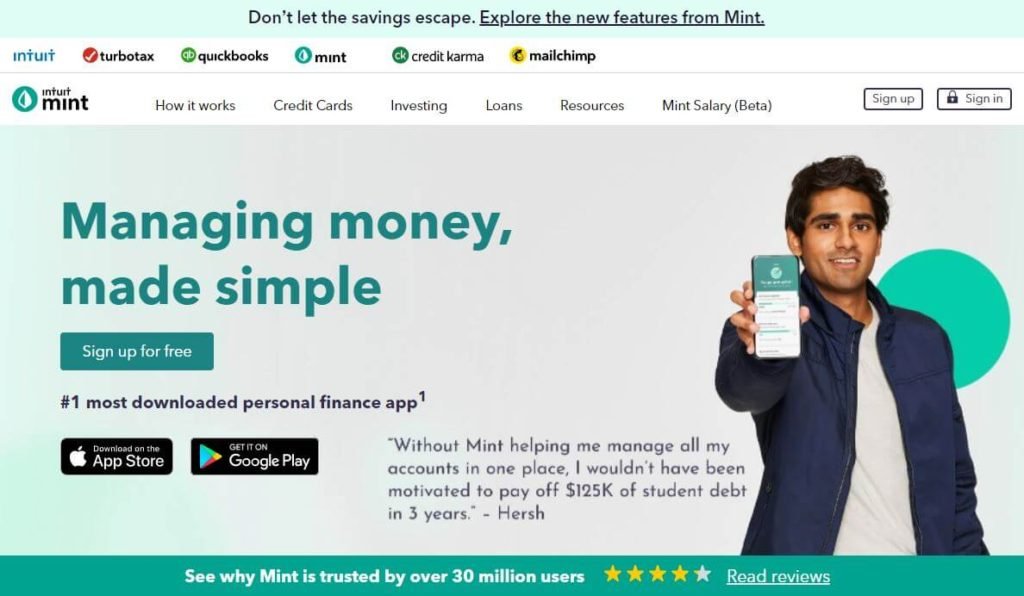 Mint by Intuit is one of the most popular budgeting tools available today. Mint provides a user-friendly dashboard that shows all your financial details in one place, which is why we consider it the best all-around budget software.
Link all of your credit cards and bank accounts to Mint, and it will automatically track, sort, and categorize your expenses. Mint is free to use, which makes it a great platform for people who are just starting to learn how to budget and better manage money.
Pros
Automatic categorization of expenses
Set custom goals and track spending habits
Detect fraud and savings opportunities
Cons
Requires linking financial accounts
Includes targeted advertisements
Price
Free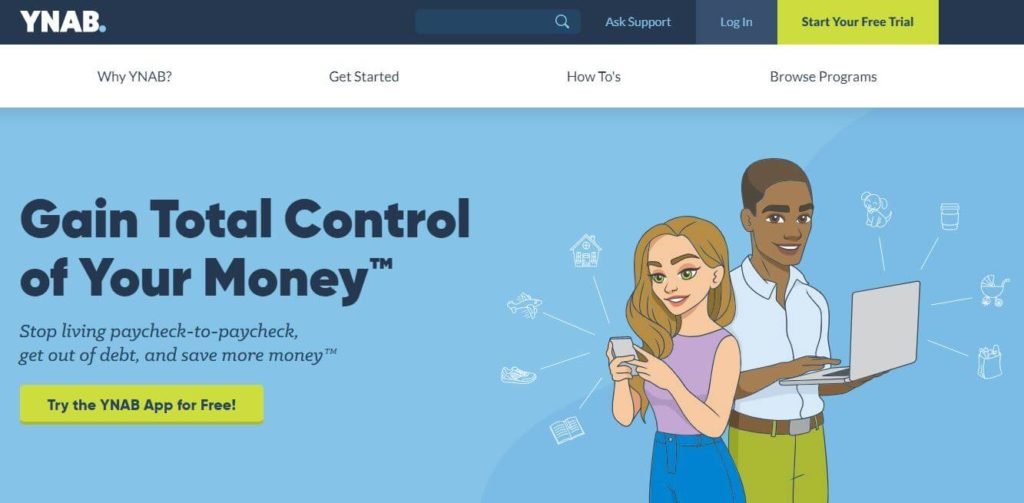 You Need a Budget (YNAB) is one of the best overall options for hands-on budgeting. The entire platform does more than budget—it guides users through the process of making intentional spending and savings plans. It also comes with goal tracking and reporting features to monitor progress. Although YNAB is one of the more expensive options, it gives you everything you need to properly manage your spending and track expenses. The tool's four-step method aims to help you organize your finances, demolish your debt, save cash, and reach your goals.
Pros
Free 34 day trial
Free for an entire year for college students
Comprehensive education with 100+ free online workshops
Customizable tracking, goal-setting, and reporting tools
Real-time updates
Cons
Steeper learning curve and more time required to start
Not free
Price
$14.99 per month or $98.99 per year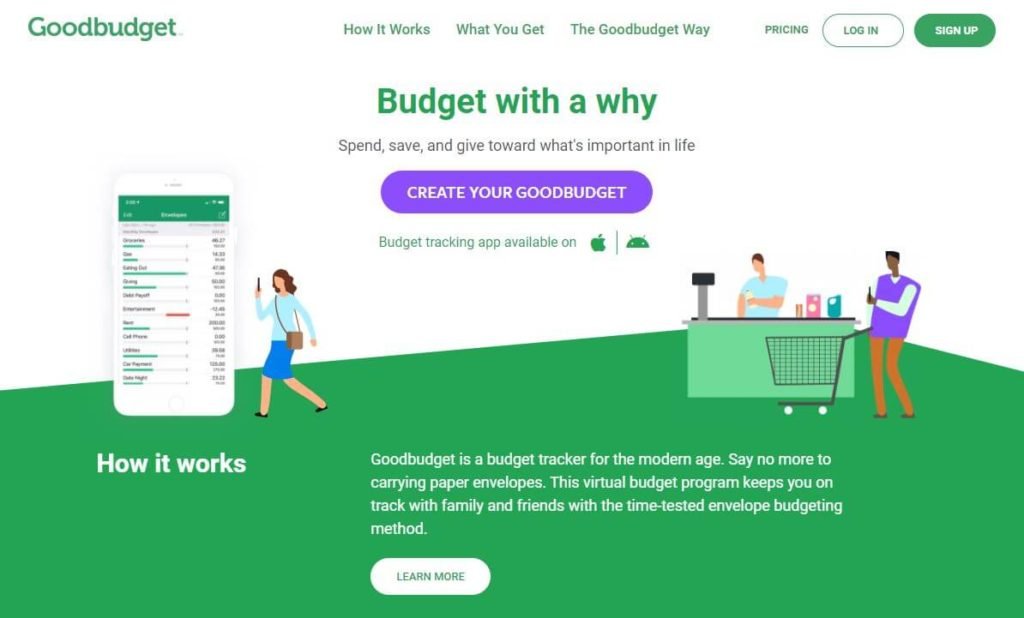 Goodbudget is a popular choice among those searching for a budget-friendly app that can complement or replace their hardcopy budget planner book. This tool sells itself as the "budget tracker for the modern age," taking the hassle out of budgeting while still using some of the most tried-and-true methods out there today. It is straightforward, simple, and free to access most features, along with a paid option for those who want more.
Pros
Sync and share budgets with family members
Graphs and charts to visualize expenses
Can be used across multiple devices
Up to 10 envelopes with the free version
Cons
No automatic account syncing
Imported transactions must be manually categorized
Price
Free to use the basic plan; $8 per month for the Plus plan
How do budget planners save money?
The best budget planner will help you save money in several ways:
Track spending so that you're aware of where your money is going. If you know where you are spending, you can easily identify expenses that can be reduced or removed entirely.
Break money flows into categories like bills, discretionary expenses, savings, etc. Visualizing not only your total spending but also what types of spending might be problematic can help spark self-reflection.
Highlight recurring expenses. Perhaps you forgot about a subscription, or you're paying more for Internet service than you realized. If you don't track these expenses, you'll never be altered to changes.
Create a plan for how to spend your money. Once you've written down a specific course of action, it's much easier to follow through. This is why without a budget planner, many people who want to spend less never succeed.
Make better financial decisions in the future. With a clearer understanding of your financial habits, you can better manage the stress that comes with money and life.
Visualize your goals. Lists, graphs, and budgets are easier for our brains to process when they're put on paper. This is why, despite all the advancements in budgeting apps, there is still a strong market for good old-fashioned budget planner books.
What is the best way to budget money?
Like most things in the world of budgeting, what works for one person may not work for another. However, a great way to begin budgeting money is to use an organized planner like the Clever Fox Budget Book. Once you have fine-tuned your financial literacy with a budget planning book, you can begin to tackle other strategies to make your money go further.
These budget-conscious strategies include:
Saving money inside accounts with compound interest
Adopting the cash envelope system for budgeting
Shopping on cashback sites
Buying used gift cards at a discount
Final thoughts
Saving money isn't rocket science. We all know that spending less than we make is the answer.
But balancing a budget can still be a challenge when faced with limited means, a busy schedule, and rising costs. Fortunately, there are many tools available to assist you with budgeting and saving money. While we can't name any individual product as the best budget planner for everyone, the buyer's guide above can help you choose the right tool for your goals.
If you're looking to gain control over your finances and make every dollar count, browse the key features, pros, and cons of our favorite budget planners. With so many choices on the market today, you will find the perfect choice for your needs in no time.