There's no doubt about it, life has gotten expensive. Between rent, bills, groceries, and a little bit of fun, it can be hard to make ends meet.
But what if there was a way to make extra money using nothing but your smartphone? Luckily, there are plenty of side hustle apps available that do just that. From delivery services to survey taking, we have rounded up our favorite side hustle apps for building a second income stream.
Whether you want to make money fast or just make some extra room in your budget, read on for 21 of the best side hustle apps around!
21 Best Side Hustle Apps To Supplement Your Income
Grab your phone and let's get started! Download one (or a few) of these side hustle apps and start making extra cash today.
1. Uber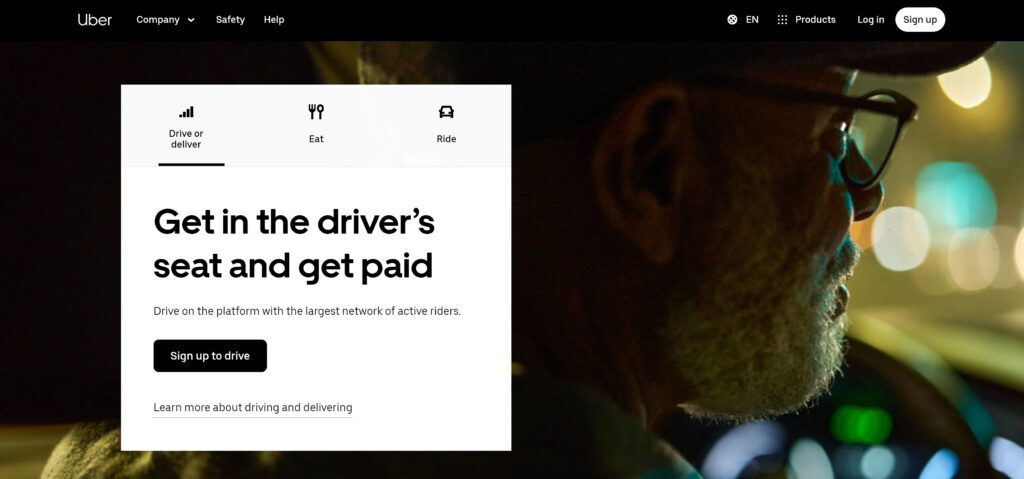 Uber, the popular ride-sharing service, is one of the most well-known side hustle apps in the world. To get started, download the Uber app, complete a background check, get a vehicle inspection, and start accepting rides.
Uber drivers can set their own schedule and work as much or as little as they like. When rides aren't available, you can also pick up food delivery jobs with Uber Eats. And when rides are in high demand, you will enjoy a bump in your earnings thanks to surge pricing.
2. Swagbucks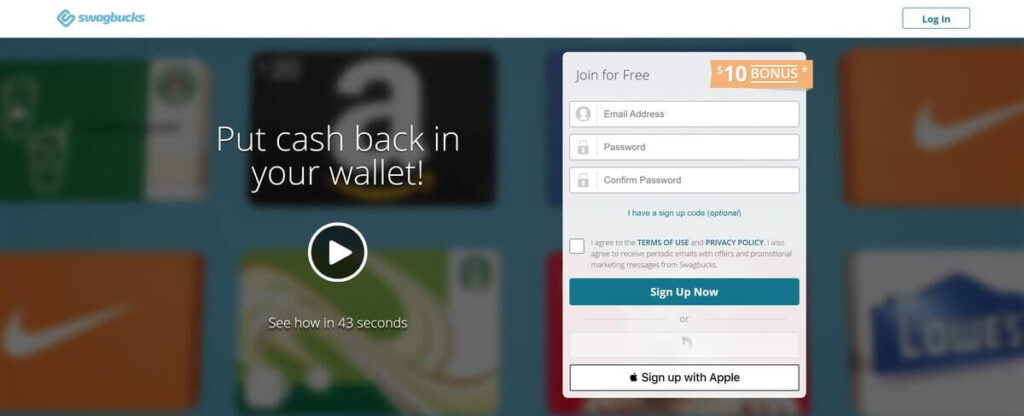 Swagbucks is a popular website (and side hustle app) that rewards participants for completing surveys, watching videos, shopping online, and more.
Swagbucks allows users to redeem their rewards points for gift cards or cash. This easy-to-use app is a great option for beginners because you don't need any experience to get started. Plus, you can do it whenever and wherever you want—from your couch to waiting in line at the store.
3. TaskRabbit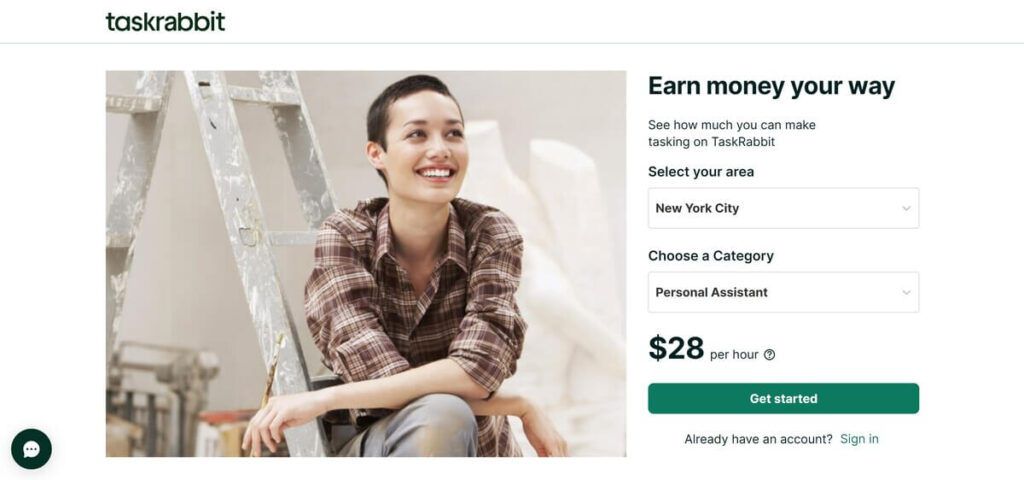 TaskRabbit is an app that connects people who need help with basic tasks and odd jobs, like assembling furniture or running errands, with those willing to assist. To be approved for the app, you must pass a background check. But once you're in, you can make yourself available for a long list of available tasks.
On TaskRabbit, payment for every job is agreed upon beforehand, so there are no surprises (or haggling) required to get paid. Plus, if you have any experience as a handyman or in-home services, you can easily make extra income from the app.
4. Wag!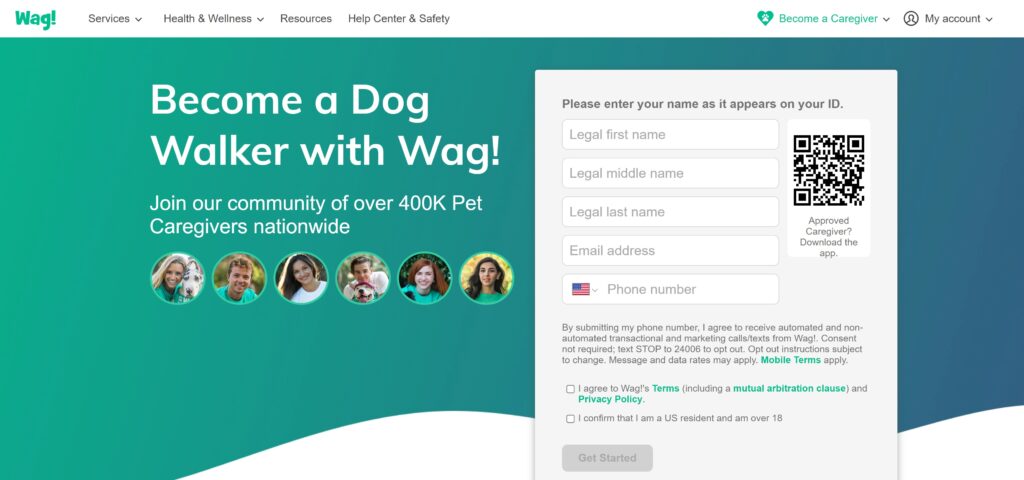 Wag connects pet owners with local pet sitters and caregivers, and facilitates overnight stays, drop-ins, and walks. If you are an animal lover, Wag is one of the best side hustle ideas around.
The Wag app will alert you with a push notification whenever a dog in your area needs to be walked. You have a few moments to review the location and pay, and then accept or decline the opportunity. The app even has built-in GPS tracking, to offer verification for all parties that walks are completed as promised.
5. Amazon Flex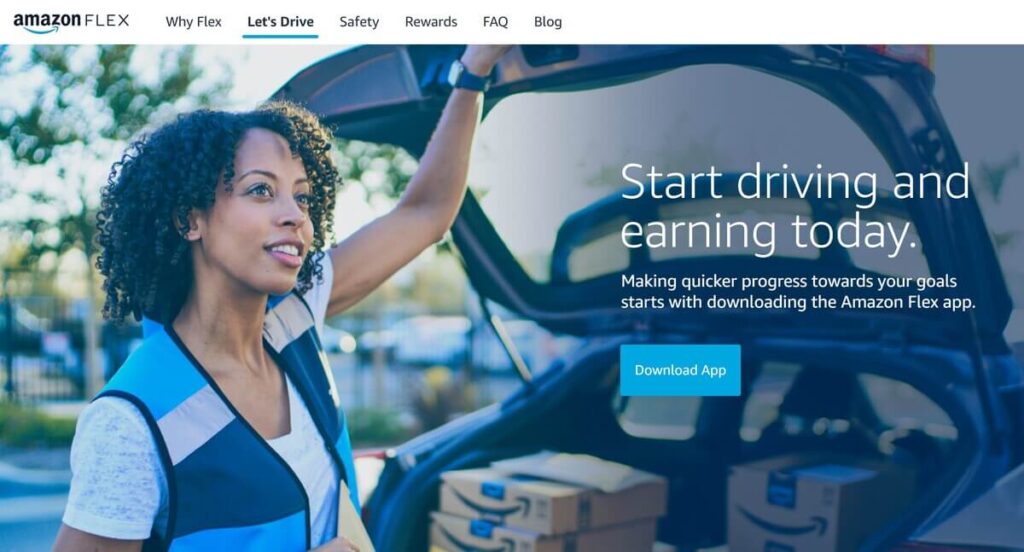 Amazon Flex is a delivery app for people who want to make an extra $1,000 or more per month in their spare time.
After signing up as a delivery driver, the Amazon Flex app will guide you through the entire process. You will pick up the necessary packages, follow your assigned GPS route, and then collect your earnings. This extra income stream can be especially attractive during the holiday season when the hourly pay rate increases.
The Amazon Flex app also handles the grocery delivery service for Whole Foods. So if you prefer to work as an in-store shopper, this app is a great way to freelance for as many hours as you want.
6. Gigwalk

Gigwalk is one of the more unique side hustle apps out there. The app connects you with companies that need help completing one-off tasks. These tasks range from taking pictures of buildings to participating in focus groups to serving as a secret shopper.
You are paid for each of the odd jobs you complete, and payment can vary depending on the difficulty and length of the task. Plus, you can even earn cash incentives if you complete multiple tasks in a certain time frame. It's a great way to make extra money while exploring your city.
7. Instacart

Instacart is a delivery service that makes online shopping from local grocery stores and markets faster and more convenient. As a side hustler, you will act as both a delivery driver and a full-service shopper for people in your area.
The Instacart app lets you claim orders on your own schedule, so you can earn money in your free time. Payment is determined by the size of each order and how far it needs to be delivered. Plus, you will earn tips from customers, which are typically based on a percentage of their total cart value.
Instacart is a great side hustle for someone who loves grocery shopping and wants to make money fast.
8. JobGet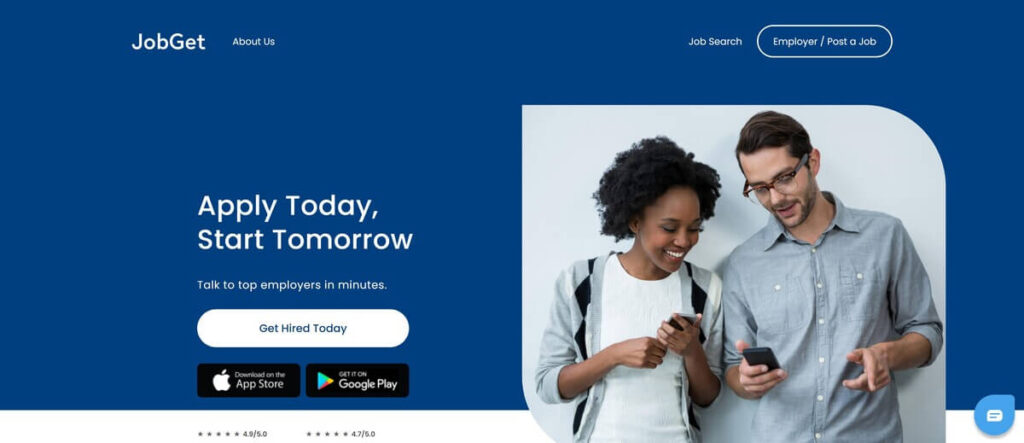 JobGet is the perfect platform for those who are seeking a second job and don't want to spend weeks going back and forth over email just to set up an interview.
With JobGet, you can set up your profile, list your professional services, and browse and apply to hundreds of jobs — all within minutes. The streamlined app even enables you to speak with employers and start your own business as an online freelancer or virtual assistant.
And if you're looking for an in-person opportunity to make money, the search feature lets you filter by location so you only see what meets your criteria.
9. Neighbor

Interested in passive income? Us too! That's why we love Neighbor — the side hustle app that helps you rent out storage space in your home to locals. Neighbor is the perfect way to turn unused space into a second income stream without much work at all.
To get started with Neighbor, simply determine the size of the space you want to rent, set your own prices, and let the app match you with someone nearby. Before you know it, you will be making money every month completely passively. Neighbor also provides you with up to one million dollars in liability protection to make sure your home is never at risk.
10. Decluttr

Do you have any old or unused items laying around? If so, then Decluttr can help you free up space and earn extra cash at the same time!
The Declutter app is an easy way to make money selling unwanted items like video games, electronics, books, and more. All you have to do is scan the barcode of the item you would like to sell, approve the estimated payout, and ship it in to get paid.
11. Field Agent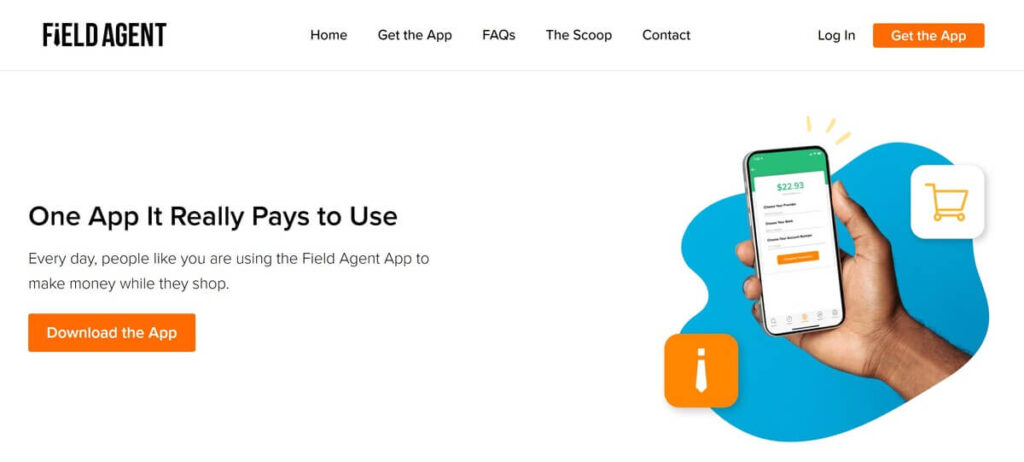 With the Field Agent app, you can earn money in your spare time as an auditor or quality manager for stores and brands. Field Agents can serve as mystery shoppers in retail environments, provide product feedback, or conduct digital demonstrations.
Field Agent is one of the best side hustle apps for people who like to test new products. In the "Buy and Try" program, participants get to provide feedback on new brands and earn money for their time spent.
12. Handy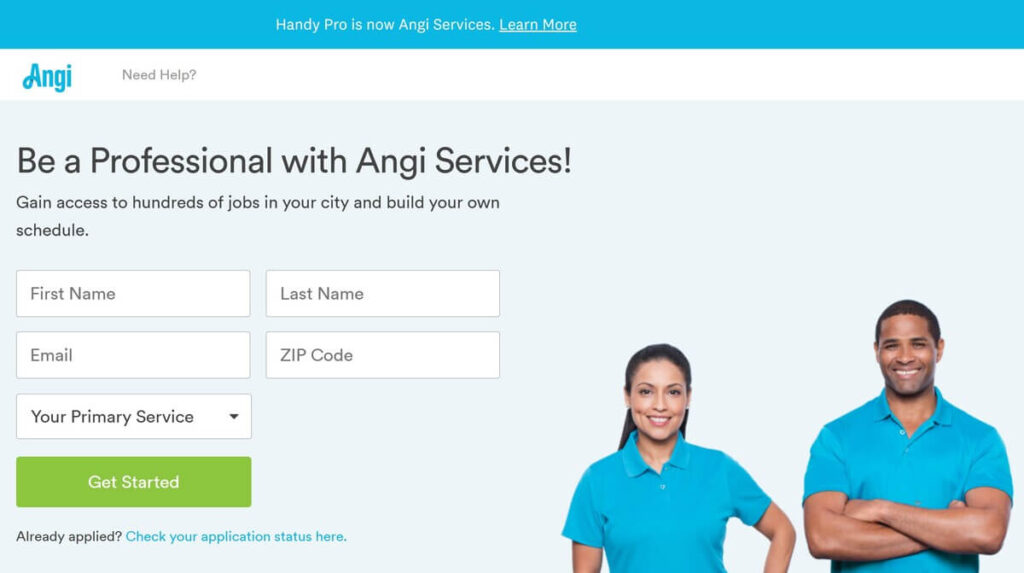 Handy is a popular side hustle app for those with handyman skills. If you have experience as a cleaner, painter, mover, or assembler, you can make great money on the side with the Handy platform.
This app connects service providers with locals in need of help and suggests payment rates based on the gig, location, and duration. Like TaskRabbit, Handy offers flexible hours so you can schedule jobs in your free time.
13. Rover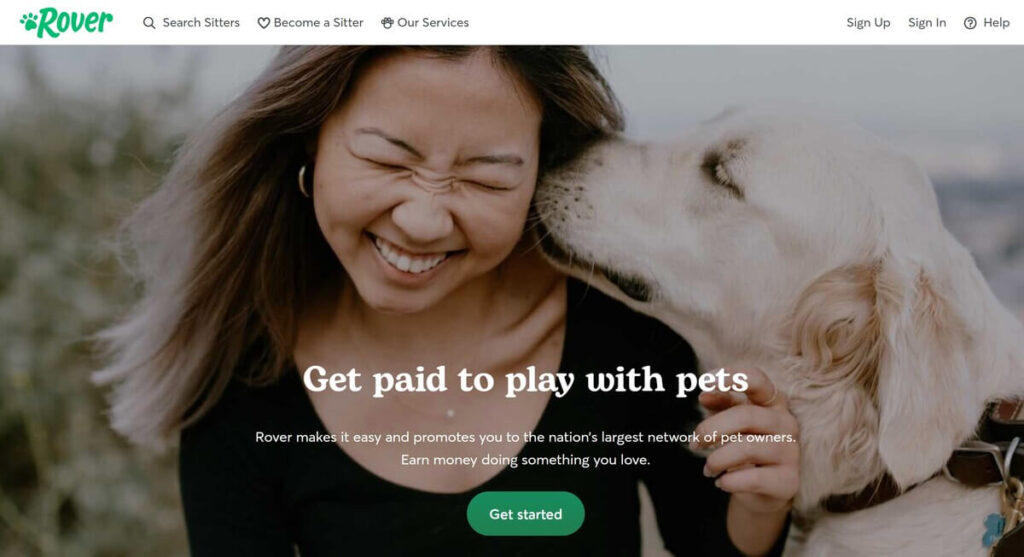 Are you open to spending the night in other people's homes or hosting pets while their owners are on vacation? If so, Rover could be the right side hustle app for you.
The Rover app connects dog walkers and caretakers with homeowners in need of assistance with their furry friends. So if you love dog walking and pet sitting, sign up today!
Like other gig apps, you can set your prices for services such as dog walking, drop-in visits, and traveling with pets. And to make even more money, consider hosting multiple animals at once (with their owners' permission of course).
14. Foap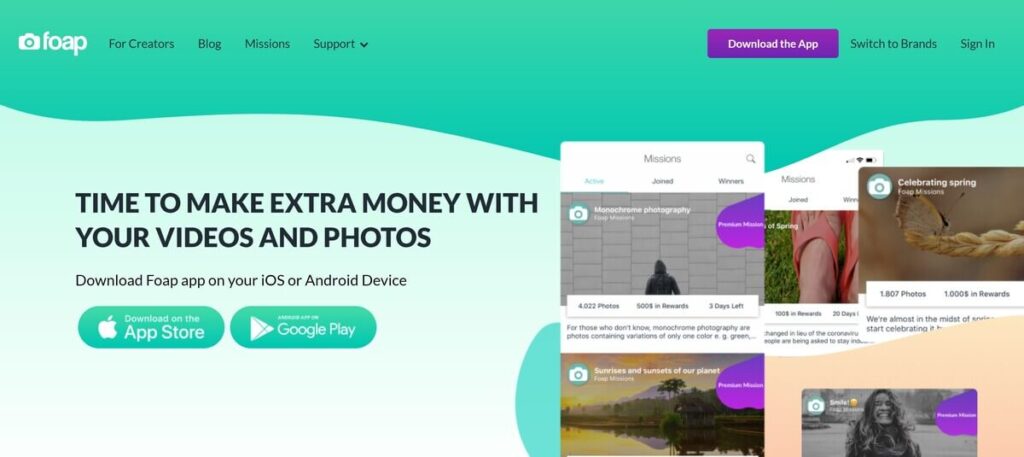 If you have a knack for taking pictures, turn your hobby into a side hustle with Foap. Foap is an app that connects photographers with businesses that need stock photos and videos.
To earn money online with Foap, upload your content directly from the app and you will get paid every time someone buys one of your pictures. The platform pays a 50% commission on the photo's sale price, so your splits can really add up as you continue to build your library.
15. DoorDash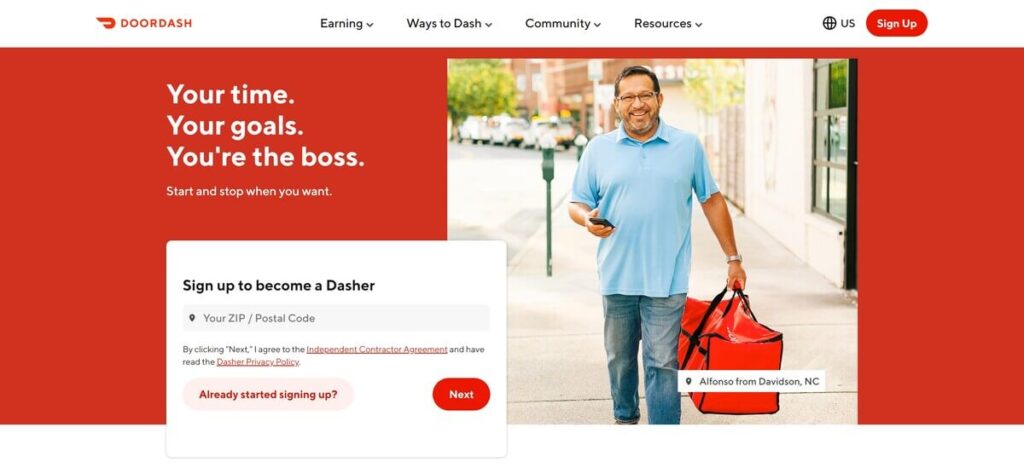 DoorDash is one of the many side hustle apps you can use for food delivery. To become a Dasher, sign up on their website or app and complete a brief application. Once you are approved, you can begin delivering orders for local restaurants in your area almost instantly.
No interaction with customers is required, but the better service you provide the greater your potential for tips. And with DoorDash, you get to keep 100% of your tips!
16. BookScouter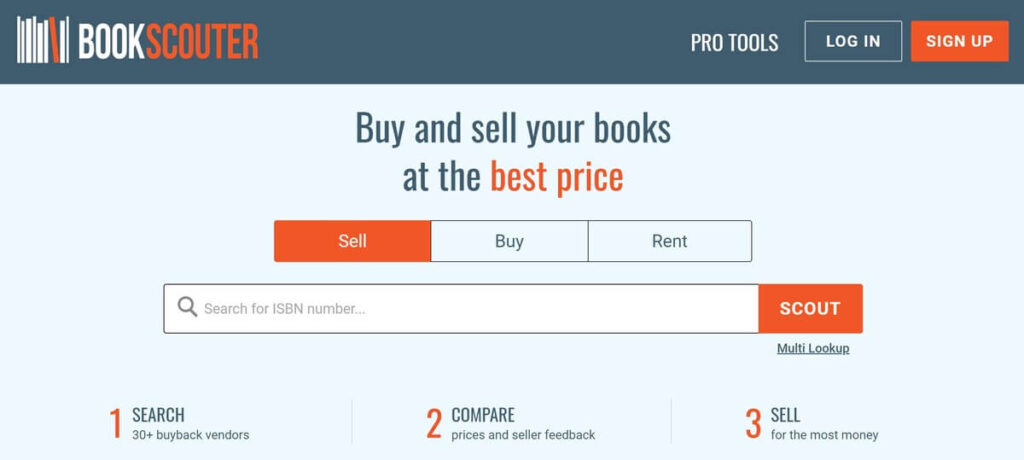 The BookScouter app allows you to sell books from your phone. Simply gather the books want to let go of, scan their barcodes with the app, and get an offer. If you are happy to make the sale, mail the books in and BookScouter will credit your bank account.
BookScouter accepts textbooks, novels, and non-fiction books. As a seller, you don't have to about finding buyers or dealing with shipping individual packages.
You can take this side hustle one step further and make even more money by flipping books from used bookstores and local thrift shops. If BookScouter offers a higher payout than the cost of the book, you can purchase it and keep the difference as a profit.
17. Receipt Hog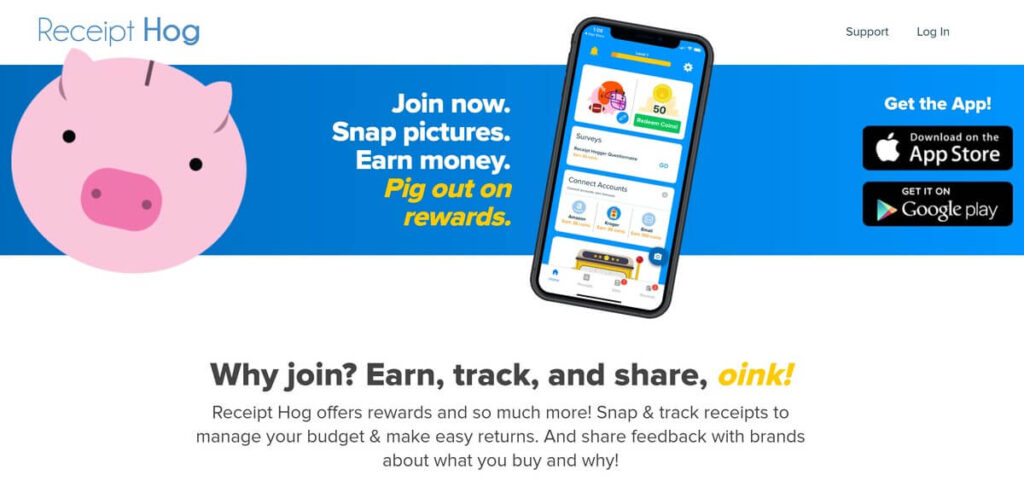 Receipt Hog is one of the top side hustle apps because of how easy it is to use. Although the earnings potential is a bit lower than other apps on this list, it takes almost no time to scan your grocery receipts after each visit to the store.
If you can make this a habit, you will make easy money in the form of cashback or free gift cards. Plus, every receipt adds to your points balance which can qualify you for sweepstakes and giveaways.
18. Turo

If you have an extra car, Turo is a great way to make money on the side. This app allows you to rent out your vehicle to local travelers for a daily rate of your choosing.
The Turo app also allows you to set mileage limits, gasoline and cleaning rules, and other restrictions for renters to protect the safety of your car. Plus, Turo offers $750,000 in liability insurance from Travelers so you can rest easy.
19. SpotHero

SpotHero is a convenient side hustle app for those who want to rent out spare parking spaces. The app enables you to quickly and easily list your available spots, manage your reservations, and collect payment when someone books a space.
With SpotHero, you can also offer discounts on long-term rental deals for more consistent earnings. And the platform takes care of payment processing and all customer service issues that come up, so you can sit back and collect your extra money.
20. Fat Llama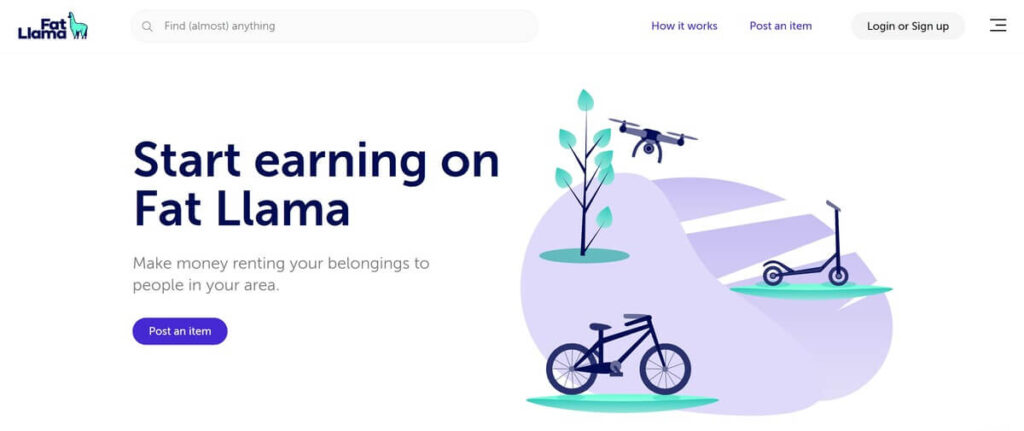 If you are a fan of the sharing economy, then you will love Fat Llama. It is one of the most widely used side hustle apps for renting out "almost anything" to people in your area.
You can list cameras, drones, camping gear, musical instruments, and more. The renter sets the price and availability and earns extra cash every time someone rents an item.
Fat Llama also offers protection of up to $30,000 in the event of any damage or theft to your items, so you can use the app with peace of mind.
21. Airbnb
Airbnb, the top vacation rental platform, lets you manage your rental property and communicate with your customers all through its app.
The Airbnb app is incredibly flexible in enabling you to create a listing, set its pricing and availability, sync to third-party apps, and collect payment. The app also helps to streamline reservations, inquiries, and communication with your customers.
If you have a second home, a guest house, or even a spare bedroom, Airbnb is one of the premier money-making apps available.
Related reading: How To Create A Money Mindset That Manifests Wealth
Final thoughts
There you have it — the 21 best side hustle apps for building a second income stream. Whether you want to walk dogs, deliver for Uber eats, or complete surveys on the go, there is an app for you.
So sign up for one or two of the apps above, and start building a side hustle income today. Before you know it, you will be on your way to saving more money and reaching financial freedom!
Best side hustle apps FAQs
What side hustle app pays the most?
The side hustle apps that pay the most are those that have continuous work available. For example, there is always demand for rides on Uber, groceries from Instacart, and take-out from DoorDash. And if you have an extra room or car, rental apps such as Turo and Airbnb also offer high potential earnings for relatively minimal upkeep.
Which side hustles are legit?
These 21 side hustle apps are all legitimate and trustworthy, with users reporting verified earnings. If you venture off of this list, however, always be sure to do your research and look for reviews from actual users.
What apps give you money instantly?
Field Agent, Wag, and Uber all allow you to cash out your earnings almost immediately after they arrive in your app account. Other apps can take a bit longer as services are verified and payments are processed before being deposited to your bank account.
How can I make $2,000 per month in a side hustle?
The best way to make $2,000 per month in side income is to use several different apps at once. Combine services like rideshare, delivery, and freelance work to create a diversified income stream that can bring in thousands per month.

But remember, there is no shortcut for effort! To reach $2,000 per month as soon as possible, sign up for a handful of apps and see which ones are the most profitable for you. Monitor your earnings per hour and double down on what's working. With enough dedication and effort, it's possible to build an impressive second income from side hustle apps.
What is the easiest side hustle to make money?
The easiest side hustles are those that require the least time and effort. Apps like Swagbucks, Survey Junkie, and Field Agent pay you for completing micro tasks online, but their hourly wage doesn't compare to gigs like Wag and Uber. As a freelancer, you have to find your preferred balance of difficulty and earnings potential.