Since 2010, Fiverr has been helping individuals just like you turn their passions and interests into profitable businesses.
The platform features millions of potential clients actively seeking freelancers every day. This makes it easy for beginners to secure their first gigs and start earning income right away.
But with so many gigs, finding viable Fiverr jobs for beginners can be a stressful task. Sifting through endless listings to find your niche can feel overwhelming and frustrating.
Fortunately, that doesn't have to be the case.
This article will give you the complete roadmap to Fiverr success. You will discover:
How to get your first Fiverr job without any experience (or reviews!)
Jobs that are tailor-made for beginners
And how you can stand out from the competition from day 1
So don't try launching a Fiverr business all by yourself. Read on to discover the 7 best Fiverr jobs for beginners that anyone can start!
Why Fiverr Makes Sense For Beginners
The biggest challenge new freelancers have is finding clients. Fiverr takes care of that problem for you.
Instead of chasing clients, they come to you on Fiverr. Your gig listings become your online storefront, attracting potential clients and avoiding competitive bidding wars common on other platforms.
Begin by posting easy-to-complete low-cost gigs. These simple projects often mean straightforward client requests. You will find it easier to meet expectations, build a loyal clientele, and earn those coveted five-star reviews.
In addition, these quick gigs provide an excellent opportunity to hone your skills. You will get more chances to practice and develop expertise, whether it's for graphic design, writing, or video editing. Over time, you can leverage this experience to land even higher-paying opportunities.
But Fiverr is more than just a marketplace.
The platform also provides all the tools and support you need to jumpstart your freelance career — from creating proposals and invoices to enhancing your profile to showcase your unique talents.
Just check out this success story on Alex Fasulo. She went from earning $36,000 per year in PR to making $378,000 per year on Fiverr by ghostwriting ebooks and blog posts. If she can skyrocket her earnings by more than 10x, then surely you land a few clients too!
7 Easy Fiverr Jobs For Beginners
Ready to kickstart your freelance career? These 7 Fiverr opportunities are perfect for beginners. They can open the door to more experience, financial success, and personal fulfillment in no time.
1) Edit AI Content
With the explosion in AI-generated content, companies are producing more content than ever before. As a result, they need writers who can add a human touch and transform automated prose into engaging captions, blog posts, and video scripts.
Before working with any clients, start by testing AI tools like ChatGPT, ContentBot, or Copy.ai. Within about 30 minutes, you will have a solid understanding of how these tools work, what they excel at, and where there is room for improvement.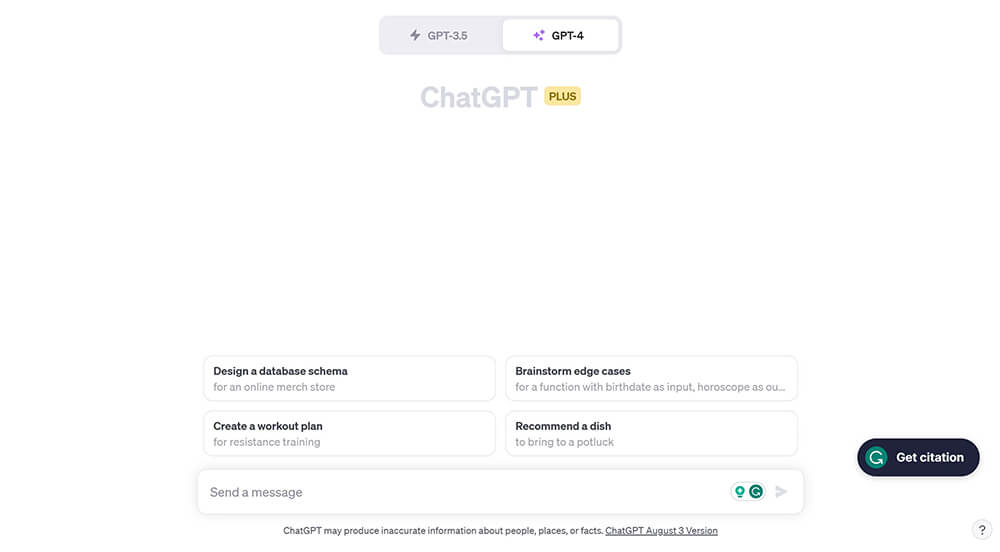 Next, create a gig offering to humanize and fact-check AI content. Kelvin J, for example, offers a basic editing package to rewrite and edit up to 2,500 words of AI-generated content. You use this listing as a baseline for your own offer!
Pro Tip: Don't offer generic, one-size-fits-all solutions. When you offer everything, you have to compete with everybody. Instead, niche down. Focus on a specific topic that you are interested in or uniquely knowledgeable about. This will enable you to speak to a more specific audience and create gigs that stand out from the competition.
2) Design T-Shirts
The t-shirt business is competitive. So when companies are at a loss for new ideas, they often turn to Fiverr. The great news for beginners is you don't have to be a graphic design guru to come up with successful designs.
When creating new ideas, keep the following three points in mind:
Make your design clear, legible, and straightforward
Know your audience and design to their preferences
Look for fresh angles or unique concepts
The key to design success on Fiverr is to master a certain style like vintage, minimalist, or eco-friendly designs. Jarin J has created a successful design business offering vintage designs, while Jihade works with anime. Your angle could be anything from simple geometric shapes to trendy catchphrases.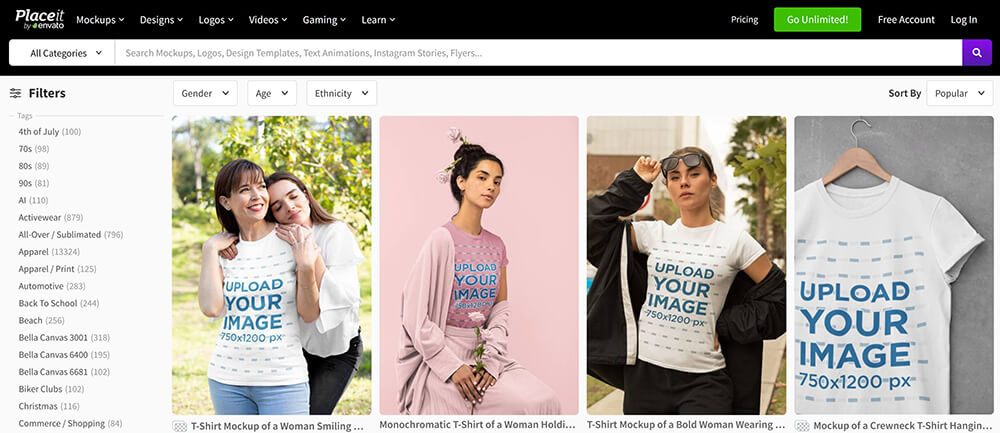 Pro Tip: Once you have finished a killer design, use a free tool like Canva or Placeit to create a realistic mock-up that your clients will love. This added touch of professionalism will help ensure you earn repeat business!
3) Social Media Management
Social media is a game changer for small businesses.
With an engaging social media presence, startups, mom-and-pop shops, and creators can all compete head-to-head with much larger companies. And with the right content, they can reach a larger audience at a fraction of the cost of traditional advertising.
The key to social media success is engagement. Unfortunately, many small businesses lack the time or resources needed to consistently build an audience. That's where you come in — the social media manager.
In this role, your tasks may include:
Scheduling posts
Crafting engaging content
Responding to comments,
Conducting audience research
Creating new and unique memes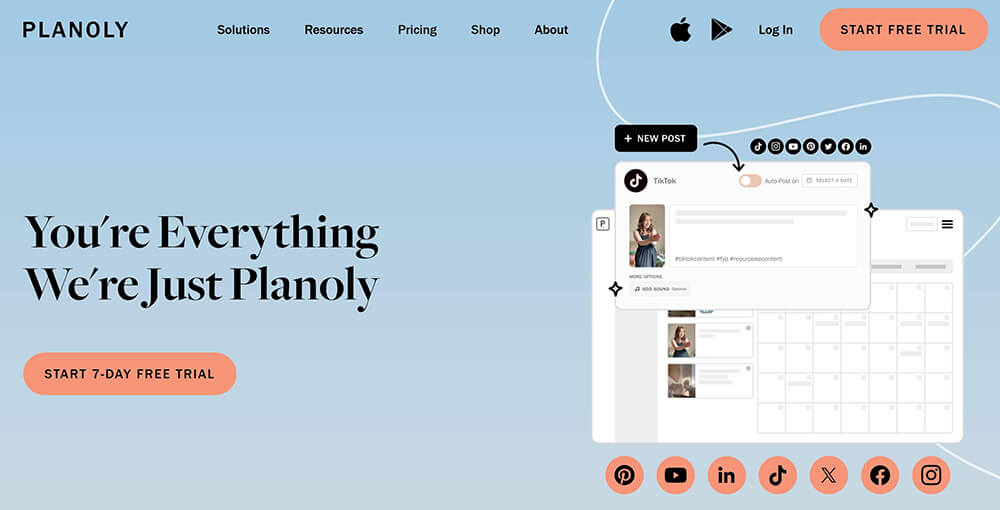 For inspiration on the types of services you can offer, check out Zoya Z, who combines social media and virtual assistant gigs. Or Daisy, who offers social media management and content creation.
Pro Tip: When creating your listing, include a short video showcasing your energy and enthusiasm. Put the 'social' in social media by showing potential clients that you know what it takes to grab attention.
4) Lead Generation
Leads are the lifeblood of most businesses, but acquiring them can be time-consuming and expensive. Rather than building an in-house lead generation team, many digital companies prefer outsourcing to freelancers. This way, they can scale their efforts up or down, depending on their needs.
Lead generation on Fiverr might consist of cold-calling, crafting social media DMs, or even pounding the pavement going door to door. For instance, Harlan specializes in generating email leads for B2B businesses with a basic package starting at just $40.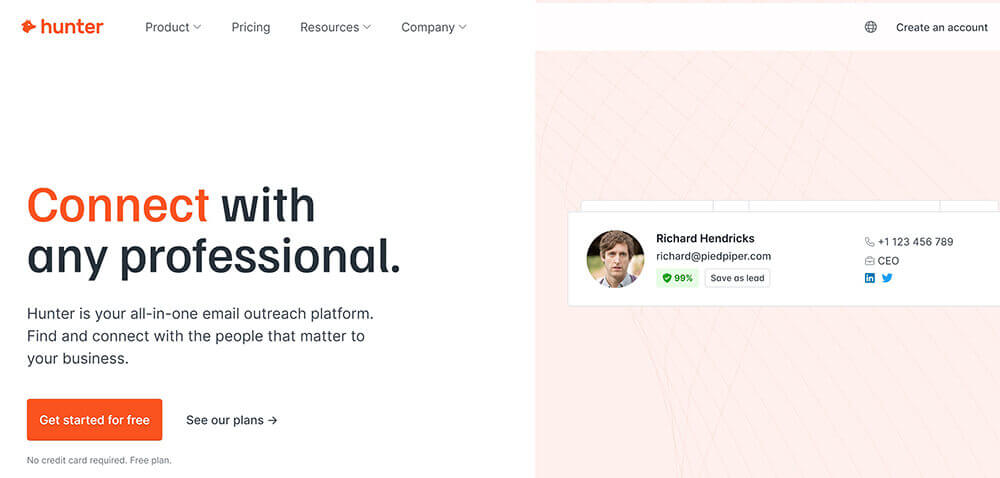 No matter which avenue you choose, be sure to clearly outline your lead generation strategy in your Fiverr gig description. Are you scraping emails from Hunter (above) or pulling URLs from BuiltWith? Your clients will want to know how and where you are finding potential customers.
And the rest is simple! All you need is a laptop, an internet connection, and a few basic sales skills. So even though it is one of the easiest Fiverr jobs for beginners to start, there is huge potential if you can find an angle.
Pro Tip: Offer an introductory rate to attract your first few clients. Then, turn these experiences into positive reviews and referrals. Before long, you will be able to increase your pricing and scale your business.
5) Unboxing Videos
Unboxing videos have become one of the hottest ways for companies to get their products in front of new audiences. This is an excellent gig for beginners because you can get started with just your cell phone.
Successful unboxing videos are all about transferring excitement from you, the unboxer, to the viewers. Plus, as you unveil the new product, you can help your client demonstrate its benefits to potential customers.
But why stop there?
You can expand your offerings to include:
Comprehensive product demos
In-depth reviews
Tips and tricks for first-time users
For inspiration, check out Fiverr star Jamie. He offers basic, standard, and premium packages. And he even accepts rush jobs, for an extra fee. Jamie asks his clients to provide a script, or, for an additional charge, he can write that too.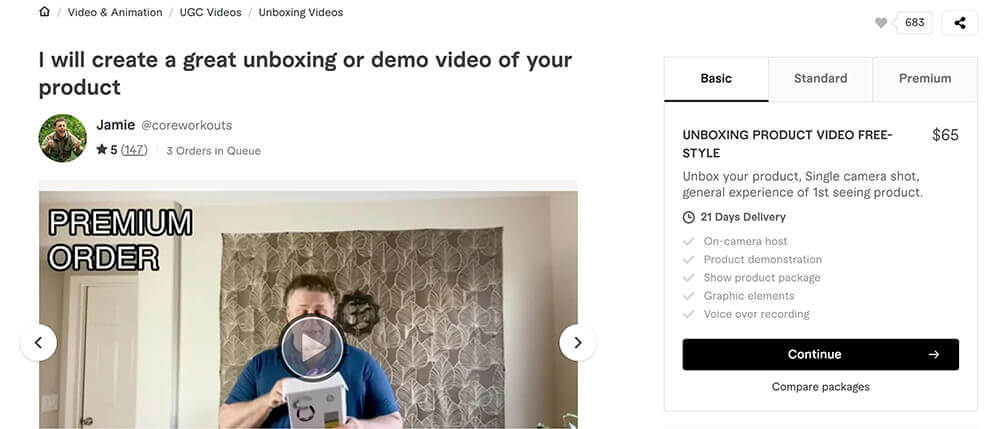 Pro Tip: When creating your gig, include a sample unboxing video (or two) for potential clients to review. Don't worry too much about the product — instead, showcase YOU! Highlight your video quality, communication skills, and enthusiasm. Your personality and authentic reaction to the products are what will make your videos stand out and keep viewers engaged.
6) Create AI Art
An image is worth a thousand words, right? Well, companies are eager to convey those messages through captivating visuals.
However, many small businesses don't need a full-time in-house graphic designer. And this dynamic creates a lucrative opportunity for freelance AI artists.
As a Fiverr AI artist, you help clients bring their visions to life through AI-generated artwork. Whether it's for ebook covers, branding, or social media thumbnails, your creations can make a meaningful impact on your client's business success.
Plus, you don't even need to be an artist to get started! Tools like Deep Dream Generator and Midjourney AI create custom images based on written prompts. Simply describe what you want, and the AI will whip up a completely unique image.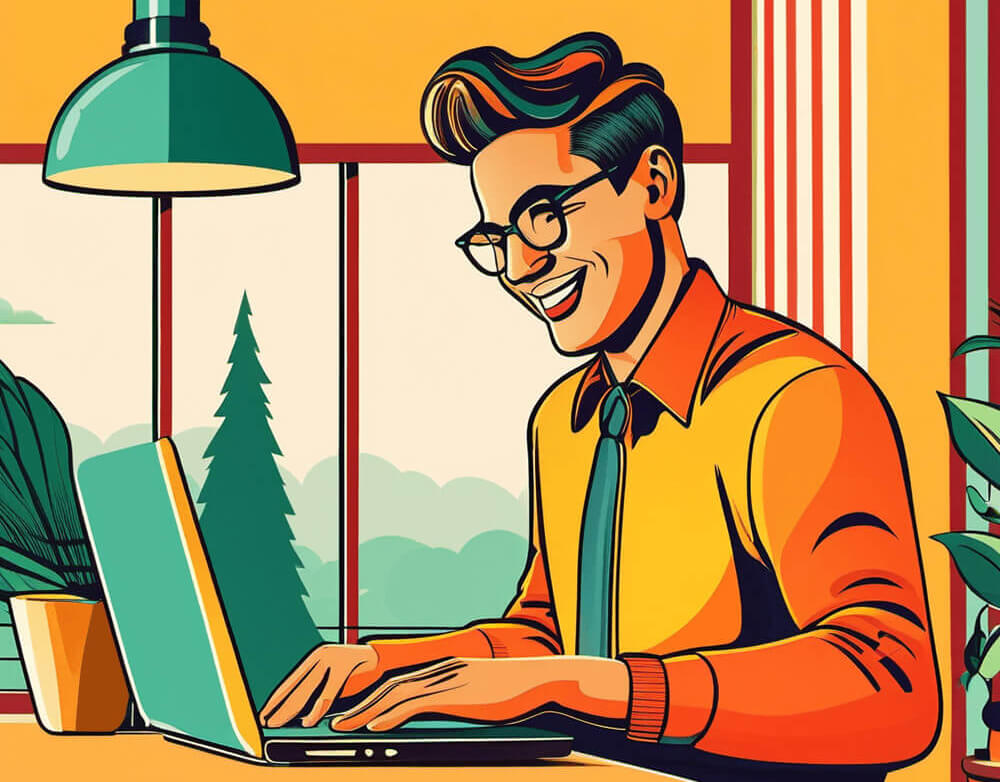 Gigs can include creating custom images or editing images provided by your clients. For example, Shazin creates custom anime and fantasy images, concept art, and character designs. Pro Retouch, on the other hand, enhances and edits AI-generated images to refine the final look and bring them closer to the client's vision.
Pro Tip: Rather than uploading a portfolio of random images, focus on what companies are looking for — YouTube and TikTok thumbnails, marketing materials, and branding concepts. Displaying a portfolio of these in-demand projects will show companies that you are capable of creating exactly what they need.
7) Voice-Overs
Clients turn to voice-over artists to breathe life into their scripts. Whether it's for YouTube tutorials, TikTok videos, or even commercials, a skilled voice can transform an ordinary video into truly engaging content.
If you can speak clearly, imitate Morgan Freeman, or make funny voices, this may be one of the most enjoyable Fiverr gigs for beginners to start.
You will find even greater opportunities if you can mimic accents or speak a foreign language. Businesses are often looking for bilingual or multilingual voice talent to reach a more diverse audience.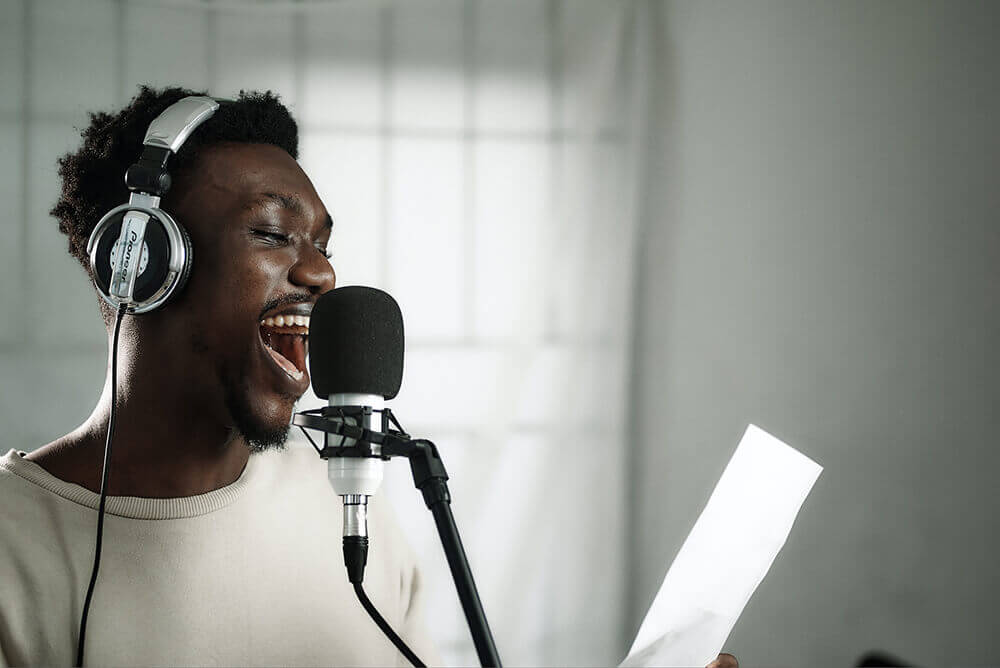 For example, Jonny provides a world-class American voice-over starting at $25 for 100 words. And Carson will give an authentic BBC play-by-play for any sporting event (including imaginary sports).
Pro Tip: To get started, offer a range of samples demonstrating your ability to adapt to different tones and styles. As clients reach out to book you, make note of what kinds of voices piqued their interest. Double down on these areas and update your gig accordingly!
How To Excel On Fiverr As A Beginner
Here's your roadmap to thriving on Fiverr from day one:
Ratings are the name of the game. The better your ratings, the greater your success. But how do you get those first few 5-star reviews when just starting out? Knock out some small gigs for friends and family through the platform. Their glowing reviews will jumpstart your Fiverr career.
Communication is key. Don't leave anything to chance. Respond promptly, ask questions, and ensure you fully understand your client's needs before you begin. The smoother the communication, the happier the client.
Excellent customer service will set you apart. Be friendly, accommodating, and attentive to client requests. Also, don't leave clients wondering. Proactively reach out with status updates. If a delay does occur, quickly communicate it with the client and tell them the steps you're taking to resolve it.
Underpromise and over-deliver. Surprise your clients with results that exceed their expectations. For example, if your gig offers two samples, give them a third option. Or if you provide a 48-hour turnaround, deliver in 24. This will not only ensure their satisfaction but can lead to repeat business and positive reviews.
Don't be shy to ask for referrals. Once you've wowed a client, don't hesitate to ask for referrals. Happy clients are often more than willing to recommend your services to others.
Optimize Your Fiverr Gigs for Success
Being successful on Fiverr is all about making it easy for clients to find you and see that you are qualified to help them. The following optimization techniques will give you an edge over the competition so you can win more bids.
Craft effective gig titles and descriptions. When writing your gig title and description, look at it from your customer's perspective. What benefit do you provide? Why should they hire you? Rather than hearing about how great you are, clients want to know that you understand their needs and have a solution. Your gig title and description should make this crystal clear.
Leverage relevant tags and keywords. Research popular keywords in your niche and incorporate them into your gig description and tags. This will increase your visibility and help you show up higher in relevant search results.
Showcase your accomplishments. Think of your portfolio as your visual resume. Upload high-quality work samples to demonstrate your skills and expertise. Clients want to see proof of your abilities before paying for a service. A strong portfolio instills trust and helps you secure more gigs.
Final Thoughts
With so many Fiverr jobs for beginners available, there's never been a better time to launch your freelance career.
Start with low-cost, easy jobs to gain traction and build your portfolio. Under-promise and over-deliver to wow your customers and gain those prized 5-star ratings.
Then, as you gain experience and social proof, scale your business by adding more gigs and valuable upsells.
Keep in mind that no matter how hard-working, talented, and knowledgeable you are, you will face challenges on your Fiverr journey.
But remember, every successful freelancer was once a beginner too!
So, think of each obstacle as a stepping stone that allows you to hone your skills and leads you ever closer to that ultimate prize — financial freedom!