Social media has become an indispensable part of every business's marketing and growth strategies. With about 4.74 billion social media users worldwide, these networks offer an unparalleled opportunity to engage with potential customers and build relationships.
But leveraging social media isn't easy. One by one, Facebook, Instagram, and TikTok have all changed how the business of marketing works. And this means that business owners can't afford to treat social media like a traditional marketing platform.
New platforms mean new rules.
To have an effective social media strategy in today's environment, take advantage of these 16 social media best practices. We will cover the differences between each platform, how to drive engagement on your social networking profiles, and how to translate social media success to real business outcomes. Let's dive in!
16 Essential Social Media Best Practices
These social media best practices are universally true — from LinkedIn and Twitter to Instagram and Facebook. Apply them to your business profile today to get the most out of your content creation.
1. Understand Your Target Audience
Deeply understanding your audience and their needs should always be the top priority when using social media as a marketing tool.
Knowing your target market allows you to tailor:
Your content
Tone of voice
Choice of images, videos, audio, and graphics
The brand message and more
To take advantage of this best practice, ask yourself if your posts would look different for a young audience or an older one. What about B2B versus DTC?
You will quickly realize that you need to understand who exactly you want to reach and persuade in order to craft a marketing message.
When learning about your audience, look for data on the following details:
Age range
Gender
Location
Buying habits
Interests
Income level
And other demographic details
After aggregating this information, build a buyer persona for each social media platform based on which group is prominent on that network.
For example, did you know that the largest age group on TikTok is young people from ages 10 to 19? While Pinterest, on the other hand, is dominated by women from 50 to 64. In fact, it has the largest proportion of female users compared to any other platform at 78%.
Your target audience and the platform at hand will dictate the remainder of your social media strategy. So take the time to learn more about the nuances of your audience on each network. Their likes, dislikes, and preferences are the key to creating content that resonates with them.
2. Define Your Social Media Marketing Objectives
All the best practices for social media won't matter if you don't have a clear goal for your social media strategy. These objectives will direct your campaigns to produce the most beneficial results for you and your business.
To begin, establish measurable goals to track the progress and success of your social campaigns. Much like email marketing metrics, keep an eye on engagement rates, conversion rates, and your profile growth (follows versus unfollows). These figures will make it easier to measure marketing ROI and know where you stand relative to your competition.
But how do you turn these numbers into goals? And how do you define KPIs for LinkedIn, Instagram, or Twitter? Here are a few questions to think over:
Do you want to increase your followers?
Do you want more likes or shares on your posts?
Are you looking for greater engagement?
Do you want to generate more leads?
Are you aiming for better brand recognition?
If you start with a big goal, like boosting your brand value, break it down into more measurable objectives. For example, you could strive to grow your account to 10,000 followers, increase your engagement by 20%, or drive 50% more sales from TikTok.
With clear objectives, you will be better able to write compelling copy and create thoughtful content that motivates your followers to take that action.
3. Choose The Right Social Media Platforms
Here's the deal with social media – there are so many platforms it can become distracting. Sure, they can help you connect with billions of consumers but few businesses have the resources to give every network a fair shake.
You may be hesitant to ignore any platform, but one of the top social media best practices is to decide which social media networks are most consequential for your brand. After narrowing your focus, pour all of your efforts into leveraging these select platforms.
Here are a few key tips to make the most of your digital presence:
Be present and active on the 'Big 4': Facebook, Twitter, LinkedIn, and Instagram
Create profiles on as many other social media profiles as you can and add basic information
Choose your top 2-3 platforms based on your audience demographics, marketing goals, and industry
Create platform-specific content for at least your top 2 social media websites
As a hypothetical example, imagine an ecommerce business that sells home decor. This brand will likely cater to women and promote its products using visuals like pictures and videos. It may also publish blog posts on decorating tips to drive organic leads.
For this type of business, platforms like Pinterest and Instagram are a natural fit. They both have a large female audience and pictures are the main format for sharing information.
Alternatively, consider a business that manufactures circuit breakers. This type of business may operate in the B2B space and need to contact company decision-makers. Here, LinkedIn and cold email outreach will work best.
Finally, if you are looking for larger reach to drive brand awareness, Twitter might be better suited for your purpose. Plus, with interactive features like polls and surveys, businesses can use Twitter to generate feedback and make product decisions.
Every social media platform has its own features and benefits, so it is important to consider your unique business needs. Having a clearly defined goal should help you decide where to focus your efforts.
4. Create A Social Media Calendar
The easiest way to stay on top of your content across multiple social media channels is to create a social media calendar. This is the roadmap that informs all of your social media activities and keeps track of the creation and distribution of content.
In its simplest form, your calendar is a content planning tool. You can create a document or a spreadsheet and add details about when you intend to post and which pieces of content will go live. HootSuite, Canva, Buffer, and many others can support this planning process.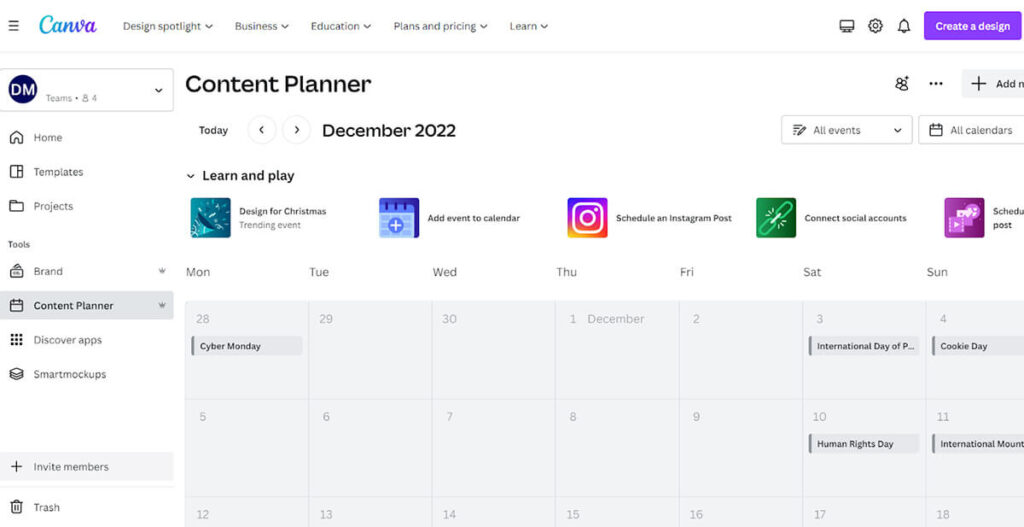 But there are also more sophisticated tools that you can use to create, reformat, and share social media content to multiple platforms from one central app.
Here's why building a content calendar is one of the most valuable social media best practices on this list:
Ensures that you post frequently and consistently
Helps you plan content in advance
Prevents scrambling for ideas at the last minute
Saves time by organizing your tasks and optimizing workflow
Helps to measure success and strategize for the future
Facilitates content repurposing
Supports preparation for major events like Black Friday
To create a regular posting cadence and drive greater engagement rates, create an organized content calendar. If you stick to it, you will soon benefit from your consistent online presence.
5. Customize Your Posts
Everybody knows that the key to social media marketing is posting quality content. Relevant and engaging content is the only surefire way to retain your current following and attract new attention. That's why it is no surprise that the best content enjoys more comments, reactions, shares, and sales than anything else.
What is often overlooked, however, is that what qualifies as the "best content" varies from platform to platform.
In the early days of TikTok, advertisers tried duplicating their top-performing Facebook ads on the short-form video platform. Unsurprisingly, that static content did not translate well. But, on the other hand, posting TikTok-style videos on Facebook often does work!
To create effective content that moves your overall marketing plan forward, keep these points in mind:
Tailor your content to match the style of the network you are targeting
Create visuals in different dimensions for different platforms
Stay in tune with the latest trends and news
Choose content based on your target audience's interests
Make every effort to fit in with the culture and the user base of the network
Don't make the mistake of using the same lingo on all social media platforms
One of the best ways to repurpose posts for different networks is to use Canva. Canva lets you resize posts with a single click. This will save you time and energy so you can focus on engaging your audience.
Below is an example of how Nike uses the same content in different formats. For Instagram, the brand uses a short-form video. And for Twitter, Nike compiles many of the video's individual elements into a single image.
Welcome to Nike FC. We're not a club. We're a community. If you love the game of football, you're a part of Nike FC. Let's change the game, create the culture, and build the future together. #nikefc pic.twitter.com/8LzSQptDc0

— Nike (@Nike) November 9, 2022
6. Use Hashtags
Hashtags are an essential part of any social media strategy. They make it easier for users to find interesting content and for businesses to get discovered by potential customers.
When used correctly, hashtags can help businesses expand their reach, engage new audiences, and build a larger following. So be sure to add hashtags to your posts!
But as you do so, consider the following tips:
Use hashtag generator tools to find hashtag ideas
Analyze which hashtags are trending and which are saturated
Use variations of the same hashtag for better coverage
Create custom hashtags for your campaigns
Track the performance of your hashtags by monitoring how many people are engaging with them
Learn what people think and feel by following conversations sparked by specific hashtags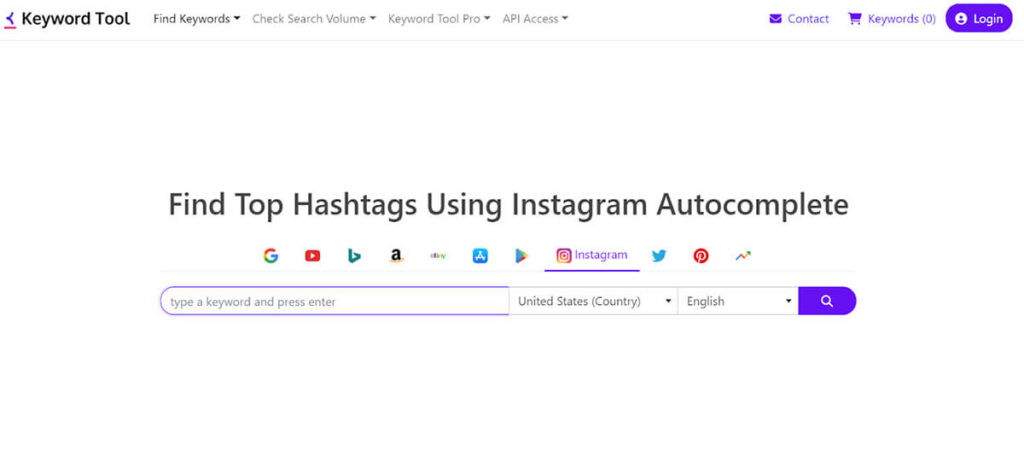 Continuously test different sets of hashtags to gauge what works best for your business. Keep track of performance over time, and experiment with different combinations of general, trending, and niche-specific hashtags.
Analyzing your hashtag performance is a simple but highly effective way to up your social media game. And once you've collected enough data, you can even use a hashtag as a part of your branding as Google does here.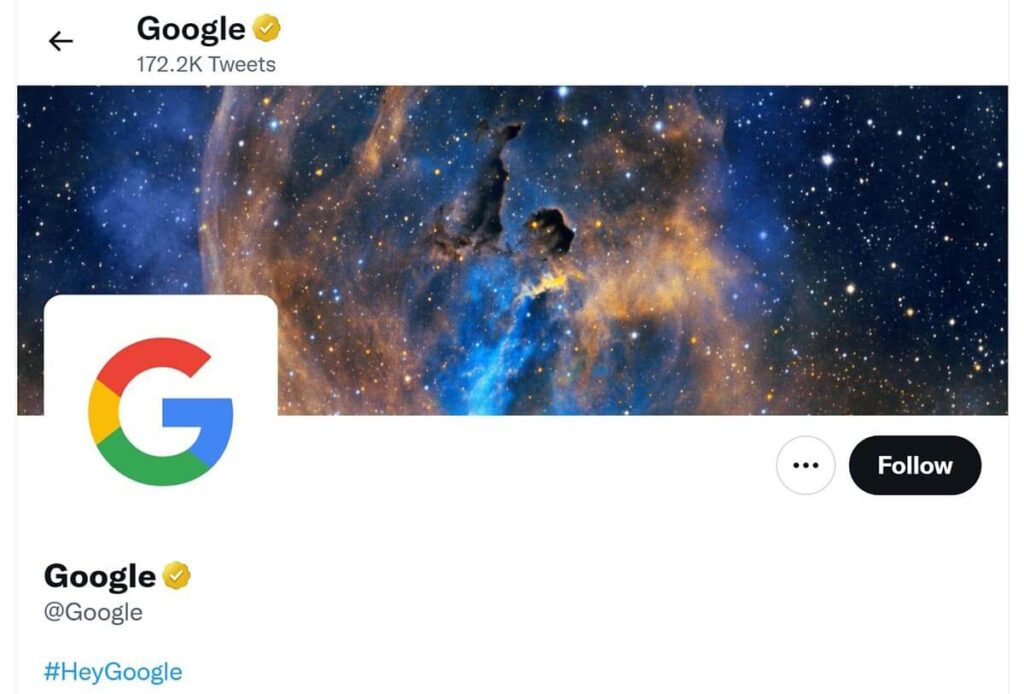 7. Use Social Media Tools
Social media tools can't do the work for you — but they can make it easier and more efficient. If you are short on time and struggling to put these social media best practices into action, consider using social media tools.
Here are a few different types of social media tools and what they have to offer:
Social Media Management Tools: These tools help businesses manage their accounts and content across multiple networks. They allow users to schedule posts on a variety of platforms, track performance, monitor conversations, and more.
Content Curation Tools: Content curation tools are great for surfacing interesting and relevant content that can be re-shared on social media. They enable businesses to stay up-to-date on trends and to provide valuable information to their audience.
Analytics Tools: These apps allow businesses to track the performance of their accounts and campaigns by monitoring engagement levels, reach, impressions, website clicks, conversions, and more. They provide insights into what type of content resonates most with audiences so that businesses can refine their strategies accordingly.
Automated Posting Tools: Automated posting tools save time by enabling businesses to schedule posts in advance for a set interval or specific date/time range. This can be done across different social networks simultaneously or separately. Plus, links from other sources like RSS feeds or webpages can be included automatically. This allows businesses to post from one source regularly, without manual input.
Influencer Marketing Platforms: With influencer marketing platforms like Upfluence, social media managers can quickly identify and engage with influencers that match their brand. Businesses can then monitor the real-time reach and impact of the influencer's content to determine the success of the partnership.
Regardless of your budget or industry, there are social media tools available to automate processes and improve your efficiency. If you find yourself spending time repeating the same task over and over, consider researching an app that can help.
8. Cross-Post On Different Platforms
Cross-posting is sharing the same content across multiple social media platforms. It is the key to maximizing exposure for your posts and getting the best bang for your buck on content creation.
But remember, don't copy-paste the content across all platforms. Each social network is unique and requires customization (as we mentioned before). So, edit your post dimensions, ad copy, captions, etcetera. This will ensure that the content looks and feels appropriate to each platform's audience.
Cross-posting is a great way to save time, increase engagement, and reach more people. Instead of making something new each time, create pillar content that can be adapted for different channels. By sharing this content broadly, your business will earn extra exposure that can boost the traffic to your website or blog and drive more sales.
9. Leverage Social Media Ads
As social media becomes more competitive, organic reach continues to decrease. That means virality is a harder and harder goal to achieve.
In the end, if you want to guarantee that enough people see your content, ads are the only solution. Fortunately, all social media networks allow businesses to create profiles and publish ads.
But the most effective way to make use of social media ads is to know the platform you're using. Marketers must understand the different types of ads available and how they have been used successfully in the past.
For example, Pinterest is a great app for building brand awareness with ads, while Facebook is more reliable for conversions. Similarly, each social media website has its own targeting options to help businesses reach their desired audience.
Further, social media ads allow businesses to split-test creatives, headlines, copy, visuals, and more to determine what resonates best with their customer base. By spending money to boost these tests, businesses can more quickly determine what drives maximum ROI.
When running paid ads, however, it is more critical than ever to closely monitor performance. This way, you can analyze which campaigns are working best and which ones need to be adjusted or eliminated.
10. Perform Social Listening
Social listening is a valuable social media best practice that is often overlooked. It involves actively monitoring what users or customers say about your brand, products, or market as a whole.
Some of the key benefits of social listening include:
Gathering customer feedback
Identifying potential customers
Better understanding of the marketplace's perception of your competitors
Learning about customers' pain points, interests, and needs
Discovering new trends
Improving customer relationships
Social listening helps you form a comprehensive view of customer sentiment so you can develop better strategies for your business. Whether you find negative or positive feedback, you will gain a clearer understanding of customers' opinions and where you can improve your offering.
So make sure that you are paying close attention to what people are saying about your brand on social media. Here are 5 steps to do just that:
Remain active on social media and regularly read your comments
Use a social media listening tool such as Sprout Social, HootSuite or BuzzSumo
Set up notifications so you're alerted when someone mentions your brand
Monitor keywords related to your industry
Engage with the customers who are talking about your brand or products
By leveraging social media listening, you can ensure that your business remains competitive and that your messaging relays the right tone. It also gives you an opportunity to interact with customers and quickly address any negative feedback. Ultimately, this will help you build trust and credibility across social media.
So always take the time to listen to what customers have to say. These insights can propel your social media campaigns to greater success!
11. Use Analytics To Audit & Check Your Performance
Each social media platform has its own analytics tool that allows you to monitor and measure the performance of your posts. This data can help you determine what types of content work best for each channel and which ones require further optimization.
Analytics also enables you to track your progress over time, identify any potential areas of weakness, and compare your performance to competitors. But keep in mind that these insights will vary from channel to channel.
For example, LinkedIn focuses on metrics such as content engagement, profile visitors, and job applicants. Whereas TikTok focuses more on followers, likes, video views, and shares.
Regardless of the platform, a few common metrics worth paying attention to include:
Reach
Engagement rate
Followers gained or lost
Link clicks
Referral traffic
Conversions
One of the social media best practices you can't miss is tracking these analytics. Luckily, you can get critical data through each social platform's individual analytics dashboard. Or, you can opt to aggregate data with third-party apps.
These specialized tools can track website conversions from social platforms and analyze top-performing posts from any social network. Some of the most popular data tracking solutions include:
Google Analytics
HootSuite Insights
Brandwatch
Sprout Social
With the help of these apps, you can monitor the progress of campaigns across platforms and create reports to review with stakeholders. Moreover, you can evaluate the effectiveness of ads by analyzing your campaign objectives and overall marketing ROI.
12. Leverage Influencer Marketing
Influencers are a critical part of the social media landscape. They are typically adept at creating original and entertaining content on a consistent basis. And top social media influencers have the power to introduce potential customers to your brand and use the trust they have built with their audience to drive sales.
This is why researching influencers is a critical piece of any successful social media marketing practice. But before you reach out to influencers directly, it's important to ensure that the influencer is a good fit for your brand.
To find influencers that are right for your business, use these strategies:
Identify relevant topics, hashtags, and keywords
Search social media platforms for influencers who produce content related to these topics
Look at the engagement rates, follower counts, and online sentiment for each influencer
Analyze the quality and style of their social media content
Once you find influencers who are appropriate for your brand, reach out directly and establish a collaborative working relationship with them. You can do this by offering incentives like free products or discounts in exchange for their posts and stories. Or, you can hire them to create sponsored content on your behalf.
Either way, you will want to ensure that the influencer is familiar with your company values and messaging. This way, they can create content that reflects your brand while still remaining authentic to their own voice.
When it comes to social media best practices, working with influencers is a must. They can help you spread the word about your products or services and quickly boost your brand reach. And the right content creators have the potential to attract new customers, generate leads, and build loyalty.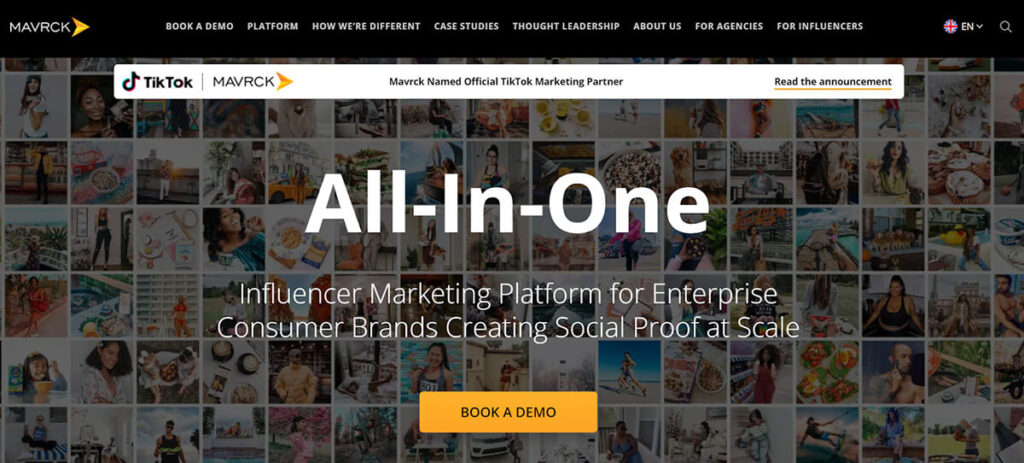 And if you find yourself getting stuck, consider using influencer marketing tools. These powerful platforms can help you find the best influencers for your brand in no time. Plus, they make it easy to track data, manage campaigns, and build relationships with brand-appropriate content creators.
13. Monitor & Respond To User Comments
Responding to user comments is one of the most important social media best practices.
Monitoring your social media comments is an effective way to show your customers that their feedback is valued and appreciated. This helps to build trust with your followers and keep them engaged in your journey.
It's also important to make sure that when you do respond, you do so in a timely manner. By quickly understanding and addressing their questions or concerns, you can significantly improve customer satisfaction.
Lastly, don't make the mistake of disregarding negative comments about your brand on social media. If a customer is unhappy with a product or service, respond quickly and professionally to try and fix the relationship. This will show other potential leads that you take your customers seriously and go the extra mile to make things right.
By promptly responding to customer comments on your social media accounts, you can build trust with your followers, increase customer satisfaction, and gain valuable insights into customer preferences. Plus, closely managing customer comments can help you diffuse tense situations and address any negative feedback.
14. Post Content Daily
Publishing one blog post per week or per month may work for content marketers. But for social media, it's necessary to post content on a daily basis. This will help keep your brand top of mind and your followers engaged.
Social media algorithms also prioritize users that post more frequently, so the more content you share, the greater reach your posts will have. But if you are posting multiple times per day, try to mix up the types of content you post. This may include videos, photos, articles, and polls.
By posting regularly and varying the types of content you share, you can create an active and engaging presence on social media. This can help you drive more website traffic, increase brand awareness, and build strong relationships with your customers.
15. Post At The Right Times
Timing also plays an important role in social media best practices. To drive greater engagement, be strategic about when you post your content. This requires understanding when your followers are most active on social media.
According to HootSuite, you should post:
On Facebook between 8 AM to 12 PM on Tuesdays and Thursdays
On LinkedIn at 9 AM on Tuesdays and Wednesdays
Across social media at 10 AM on Tuesdays, Wednesdays, and Thursdays
While these are just guidelines, they do make some sense intuitively. On Mondays, many people are catching up on work and their weekly routine. And by Friday, most people's minds are already set on the weekend. But remember that these are not hard-and-fast rules.
If you want to maximize your potential reach and engagement, you will need to pay attention to when your followers are online and plan accordingly. Try experimenting with different posting times to see which times consistently drive the best results.
16. Track Your Competitors
If you want to succeed in social media marketing, then you need to monitor the social media best practices your competitors are using. But tracking your competitors does not mean blindly imitating their strategies — it simply means learning from what they do right.
Know an eye on when and how often your competitors post content or engage with their audience. Check the type of content they post and how well it performs. For example, if your competitors are posting to Instagram three times per day, then you should consider posting that frequently.
Next, ask yourself the following questions:
Does their content have higher engagement than yours?
What can you learn from their copy?
Do they appear to be targeting a demographic or audience that you are missing out on?
Have they started or joined any new trends?
You can use these data points and insights to improve your own social media strategy. As you monitor the topics they cover and the type of conversations they engage in, you can glean valuable tips on how to build relationships and create a successful social media presence.
Employ Social Media Best Practices To Grow Your Audience
Following these 16 social media best practices is an essential part of any social media marketing strategy. From studying your target audience to social listening to tracking your competitors, these tips can help you create an effective social presence in this digital age.
When combined with strategic planning and consistent content generation, you can create compelling and engaging social media profiles that will help you establish relationships with customers, expand your reach, and monetize your following.
After all, there is no denying that social media is here to stay. So if you are not taking full advantage of its power, then your brand is leaving money on the table!
Social Media FAQs
What is the 411 rule for social media?
The 411 or 4-1-1 rule provides a guideline for how businesses should think about promotion on their social media profiles. 

According to this concept, for every six pieces of social media content, four posts should entertain or educate your followers, one should soft sell, and one should hard sell or directly promote a product or service.

This idea is designed to balance the inherent push-and-pull nature of social media marketing. Sales-driven posts often push followers away, whereas "value" based posts can attract new followers. So by giving twice as often as you take, businesses can continue to grow while monetizing their audience. 
What is the 5 3 2 social media rule?
The 5-3-2 rule is a guideline that suggests businesses should share five informative posts, three personal posts, and two promotional posts for every ten pieces of content on their social media channels.

This structure helps to create a balanced social media presence that is informative, entertaining, and profitable. And unlike the 4-1-1 rule, it encourages businesses to share personal information that can aid in deepening their relationships with followers.
How can I optimize my social media posting?
To optimize your social media posting, it is important to focus on the following strategies:

– Post content that resonates with your audience
– Use hashtags to increase visibility and engagement
– Post at peak times when your followers are most active
– Vary your content format
– Take advantage of the latest trends and memes
– Monitor your brand mentions
– Engage with customers who mention you
– Analyze your performance regularly
– Utilize social listening to track customer sentiment and needs

By optimizing the way you post on social media, you can increase your reach and engagement as well as build relationships with your followers. These strategies can support both your profile growth and your ability to monetize your following.
What are the four pillars of social media required for building a brand?
To fully develop your brand, you need a strong presence on social media. Utilize these four pillars to drastically amplify your reach and brand awareness:

Distinctive
Influential
Relevant
Trustworthy

Remember the acronym DIRT as you create social media content for your brand. By ensuring every post is distinctive, influential, relevant, and trustworthy, you can create an impactful online presence.
Reflect these four key pillars in your posts, visuals, copy, and overall messaging to expand your brand awareness and to stand out in a crowded social media environment.
Why should I consider boosting my posts?
Boosting your posts is an effective way to increase visibility and engagement on your social media channels. Boosting also enables you to target a specific audience with tailored messaging, improving the relevance of your content for potential customers.

By boosting your posts, you can reach more people outside of your existing follower base and drive traffic to your website. This is especially beneficial for new businesses or those who are just starting to build a social media presence, as it can provide more immediate results.

Boosting posts is also helpful for testing what content resonates with your followers and refining your content strategy. By understanding the type of content that drives engagement, you can create more effective campaigns in the future.