Studies indicate that the Covid-19 pandemic pulled the e-commerce market forward by 5 years. As consumers were forced to adapt to a new way of living and shopping, DTC brands saw a huge surge in demand.
The direct-to-consumer (DTC) business model was already on the rise pre-pandemic, but the events of 2020 and 2021 have propelled it to new heights. DTC brands are now some of the fastest-growing and most talked-about companies in the world, with everyone from traditional retailers to tech giants wanting a piece of the DTC pie.
But, what exactly is DTC? And how does the DTC business model work? Stay tuned! This complete guide will teach you the DTC meaning, demonstrate its pros and cons, and highlight 10 examples of successful DTC brands.
DTC Meaning & Model
Direct-to-consumer (DTC) is a business model where a brand or manufacturer sells its products directly to the consumer without involving middlemen, wholesalers, or distributors.
In other words, DTC brands develop their own products, market them to consumers, and sell them via their own channels (usually an e-commerce website). DTC brands cut out the middleman to save on costs and create closer relationships with their customers.
The DTC business model is growing in popularity, and for good reason. According to Statista, DTC eCommerce sales in the United States are expected to grow to $213 billion by 2023. If you're considering making the change from a retail or wholesale model to DTC, below are a few reasons to do so.
Benefits of a DTC-first strategy
Whether you're an existing brand or an aspiring entrepreneur, there are many reasons to explore the direct-to-consumer business model. DTC companies enjoy a number of advantages, including:
Owned customer relationships
DTC brands own the customer relationship because they're the only ones selling their products. This direct line of contact gives DTC brands more control over the customer experience and allows them to build deeper relationships with their customers. From repeat purchases to subscription billing, DTC brands have a variety of ways to keep customers engaged and coming back for more.
Faster feedback cycle
DTC brands get feedback from customers more quickly and efficiently, which helps them to improve their products or services. Because they own the customer journey from start to finish, they know the who, what, and when of every conversion. This provides insights that can help to innovate and better serve customers.
Improved branding
With DTC, brands have more control over their product messaging and branding. DTC companies can choose how and where to position their products, without having to worry about working with third-party retailers who may not share their vision. Removing the middlemen also gives DTC brands more flexibility to experiment with new product offerings and marketing strategies.
Higher profit margins
DTC brands don't have to share profits with intermediaries and third-party retailers. This allows them to invest more in product development, marketing, and customer experience. DTC brands also have the potential to offer lower prices to consumers, as they don't need to factor in margins for retailers.
Disadvantages of a DTC-first strategy
As with any other business model, switching to direct-to-consumer has downsides, too. Here are a few drawbacks to be aware of:
Higher customer acquisition costs
Acquiring customers can be expensive, especially in the early days of a DTC business. DTC brands need to invest in marketing and advertising to reach their target audience. DTC brands also need to have a strong eCommerce platform and robust customer service infrastructure in place to provide a great experience for customers.
Lack of brick-and-mortar presence
DTC brands don't have the same reach as traditional brands because they're generally not selling through brick-and-mortar stores. DTC brands need to find other ways to get their products in front of consumers, such as through social media marketing. However, even online the looming competition from Amazon and Walmart.com can make it difficult for DTC brands to be seen.
Higher returns and refunds costs
DTC brands need to have a robust returns and refunds process in place, as customers may be more likely to return products they've bought online. DTC brands also need to budget for the cost of shipping returns back to them.
10 inspiring direct-to-consumer brands
Are you ready to make the switch to DTC? Check out these 10 inspiring direct-to-consumer brands that are killing it in their markets:
1. Warby Parker
Established in 2010, Warby Parker has revolutionized the eyewear industry. Its direct-to-consumer home try-on program allows customers to pick up to five eyewear styles that they can try on at home. The program is entirely free and even offers return shipping. For those who prefer a more immediate result, the Warby Parker app offers a virtual try-on experience.
Warby Parker's home page features a try-on quiz where customers can answer a few quick questions about their favorite eyewear style to receive personalized frame recommendations. And in select locations, the DTC brand has a physical presence where online customers can interact with their products in person.
2. Casper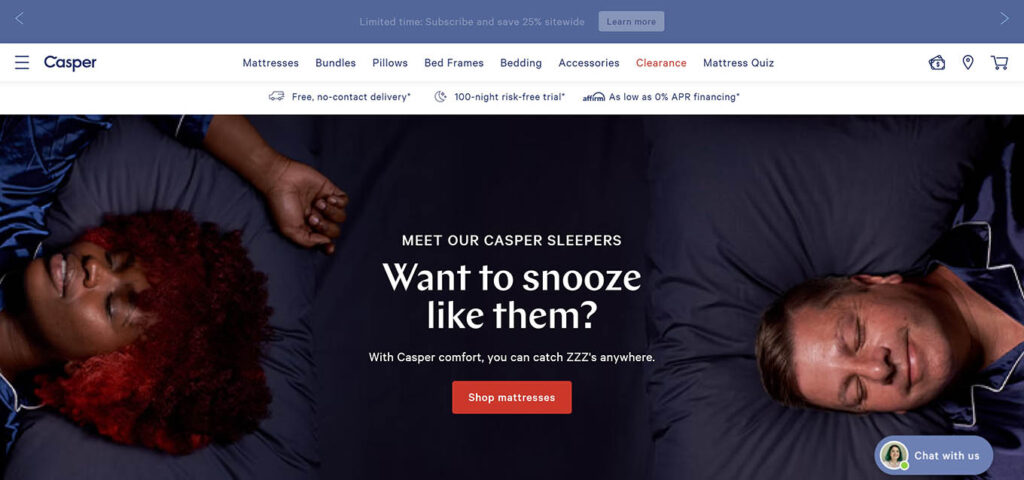 Casper was among the first bed-in-a-box startups to gain popularity. Launched in 2014, the company began shipping mattresses with generous return policies and has since introduced other sleep products like pillows, duvets, bedsheets, and more.
Casper faced hesitation from customers about the idea of buying a mattress online, so the DTC brand focused on delivering an exceptional customer experience. In addition to its 100-night risk-free trial, Casper handles the pick-up process if a customer does not love the mattress they've purchased. These policies have helped Casper de-risk the purchase process and establish a loyal customer base.
3. Burrow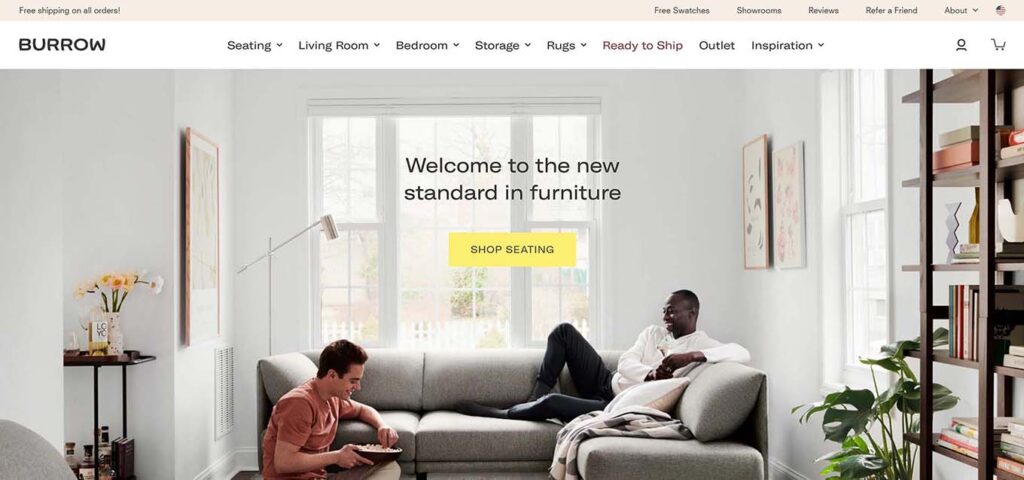 Burrow is one of the original DTC furniture brands. The founders Kabeer Chopra and Stephen Kuhl started the company after purchasing bulky and expensive furniture that was difficult to move into their small college apartment. Although Ikea offered a portable option, they grew frustrated with the time and complexity involved with assembly.
This is when the lightbulb went off and Burrow was born. The two founders set out to create luxury modular furniture that is lightweight and easy to put together. And for any customers that don't love their order, Burrow offers free shipping and a 30-day return policy.
4. Away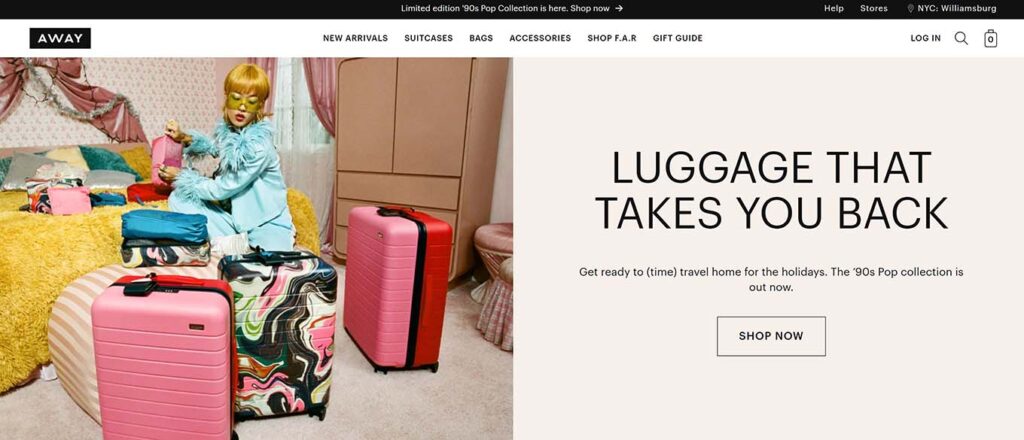 Steph Korey and Jen Rubio, the founders of Away, tapped into the DTC model after noticing how expensive high-quality suitcases were. They realized the biggest factors that contributed to the high prices were distribution costs and retailers' high markup prices.
The two founders decided to sell their products direct-to-consumer to solve this problem. Today, Away is known as a sleek travel brand used by celebrities like Jessica Alba, Meghan Markle, and more.
5. Dollar Shave Club
Dollar Shave Club launched in 2011 as a subscription box service for men's razors. After a series of viral YouTube videos, Unilever acquired the DTC brand for $1 billion in 2016. The DTC brand has since expanded its product line to include a myriad of grooming items like shaving cream, body wash, hair gel, and more.
The company was a trailblazer among direct-to-consumer brands, gaining its initial traction by providing high-quality razors at a fraction of the retail price. And by offering a subscription service, Dollar Shave Club was able to build a recurring revenue stream that helped to fuel its incredible growth.
6. Harry's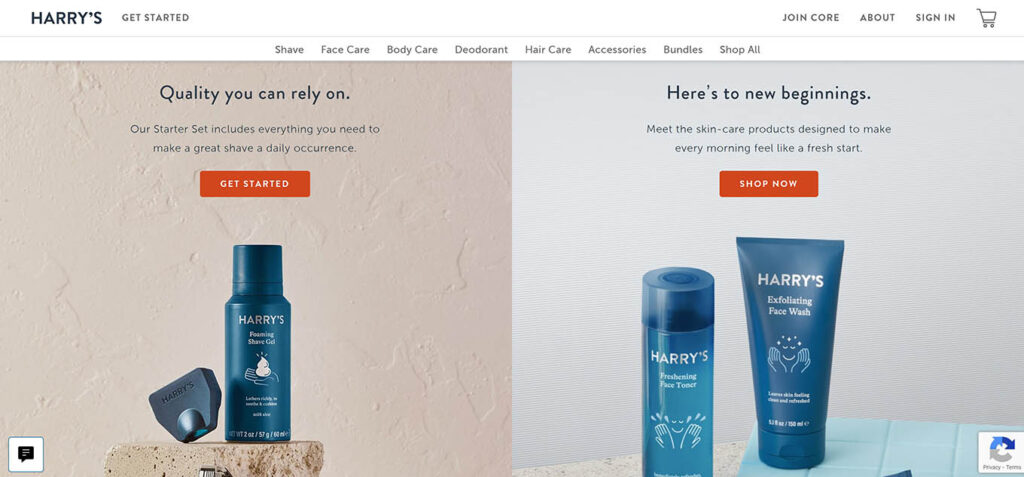 Like Dollar Shave Club, Harry's is a men's grooming company. Established in 2013, the founders Jeff and Andy sought to provide quality shaves at a fair price. In 2019, Harry's was nearly acquired by Edgewell Personal Care for $1.37 billion. However, the deal fell through and Harry's continues to operate as an independent DTC brand.
Harry's continues to expand its product offering and retail presence. The DTC brand now sells a line of shaving cream, body wash, deodorant, skincare products, and more.
7. Scentbird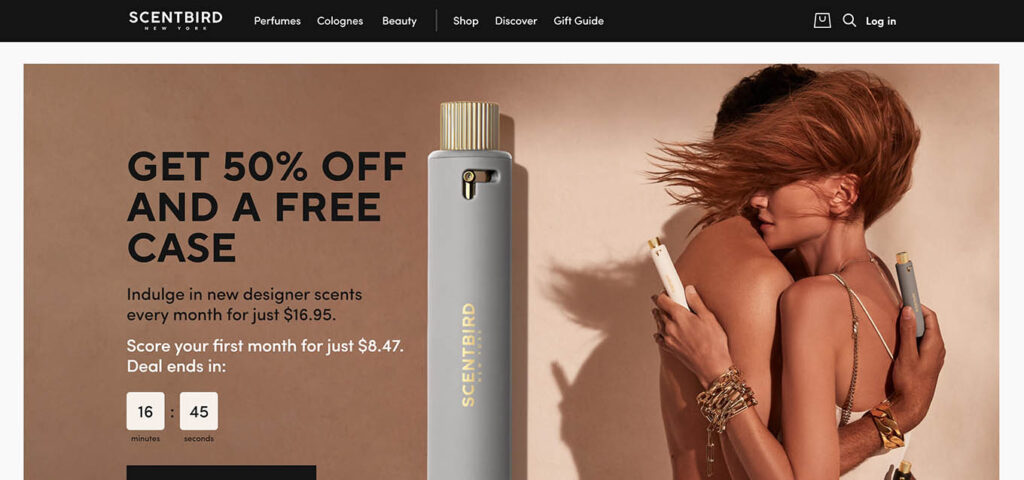 Scentbird is a fragrance subscription company that allows customers to try out new designer scents. Starting from only $16.95, subscribers get an 8 mL bottle (or roughly 120 sprays) each month from one of more than 600 different perfumes and colognes.
Scentbird was one of the first DTC brands to enter the fragrance industry. By offering an affordable subscription, they have allowed customers to try high-end fragrances without having to purchase a full bottle. Their personalization and world-class customer service, courtesy of their fragrance experts, have propelled them to the top of the DTC world.
8. Allbirds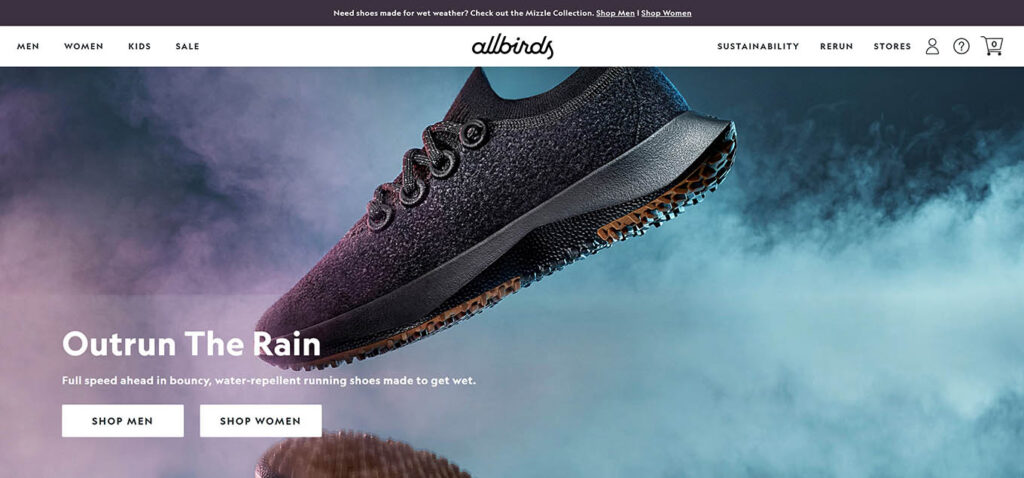 Allbirds is a footwear brand that sells shoes made from sustainable materials like merino wool and eucalyptus tree fiber. The DTC brand was launched on the Shopify platform in 2016 by Joey Zwillinger and Tim Brown.
Allbirds has raised over $200 million in total funding and was valued at $1.6 billion in its last round in 2020. The DTC brand has been able to grow rapidly by selling differentiated products and developing all-new fabrics.
9. Bonobos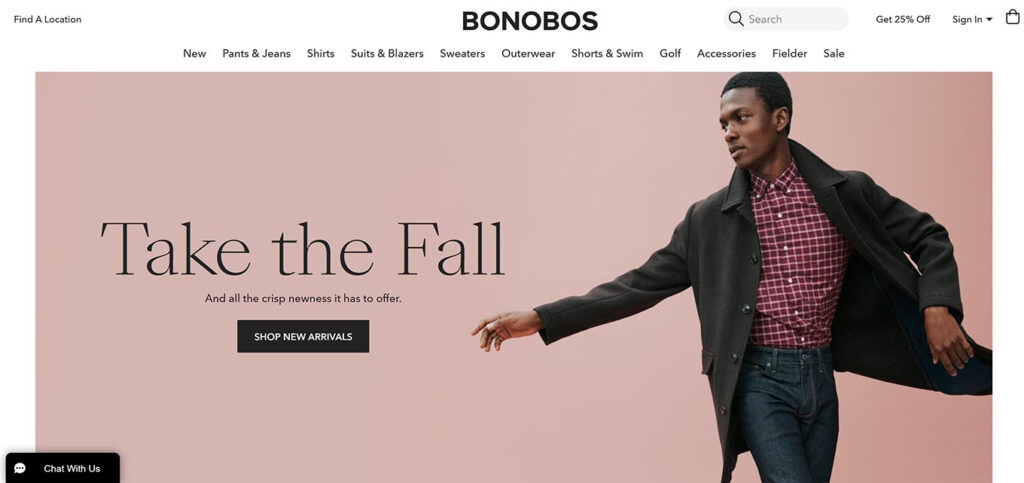 Bonobos is a men's clothing brand famously centered around providing the perfect fit. The DTC brand offers a unique online experience where shoppers can create a fit profile and receive personalized recommendations.
Launched online in 2007, Bonobos began with pants but has expanded its product line to include shirts, sweaters, suits, outerwear, and more. In 2017, Walmart acquired Bonobos for $310 million but it continues to operate as an independent DTC brand today.
10. Bombas

Bombas began its DTC journey by selling athleisure socks that help give back to those in need. For every pair of socks they sell, they donate a pair through one of their 3,500+ giving partners. This mission has since expanded to include underwear and t-shirts as well.
Bombas' high-quality apparel and meaningful mission help the DTC brand grow from $300,000 in revenue in 2013 to more than $100 million in 2018. Not a bad deal for Shark Tank investor Daymond John, who put in $200,000 for 17.5% equity back in 2014.
How to succeed in the DTC model
If you're planning to go direct-to-consumer, here are four important things to keep in mind:
Provide an unbeatable customer experience
One of the major benefits of the DTC approach is that you control your customers' purchasing experience. From the products you sell to the way you market them, every aspect of your business should be designed to provide the best possible experience for your target customer.
And in today's DTC world, that customer experience doesn't stop at the purchase. You also need to focus on post-purchase support, returns, and anything else that will keep your customers coming back for more.
Build a community
The best DTC brands nurture a community of people with shared interests and values. Keep in mind that this community goes beyond just the customer base — it includes social media followers, email subscribers, and even employees.
You can cultivate a strong sense of community by being open and transparent, engaging with customers on social media, and creating content that educates and entertains. This process takes time, but it will grow your brand awareness and support customer retention.
Streamline the purchasing process
The purchasing process should be as seamless as possible. Your website should load quickly, be easy to navigate, and offer multiple payment options. But we're not just talking about the checkout.
Brainstorm any ways in which you can make your customers' lives simpler. Take Warby Parker, for example. They simplified the back-and-forth process of returns and empowered potential customers to try on multiple pairs of glasses. This not only reduces customer friction but also helps build brand trust.
Offer a generous return policy
One of the most effective ways to improve your conversion rate as a DTC brand is to offer a generous return policy. This shows that you're confident in your product and puts the customer's needs first. By removing potential objections, you make it more likely that visitors will place an order, try out your brand, and become lifelong customers.
Final thoughts
There's no doubt that direct-to-consumer companies are making a splash in the business world. DTC brands are changing the way we shop, consume, and think about marketing strategy.
And while the DTC model isn't right for every business, it does offer a number of advantages for entrepreneurs who are looking to start and grow a successful online brand. When done right, DTC can help you preserve your margins, provide a better customer experience, and grow more quickly.
Direct-to-consumer FAQs
What do you mean by the direct-to-customer model?
The direct-to-consumer model is an ecommerce business model that bypasses third parties like distributors, wholesalers, and retailers. Instead, brands control the customer relationship and sell directly via their own website.
What is the difference between D2C and B2C?
The main difference between D2C and B2C is in the final sales channel. D2C companies sell their own products directly to the consumer, whereas business-to-consumer (B2C) companies sell through wholesalers, distributors, and retailers. D2C companies have stronger customer relationships and shorter supply chains.
Is direct-to-consumer worth it?
There is no one-size-fits-all answer to business. Direct-to-consumer can be a great way to build a sustainable and profitable business, but it's not right for everyone. Direct-to-consumer companies need to be prepared to invest in customer acquisition and have a strong understanding of their target market.