Disclosure: The Money Maniac is an Amazon Associate that earns from qualifying purchases at no cost to you. However, all opinions are our own. We stand by every recommendation we make, and provide only objective and independent reviews.
When 3D printing started to make mainstream headlines a decade ago, the public's imagination ran wild. What is this new science-fiction technology? Can you print anything with it? How does it even work?
Fast forward to today, and high-end 3D printing services are now available to the public at many local libraries, and you can even buy your own hobby 3D printer. The technology has come so far that some companies are even 3D printing entire homes!
Of course, you, the ever-curious online entrepreneur at the forefront of this new scientific advancement, may be asking, "How can I make money from 3D printing?"
3D printing a house is probably out of the question (unless it's for a bird or a dog), but there are tons of ways you can capitalize on this fascinating technology, especially if you have an artistic inclination. Here are 10 ways to make money with a 3D printer as well as recommendations for the best 3D printers for beginners.
How To Make Money With a 3D Printer
1. Sell Your 3D Prints on Etsy
Etsy is, without a doubt, the go-to marketplace for crafting, original creations, and personalized items. If you have unique or interesting 3D prints, opening your own online store on Etsy should be one of the first ways you consider making money.
In order to stand out from your 3D printing competitors, make sure you employ solid Etsy SEO practices and understand your target audience. Once you start generating sales and shipping orders, be sure to pick up one of the best label printers for your online business.
2. Offer A Custom 3D Printing Service
You can sell personalized crafts through Etsy or on your own website. If you have a social media following, that's a great place to begin marketing your new business venture. Otherwise, consider reaching out to local businesses to offer your printing service.
You can create nameplates, jewelry, keychains, trophies, photo frames, and more. If potential customers want it, and you have the power to design it, you're on your way to making extra cash.
3. Sell Your 3D Printing Designs and Models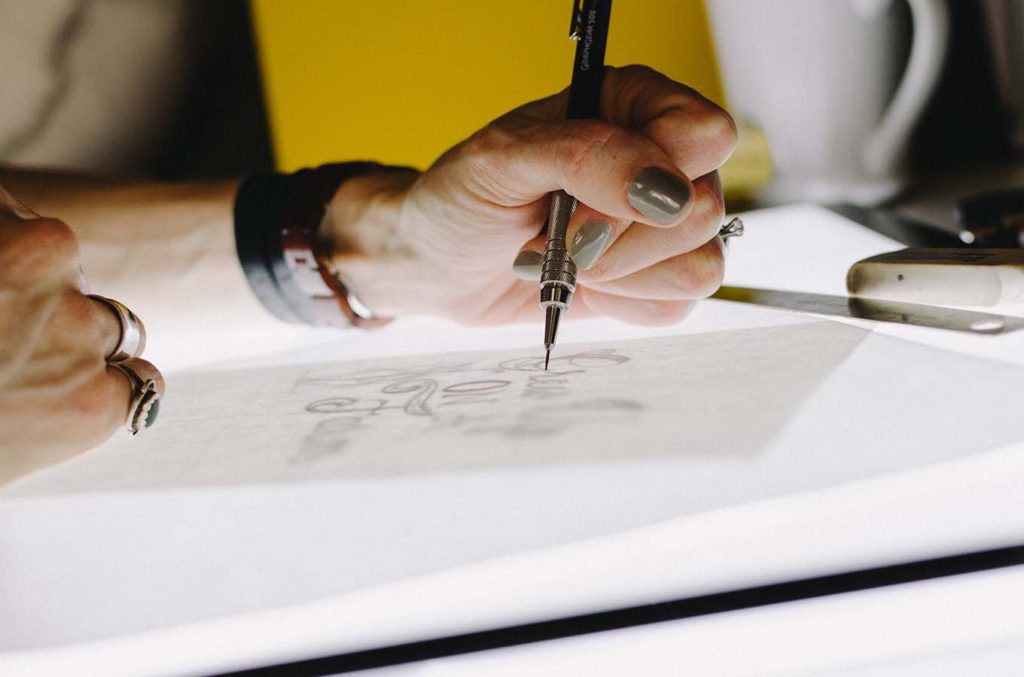 If you're an artist who creates your own designs and 3D models, you can sell digital files without ever needing to make physical products.
This purely online service business allows you to reach a global audience of potential customers. A skilled designer can utilize CAD software to help others 3D print items. This expertise is in high demand and can help you build a solid portfolio while making money.
4. Start a 3D Printing YouTube Channel
There are countless artists on YouTube with large followings, for everything from drawing to ice sculpting. People love watching videos of art coming to life. So if you have a knack for making interesting 3D printing designs, consider starting a YouTube channel to document your craft.
To make even more money, sell the completed physical product that each YouTube video features. This process will help you attract new customers, learn what they are interested in, and sell online. Plus, the educational angle will position you as an authority in the 3D printing field and help interested buyers develop a connection with your product line.
5. Sell an Online Course for 3D Printing
You'll need some social media skills for this one. But once you know how to make money with a 3D printer and build an online following, you can create an online course teaching others how to 3D print.
The course lessons can include everything from using design software or contracting design companies, to making prototypes, to selling products in your local community. There are endless possibilities for tutorials and instructional videos on helping your followers create their own business with 3D printing.
One of the key benefits of selling 3D printing online courses is that you can create the videos once and sell them endlessly. This means that unlike 3D printing itself, your course business can become passive income that helps you make money every month.
6. Teach In-Person 3D Printing Classes
As 3D printing technology becomes more accessible, so does the public's demand for 3D printing services. In fact, your local universities, libraries, or community centers may already offer in-person 3D printing classes.
If you've got the portfolio to back yourself up, try to get hired as a 3D printing instructor. And if you don't have a portfolio, instead create prototypes to show the hiring staff what you are capable of teaching.
7. Rent Out Your 3D Printer
Perhaps the easiest way to make money through 3D printing is by renting out your printer. Hobbyist and beginner 3D printers can cost anywhere from $200 to $500, and higher-end models can be extremely expensive.
Other sellers may not have enough space or want to spend money just to produce one-off items. You can help them save money, make appearances at local conventions, or just pick up a new skill!
Whatever the reason, renting out your 3D printer is a good business model especially when it's sitting idle.
8. Launch a 3D Printing Blog
For those deeply knowledgeable about 3D printing, launching a blog can be a great springboard to making more money. Not only can you start monetizing your audience with ad revenue and affiliate links, but you can also convert your readers into customers by selling them your own custom items or printing services. Eventually, you might even write your own blog post on how to make money with a 3D printer!
9. Create a Print-On-Demand Service
Offer to create other people's 3D designs with a print-on-demand service. This type of printing service involves customers sending you their files, and you bringing their creations to life. This approach has many benefits compared to other services because all you have to do is produce quality work.
You are not responsible for operating any online stores, selling the products, or dealing with customer service issues. You don't even need to keep any inventory on hand—simply use your 3D printer to make items as orders come in. The key to this plan is partnering with other business owners to serve as their manufacturers.
10. Sell Your 3D Prints in Person at Events
First Friday is an event held in many major U.S. cities on the first Friday of every month. If you live in a big city, chances are there is one near you. It is a family-oriented event where local artists flock to show off and sell their art and knick-knacks.
Research how much it would cost to rent a booth and try selling your 3D prints there. Before you arrive, make an array of phone cases, pet accessories, key chains, and more to display. You can also look for other local events such as garage sales and flea markets.
If your booth finds success, consider adding other products to your line the following Friday. For example, you could sell custom printed shirts. Here are our recommendations for the best heat press for small business owners.
4 Best 3D Printers for Beginners
So, now that you how to make money with a 3D printer and you have selected a 3D printing strategy… all you need is an actual printer!
Choosing the right 3D printer for your needs can be a challenge. There are a lot of great 3D printing companies out there with products for almost all budgets. Here are The Money Maniac's top four beginner-friendly 3D printers that can help you start making money.
Best Overall Value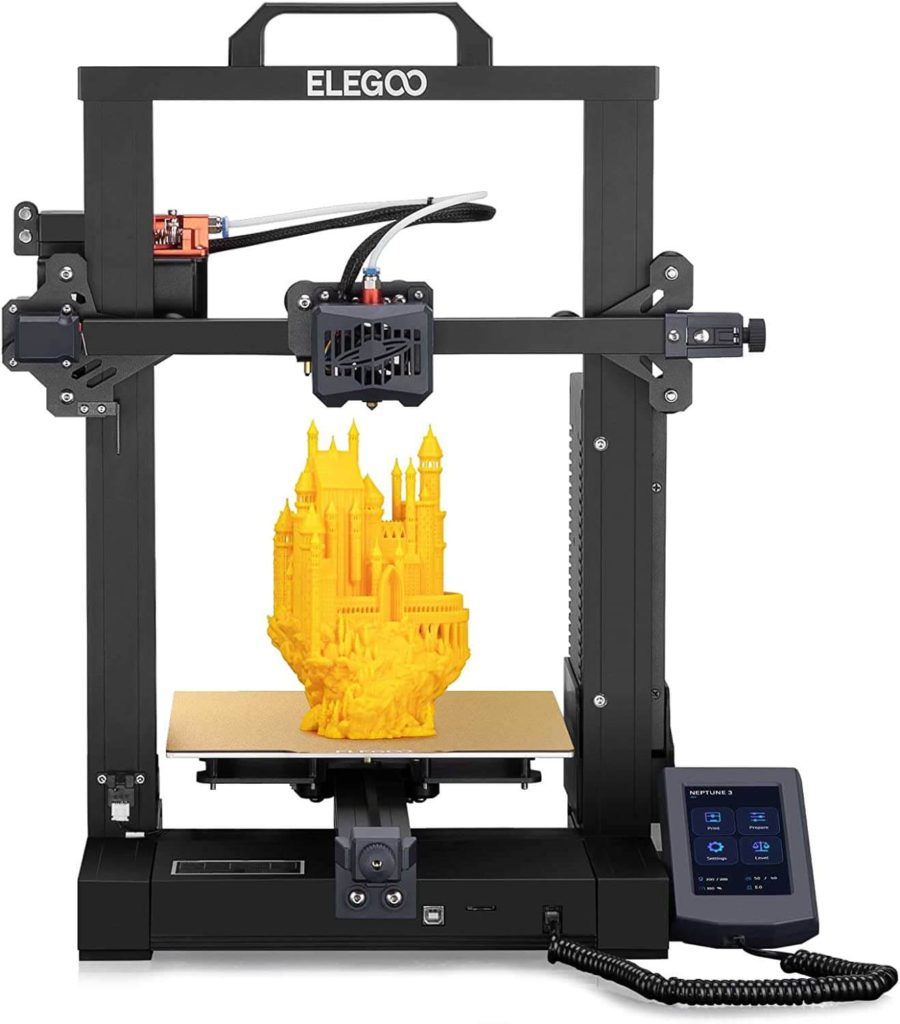 Elegoo's Neptune 3 FDM gets the top spot on the list. This printer is an absolute workhorse with an almost unbelievable price-quality ratio. It has a sturdy aluminum frame with a build volume of 220 mm x 220 mm x 280 mm and comes with a detailed, UI-friendly screen interface. The Neptune 3 supports several different types of filaments for 3D printing, including TPU, ABS, PLA, and PETG.
Beginners looking to get into the world of 3D printing will face a learning curve. But with Neptune 3, your journey will be much easier. There are also a lot of easy ways to upgrade and personalize this 3D printer, so once you're more acquainted with your Neptune, you can start adding your own modifications and experimenting with different types of prints.
The Neptune 3 can produce shockingly high-quality prints for its price, with 100 microns of 3D printing resolution. This 3D printer is the way to go if you are looking to dive right into 3D printing as a hobby capable of making serious money.
Users should know that the previous model, the Neptune 2, was essentially a carbon copy of the Creality Ender 3 V2, but a few hundred bucks cheaper. This newer model comes with a ton of upgrades and a much easier assembly process. The Neptune 3 is a steal, and a great starting point for any new crafter.
Pros
Perfect entry-level printer
Unbeatable price-to-quality ratio
Decent-sized build volume for beginners
Supports several different types of filaments
Easily upgradeable
Friendly user interface
Much easier to set up than other models
Cons
Because it's relatively new, the online community is not as large as others
Operating the 3D printer does require a learning process
Buy on Amazon
Most Premium 3D Printer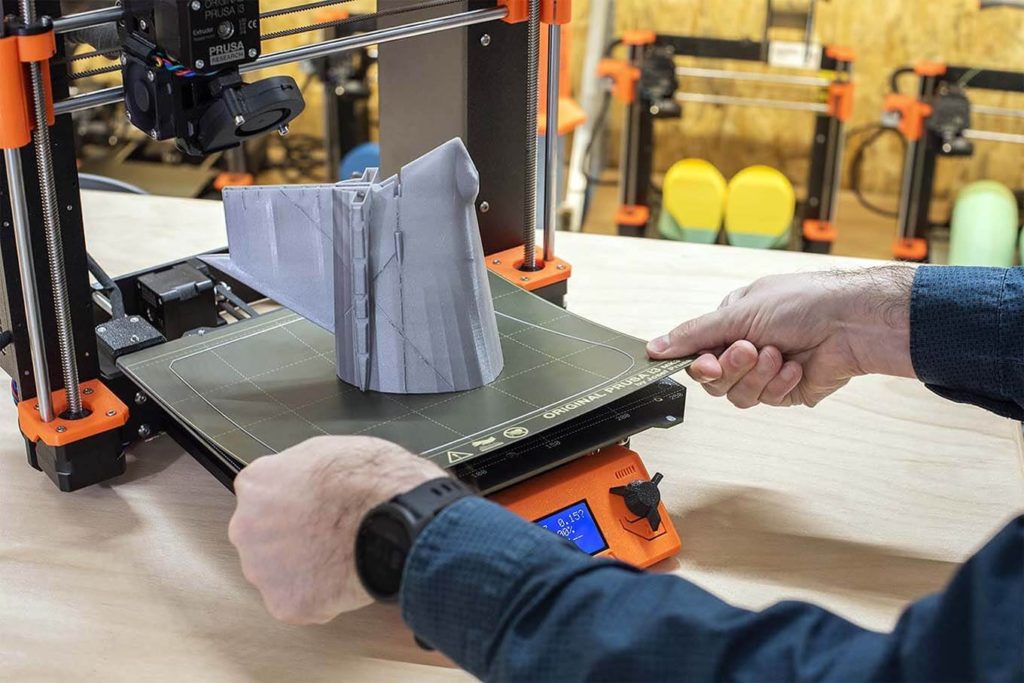 The Prusa i3 may not be as beginner-friendly as others on this list, and it's certainly not for the shopper on a budget. But if you're dead serious about learning how to make money with a 3D printer and becoming a 3D printing pro, Prusa's i3 will bring commercial-grade 3D printing to your doorstep.
This 3D printer is no joke. With a stunning 50-micron resolution and a 250 x 210 x 210 mm build space, the MK3s+ is great for 3D printing items made from Nylon, PLA, PETG, ASA, ABS, and Composite filaments. The premium specs make it a popular choice among 3D printing artists and people selling highly detailed and personalized crafts.
The i3 MKS3+ also has a large online community and swaths of resources available to help you at every step of the way. Prusa offers super helpful 24/7 customer support in many languages. So, even though it will take some time to understand this 3D printer, you don't have to do it alone.
The only drawback of the i3 MKS3+ is its price. Small businesses can likely afford to invest in this high-quality machine, but part-time crafters who just want to make extra cash may find this 3D printer out of their budget.
Pros
Incredible resolution and unparalleled precision
Attentive customer support
Robust online community
Fast leveling time
Few adjustments are required after assembly
Cons
The premium price tag
Self-assembly takes time
Limited build space relative to cheaper 3D printers
Buy on Amazon
Best for Small Prints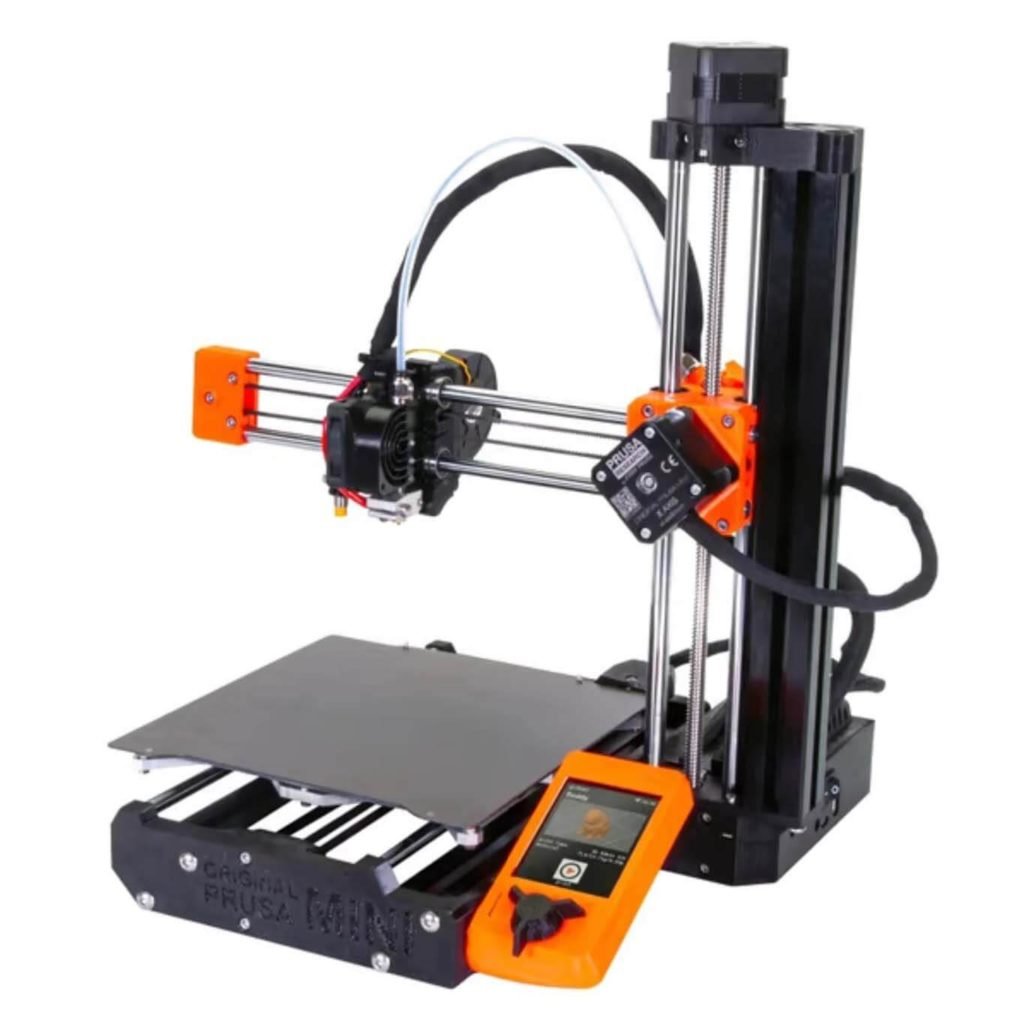 The Prusa Mini+ is essentially a miniature version of the i3 MK3s+. It comes with the same pros and cons but with a smaller build space of 180 mm x 180 mm x 180 mm. The Mini+ supports PETG, ASA, Flex, ABS, and PLA filaments.
The consideration with this printer is the 3D printing size limitations. This might not be a problem if your 3D printing business niche is small items, like jewelry or phone cases. And if you have limited space, this high-quality printer may actually be the perfect fit. But if you decide to sell larger items down the line, you will be limited.
Pros
Incredible resolution and unparalleled precision
Attentive customer support
Robust online community
Fast leveling time
Few adjustments are required after assembly
Fits easily into a bedroom or office space
Cons
The premium price tag
Self-assembly takes time
Only suitable for 3D printing small items
Price
$429 for the DIY assembly kit
$459 for the semi-assembled 3D printer
Best for Big Prints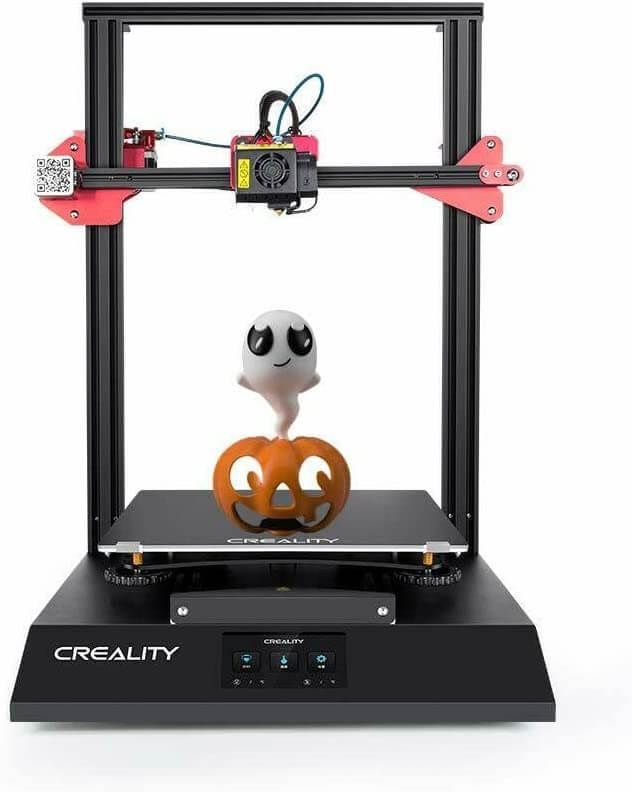 With a 300mm x 300mm x 400mm build space, Creality's CR-10S Pro can create massive prints at an affordable price. Despite its size, the CR-10S still delivers the same precise resolution as our top overall pick, the Neptune 3.
This 3D printer comes mostly assembled, so you'll only need about 10 minutes to build the entire machine. However, adjustments are often required and you may find yourself making firmware upgrades to get the desired 3D printing results.
The CR-10S Pro is relatively quiet compared to other large machines and features a power supply protection system in case of a sudden power outage. This safety feature makes 3D printing a bit easier and lessens the risk of ruining big prints.
Pros
Huge, flexible build space
Great resolution and size for the price
Easy to assemble
Quiet and efficient machine
Cons
May require firmware adjustments
May require leveling the bed
Probably excessive, unless you need to print large items
Buy on Amazon
Factors to Consider When Buying a 3D Printer
Choosing the right 3D printer mostly depends on your business model and the types of projects you want to tackle.
The main factors to consider include:
Print resolution
Ease of use and assembly
Build volume
3D printing speed
Filament compatibility
To get the most out of your 3D printer, determine how important each of the factors above are to you and your crafting business. While nobody wants to buy a product with terrible resolution, will the difference between 50 and 100 microns be noticeable? If so, are you only producing small, highly detailed products? Or do you need the full volume or a larger 3D printer like the Creality CR-10S Pro?
Answering these questions will help you narrow your scope and move forward with of the above 3D printers from our buying guide.
How To Make Money With a 3D Printer: Try 3D Printing These Items
The beauty of 3D printing is that you have endless options. Your only limitation is your own creativity!
To get your imagination working, experiment with 3D printing a few of the items from this list. And once you're more acquainted with your 3D printer, try adding customizations.
Clothing accessories
Cosplay accessories
Customized shoes & flip flops
Statuettes and figurines
Architects' modeling
Jewelry
Ornaments
Movie props
Vases
Plant pots
Retro Raspberry PI cases
Bespoke PC cases
Cell phone covers
Robotics kits
Drones, RC planes, and accessories
Nerf Guns, and accessories
Toys
Earbuds
Miniatures
Architecture models
Eyeglass frames
Final Thoughts
Now you know how to make money with a 3D printer! From selling your post-processing services to generating passive income with a digital course, the ways to make money through 3D printing are limitless.
But remember, the key to success is taking initiative and being creative with how you utilize your 3D printer. So get started today! Choose a printer from our buyer's guide today and bring your new business to life.
And if 3D printing isn't for you, don't worry. We compiled a list of 100+ more side hustle ideas that anyone can take advantage of!