If you're past the stage of handwritten labels and ready to take your side hustle to the next level, find the best label printer for small business use with our handy buyer's guide!
As a small business, outsourcing label production can be an expensive and slow process, especially if you plan on plan on producing many small custom runs. Fortunately, there's an easier way to keep control over label design, quantity, and quality. Creating your labels in-house is the most efficient and affordable way for small businesses to take charge of their labeling and packaging.
Invest in a label printer today to quickly and easily print custom labels for any purpose. To help you determine the best label printer for small business use, we have compiled our top five recommendations.
Disclosure: The Money Maniac is an Amazon Associate that earns from qualifying purchases at no cost to you. However, all opinions are our own. We stand by every recommendation we make, and provide only objective and independent reviews.
What are label printers used for?
Label printers are incredibly versatile machines, making them a great investment for small businesses everywhere. Some of the most common uses for label printers include:
Local and international shipping labels
Product packaging labels including graphics
Organization labels for filing or storage
Postage stamps and envelopes
Banners and signs
Asset labels like barcodes to track inventory
Name tags
Address labels
Types of Label Printers for Small Businesses
There are a wide variety of label printers on the market today. The unit price, speed, and print quality of each label are directly impacted by the technology of the label printer. Here are a few of the most widely used types of label printers:
Inkjet printers
Inkjet printers work slowly by spraying thousands of ink droplets on paper to form characters. The machines are cheap but they rely on ribbons, toners, and ink cartridges, which must be replaced periodically. Inkjet printers produce sharp images but stain when exposed to heat or humidity.
Thermal printers
Thermal printers press a heated print head against thermal labels to produce text and graphics. Although they tend to be more expensive than inkjet printers, thermal label printers are the most popular choice among high-volume printers as thermal printing is significantly faster.
There are two main categories of thermal printers:
Thermal transfer printer
Thermal transfer printers press a printhead against an ink ribbon to impress characters onto the printing material. Thermal transfer printing is great for labels that need to be used for more than six months or might be exposed to harsh conditions.
Direct thermal printers
Direct thermal printers press a printhead directly onto the thermal label without the use of a ribbon. Direct thermal printers are fast and low-maintenance printers due to the absence of many moving parts. However, direct thermal labels don't stand the test of time as well as thermal transfer printers.
Laser printers
Laser printers use an electrical charge to move toner, which must be replaced, onto a transfer roller. From there the toner is applied to the label using a combination of heat and pressure. Laser printers are fast but often produce lower-quality labels that slowly fade over time.
Key Features to Consider
Paper size
Most label printers are limited in the label sizes they can produce. Consider your needs and confirm that your preferred label printer can support the full range of label sizes you intend to create.
Printing technology
Weight the pros and cons of each type of printing technology, and decide what tradeoff makes sense for your small business. Inkjet printers tend to produce high-quality prints but require ongoing maintenance and ink cartridge refills. Direct thermal label printers are more expensive upfront but print labels cleanly and quickly.
Print speed
Even label printers that use the same printing technology can vary significantly in print speed. If you're printing dozens or even hundreds of labels per day, take a close look at the speed of a printer and consider the implications of any slowdown on your daily operations.
Print quality
A printer's resolution is a function of its dots per inch (DPI), which determines its print quality.
The standard resolution of 203 dpi is acceptable for most purposes other than small labels or text below 6 pt size. The most widely used resolution for label production is 300 dpi, which creates higher-quality labels and covers all purposes except very small text, barcodes, or QR codes. Many label printers can use 203 dpi and 300 dpi printheads interchangeably.
For extremely small labels, like those used on jewelry or electronics, a 600 dpi printhead is ideal. However, producing a resolution this high may require a more expensive label printer.
Software and compatibility
Label printing software is used to design and print labels for various small business tasks like inventory management and shipping. Make sure to choose a label printer that is compatible with the operating system on your laptop or office computer. If multiple users need to print or if you plan on printing from your phone, look for a label printer that supports a wireless connection.
Portability
Consider all of the functions your label printer will perform, and where you plan on using it most often. If you have a wide variety of use cases, you may opt for a small, lightweight, and portable printer. Some of the most portable label printers are even wireless, sporting rechargeable batteries and Bluetooth or Ethernet connectivity.
Cost-effectiveness
The upfront cost of a label printer can range from as little as $30 to as much as thousands, depending on features, functionality, and even brand name. Before diving into the deep end, consider mid-range printers with rich functionality and strong customer reviews.
Also, keep in mind the ongoing cost of using the label printer. If you select an inkjet printer, factor in the cost of replacing ribbons and ink cartridges. If you choose a thermal printer, make sure your printer is compatible with affordable labels and does not require brand-specific thermal labels.
Buyer's Guide: Choosing the Best Label Printer for Small Business Operations
After accounting for the key features above, including printing technology, print quality, and speed, overall price effectiveness, and more, we created the buyer's guide below. Here are our 5 recommendations for small business label printers: 
1) Arkscan 2054A-LAN: Overall best label printer for small business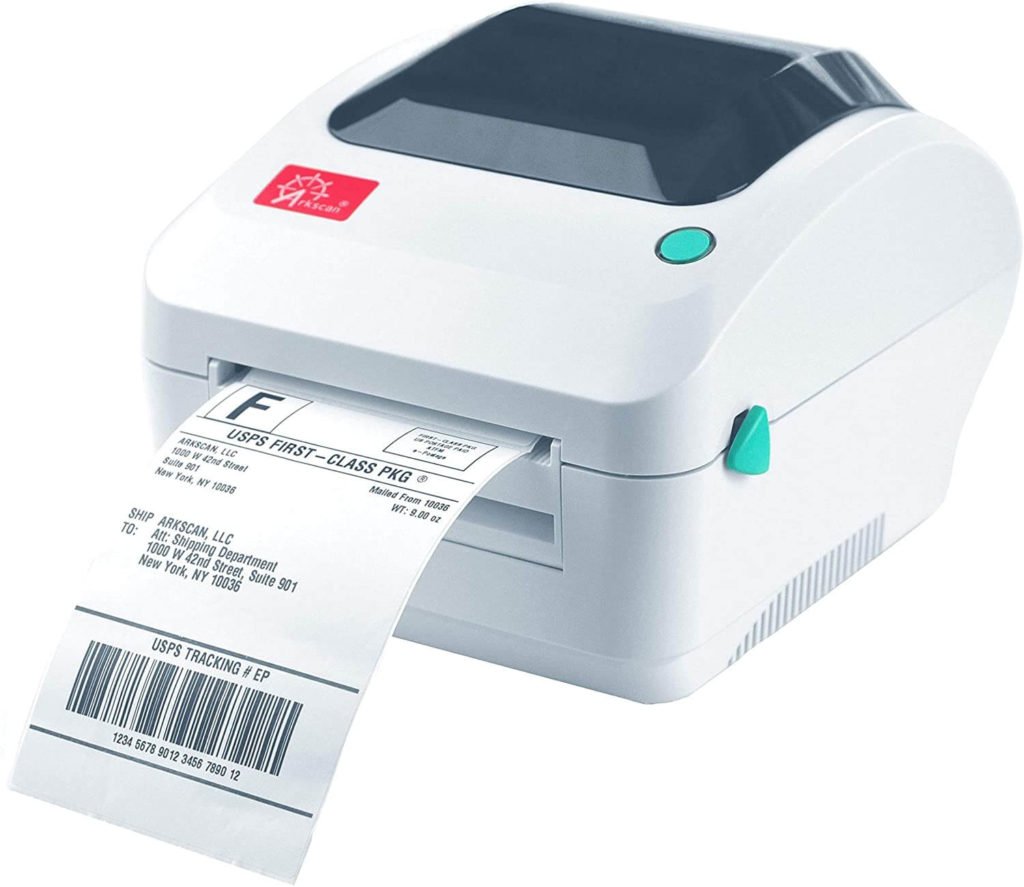 Arkscan is the multi-purpose printer you need to print a wide variety of high-quality labels, fast.
Key features
The Arkscan thermal printer accommodates a wider range of label sizes than most peers, with supported label widths ranging from 0.75″ to 4.25″ and lengths between 0.4″ and 90″. This flexibility allows you to print everything from shipping labels to product, nutrition, and barcode labels.
Arkscan is also compatible with many label types including Arkscan and Zebra labels, Dymo 4″ x 6″ labels, FedEx and UPS shipping labels, and generic 4″ x 8.25″, 4″ x 6.75″, and 4″ x 6″ labels.
Arkscan comes with a free BarTender UltraLite Label Design Software Tool that is compatible with Windows. The user-friendly software helps in the creation and printing of common label designs. Easily create labels for product and warehouse purposes with text, graphics, and barcodes, and print via a USB connection or Ethernet.
This thermal printer also supports high-speed printing on Apple Mac / MacBook, Chromebook, and Linux. Arkscan's broad compatibility with many labels and operating systems makes it our top pick and one of the best label printers for small businesses.
Pros
Able to print a wide range of label sizes
Compatible with generic labels
Runs at a high speed of 127 millimeters per second
Includes label-design software
Supports USB and Ethernet connectivity so you can print labels from your smartphone or tablet
Works with most shipping software and shopping platforms including UPS, USPS, FedEx, Amazon, eBay, Paypal, Etsy, Shopify, ShipStation, and Stamps.com
Cons
Relatively expensive
Only supports 203 dpi resolution
Buy on Amazon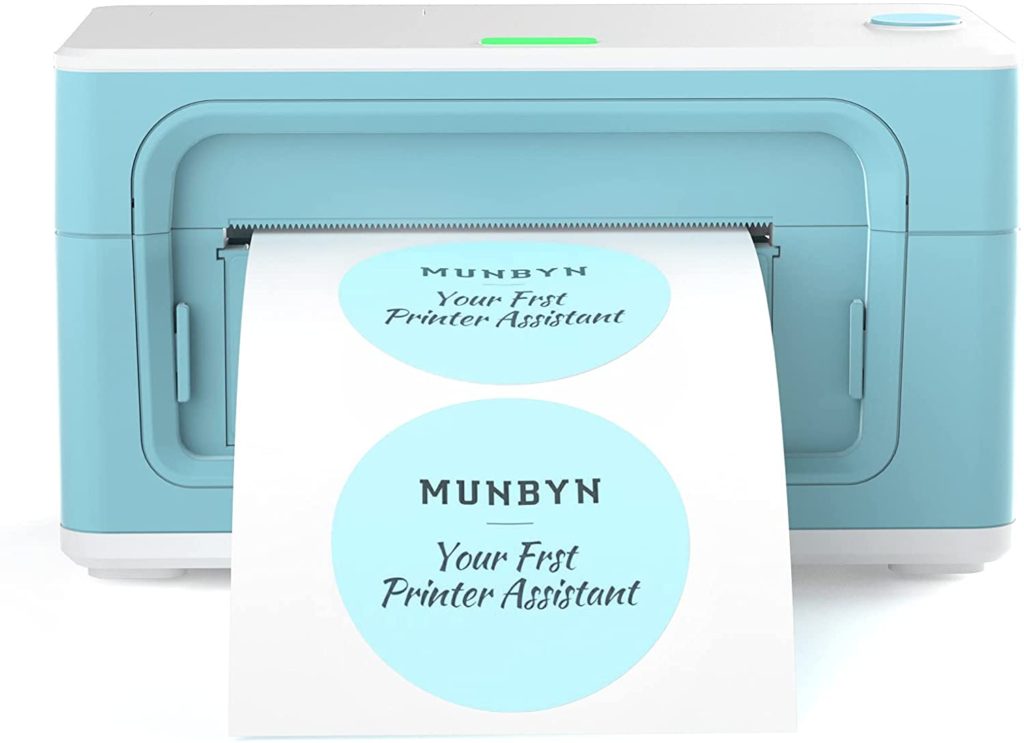 The Munbyn thermal label printer is an affordable option for creating shipping labels from 1.7 to 4.1 inches wide.
Key features
The Munbyn shipping label printer prints at up to 150 millimeters per second, and has a durable printhead with wear-resistant features such as adjustable heat dissipation and automatic overheating protection. The thermal label printer also has four non-slip mats to prevent skidding or falling from the desk.
Another huge plus for the Munbyn 2.0 is its ease of setup and use. With one-click installation and wonderfully responsive customer service, the Munbyn technical team can solve any hassles you face while getting started.
The label printer comes with a USB-C adaptor for Mac computers and a USB flash drive pre-loaded with a printer driver, user manual, and FAQs.
Munbyn is compatible with Mac, Windows, and Chromebook, and most shipping and shopping platforms including Shopify, Etsy, Amazon, eBay, Shipstation, Endicia, and more.
Pros
Fast and easy installation
Works with most thermal labels, and supports widths from 1.7" to 4.1"
Runs at a high speed of 150 millimeters per second, or 72 labels per minute
Comes with overheating protection and anti-skid functionality
Cons
No wireless connection
Only supports 203 dpi resolution
Buy on Amazon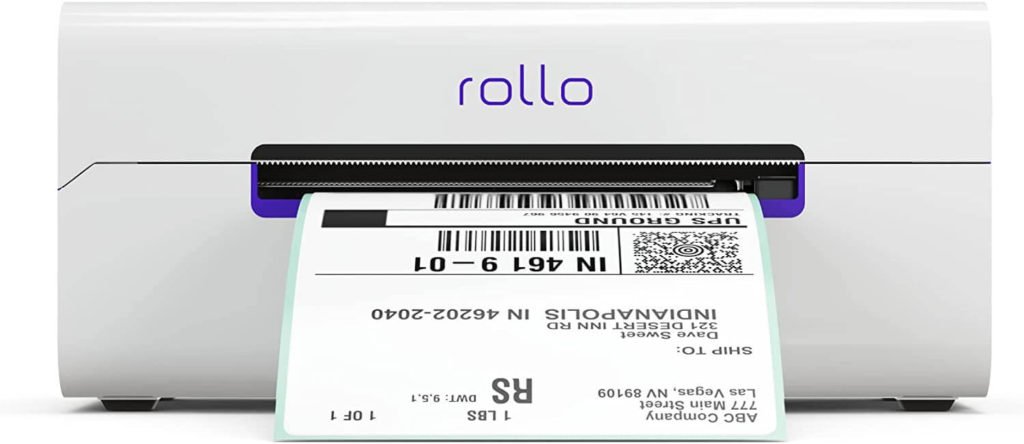 The wireless Rollo label printer is made for high-volume shipping businesses, combining speed with high-quality, crystal-clear label prints.
Key features
With the Rollo Ship Manager App, you can create labels in one click and manage all of your shipments, schedule pickups, and even create customer returns. The Rollo prints at an impressive 150 millimeters per second and does not require a specific type of label.
This Rollo label printer is AirPrint Enabled allowing you to print wirelessly from your phone, tablet, or desktop. The Rollo label printer is compatible with Windows, Mac, Chromebook, and Linux operating systems. Rollo also enables the use of
Pros
Works with any thermal label, and supports widths from 1.6 to 4.1 inches wide
Runs at a high speed of 150 millimeters per second, or 72 labels per minute
Supports USB and wireless connectivity
Compatible with all major shipping and shopping platforms
Cons
Relatively expensive
Only supports 203 dpi resolution
Buy on Amazon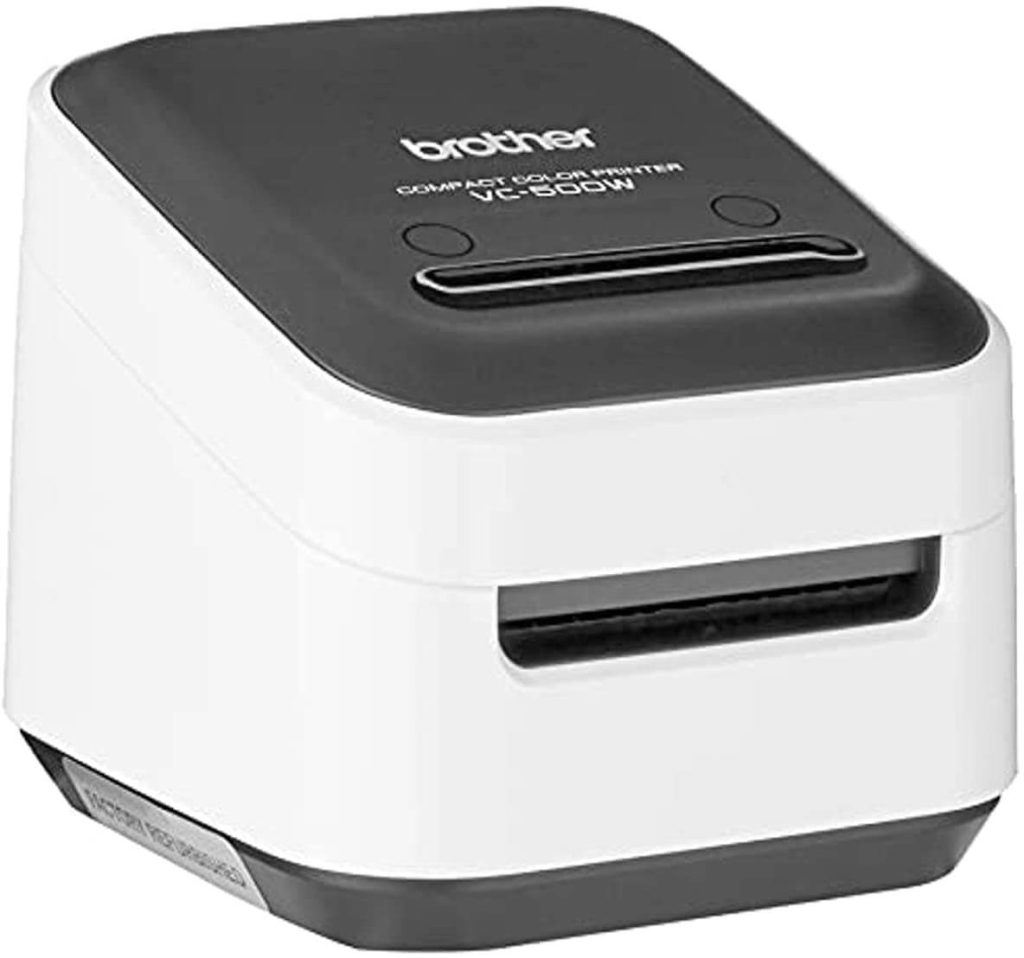 Custom color labels for your small business are only a Brother VC 500W away.
Key features
The Brother VC 500W is an inkjet printer that doesn't use ink cartridges. The incredible ZINK (Zero Ink) technology creates vibrant full-color labels without ever requiring ink or toner. The key is in Brother's adhesive-backed ZINK paper which can print photo-quality prints at 313 dpi.
With wireless connectivity, the Brother printer is Windows, Mac, smartphone, and tablet compatible. The color label printer uses Brother P-Touch software and includes free access to the Color Label Editor app, where you can customize and design your images.
However, the Brother VC 500W does come with a few drawbacks. The color label printer is only able to print labels up to about 2″ wide, and it requires the use of a very specific type of label.
Despite these considerations, the Brother VC 500W is the best color-label printer for small businesses that we have come across.
Pros
Produces high resolution, color labels in 313 dpi
Includes label-design software with thousands of decorative elements including frames, fonts, art, backgrounds, and ready-made designs
Supports USB and wireless connectivity
Labels are water, smudge, and tear-resistant
Features a built-in, automatic cutter with two settings
Cons
Requires the use of genuine Brother ZINK rolls
The Brother P-Touch software can be finicky
Only supports labels of 4 widths: ½ inch, ¾ inch, 1 inch, and ~2 inches
Slow printing at just 8 millimeters per second in standard mode
Buy on Amazon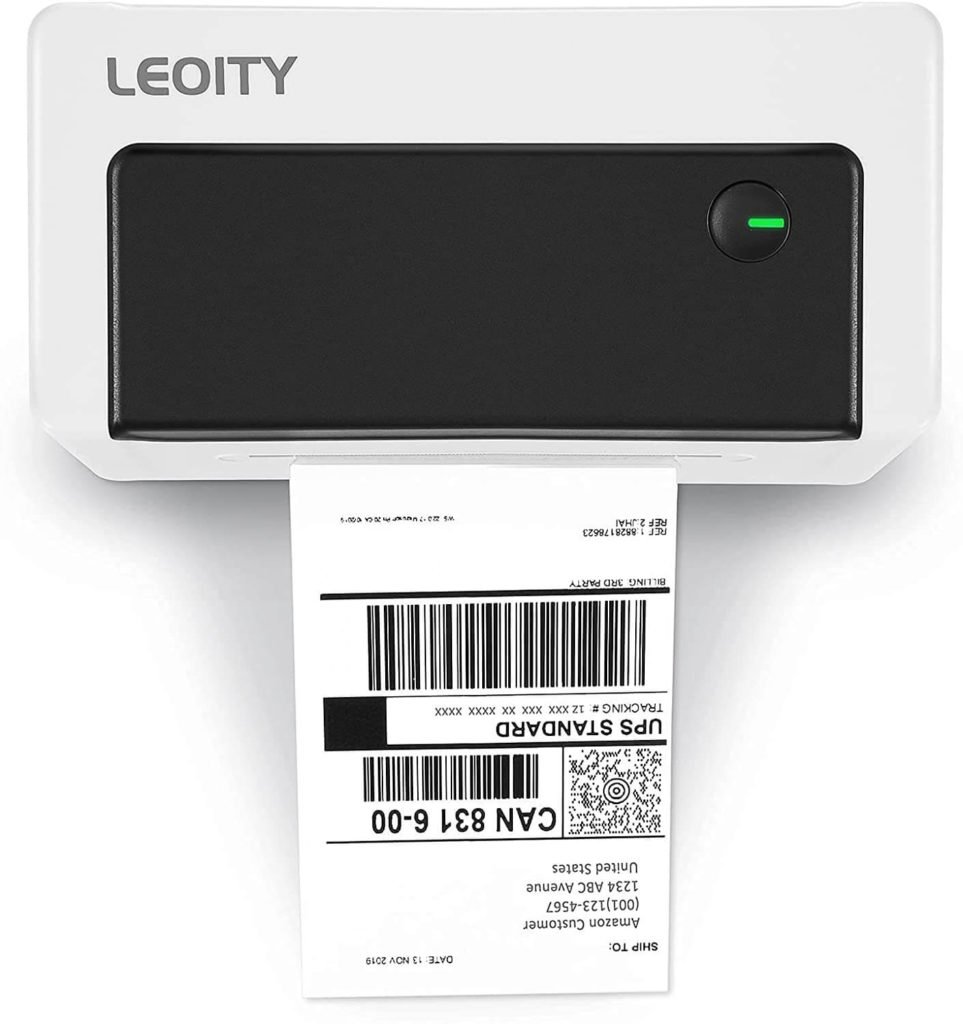 Leoity is the best label printer for small business operations that are budget conscious.
Key features
Leoity is a great label printer for small businesses that need functionality without the frill. The Leoity Thermal Label Printer has strong reviews, great specs, and comes in at an affordable price.
An ideal shipping label printer, Leoity prints 72 labels per minute at 203 dpi and supports label rolls from 1.5″ to 4.7″ wide. The mini desktop label printer works via a USB connection and supports both Windows and Mac OS. It's compatible with all types of labels, and all major shipping and eCommerce platforms such as Amazon, Shopify, eBay, and Etsy.
Pros
Works with any thermal label, and a range of label widths
Runs at a high speed of 150 millimeters per second, or 72 labels per minute
Compatible with all major shipping and shopping platforms
Our most affordable pick
The package contains 30 free shipping labels
Cons
No wireless connection
Only supports 203 dpi resolution
Price on Amazon
Other Notable Label Printers
Brother QL-700: Best label printer for small business office use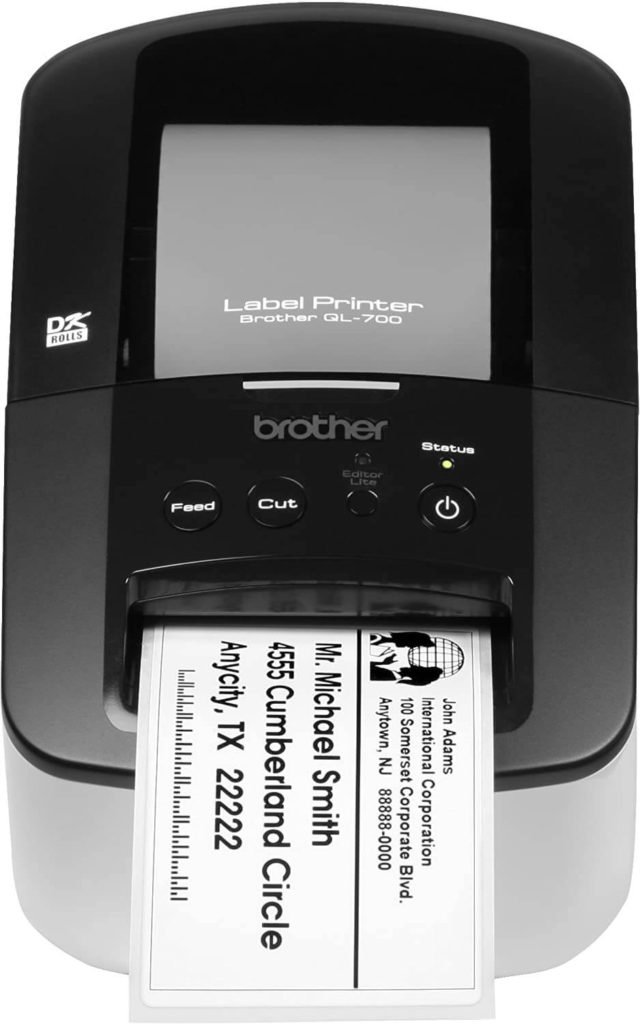 The Brother QL-700 thermal label printer is a pocket-friendly and feature-rich label printer for all your small office label needs.
Key features
A great label printer for small office labels, the Brother QL-700 can make address labels, product labels, or any prints on label rolls up to 2.4″ wide. This device prints fast at 150 millimeters per second and supports both 300 dpi and 600 dpi depending on the needs of your business.
Like other Brother printers, the QL-700 uses the Brother P-Touch software for customized label design and printing. The printer supports Windows and Mac operating systems and can be accessed wirelessly or via USB.
Pros
Runs at a high speed of 150 millimeters per second, or 72 labels per minute
Can print continuous labels such as banners and signs
Includes 100 die-cut starter label rolls and continuous tape
Built-in label cutter for clean cutting of different label sizes
Can print stamps using the pbSmartPostage cloud service
Cons
Requires manufacturer-supported label paper
Doesn't support the standard 4″ x 6″ shipping label
Buy on Amazon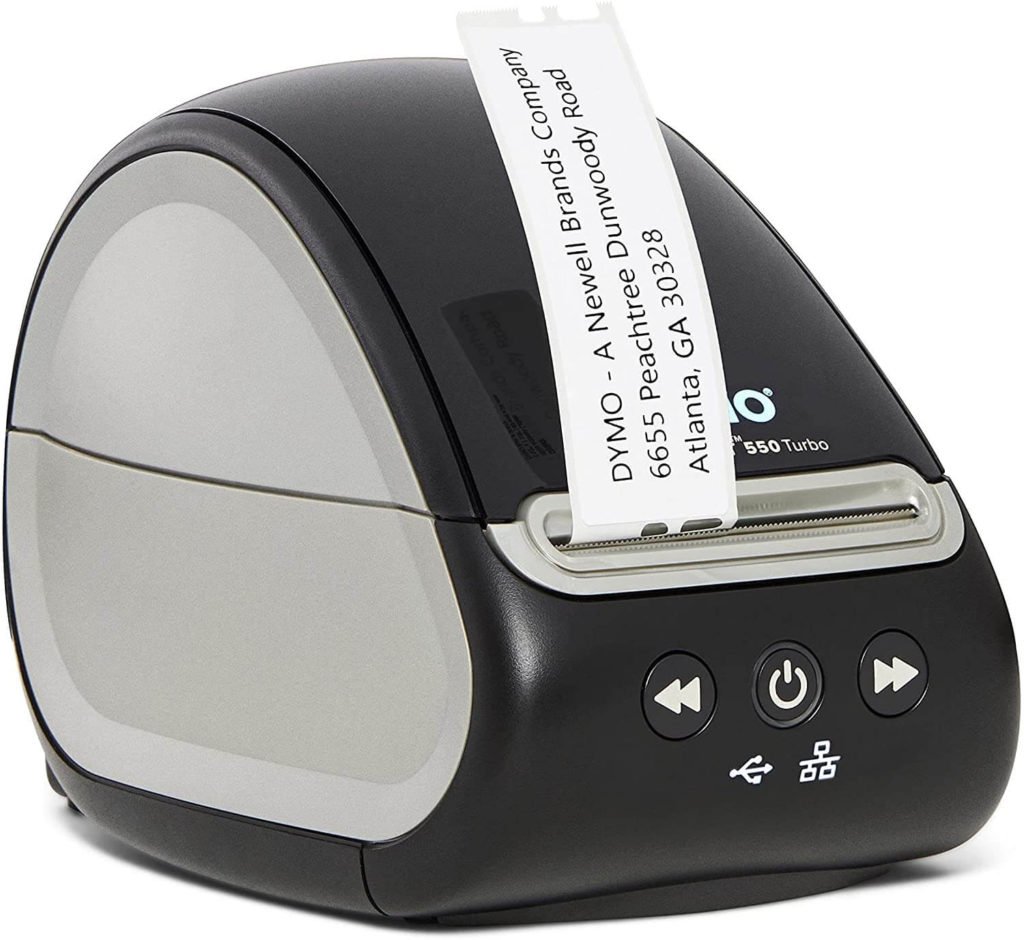 If you're looking for a label printer to create smaller labels such as barcodes, name tags, and price tags, the Dymo LabelWriter 550 Turbo is a good low-cost bet.
Key features
The Dymo LabelWriter 550 Turbo is up to 45% faster than the previous model, printing up to 90 labels per minute at 300 dpi. The Dymo printer supports both USB and LAN network connectivity so multiple users can access the machine. With thermal printing, there's no need for expensive ink or toner with the Dymo. Plus the machine includes desktop software complete with over 60 template designs so you can customize labels to fit your needs.
Pros
Runs at a high speed of 150 millimeters per second
Includes free Dymo software and customizable label templates
Compatible with Windows 8 or later and Mac OS X v10.14b or later
Automatic label recognition detects the number, type, and size of remaining labels
Cons
Requires Dymo label paper
Doesn't support the standard 4″ x 6″ shipping label
Buy on Amazon
Steps to Print with a Label Printer
Once you have chosen one of the best label printers above, follow these simple steps to begin the process of label printing:
Determine what types of labels you plan to produce. Will you need a color label printer, or will thermal printing suffice? Do you need to print shipping labels that are 4″ wide, or will a smaller printer do the trick?
Buy the best label printer and labels for your needs
Install the driver that comes with your label printer onto your computer
Carefully align your label roll with the machine to avoid misprinting
Design your label or download a template that adheres to industry best practices
Confirm the following settings before printing: paper size matches sheet size, and page scaling is set to the actual size or 100% and not 'fit to page' which can cause shrunken or misaligned labels
Print a few sample labels
Check that the printed labels are sized correctly, readable, and properly aligned and oriented
If all checks out, congrats and happy printing!
Maintenance Tips for Label Printers
The lifespan of your label printer largely depends on how well you maintain it. Perform this maintenance regularly to extend the lifespan of your machine.
Before every use, do a quick inspection for any remaining paper to prevent print jams.
Clean your label printer at least twice per month to remove dust particle accumulation. Use gentle cleaning products like isopropyl alcohol or cleaning pads that leave behind no residue.
Maintain a clean printing environment. Dust the room as needed, and use a dehumidifier in moist conditions
Consider using manufacturer-recommended supplies to avoid damaging the equipment. This includes labels, batteries, and chargers. Think about the cost to replace the machine compared to the upcharge of using branded labels. In some cases, you may decide it's worth the risk.
Replace the printhead if you notice a reduction in print quality. Even the best label printers may require a replacement every two years or so. Plus doing so can prolong the life of your current printer by years.
Read the manual for maintenance tips and actions to avoid that could void your warranty
Replace worn parts before they can cause damage to other parts. A damaged guillotine, for instance, can alter the traction of drive rollers.
Types of Labels for Label Printers
Thermal labels
Thermal labels (or direct thermal labels) change color when heated. However, the color tends to fade over time and other heat sources can alter the coloration.
Durable labels
Durable labels, such as vinyl, are weather-resistant and outlast paper labels. These are a popular choice for outdoor signs or boards.
Die-cut labels
Die-cut labels are widely used in products like stickers, as they can be cut on a roll to form unique shapes.
Roll labels
Roll labels come in a roll wound around a plastic or cardboard center. They are affordable to order in bulk and used frequently for shipping label production.
Fan-fold labels
Fanfold labels are similar to roll labels. However, instead of wrapping tightly around a cylinder in the center, they are folded over themselves repeatedly creating a flat stack. When thermal printing in bulk, fanfold labels are often preferable because they do not curl like roll labels do. They are also more densely packed, creating the need for fewer roll changes which allows more printer uptime.
Sheet labels
Sheet labels come on a standard U.S. letter-size piece of paper. Sheet labels are often used in smaller print runs, and with smaller labels. With higher usage sheet labels often become an inefficient way to print.
Frequently Asked Questions (FAQs)
Do label printers need ink?
Certain label printers need ink, but it depends on the printing technology of your machine. If you use an inkjet printer, it will most likely require ink. However, the best label printers are typically thermal printers. And thermal printing technology does not require any ink and instead relies on heat and pressure.
What should I look for in a label printer?
Before buying a label printer, consider the needs of your small business. Determine what size labels you need, what software and operating systems you need to connect to, and how much printing you expect to do.

For example, if you plan to print shipping labels and organize your office, you probably don't need a color-label printer. Instead, you may opt for an efficient option like the Rollo label printer. While the print resolution will be lower, it prints quickly, doesn't require ink, and works wirelessly.

On the other hand, if you want the best color label printer on the market, keep in mind the tradeoffs that your decision requires. Even the best color label printer will print significantly slower, support fewer label sizes, and require ink or more costly labels.

What is most important is determining the functionality and compatibility that is most important to you. You may find yourself choosing based on printing technology, print speed, color printing, or whatever operating system you use.
How long do label printers last?
Depending on your printing frequency and maintenance, most dependable label printers should last at least two to five years. 
Is it worth getting a label maker?
As soon as your small business gains some traction, you should invest in a label maker or label printer. Label printing is an affordable way to improve your branding, organization, and shipping processes.
Do label makers have different fonts?
Some label makers come with preloaded font styles, designs, and templates. But depending on the model you choose, you may have to use a separate app or software to further customize your labels.
What's the difference between a label maker and a label printer?
Label makers are small, portable, gadgets that combine both typing and printing on the same device. A label printer is typically larger and prints from a computer, smartphone, or other compatible devices.