Considering a career in content? Thanks to the power of virality, successful content creators can rack up large followings faster than ever before. And building a personal brand is about much more than vanity.
Content creators who motivate action and drive traffic can enjoy multiple streams of income, from affiliate marketing to brand deals and sponsorships. Plus, you will get to be your own boss throughout the process.
Fortunately, you don't need any formal training to create content — just a cellphone, a passion for the craft, and the commitment to keep improving. So if you're interested in how to become a content creator, keep reading. This article outlines the five steps you can take to jumpstart your journey!
What Is A Content Creator?
Let's take a quick step back and answer one question: What exactly is a content creator anyway?!
A content creator is anyone who produces media online to inform, entertain, inspire, or otherwise influence an audience. From bloggers to vloggers and beyond, content creators use a variety of mediums.
Popular forms of content creation include:
YouTube videos
Instagram Reels
TikToks
Podcasts
Blog posts
Photography
Graphic design
Social media posts
Whether it's visual content or written content, the goal is the same. A content creator's job is to build an engaged community by producing valuable content. And this community can then be monetized in partnership with companies interested in that specific audience.
Content Creator Vs. Influencer
Social media influencers are often called content creators, but there is a big difference between the two.
Generally, content creators focus more on production and less on self-promotion. These professionals aren't necessarily measured by the size of their online presence, but by the quality of their output.
On the other hand, the title of influencer is typically reserved for those with large followings (100,000+). They are often judged based on their reach and engagement (likes, shares, and comments). And the focus of their content is themselves and their own lives.
This is not to say that content creators can't also be influencers and vice versa, but the two terms refer to different career paths.
Perks Of Pursuing A Career In Content Creation
Content creators wear many hats and have a wide range of responsibilities, but they also enjoy plenty of perks! Here are a few of the biggest benefits that come with this career path:
1) No Degree Needed
One of the best perks of becoming a content creator is that you don't need any specific degree or qualifications to get started. So, anyone can do it! You may choose to enroll in a course to further your skills if you wish, but this isn't necessary.
2) Low Startup Costs
Content creation doesn't require much capital. In fact, you probably don't need anything beyond a cellphone, laptop, and some personality to get started. As you develop your craft, you can slowly reinvest your earnings into ring lights, cameras, and additional equipment.
3) No Training Required
Being a content creator does not require any formal training, either. Many jobs require weeks, or even months, of in-class or supervised training before you can produce on your own. But content creation is all about trial and error, and finding your own unique niche! This calls for a "learn as you go" mindset.
4) Complete Flexibility
Content creators have total flexibility with their schedules. This means that you can travel, spend time with family, and enjoy outside activities whenever you want. As your own boss, you are only responsible for producing quality content. And if you are capable of doing that, you can decide how much you are willing to work.
How To Become A Content Creator
Okay, so you're sold. The perks sound great and you love the idea of taking part in the growing creator economy. But… where do you begin?
Don't fret. Here is our simple five-step process on how to become a content creator!
1) Choose Your Niche
Many aspiring content creators never make it past the first step. They try to be everything for everyone but end up being nothing to no one. It may sound harsh, but it's the reality on competitive digital platforms.
To be a successful content creator, decide what niche you want to be in before you do anything else. Pick something that speaks to you, such as:
Fitness
Beauty
Politics
Fashion
Parenthood
Career advice
The possibilities are endless. But be sure to stay true to your passions. You will produce content on this topic for years to come, so make sure you enjoy it! Besides, online consumers are way too savvy to be fooled by a content creator who isn't genuinely passionate about their niche.
2) Build Your Brand
Before you start blasting off digital content into the online world, take a moment to formulate your content marketing strategy.
One way to do this is to envision your platform a year or two from now. How will your target audience recognize you? What will distinguish you from other creators?
This is your opportunity to do some light competitor analysis. But don't get lost focusing on others. Just take note of trends and use them as fuel to ignite your creativity.
Think about your own brand and what your special sauce might be.
And don't worry — you don't need all the answers on day one. Your strategy can evolve over time. But keep these questions in mind so that you're always exploring new ways to stand out and grab attention.
Perhaps you can develop a unique way of introducing your video content. Or maybe you can perfect your storytelling skills and create multi-part videos that keep subscribers coming back for more. Or, you can create posts that give people insight into your daily life and forge deeper bonds between you and your followers.
Over time, this content strategy will forge a certain level of brand recognition. Your target audience will come to recognize your account name, individual style, and content themes — and all of which will become components of your digital "brand".
And studies show that these little touches can be quite meaningful. In fact, 77% of consumers admit to making purchasing decisions because of the brand.
3) Create Content Consistently
If there is one thing you learn about how to become a content creator, it should be this: stay consistent.
After all, this is the best way to make social media algorithms love you. (And search engines are no different.)
If the social platforms can rely on you to produce relevant content that satisfies the needs of your target audience, you are more likely to be boosted to the top of the content feed.
However, it is important to recognize that social media content creators do not necessarily need to create every day. They simply need to post every day.
It's easiest to create content in batches so that all filming, editing, and post-production tasks can be completed in bulk. This way, the content creation process does not become a daily grind.
Then, create a content calendar to manage your posting cadence. Set phone reminders to stay on top of the distribution. Or, use social media managers or third-party platforms to ensure your pre-made content is posted at the right time.
To determine when that is, identify periods in which the social media platforms are most active. Here is a visual reference for when you might want to schedule your social media content.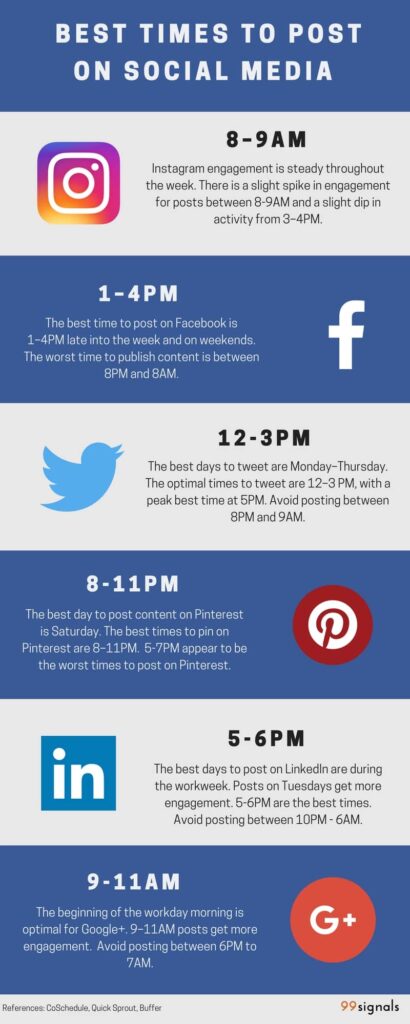 4) Form A Community
Each platform and type of media has its own key performance indicators. These KPIs help you become a more successful content creator by drilling down into the factors driving audience growth, engagement, and conversions.
But one metric that transcends all platforms is community size. And unfortunately, it is a difficult one to measure.
That's because a community is not the same as a follower or subscriber base. It's not about social proof, but rather the quality of your relationships.
Community members don't just consume content. They interact with the content creator, and with each other. They are the most powerful advocates you can have. Because they will go out of their way to interact with your content, promote it to others, and even purchase items that you endorse.
So if you are ready to take the step from freelance content creator to building a personal brand, focus on the depth of your relationships. This begins with the relevance of your content ideas, but it goes far beyond that.
Look for ways to foster conversations, engage with your followers, and make them feel like part of a movement. You can do this through 1-on-1 conversations, virtual events, Q&As, social media challenges, polls, and more.
5) Diversify Across Platforms
Expanding to other online channels is a great way to diversify your risk and solidify your brand. But, you don't want to branch out too early.
At the beginning of your journey, it's best to find traction on a single platform. Get to know the culture, enjoy creating for that audience, and develop efficient systems. This expertise will help you eventually break through the noise and start growing your account.
Once you see this progress, then consider the other platforms that your target audience is on. Is there a simple way to repurpose your content there? Or will it require starting from ground zero? Are there any stylistic differences to consider?
For example, video content can easily be converted from TikTok to Instagram Reels. However, it wouldn't translate well to Pinterest, Twitter, or LinkedIn.
To help decide which websites to focus on, ask yourself: What audience am I trying to reach? How likely are they to be on this platform? What other content creators post here? Would my time and energy be better spent looking at different platforms?
How To Make Money As A Content Creator
If you follow our five-step guide on how to become a content creator, the chances are you will have built up a new skill set and a substantial following.
Now it's time to talk about bringing home the bacon. Creating content can be a great hobby and a way to network, but it is also an effective way to make money online.
Here are four popular ways to convert your content into multiple streams of income:
1) Affiliate Marketing
Affiliate marketing is one of the fastest ways to profit from your content creation business. This is because you don't need a huge account to get started, and you won't have to collaborate with brands directly.
Affiliate marketing enables you to earn a commission from the sales you generate for other companies. By including a special link in your social media posts, video content, or online courses, you will get anywhere from 10% to 50% commission for each sale that is made on the other end.
Sometimes, brands will reach out to content creators in a specific niche if their target audience is the right match. But usually, creators simply enroll in programs of their choosing through an affiliate network.
Amazon Affiliates, for example, allows you to sign up for free and share your favorite products in multiple ways — including text, images, and videos.
2) Sponsored Content
If you create videos or posts that catch the eye of a business, they may ask you to help them do the same. Unlike affiliate marketing, these brand sponsorships are not dependent on driving a sale. Instead, the deliverable is the content itself.
This could take the form of:
Lifestyle imagery
Product demonstration
Product tutorial
Testimonial
In this case, your compensation should be calculated upfront based on multiple factors. Your engagement ratios, the amount and type of content you need to deliver, and even the demographics they're targeting should all be taken into consideration.
And even if you don't have a large following yet, don't count yourself out. Sometimes the smallest content creators have the most loyal bases.
This means that their accounts are tiny but mighty. And this is attractive for brands, who may opt to work with 10 to 15 micro-influencers rather than 2 to 3 macro-influencers.
3) Create a Blog and Promote Products
Have you ever wondered why so many content creators also invest time in blogging? It's because creating a blog is a great way to tap into the huge reach of search engines like Google and Bing.
Through SEO, or search engine optimization, you can promote your favorite products and earn commissions. Start by writing a blog post that answers a common question or addresses a misconception about your niche. From there, you can optimize the post with keywords and build whitehat backlinks to boost its ranking on search engine result pages.
Once your post ranks on page one, add affiliate links to products that align with your branding. To get these links, you can reach out to brands directly to enroll in their programs or strike a custom deal. Or, you can sign up through free affiliate networks like these:
Amazon Associates
ClickBank
ShareASale
Rakuten
FlexOffers
4) Make Exclusive Content
If your followers can't get enough of you, consider creating exclusive content and putting it behind a paywall. Various platforms like Patreon help social media stars monetize super-fans and facilitate stronger connections with their subscribers.
If you decide to make paid content, be sure that it is sufficiently different from what you offer for free on social media. This will give your followers an incentive to pay for access and will help ensure that they feel like they are getting their money's worth.
Before creating exclusive content, get a sense of the interests and preferences of your most dedicated followers. Do they want to see your daily routine, your creative process, or behind-the-scenes glimpses of your life? Would they value personalized interactions, virtual meet-and-greets, or shoutouts?
It's important to note that creating exclusive content isn't the right strategy for everyone. It requires a significant investment of time and effort, and it may not be a meaningful source of income if you don't have a dedicated following. Additionally, some followers may be put off by the idea of paying for content that was previously free.
If you do decide to create paid content, be transparent about what your subscribers can expect and how much it will cost. Then make sure that your pricing is fair and that your content delivers value as promised.
You Can Become A Content Creator
We hope this article helped you better understand how to become a content creator. While you won't grow a massive following overnight, making money from content creation is within reach.
No matter what kind of content you choose, be sure to identify your niche, build a unique brand, and stick to a consistent posting schedule. Over time, this will help you form a community and monetize your new passion project.