Want to take your SEO to the next level? Implementing a whitehat link building strategy is a must! By focusing on building relevant, high-quality links to your website, you can increase your search engine visibility and establish your brand as an authority in your industry.
However, it's important to recognize that not all links are created equal. As a website owner, you should target whitehat links over blackhat links because they are more sustainable and carry less risk.
White hat link building strategies focus on creating compelling content and building relationships with other websites. This approach leads to the development of a natural and more organic backlink profile.
Black hat link building tactics, on the other hand, often involve exploiting loopholes and using manipulative tactics to acquire links quickly. As a result, these links can lead to your website being penalized or even banned by search engines.
If you're ready to get started, this article will provide you with an in-depth guide to white hat link building. We'll cover the principles, strategies, and tactics you need to begin building quality links and climbing the search engine rankings!
The Principles of Whitehat Link Building
Before we jump into the strategies and tactics, SEOs should have a strong grasp of the underlying principles of whitehat link building. Here are a few key lessons to keep in mind:
Link relevance matters
Link relevance is critical in SEO because it helps search engines understand the context and quality of a webpage.
When one webpage links to another, it is essentially vouching for the credibility and authority of that webpage. This endorsement carries the most weight, or link juice, when the two webpages are in the same industry. As a result, links from relevant and reputable websites in your niche are much more powerful than those from unrelated or low-quality websites.
Quality over quantity
The total number of backlinks a domain has is a vanity metric. What's far more important is the quality of its backlinks.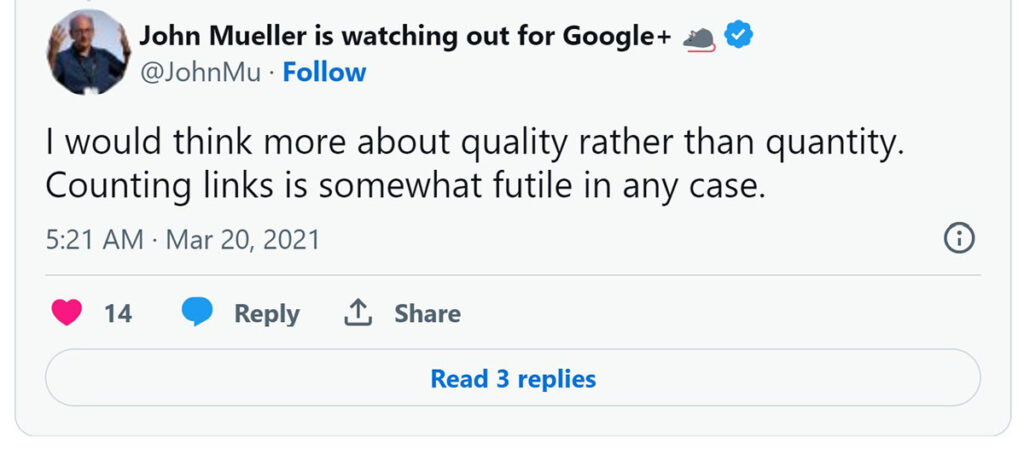 A few strong links from authoritative websites in your industry can be far more beneficial than dozens of low-quality, spammy links. Focus on building relationships with authority websites in your industry and your link-building efforts will bear much more fruit.
Diversify your link sources
It's best to diversify your source of backlinks because it can help to improve the overall credibility of your website. Having links from a variety of sources such as social media, directories, and other websites in the same industry can signal to search engines that the website has an established audience and is well-respected.
A diversified backlink profile can also protect a website from potential algorithm updates or penalties, as it shows that the links were acquired naturally through white hat techniques.
Safety is everything
Link building is a foundational search engine optimization strategy, but there are many risks involved if not done carefully. Black hat link building techniques like buying links, or participating in link farms or link schemes, can open the door to:
Penalties: Search engine penalties can significantly damage a website's visibility and rankings.
Reputational risk: Unsafe or manipulative link building can create a negative reputation among both users and search engines.
Unsustained results: Black hat tactics are not sustainable in the long term, as search engines are constantly updating their algorithms to detect and penalize these practices. This means that a blackhat website's traffic may be at risk as soon as the next algorithm update.
8 Popular Whitehat Link Building Strategies
Now that you are sold on the importance of white hat links, let's take a look at some of the most popular link building strategies:
1) Content marketing
Content marketing is all about creating shareable and link-worthy content that is both engaging and informative for readers. Blog posts, videos, infographics, and ebooks can all be used to attract white hat links.
Here is a simple formula for success:
Create content that is both visual and original. This will help you capture attention and encourage readers to share it with others.
Promote your content through various channels, such as social media, email marketing, and forums.
Reach out to other websites and influencers in your industry and ask them to link to your content. This can be done by sending personalized emails or using tools like Buzzsumo to find influencers in your niche.
Use internal linking across your website to increase the visibility of your pages and drive more traffic to them.
Create a resource page on your website with a list of helpful articles, tools, and books related to your niche. Reach out to the website owners of the resources you have included, and ask them to return the favor by linking to your resource page.
Content marketing is an effective white hat SEO strategy for websites that already have organic traffic. It's a great way to generate inbound links from your readers and online media outlets.
If you do not have an existing organic search presence, however, consider one of the following white hat methods.
2) Cold outreach
Website owners can use cold outreach to generate white hat backlinks by manually reaching out to websites and asking for links. This strategy typically requires creating a valuable piece of long-form content and then targeting websites that reference that topic.
For example, if you have written an in-depth article on SaaS ideas, you can use a tool like Ahrefs to find websites for entrepreneurs and then email them to request a link.
However, link builders should understand that links are the currency of the internet. To increase your chance of getting something of value, be sure to offer something in return.
Here's an overview of the cold outreach approach to building links:
Identify target websites: Research and find high-authority websites that are relevant to your industry. These are the websites that are most beneficial to your search engine rankings.
Craft a personalized message: Create an email that is customized to the person you are contacting, and pitch why they should work with you. Use their first name in the subject line and keep the message short and sweet.
Follow-up: Don't be afraid to follow up if the website doesn't respond within a few days. Oftentimes, website owners are busy and won't respond the first time, so a gentle reminder (or two) can go a long way.
Build relationships: Building a genuine working relationship with the site owner can help increase your chances of getting a backlink. Proactively suggest ideas for collaboration and look for mutually beneficial opportunities.
Offer something in return: Understand that asking for a link is asking for a favor… from someone who doesn't know you. So make it clear what you are willing to offer them in return. This could be a social media shoutout, a review of their product or service, or even a link to one of their own pages.
Circle back: If the site owner declines your request, be respectful and polite. And if they accept your request, be sure to thank them for their time. In either event, circle back with them in the future to see if further cooperation is possible.

3) Guest post
Guest posting is not dead. In fact, it is alive and well. The challenge is that most websites that accept guest posts get flooded with requests. To land a feature, you have to stand out from the masses and craft a truly compelling pitch.
If you are interested in writing guest posts to build your domain authority, here is the 6-step process to follow:
Identify target websites: To start, build a list of websites that have a webpage outlining their guest posting policy. On Google, search for your niche alongside phrases like "write for us", "collaborate", or "guest post."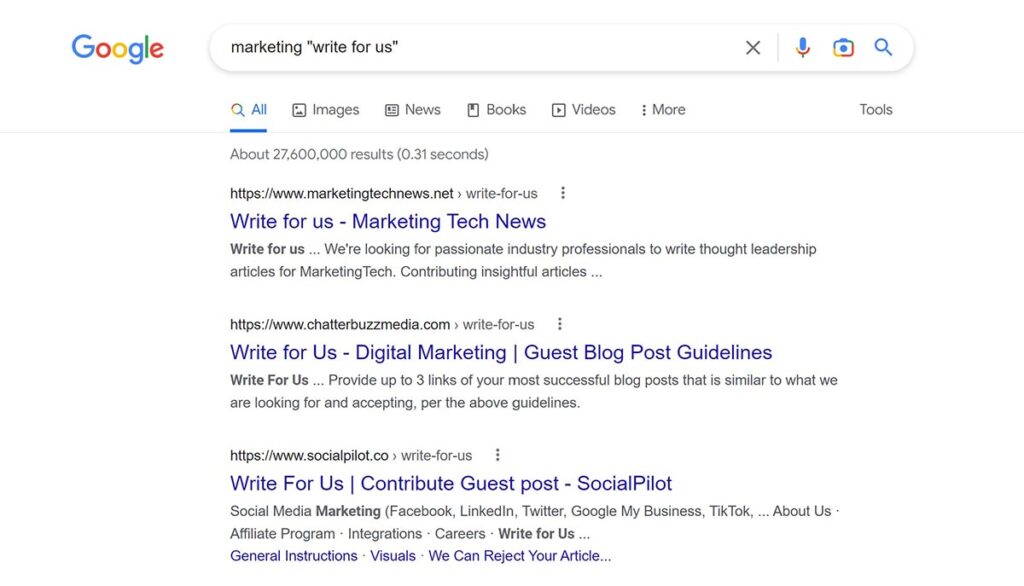 Pitch your expertise: When contacting a new website, ask yourself why they should listen to you. What makes your voice interesting or your experience relevant? Lead with these details to grab the editor's attention.
Pitch your ideas: After this humble brag, pitch a few potential ideas that you could write about. Again, remember that asking for a guest post is asking for a favor. Make it easy for the website to say 'yes' by bringing something worthwhile to the table. To get the ideation process started, look at competing blogs or your own blog and identify a few topics that the target domain has not yet covered.
Write content that you are proud of: If you land a guest posting opportunity, your work has only just begun! Craft a blog post that you are proud of, with images, statistics, and clear writing, because this is your ticket to landing even more guest posts. In future pitches, you can include a link to your previous features to demonstrate what you are capable of.
Include a backlink: Guest posting is one of the most popular white hat link building techniques because you can typically include one backlink to your website in the body of the article. Editors understand that you are contributing content in exchange for a link and will generally allow this, as long as you don't abuse the privilege. Only link back to high-quality content that won't reflect poorly on the website you are writing for.
Maintain the relationship: After your guest post is published, thank the editor that gave you a chance. Stay in touch and periodically touch base in case you want to contribute again in the future.
4) Replace broken links
Broken link building is a white hat SEO strategy where you proactively identify broken links on other websites. The idea is that you can contact the website owner and suggest your own content instead. Because broken links are harmful to SEO, site owners may feel appreciative of your assistance and be open to replacing the link.
This process can be semi-automated by using SEO tools that crawl websites and identify broken links, or it can be done manually by browsing a website and checking for 404 error pages.
Once you locate a broken link, check if you have a useful resource that can stand in its place. If so, shoot the website owner an email and suggest that your blog post could be beneficial to their readers. If the owner agrees, you will have quickly earned yourself a white hat link!
5) Community engagement
By actively participating in online communities and industry-related forums, you can build relationships with potential link prospects. Places like Quora, Reddit, and Medium are all great places to connect with fellow bloggers and website owners.
You can begin by joining conversations, offering helpful advice and insights, or even starting a discussion of your own. Just be sure to avoid self-promotion — people can see straight through that.
Once you have established yourself as a knowledgeable and helpful member of the community, relationships with the other members will begin to form organically. Interact with them on-platform, then strike up a private conversation and eventually suggest a collaboration.
The key to white hat link building in communities is giving before you start asking. By consistently creating interesting, relevant content, and providing useful advice, you will eventually be seen as an authority in your niche. This will make it easier for site owners to trust you, and in turn, link to your content.
6) Public relations
Public relations can be used in whitehat link building by leveraging media coverage and relationships with industry influencers to earn natural, high-quality backlinks. You have likely seen high-quality websites with logo lists of online media outlets that have covered them — these are the result of a successful PR campaign.

Securing press coverage may feel like a daunting task but there are plenty of tools and agencies available to help you get started. You can research journalist contact databases, or look into companies that specialize in PR outreach services.
White hat link building via PR generally requires significant upfront work for the potential of a wave of high-quality links down the line. But if you have a great story to tell, it's definitely worth the work.
This process begins by compiling a list of relevant contacts in your industry — including journalists, bloggers, and thought leaders. Reach out to them with a compelling story idea (or ideas) and see if they are interested in covering it.
If you're lucky, the story will be picked up and followed by other industry publications. This will lead to natural citations and backlinks — which are both important components of successful white hat link building.
7) Brand mentions
Brand mentions are instances where a website or online publication mentions a company, brand, or product without linking to it. To convert unlinked brand mentions into white hat links, you first have to find them. Fortunately, tools like Google Alerts (free), Ahrefs, Mention, and Buzzsumo can help to automate this strategy.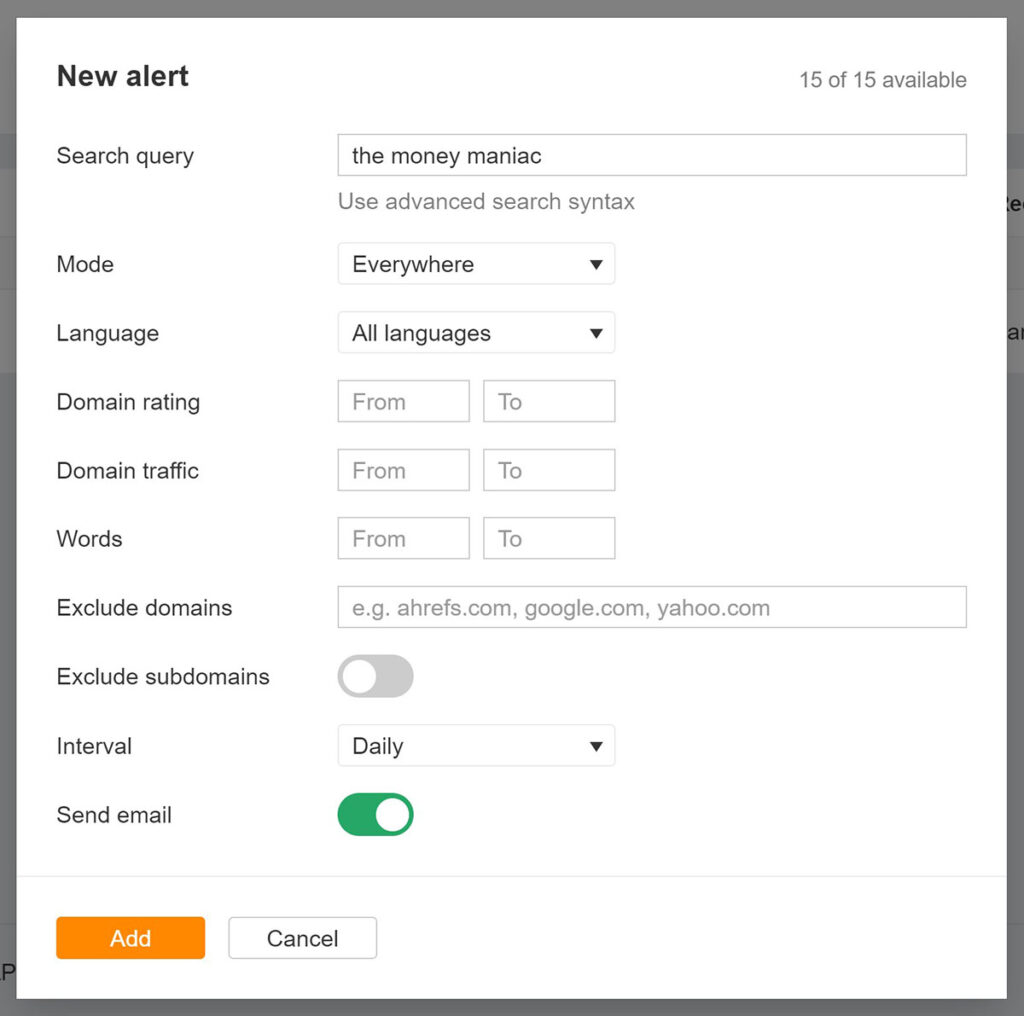 Once you have identified those mentions, reach out to the website owner to ask if they would be willing to add a link. Many will be more than happy to do so, as it will help their readers learn more about the brand and give credit where it's due. If so, your new white hat link will start yielding referral traffic and SEO leads in no time.
If they say no, on the other hand, don't give up right away! Links are an inherent exchange of value, so the right offer might just do the trick. For example, if your guest post outreach is in full swing, you may be able to include a link to their content in exchange for a link from them.
8) Influencer marketing
Influencer marketing can help generate white hat backlinks by leveraging the reach and credibility of industry leaders and experts.
By partnering with influencers and having them share or link to your content, you can attract the attention of high-authority websites. These may include mainstream media sites, bloggers, or even tabloids — all of which can help you build links and earn referral traffic.
Additionally, by having your content promoted by influencers, you can dramatically increase brand awareness. Although this link building approach is less direct than the other strategies we have discussed, it does have the potential to lead to natural backlinks and organic discovery.
Measuring the Success of Whitehat Link Building
To track and measure the success of your link building efforts, you will need a link building tool that is capable of the following:
Monitoring and analyzing competitor backlink profiles
Identifying opportunities for acquiring new whitehat links
Detecting broken and redirected links
Tracking link building campaigns over time
Analyzing your website's domain authority and page authority scores
Although there are tools designed for each specific aspect of SEO link building, a subscription to Ahrefs or SEMrush is all you need to get started. Both platforms can provide comprehensive insights into your whitehat link building performance.
Here at The Money Maniac we use Ahrefs and love its handy Google Chrome extension. From any web page or search result, you can easily get an overview of the domain and individual page's link profile, organic traffic, and domain authority. This helps us to vet opportunities and continue to pursue white hat backlinks.
Final Thoughts
Whitehat link building techniques are critical for climbing search engine rankings and generating organic traffic.
Google and other search engines reward pages that have high-quality links from relevant websites with greater visibility. But they also punish websites that use black hat link building techniques like link buying and link stuffing. Even gray hat SEO techniques like acquiring low-quality links can do more harm than good in the long run.
There really is no shortcut. Following Google's guidelines and focusing on whitehat link building is the only way to build a sustainable business. If you want to hire a link building agency to improve your website's search engine rankings, contact us today for a free consultation!
Link Building FAQs
What is the difference between white hat, black hat, and grey hat link building?
White hat link building techniques are those that abide by search engine guidelines and focus on creating quality content that improves the user experience. Black hat techniques, on the other hand, involve unnatural practices like link buying, blog commenting, and exploitative practices designed to artificially inflate domain authority.

Gray hat techniques are somewhere in between these two types of SEO, meaning they have not been explicitly forbidden by search engines but are still considered risky. These may include direct link exchanges, low-quality guest posting networks, and old domain recycling.
How do I know if a link is white hat, black hat, or gray hat?
Uncovering the "hat color" of a link can be tricky, as it is not always immediately obvious. Generally speaking, links from high-authority sources are likely to be considered white hat, while links from low-quality sites or private blog networks are more likely to be regarded as black or gray hat.

While this may not be easy for internet users to identify, it is important to recognize that Google's web crawlers and algorithms are capable of uncovering complex relationships between websites and detecting unnatural link profiles. So it is best to err on the side of caution and approach link building with integrity.
What are the risks of using black hat SEO tactics?
Using black hat SEO tactics can result in drastic penalties from search engines. Google has been known to issue manual or algorithmic penalties that can greatly reduce a website's visibility and organic traffic.
What are private blog networks?
Private blog networks (PBNs) are networks of websites that exist solely for the purpose of creating links to a target website. This black hat search engine optimization practice is very risky and should be avoided at all costs. It may seem like a quick and easy way to boost rankings, but the risks far outweigh the rewards. Google actively hunts down PBNs and manually or algorithmically penalizes any sites that are found to be part of them.
Why is whitehat link building important for SEO?
Search engines use backlinks to discover and index new pages, determine relevance to a search query, and rank pages in their results. Building quality backlinks through white hat techniques is important for SEO because it helps to establish website authority, improve rankings, and drive organic traffic.
How can I acquire whitehat links for my website?
A few of the most effective white hat strategies for link building include content marketing, guest posting, and public relations. All three of these SEO link building tactics involve creating quality content that other websites are naturally inclined to link to.