Disclosure: The Money Maniac is an Amazon Associate that earns from qualifying purchases at no cost to you. However, all opinions are our own. We stand by every recommendation we make, and provide only objective and independent reviews.
Laser engravers can open up a world of creative possibilities. Whether you are looking for a new side hustle idea or already started a crafting empire, investing in a quality laser engraver can take your business to the next level. From metal earrings to acrylic signs and wooden signs, the best laser engraving machines can add a personal flair to a variety of materials and products.
But laser engravers aren't cheap and finding the right machine as a small business owner can feel overwhelming. After all, who has the time to research the best models when you're busy trying to grow your business?
Fortunately, we've done the hard work for you – we researched, reviewed, and ranked all the best models on the market. Find the best laser engraver for small business owners today, from our 6 most highly rated picks!
The Best Laser Engraver for Small Business: Our Top 6
Best Overall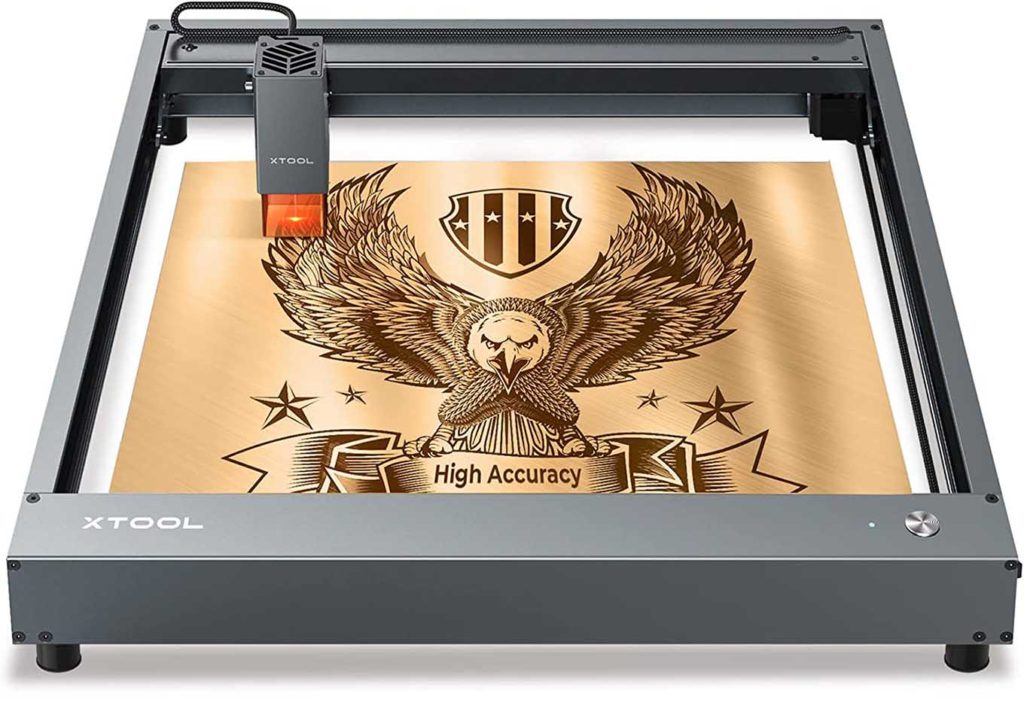 The xTool D1 is the overall best laser engraver for small business owners. Coming it at well under $1,000, the laser engraver offers incredible versatility and functionality at an unbeatable price. With a powerful dual laser head, the machine is capable of engraving on wood, metal, glass, acrylic, rubber, fabric, cardboard, and more.
The large 17″ by 16″ engraving area enables a wide range of project possibilities including home decor items, while also providing pinpoint accuracy with details as fine as 0.01 millimeters. Plus, the xTool D1 also offers a rotary attachment that supports cylindrical object engraving for glasses, tumblers, and vases.
The machine is built durably, supports LightBurn and its own design software, and includes U.S.-based technical support 24 hours per day. The xTool D1 leaves little to be desired, which is why it earned our top spot among small business laser machines.
Features
Laser power: 10W
Laser accuracy: 0.01 mm
Working area: 17-inches x 16-inches
Steel construction
Supports 360-degree rotary engraving
Buy on Amazon
Best Value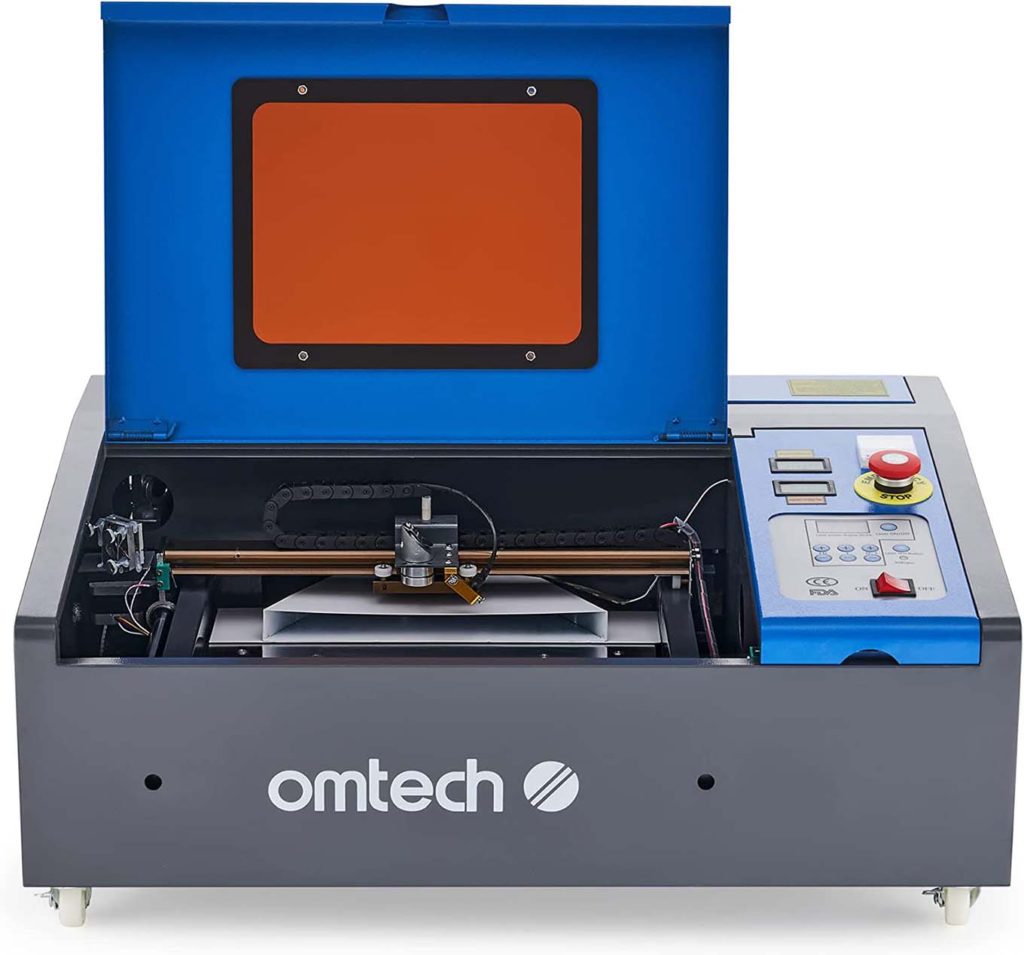 The OMTech packs a strong punch with 40W of laser power. The laser cutting machine can easily cut wood, paper, leather, cardboard, acrylic, and most non-metal materials. This makes the OMTech one of the cheaper laser cutters for small business needs.
Although it has a smaller workspace than the xTool D1, the OMTech still has enough room to tackle small crafts like ornaments, jewelry, and small signs. This powerful laser cutter includes a cooling system, integrated exhaust fan, a tinted viewing window, and an emergency stop button. The OMTech is the best laser cutter from a value perspective for everyone from crafters to small business owners to professional workshops.
Features
Laser power: 40W
Laser accuracy: 0.01 mm
Working area: 8-inches x 12-inches
Metal construction
Best safety features
Buy on Amazon
Best for Metal Engraving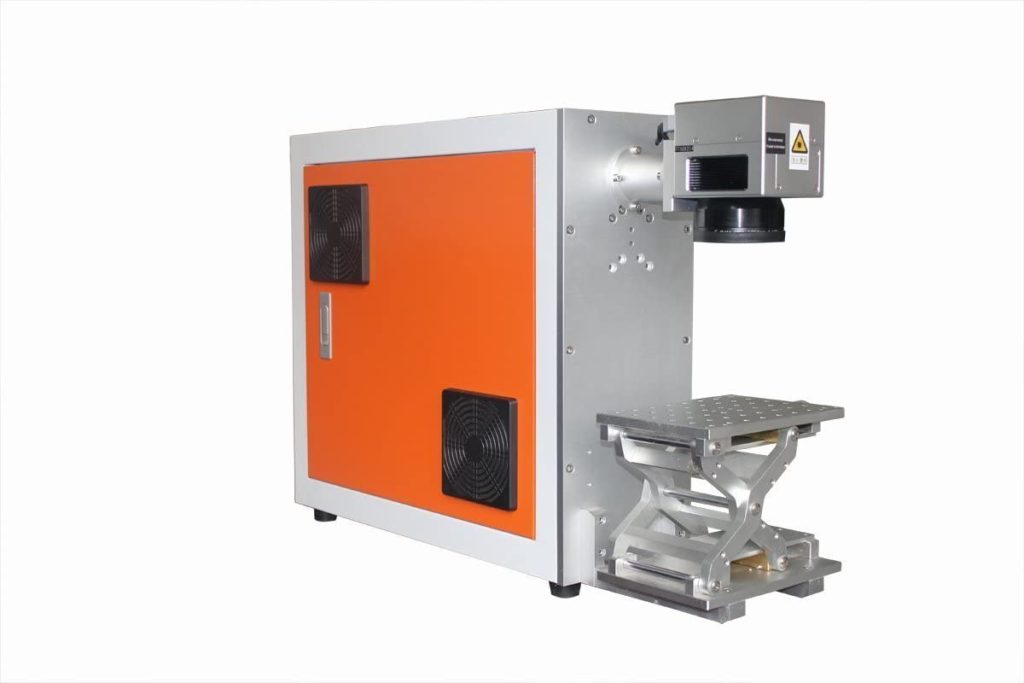 Want to start laser engraving on metal? The Ten-High is your best bet. Most laser cutters on the market are powered by CO2 lasers which require pre-treatment in order to engrave bare metals. Fiber laser cutters, on the other hand, can engrave aluminum, brass, copper, stainless steel, and other metals directly.
This is why the Ten-High model is a great laser cutter for reducing set-up time and maximizing efficiency. The fiber laser machine has a service life of more than 100,000 hours and the engraving speed is up to 3 to 5 times faster than comparable machines.
Features
Fiber laser
Laser power: 20W
Laser accuracy: 0.01 mm
Working area: 8-inches x 6-inches
Optional rotary
Buy on Amazon
Best for Small Projects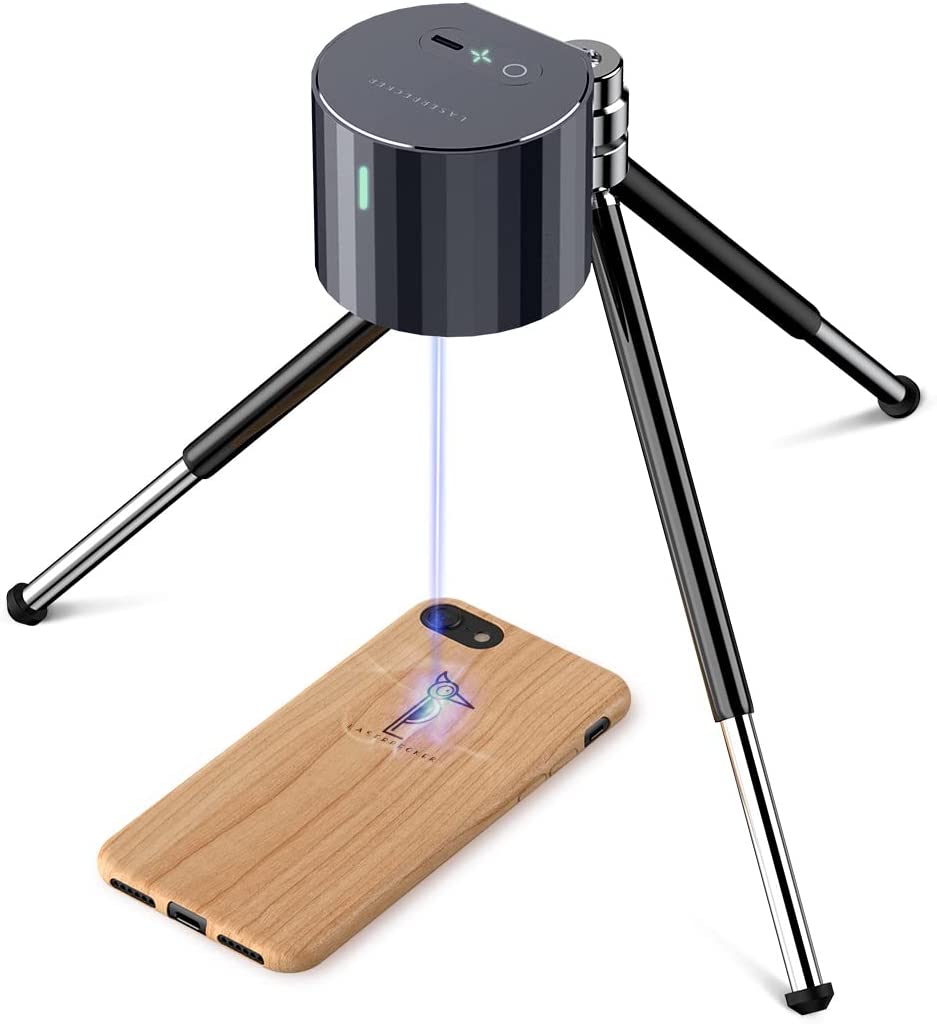 Weighing in at less than half of a pound, the LaserPecker 1 Pro is the epitome of a portable laser engraver. Despite its small size, the machine is still a powerhouse with the ability to engrave materials like paper board, cardboard, felt, leather, fabric, wood, and more. Harder and thicker materials like metal, stone, and glass won't engrave, so this machine is best used for small branding projects.
The LaserPecker comes with its own app which can be used to edit pictures, create designs, add text, and make adjustments in preview mode. The machine comes fully assembled and is operated with a smartphone, meaning you go from unboxing to engraving in less than 15 minutes.
Features
Laser power: 0.5W
Laser accuracy: < 0.01 mm
Working area: Flexible
Easy to use
Buy on Amazon
Most Premium
The Glowforge Plus is the best laser engraver for small business owners with the budget for top-of-the-line performance. As the most expensive laser engraving machine on our list, the Glowforge Plus offers the most user-friendly and aesthetically pleasing machine in its class.
This high-power laser printer can engrave on wood, leather, acrylic, aluminum, stone, and more. It's capable of metal engraving on certain metal materials directly, and others, like stainless steel, require pretreating with a product like Cermark. The Glowforge Plus does not require any computer software – it comes with a free app for use on desktop or mobile devices.
Features
Laser power: 40W
Laser accuracy: 0.01 mm
Working area: 11-inches x 19.5-inches
Automatic material detection and print settings
Included design software
Buy on Amazon
Best for Beginners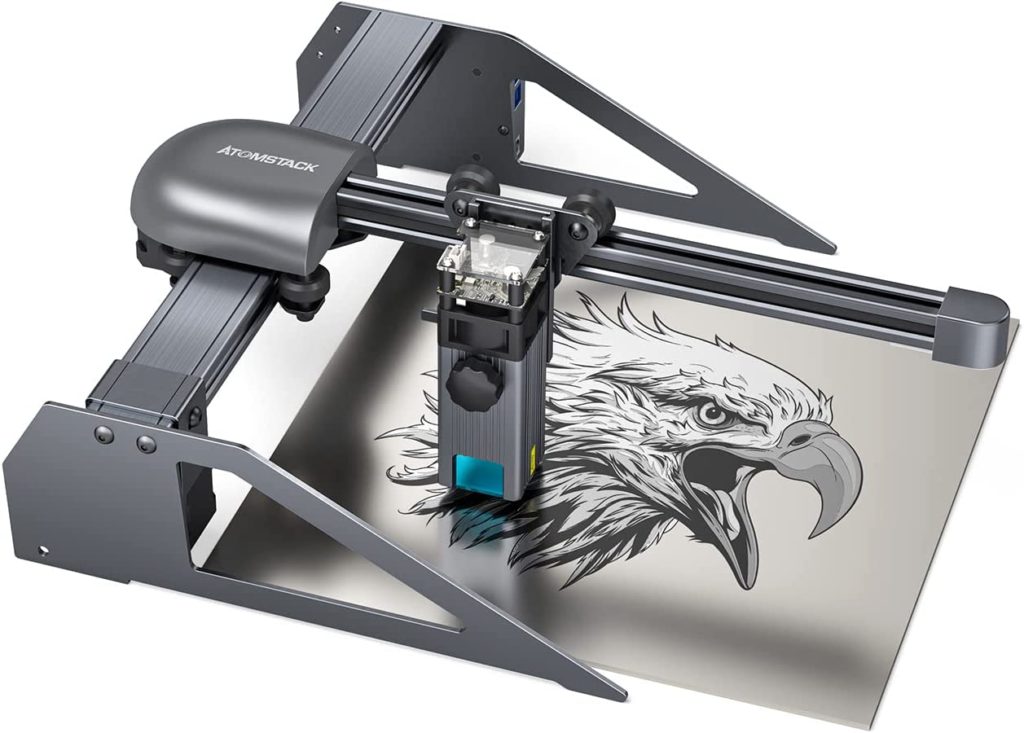 The Atomstack is an affordable and easy-to-use laser engraver, making it a great introductory machine for small businesses. The 5W CO2 laser is capable of cutting through cardboard, acrylic, leather, and certain leathers. Plus, it can engrave on those materials as well as wood, plastic, glass, rubber, and certain metals.
At less than 10 pounds, the Atomstack P7 is also quite portable. With a durable metal exterior and 85% pre-assembly, the versatile laser cutter is simple to set up and take on the road. The Atomstack is a great way to refine your skills or create custom crafts at live events and tradeshows.
Features
Laser power: 5W
Laser accuracy: 0.01 mm
Working area: 8-inches x 8-inches
Metal construction
Buy on Amazon
Laser Engraver vs Laser Cutter
Laser engraving machines generally have less than 60W of laser power. The engraver removes material and leaves a small, visually appealing mark without cutting through the material entirely. Laser cutters, on the other hand, tend to have more than 60W of laser power and cut through materials entirely.
Both laser engravers and laser cutters work by burning, melting, and vaporizing the product. For this reason, many laser engravers are capable of performing as laser cutters depending on the underlying material. Due to their similarities, many crafters use the two terms interchangeably based on what action the machine is most often used for. This article mainly discusses laser engravers with less than 30W of laser power, but be aware that this is still sufficient to cut through some softer materials.
Types of Laser Cutters
CO2
CO2 lasers work by running electricity through a tube filled with carbon dioxide (CO2), nitrogen, helium, and hydrogen. This tube has a reflective mirror at one end and a semi-transparent mirror at the other end. These mirrors produce a powerful infrared light that is invisible to the human eye but capable of cutting through linens, metal, wood, glass, and paper.
CO2 lasers are generally regarded as safe because they do not use a blade, and the beam uses heat rather than direct contact to engrave. They are also highly precise, leaving smooth and clean cuts, which is why they are widely used in crafting as well as the medical field.
Crystal
Crystal lasers generate beams from a combination of two crystals: neodymium-doped yttrium orthovanadate (Nd:YVO) and neodymium-doped yttrium aluminum garnet (Nd:YAG). Compared to CO2 lasers, crystal lasers have smaller wavelengths and higher intensity. This allows them to slice through tougher materials, like metals, plastics, and ceramics, but also causes them to break down more quickly.
Fiber
Fiber lasers utilize newer technology, in which a seed laser is amplified through a fiber-optic cable containing a variety of rare elements. This combination produces a powerful beam capable of cutting metals and plastics.
Fiber lasers have become the gold standard in the laser cutting industry due to their advantages over both gas and crystal lasers. Fiber lasers are more energy efficient than CO2 lasers, and they do not have the same risk of dangerous back reflections. They are also much more durable and long-lasting than crystal lasers.
However, fiber lasers are often much more expensive and powerful than is necessary for many small business owners.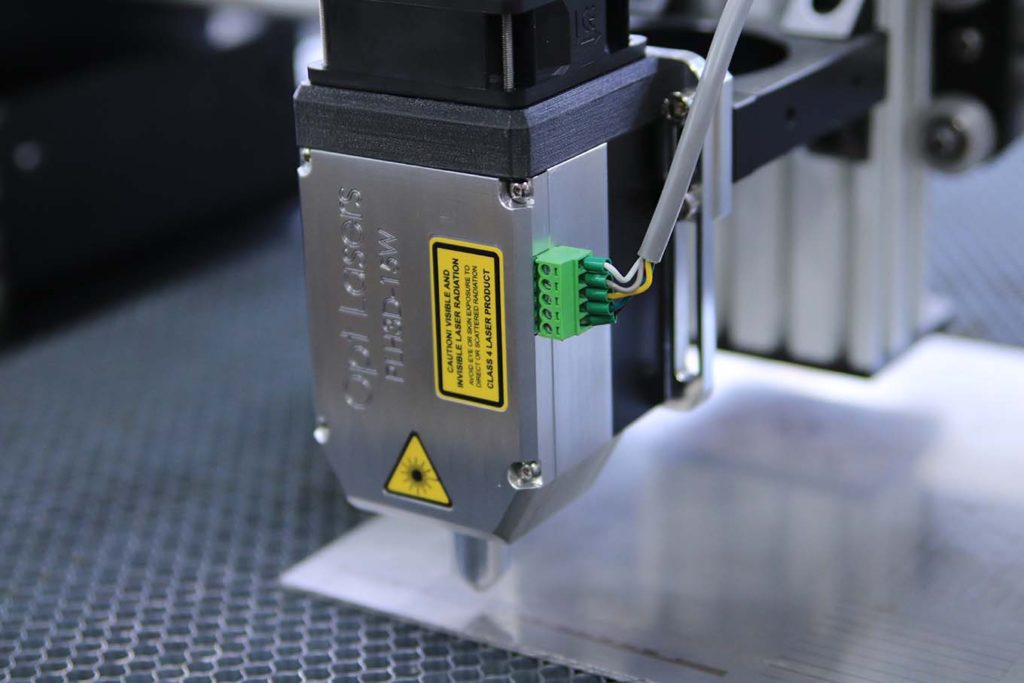 How To Choose The Best Laser Engraving Machine
Materials
The best laser engraving machine for small business owners will depend on the materials they need to engrave. Not all laser engraving machines are powerful enough to cut through or mark all materials, so it is important to consider what types of products you will be regularly working with before making a purchase.
Popular engraving materials include:
Glass
Wood
Leather
Metals
Plastics
Stone
Power
The power of both laser cutters and laser engravers is measured in watts (W). The higher the wattage, the more powerful the machine, and the tougher the materials it can cut through.
While the definitions are widely debated, a laser cutting machine may have between 60W and 200W, while a laser engraver will typically have less than 60W.
Due to their lower power, laser engravers are often used on more delicate materials, like wood and leather. Laser engravers with higher power levels are much more versatile, but they also come with a higher price tag.
Size
The size of the laser engraving machine's bed will determine how large of a product you can engrave at one time. Industrial-sized laser cutters often have beds as large as 24-inches by 36-inches, whereas more affordable and small business-friendly versions will have beds that are smaller, like 8-inches by 12-inches.
Also, keep in mind the physical dimensions of the machine itself. If space is limited in your work area, you may need to purchase a smaller engraving machine. As an example, a laser cutter with an 8-inch by 12-inch workspace may be as large as 32-inches by 20-inches by 10-inches and weigh upwards of 60 pounds.
Ease of Use
Laser engraving machines can be complex to operate, so be sure to choose a model that you or your employees are comfortable using. If you are new to laser cutting, look for a model with built-in tutorials, an easy-to-understand user manual, or a reputation for strong customer service.
Safety Features
Laser cutting and engraving require focusing an extremely powerful laser beam, which has some inherent safety risks. To mitigate the possibility of injury, always look for machines that include safety features like:
Automatic cut-off
Emergency stop
Eye protection
An exhaust fan
Value
To find the best laser engraver for small business owners, we must carefully balance both budget and functionality. For many small businesses, an expensive fiber laser cutter may be out of reach. But even a budget laser cutter is capable of working with multiple materials and producing precise cuts.
Finding the best value is often a matter of deciding which set of features, materials, and projects are most important for your business needs.
Final Thoughts
Our top overall pick for most multi-purpose laser engraving is the xTool D1.
However, there is no one-size-fits-all answer when it comes to choosing the best laser engraver for small business owners. Consider your budget and the type of projects you want to tackle, and this guide will help you choose a machine that can make beautiful products without breaking the bank.
If you're looking for other small business tools, check out our guides on the best label printers, the best heat presses, and more!
Laser Engraver FAQs
Is a laser engraving business profitable?
Yes, a laser engraving business can be quite profitable. The main costs of running a laser engraving business are the machine itself and the materials. Once you have these initial costs covered, the profit margins can be quite high. This is because the perceived value of highly intricate laser-engraved designs allows sellers to charge a premium for their work.
How much does a decent laser engraver cost?
The cost of a laser engraver depends on the size, power, and type of machine. Smaller, lower-powered machines can be purchased for as little as $300. However, if you want a machine that is large enough to handle industrial projects or one with enough power to cut through tougher materials, you could be looking at a cost of several thousand dollars.
Can you make money with a laser engraver?
Yes, you can make great money with a laser engraver. The key is to find a niche market and produce unique, high-quality designs. Laser engravers or cutters can create everything from jewelry to art to home decor and more. The possibilities, and the opportunities to make money, are endless with a little creativity.
What size laser engraver should I buy?
The size of the laser engraver you should buy depends on your budget and the projects you plan to work on. For small decorative tasks like business cards, earrings, or phone cases, a small machine like the LaserPecker 1 Pro Mini will suffice. But if you are interested in making custom signs, clocks, and other decor, consider a machine with more workspace, like the Atomstack S10 Pro.
What do I need to know before buying a laser engraver?
Before buying a laser engraver, make sure you understand the machine's output power and laser type. These two factors will determine what kinds of materials you can work on and how long the machine is likely to last. Other important considerations include size, safety features, and ease of use.
Is it worth getting a laser engraver?
Laser engravers are fun, easy-to-use machines that can help you create intricate, custom designs. Whether you are looking to start your own business or just want to add a personal touch to your home decor, a laser engraver can be a great investment.