Back in 2017, I didn't know a thing about ecommerce. All I knew is I wanted out.
Out of my job, out of the grueling hours, and out from under my boss's thumb. I wanted to start my own online business and reach financial independence long before the retirement age of 65. But I had no idea where to start.
I loved the idea of creating a brand, making online sales from the comfort of my own home, and seeing my products in the hands of real people. But how was I, an ecommerce newb, supposed to choose the right platform?
Well, I'll tell you… it was a hassle.
I wasted time, energy, and momentum worrying about all these little features that I barely understood. I wished someone had created a straightforward guide outlining only the most important considerations. A guide that would help me make the right decision quickly, so I could move on with building my business.
Well, my friend, I'm that someone now. And I'm here to help you out.
After working in ecommerce full-time for 6+ years and doing 8 figures in online sales, I pulled together all the need-to-know information for beginners. I carefully examined the 9 best ecommerce platforms around and summarized them in an easy-to-digest guide.
I'll show you which platforms are the best and why, how each platform stacks up in terms of pricing and customer service, and which features just might skyrocket your sales. Let's get going!
9 Best Ecommerce Platforms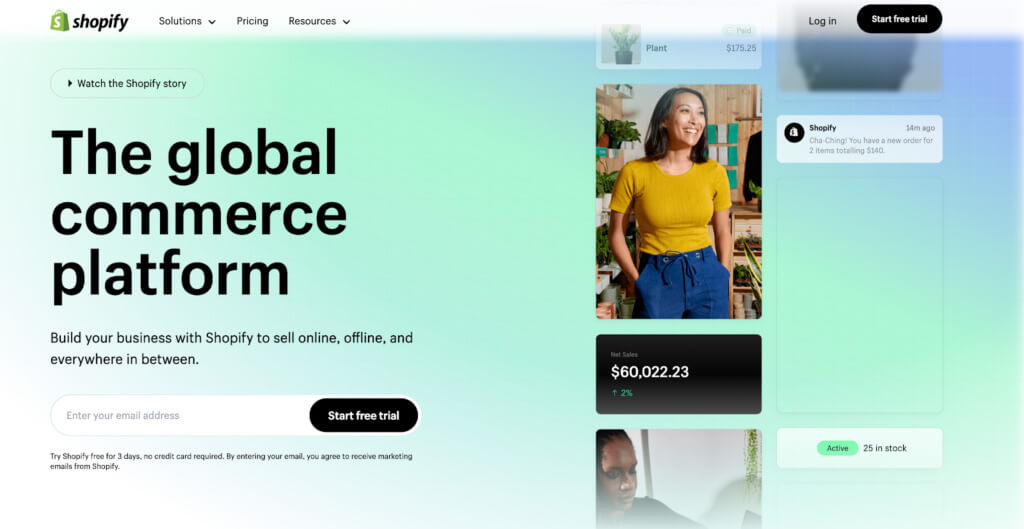 Shopify is the best all-in-one ecommerce platform. It's what I use to run all of my ecommerce businesses today, and I can't even imagine making a switch.
Shopify makes it super easy for anyone to set up a store and manage an online business. It handles all of the technical aspects behind the scenes, so you can focus on creating incredible products and wowing your customers.
The platform has an intuitive drag-and-drop store builder with free professionally-designed themes. It also comes with built-in marketing tools abandoned cart recovery and customizable discounts, so you can maximize your sales. Plus, Shopify offers secure payment processing and deep integrations with every major sales channel.
I use Shopify for:
Payment processing
Creating gift cards
Issuing discount codes
Reviewing sales data
Performance analytics
Hosting a blog
Website templates
Permission control
Sales channel integrations (Facebook, TikTok, Esty, Faire, etc.)
3PL fulfillment integrations
Third-party app store
And so much more!
Shopify's Best Feature
Shopify's best feature is its ecosystem of integrated tools and apps that all work together seamlessly. For example, Shopify POS powers in-person sales and automatically syncs with your online store's inventory and order management. And the Shopify App Store has over 6,000 apps that allow you to further customize your store's functionality.
Overall Rating
I happily give Shopify an overall rating of 10 out of 10. It's my preferred ecommerce platform by a country mile, and I can't imagine this changing anytime soon. The platform isn't perfect — but it's as close as we can get at this point.
Sign up for a free Shopify trial today!
Shopify offers almost everything a business owner needs to start and grow a successful online store. And the platform is constantly evolving, improving, and simplifying operations for business owners.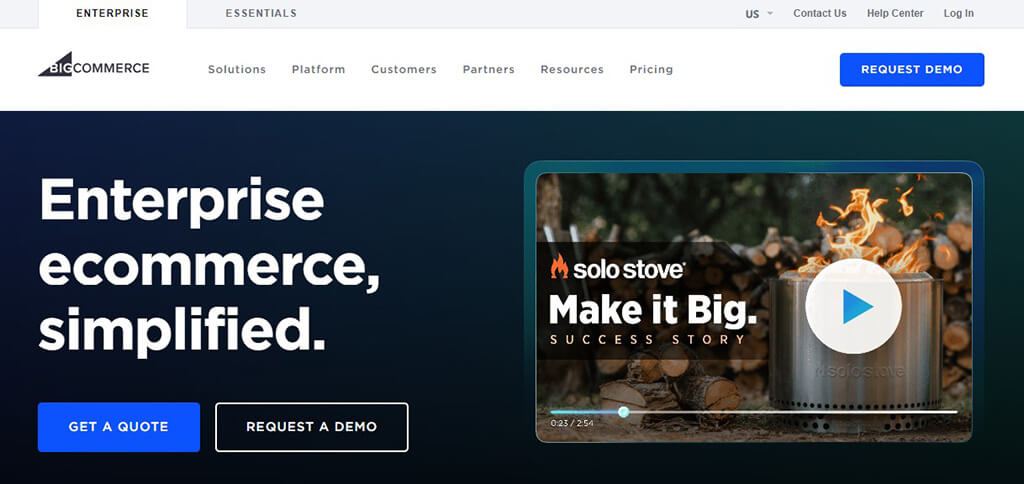 BigCommerce is an enterprise-level ecommerce platform designed for large businesses with complex online store requirements.
BigCommerce has a robust feature set so you can engage in sophisticated marketing and sales strategies without the need for expensive apps. The platform offers unlimited staff accounts, reviews and ratings, Google Shopping, and shipping calculators right out of the box.
BigCommerce also includes advanced reporting, customer data capture, and automatic currency conversions. These are all selling tools that would require a third-party app on Shopify. On the flip side, language translations, tax calculations, and abandoned cart emails are all features that are included on Shopify, but you have to pay up for with BigCommerce.
In short, BigCommerce provides a legitimate alternative to Shopify for established brands with specific functionality needs.
BigCommerce's Best Feature
BigCommerce's best feature is that it doesn't charge any transaction fees (on top of the regular payment processor fees). These fees can also be avoided by using Shopify Payments, but this platform is only available in 23 countries. For those who cannot access Shopify Payments, using BigCommerce could save you a pretty penny.
Overall Rating
I give BigCommerce an 8 out of 10. It's an excellent choice for established brands with the resources to take advantage of its advanced feature set. The main downsides are that, for beginners and smaller merchants, it is less widely used and could be less intuitive than Shopify. But for enterprise users, it's one of the best ecommerce platforms available.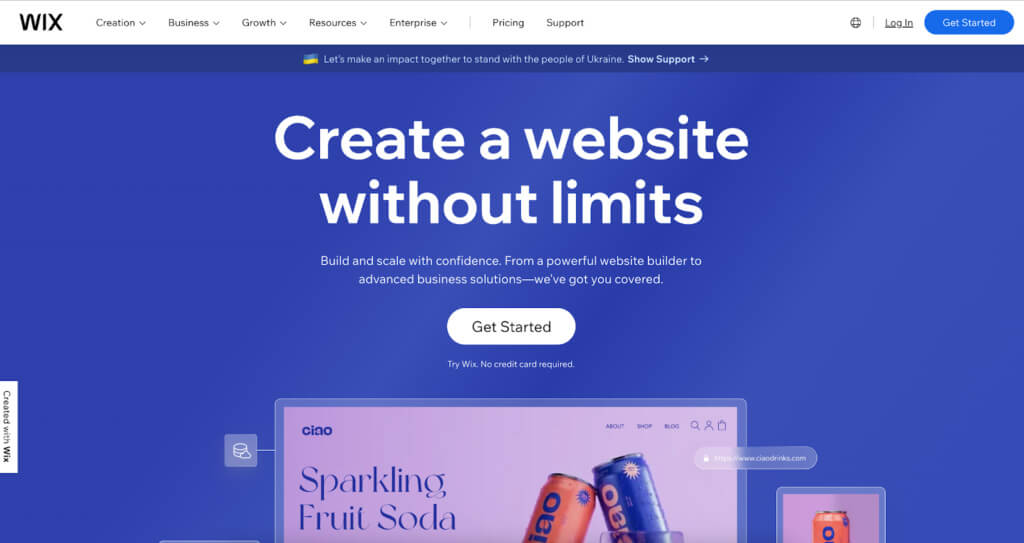 Wix is popular among side hustlers, artists, and entrepreneurs who want an easy way to create an online store. With over 800 templates to choose from, you can create a professional look without much effort.
Just use the drag-and-drop website builder to customize your favorite template with your products, images, and text. Then, you can even add the free 'Wix Multilingual' app to create different language versions of your website.
However, Wix does not use responsive templates. So be sure to check both the desktop and mobile versions of your site to make sure everything is sized appropriately before pushing it live.
With minimal setup required, Wix is great for anyone who wants to get their products online quickly and easily. It even handles security, storage, and payment processing for you, making it a top choice for small ecommerce sites and independent creators. But the platform does impose both storage and bandwidth limits. So growing ecommerce brands may want to look for another solution.
Wix's Best Feature
Wix's best feature is its free email marketing. Store owners can send 3 email newsletters per month (up to 5,000 contacts) entirely for free. This makes it an appealing choice for new ecommerce brands that are operating on a lean budget.
Overall Rating
I give Wix an overall rating of 7 out of 10. It's easy to use for beginners, and it provides an accessive entry point to selling online. However, Wix lacks some advanced ecommerce functionality needed to truly scale your business.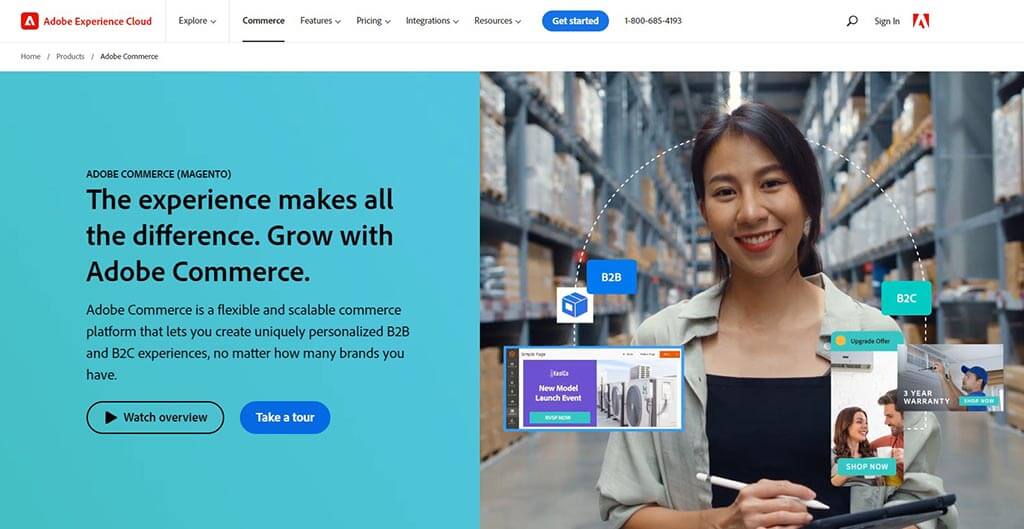 Adobe Commerce is purpose-built for developers who demand maximum flexibility and customization capabilities when building an ecommerce site. 
It has an open architecture that gives you full control over the site design, functionality, and user experience. Adobe Commerce can handle even the most sophisticated B2B and B2C enterprise ecommerce implementations. 
The robust platform easily scales to accommodate complex catalog, pricing, promotion, and inventory needs. Adobe Commerce is ideal for development teams that need to customize every aspect of a complex ecommerce project from the ground up.
Adobe Commerce's Best Feature
Adobe Commerce's best feature is its scalability. It can easily grow with businesses to support high volumes of products, traffic, orders, and integrations. This makes it ideal for high-SKU count, high-growth, global brands.
Overall Rating
I give Adobe Commerce an overall rating of 7 out of 10. For talented developers and IT teams, it provides unparalleled customization, making it an excellent option. But this flexibility comes with a steep learning curve and the need for technical resources. So for beginners, it may present more challenges than it is worth.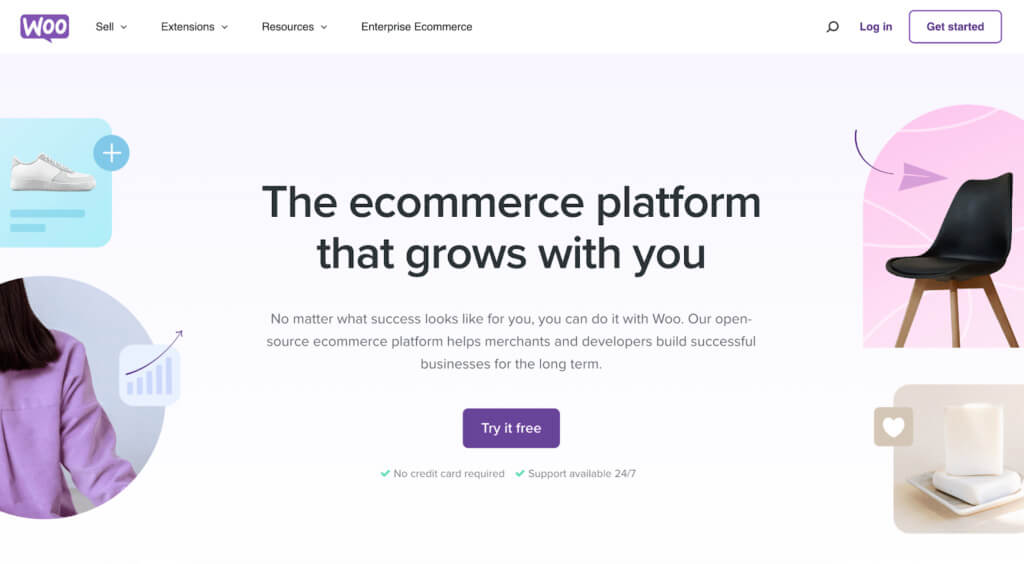 WooCommerce is a great option for businesses already using WordPress who want to add ecommerce functionality to their existing site. It seamlessly integrates with WordPress for a unified CMS and shopping cart experience. 
WooCommerce also has a huge library of add-ons and extensions that allow extensive customization and flexibility. Businesses can use it to create tailored online stores that align with their brand identity.
The open-source platform is affordable and easy to scale. With WordPress powering over 40% of all websites, WooCommerce is a super simple way for many businesses to start monetizing their traffic.
WooCommerce's Best Feature
WooCommerce's best feature is its open-source nature and active development community. There are thousands of plugins, integrations, and themes available to extend its capabilities. Users can get support from a robust community forum as well.
Overall Rating
I give WooCommerce an overall rating of 7 out of 10. For WordPress users, it's one of the best ecommerce platforms to get started with. However, it can be fragile as it's held together by piecemeal extensions. And as a result, it can eventually require technical expertise for customization and maintenance.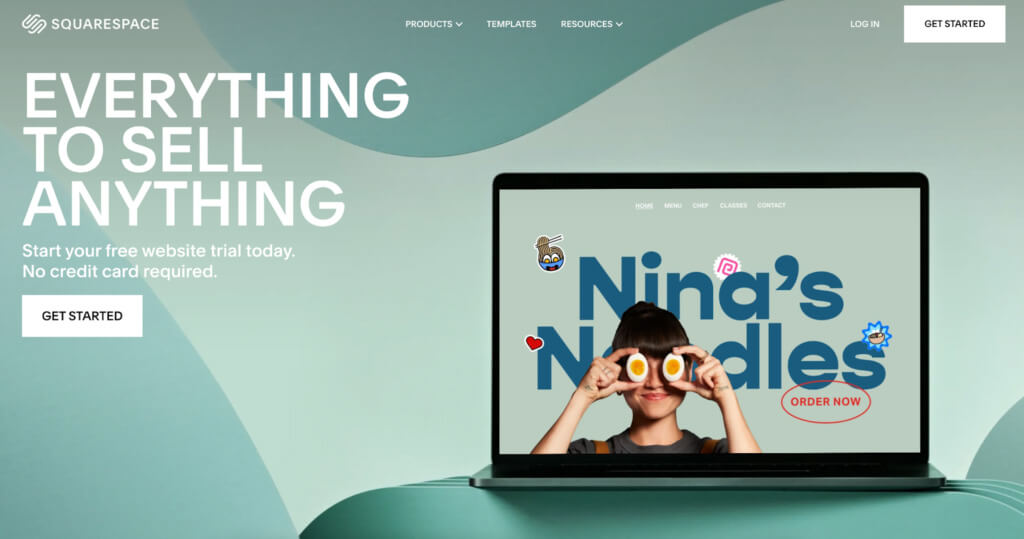 Squarespace creates gorgeous, mobile-friendly websites. It provides a wide range of elegant templates created by professional designers so that any store can look polished and sophisticated.
The easy-to-use drag-and-drop builder enables anyone to create a beautiful online store, even if you don't have any coding expertise. Squarespace also makes the process incredibly beginner-friendly by integrating domain registration and web hosting directly into the platform.
The emphasis on design suits everyone from content creators selling unique products to those selling high-end sneakers. But Squarespace also makes it easy to sell digital products, subscriptions, and site memberships too. The platform even enables businesses to host paid members-only areas.
On the marketing side, Squarespace offers a video editing studio and an email marketing app. But, unfortunately, there aren't many available apps beyond these.
Squarespace's Best Feature
Squarespace's best feature is its modern, high-end template designs. Store owners can use these designer templates to quickly create a stylish, eye-catching online storefront that looks great on any device.
Overall Rating
I give Squarespace an overall rating of 7 out of 10. It excels in aesthetics over hardcore ecommerce functionality. The templates and intuitive editor make stunning websites accessible to small businesses and artists. However, customization is less straightforward and it lacks certain integrations (like eBay) and order management features.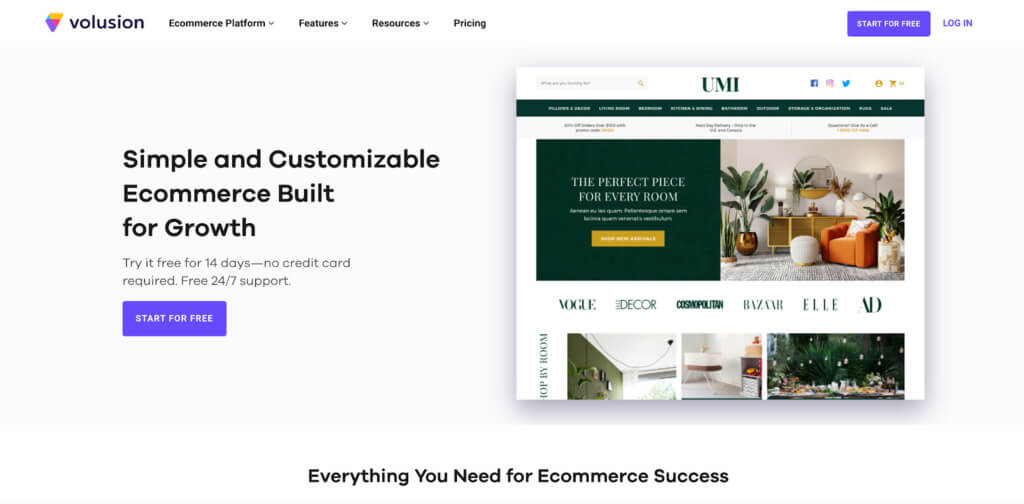 Volusion is ideal for merchants who want a fast and easy way to create a professional-looking online store. It offers a straightforward interface that allows most users to set up their ecommerce site and start selling within an afternoon.
However, Volusion lacks some important functionality, like blogging, SEO features, and dropshipping capabilities. Plus, it's not straightforward to sell services, digital products, subscriptions, or site memberships.
But if those concerns don't hold you back, there is some upside to using Volusion. The platform charges lower transaction fees if you use a third-party payment processor. It provides responsive templates optimized for desktop and mobile and a highly customizable website editor.
Volusion's Best Feature
Volusion's best feature is its cheap transaction fees. In the U.S., users can sign up for Volusion Payments to avoid fees entirely. And beyond the U.S., the fees are 1.25%, 0.65%, and 0.35% depending on your plan. For reference, these are between 3 and 4x cheaper than Shopify's transaction fees.
Overall Rating
I give Volusion an overall rating of 6 out of 10. It excels in fast setup and has useful analytics. Plus, for users that don't have access to Shopify Payments, it can provide an affordable alternative. However, it lacks some ecommerce features needed at scale.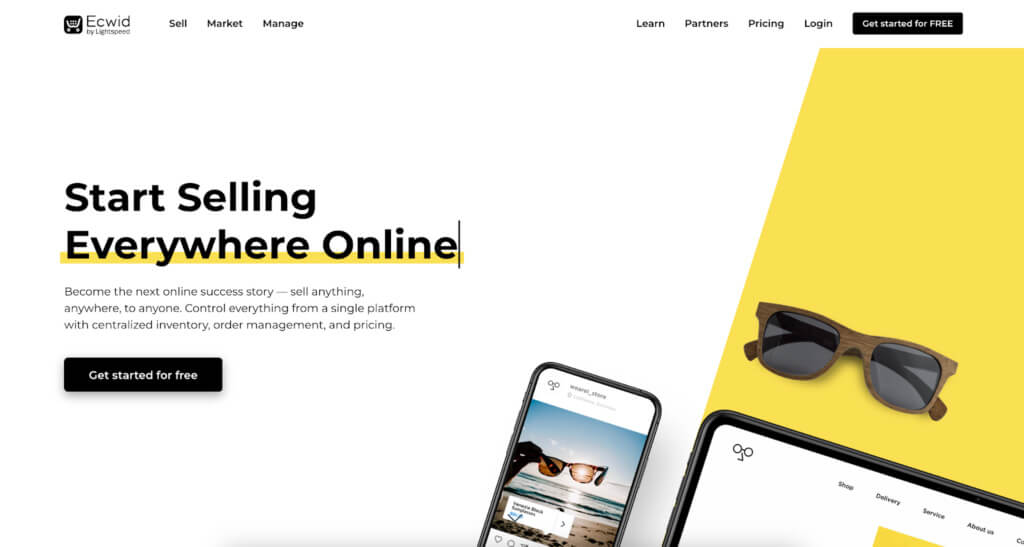 Ecwid is a cheap, beginner-friendly way to make money by adding ecommerce to any website.
The platform offers an impressive free plan that includes unlimited bandwidth, mobile responsive website templates, and support for up to 5 products. Or, Ecwid can integrate with existing websites on WordPress, Wix, Weebly, and more through embedded tools.
The platform offers multi-language and multi-currency sales, and tax rates are applied automatically. The point-of-sale functionality and SEO features leave something to be desired, but for a lightweight solution, Ecwid is a legitimate contender.
Ecwid's Best Feature
Ecwid's best feature is its free plan. It's the most complete free plan on this list, and for merchants planning on selling fewer than 5 items, it is a worthwhile consideration.
Overall Rating
I give Ecwid an overall rating of 6 out of 10. It is a simple-to-use, simple to set up ecommerce add-on. So if you want to add transactional capabilities to your website, it's among the best ecommerce platforms around! But if you want to start an ecommerce-first business, look for a more traditional option.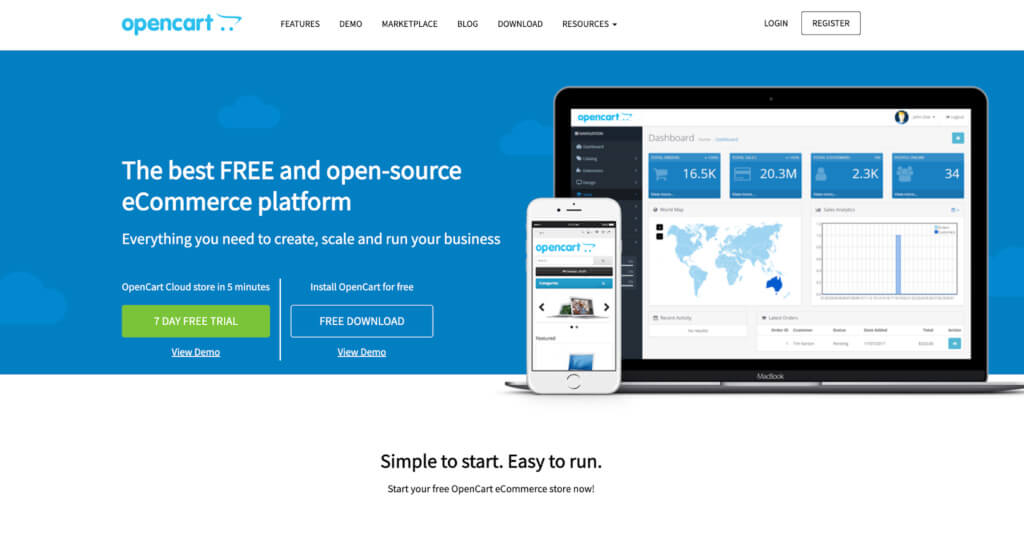 OpenCart is an appealing ecommerce platform for store owners who desire an advanced, customizable solution that comes with zero licensing fees.
As free open-source software, OpenCart provides full access to the codebase for developers who want maximum control and flexibility when building an online store. It enables deep customization of site design, features, and functionality.
OpenCart also has a modular architecture that allows developers to create and integrate extensions for additional capabilities. The robust platform works for everything from simple to complex ecommerce projects. And the open-source model offers advanced technology at no charge.
OpenCart's Best Feature
OpenCart's best feature is its flexibility. Developers can customize and tailor it to fit unique business needs. There is also a library of over 13,000 extensions for added functionality.
Overall Rating
I give OpenCart an overall rating of 6 out of 10. The free open-source model is excellent for developers on a budget. For skilled coders, it's a feature-packed free option. However, it requires strong technical skills to operate and customize.
How To Choose The Best Ecommerce Platform: 3 Key Factors
1) Features and functionality
To select the right ecommerce platform, outline the core functionality that you need. But not just for where your business is now — also anticipate where your business is heading.
These features may include:
Intuitive storefront builder
Inventory management
Payment processing
3PL fulfillment integrations
Sales analytics
Tax reporting
And so on.
Prioritize your must-have features, but also leave room to grow. Ensure that your target platform supports these needs natively, or has a third-party app store that can do the trick.
2) Ease of use
Look for a platform that won't hold you back or delay your launch. An easy-to-use, intuitive software solution can save you thousands of dollars in implementation fees and weeks of time.
Especially as a beginner, avoiding this headache is crucial. Optimize for simplicity and start gathering customer feedback as soon as possible.
3) Cost
Evaluate both recurring costs, like subscriptions and apps, as well as variable costs like payment processing fees. Make sure the value that the platform provides exceeds its cost by a factor of 10x or more.
If it does not, look for a more lightweight solution until you reach the next stage. But keep in mind that switching costs are real, so you don't want to hop from platform to platform too frequently.
By evaluating platforms based on these core factors — features, ease of use, and cost — you can identify the solution that matches your ecommerce business goals and sets you up for success. The right platform will ultimately unlock your potential and propel your business to new heights.
The Ecommerce Landscape in 2023
The ecommerce landscape in 2023 continues to display resilience and adaptation even while facing new challenges.
Although the COVID-19 pandemic brought headwinds like high inflation and reduced trade volumes, it also accelerated the shift to ecommerce. As a result, topline growth remains strong. And global ecommerce sales are projected to reach $6.3 trillion by 2024 according to Forbes (up considerably from $5.2 trillion in 2021).
This is, in large part, due to the agility of online businesses.
Ecommerce brands can iterate and react much more nimbly than retail businesses, allowing them to cater to evolving buyer behaviors. Whether consumers are price-conscious, sustainability-focused, or looking for limited-edition drops, ecommerce businesses can respond quickly and appropriately.
So even in these uncertain times, one thing is for certain: Ecommerce is here to stay. So if you are interested in joining the industry, now is a great time to build, launch, and scale your online business.
Key Takeaway: Shopify Is The Best Ecommerce Platform
As a long-time ecommerce operator, one platform stands out for its unrivaled blend of simplicity and power — Shopify.
Sign up for a free Shopify trial here.
Even after reviewing the top 9 contenders, Shopify remains my #1 pick for the best all-in-one ecommerce platform.
Its intuitive tools make starting and managing an online store possible for entrepreneurs of all backgrounds. Meanwhile, its robust functionality and unparalleled app ecosystem provide all of the flexibility in the world.
And while Shopify is the clear leader of the pack for most purposes, there are excellent alternatives for specific needs. BigCommerce is one of the best ecommerce platforms for large brands, Wix offers ease for beginners, and OpenCart provides customization for developers. 
After reading this overview, there is only one thing left to do… Take action! To make your entrepreneurial dreams come true, you just have to get started.
Nobody has all of the answers on day one. So sign up for one of the best ecommerce platforms now (probably Shopify) and tackle one problem per day. Within a few months, you will be blown away by the amount you have learned and the progress you have made. Here's to your ecommerce journey!