How exciting! You're ready to launch your brand and sell online. But there's just one problem: you're not sure which ecommerce platform to choose. Shopify vs Etsy is a common debate among ecommerce entrepreneurs. Both platforms have a lot to offer, but which one is the best for your business?
In this article, an 8-figure ecommerce seller will compare Shopify vs Etsy and help you decide where to get started. And even though there are many nuances between Shopify and Etsy, we will focus on the few key factors that really move the needle. Now, let's dive in and get you selling!
Shopify or Etsy: Which is better?
The short answer is… Shopify is the better ecommerce platform. In fact, it's our top overall choice for building an online store.
If you want to get started selling products online, claim your free trial with this special offer today.
To learn more about why we recommend Shopify, keep reading. The longer answer has a bit more nuance and mainly comes down to your own business goals. There are a few specific cases in which we think Etsy might be the right choice, but for the most part, Shopify comes out on top.
Shopify Vs Etsy: Key differences
Even though Shopify and Etsy are both ecommerce platforms, they offer very different services. Depending on your product type, intended traffic source, and commitment to growth, you should be able to quickly determine which option is better for you.
Shopify is a comprehensive online store builder that offers users a complete backend solution for their business. From hosting and web design to fulfillment and customer service, Shopify helps merchants create a full-service shop on the web.
Etsy, on the other hand, is a creative marketplace for one-of-a-kind, original items. Etsy clearly states that "everything listed for sale… must be handmade by you, vintage, or a craft supply." This means that the platform isn't right for resellers, dropshippers, or anyone looking to sell mass-manufactured goods.
For those who choose Etsy, however, the set-up process has far more guard rails. But where you sacrifice customization, you save in set-up time. Etsy business owners create product listings, rather than entire websites, meaning you can start selling in a matter of minutes.
As you can see, the key differences between Shopify and Etsy lie in what you sell and how you sell it. Now, let's get into the nitty gritty of each platform and find out why, for most entrepreneurs, Shopify is our preferred way to sell online.
| | Shopify | Etsy |
| --- | --- | --- |
| Ease Of Use | | ✓ |
| Product Flexibility | ✓ | |
| Branding | ✓ | |
| Customer Acquisition | | ✓ |
| Point Of Sale (POS) | ✓ | |
| Ecommerce Features | ✓ | |
| Support | ✓ | |
| Overall Value | ✓ | |
Why use Shopify?
Shopify is a full-featured ecommerce platform that gives brand owners everything they need to start and grow an online store. As we compare Shopify vs Etsy, here are the pros and cons of choosing Shopify:
Shopify Pros
Customizable website builder
With Shopify, you can design a completely custom shopfront and create a unique user experience for your customers. The platform features a drag-and-drop website editor that's simple to use and extremely powerful.
You can upload your own theme, or choose from one of the many free, professionally designed themes in the Shopify Theme Store. With the click of a button, you can modify fonts, colors, imagery, and more to create a shop that perfectly represents your brand.
Shopify also gives you the ability to make changes to the code of your site, giving you complete control over the look, feel, and function of your shop. And if you're not a coder, you can always hire a Shopify Expert to help you build the perfect online store.
Shopify App Store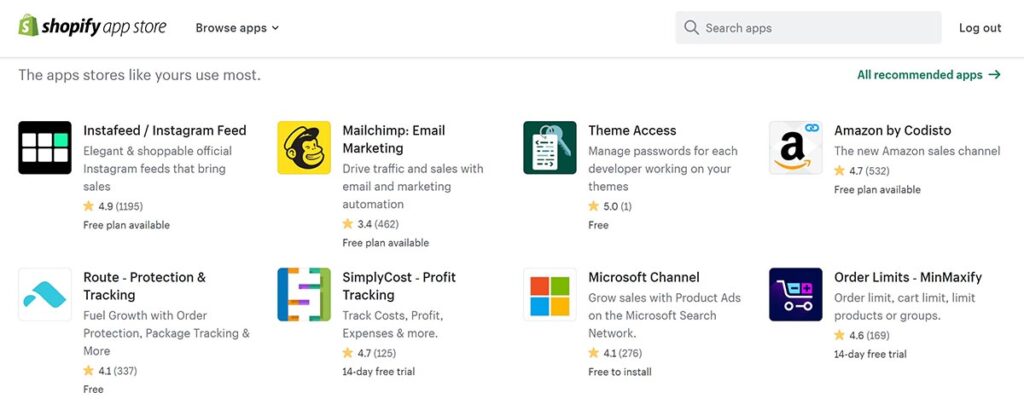 The Shopify App Store is packed with useful plugins and tools that can help you supercharge your shop. From email marketing to conversion rate optimization to customer support, there's an app for almost everything.
The Shopify App Store is perfect for small business owners who don't have a software developer on staff. Need to add an upsell or flaunt your Instagram feed on your shop? Skip the hassle of hiring and find an app that's ready to go.
Customer ownership
When you use Shopify to build your online store, you own all of your customers' data. This is in stark contrast to Etsy, where the platform retains your customers' phone numbers and email addresses.
Owning your customer data is extremely important for two reasons. First, it allows you to nurture your relationships, retain customers, and increase your CLTV (customer lifetime value). Second, it gives you the ability to evolve as a business without being chained to a specific platform.
Integrations
Shopify integrates with everything you need as a business owner. Social media platforms, third-party apps, fulfillment services, and payment processors can all be connected in just a few clicks.
And if you plan to sell in person, Shopify POS (point of sale) makes it easy for shop owners to manage their inventory, track sales, and accept credit card payments both online and offline.
Shopify Cons
No customer acquisition support
Shopify is a robust technology platform, but it doesn't offer any direct customer acquisition support. This means that it's up to Shopify store owners to generate their own traffic and market their products.
If you have experience with paid ads, SEO, or influencer marketing, this won't be an issue. But if you're starting from scratch, it does present one more hurdle to overcome.
Higher fixed costs
Shopify charges a monthly fee of $29, $79, or $299, depending on the plan you choose. Although the $29 Basic Shopify plan should suffice for most users, this does stand in contrast to Etsy's free base plan.
However, what Shopify charges in a monthly subscription it makes up for with lower per-transaction fees. Shopify orders incur a 2.9% plus 30 cent processing fee. Etsy orders face a 3.0% plus 25 cent processing fee, and a 6.5% transaction fee.
For stores with monthly revenue of less than ~$500, Etsy tends to be the more affordable solution. Beyond that level, however, Shopify becomes much cheaper thanks to its lack of transaction fees.
Shopify Pricing
Shopify has no listing fees, transaction fees, or additional payment processing fees when using Shopify payments. The only cost to create an online store is a monthly subscription to one of these three plans: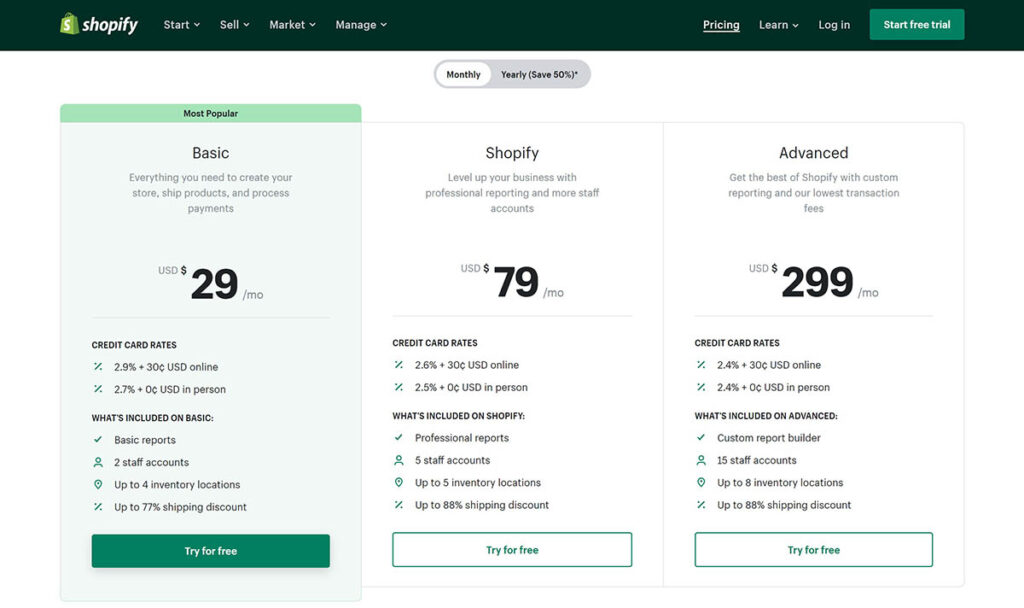 If you are ready to get off the sidelines and get in the game, give Shopify a try today. Sign up for a free trial and lock in a discounted rate for your first three months in business!
Why use Etsy?
Shopify has a lot to offer merchants in terms of flexibility and functionality. But in the Shopify vs Etsy comparison, Etsy comes out ahead in a few key areas. Here are the main considerations for selling on Etsy:
Etsy Pros
Etsy is a marketplace
As mentioned previously, Etsy is a marketplace which means that it comes with inherent demand. According to Similarweb, Etsy receives nearly 450 million monthly visitors – that's a lot of potential customers for your shop.
This global customer base comes to Etsy in search of unique hand-crafted goods, vintage items, and creative artwork. So if your Etsy store can find a corner of the market, you will have a head start on Shopify merchants who have to generate their own traffic.
Instead of learning digital marketing and spending on ads, Etsy owners can focus on what they're good at—making and selling beautiful products.
Easy to start
Although Etsy offers brand owners far less creative control, there is a silver lining to this limitation: it's very straightforward to get started.
Because there are no themes or apps to install, you can launch your shop and start selling in minutes. Even the design of your Etsy shop is taken care of – all you need to do is upload your products and write descriptions.
Entrepreneurs who want to quickly test the waters with a new craft product or business idea will find that Etsy is the perfect platform to do so.
Etsy Pattern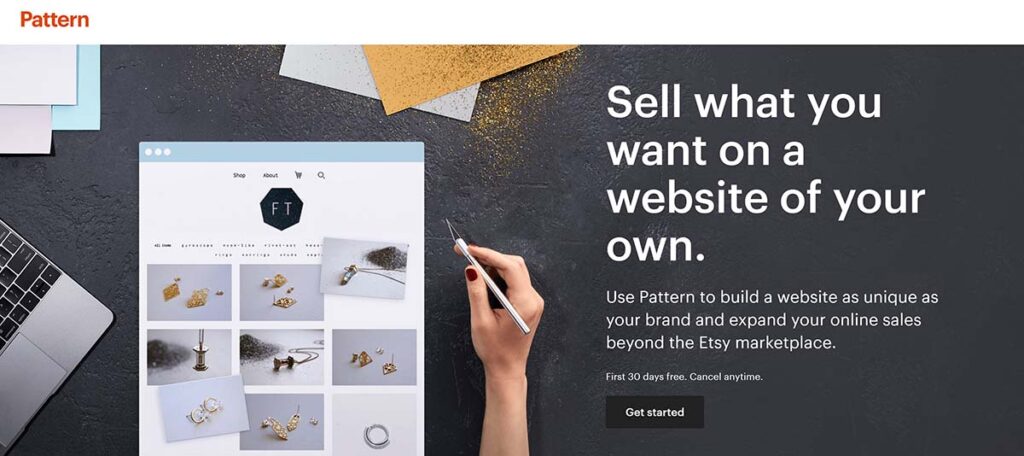 For Etsy shop owners who want a little more control over their shop's design, Etsy offers a service called Etsy Pattern. Etsy Pattern is a simple website builder that can be used to transact beyond the Etsy marketplace.
Etsy Pattern sites come complete with hosting and the ability to connect a custom domain name. Sellers can connect the Facebook pixel, create a blog, and implement website analytics.
Etsy Pattern offers a 30-day free trial, after which the price is $15 per month.
Etsy Cons
No customer ownership
Etsy store owners can send buyers to their shop through outside channels such as social media or Google ads. But if a customer buys from your Etsy shop, they become an Etsy customer – not yours.
Etsy owns the customer data, which means that you have to rely on Etsy to market to your customers and bring them back to your shop. This can be a major disadvantage for shop owners who want to build a long-term, sustainable business.
Less control
On Shopify, you have full control over the design and functionality of your shop. You can customize every aspect of the user experience, from the color scheme to the layout to the shoppable Instagram feed.
This influence over the customer journey is not possible on Etsy. Etsy shop owners are given a pre-designed template and limited design customization options. Beyond the profile photo and shop banner, there's not much room for creativity.
To reinforce their brand, Etsy store owners have to stand out with their products, packaging, and service rather than their website designs.
Higher variable costs
Etsy offers a free base plan as well as Etsy Plus for $10 per month. Compared to Shopify, these monthly subscriptions are a fraction of the cost. But that's not the full story.
Etsy charges two meaningful fees that are not incurred on Shopify: listing fees and transaction fees. Listing fees are $0.20 per product every four months. And transaction fees are 6.5% of every sale.
With lower fixed costs but much higher variable costs, Etsy often makes sense for lower-volume merchants. However, as your business grows and sales pick up, the transaction cost can become a very expensive tax. This may be a worthwhile tradeoff if the customers are finding your store organically. But if not, it may make sense to drive traffic elsewhere.
Etsy Pricing
Etsy offers two plans: Basic and Plus.
The Basic plan comes with no fixed, monthly cost. The Plus plan costs $10 per month and includes:
Free 30-day trial
15 listing credits (Value: $3.00)
Complimentary ad spend (Value: $5.00)
Discounts on packaging
Discounts on promotional materials
Customer restock requests
Additional shop banner options
Featured listing layout
Free .store domain
Shopify Vs Etsy: Getting the best of both worlds
Oftentimes the Shopify vs Etsy discussion is framed as a debate of two all-or-nothing solutions. But that's not the case. There are plenty of shop owners who use both platforms to power their ecommerce businesses. The key is to use each platform for its strengths.
Expanding to Etsy
If Shopify is your primary ecommerce platform, consider using Etsy as a supplemental sales channel. This approach can give you the best of both worlds.
On Shopify, you can build a highly-customizable shop with a robust feature set. This will be your primary shop, where you drive most of your traffic and sales.
You can then use Etsy as a way to reach new audiences who are already searching for products like yours. Because Etsy has such high search visibility, it can be an effective way to get in front of new customers at a low cost.
Expanding to Shopify
If you sell handmade or craft goods on Etsy, you can take your business to the next level with Shopify.
For example, you may choose the Etsy marketplace to test our your product line and gain some initial traction. Once you have perfected your offering and you are ready to invest in scaling your business, you can build a Shopify store that reflects your brand identity.
This expansion will allow you to:
Own your customer data
Control the design and functionality of your shop
Reduce transaction fees
Build a long-term, sustainable business
Final thoughts
Between Shopify and Etsy, the better ecommcerce platform is Shopify. Shopify allows sellers to design a custom online store, connect to third-party apps, and accept credit cards with Shopify payments.
However, there are two exceptions where you may choose to sell on Etsy:
You want to start small and minimize costs
You plan on limiting your business to handmade goods
If you do not fall into one of those two camps, then Shopify is for you. Start your online sales journey today with this limited-time offer!
Shopify vs Etsy FAQs
What are Etsy's seller fees?
On every sale, Etsy charges 6.5% transaction fees and 3.0% plus 25 cent payment processing fees. Also, Esty listings cost 20 cents every four months and certain international orders face currency conversion fees. Otherwise, selling on Etsy is either free for the Basic plan or $10 per month for the Plus plan.
Which e-commerce platform is best for dropshipping?
Etsy is only feasible for vintage items, handmade goods, and craft supplies. For this reason, Shopify is the better online store builder for dropshipping. Brand owners can buy a custom domain name, design a storefront, and connect to third-party apps for order fulfillment.
Does Shopify or Etsy have better merchant support?
Both Shopify and Etsy claim to have 24-hour support. But in practice, Etsy's team is more difficult to reach, and shop owners report longer wait times for responses. The automated phone line often routes sellers to Etsy's email-based support which can take days for a response.

Meanwhile, the robust Shopify Help Center and 24-hour live chat support make it easier for Shopify store owners to get the answers they need in a timely manner.
Can you use Shopify and Etsy for free?
Etsy Basic is available for free—sellers simply pay transaction fees and payment processing fees with each order. Shopify, on the other hand, has fewer fees but does require a monthly subscription. Plans start at $29 per month, but you can claim a free trial here.
Can you use Shopify and Etsy together?
Yes, brand owners can use Shopify and Etsy together as a way to reach new audiences and sell in more places. By using both platforms, sellers can take advantage of Shopify's customizable online store builder and Etsy's high search visibility.