Whether your old kicks are collecting dust or you are an aspiring flipper, you can sell sneakers for cash in no time. In fact, selling sneakers has become a trendy way to make money in recent years.
With sneakerheads snatching up every new release and vintage find, now is the perfect time to cash in on any shoes you have laying around. From old Air Jordans to the newest Yeezys, almost any classic sneakers in good condition are worth looking into.
To get top dollar for your sneakers, read on! This article will cover how to prepare the shoes and where to list them for sale.
How to sell sneakers for cash: 5 easy steps
If you are interested in selling sneakers for cash, don't leave money on the table. Follow these 5 tips to make sure you get paid what they are worth:
1) Clean the shoes
Nobody wants to buy a pair of sneakers with scuff marks. If you want to sell your sneakers for top dollar, make sure they are clean and presentable. This includes wiping them down with a damp cloth and removing any dirt or debris from the soles and laces. You might even want to invest in a shoe shine kit to really make them pop.
2) Take high-quality pictures
Pictures can make or break a sale. So always spend the time to take the best photos you can. Use a well-lit room and a clean background. Keep the shoes in focus and capture them from multiple angles. This will give potential buyers the confidence to pull the trigger.
3) Choose the right platform
There are many platforms where you can sell your sneakers for cash. But they are not created equal. Fees vary by site and each platform caters to a different clientele.
Some sites, like Poshmark and thredUP, have a large community but also charge high fees. Others, like Grailed and GOAT, specialize in sneakers but may have smaller audiences.
4) Create detailed listings
When creating your listing, make sure to include all the relevant information potential buyers would want to know. This includes the brand, size, color, and condition. If you have any special documentation, like a receipt or box, make sure to mention that as well. The more information you provide, the better.
5) Set the right price
Be realistic when setting the price for your sneakers. Look at recent sales of similar shoes to get an idea of what they are going for. But also consider the condition of your shoes and how much you paid for them. If you are patient, you will eventually find a buyer willing to pay your asking price.
11 places to sell sneakers for top dollar
Whether you are flipping sneakers or getting rid of your old kicks, there are many platforms where you can sell sneakers for cash. Here are 11 of the best:
1) eBay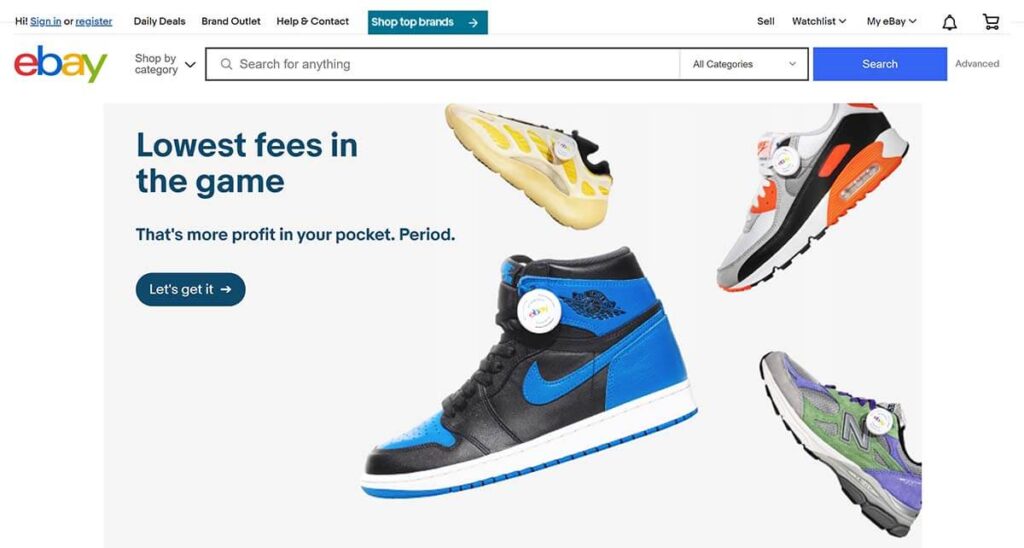 eBay is known as the "world's online marketplace." Merchants sell everything from antiques and collectibles to electronics and clothes on the site. And sneakers are no exception.
If you have rare designer sneakers in mint condition, eBay is an excellent place to sell them because of its large reach. eBay offers 250 free listings per month, after which additional listings are $0.35. The website's variable commission rate depends on the final value of the item.
Sneakers under $150: If you are an Individual seller, the final value fee is 12.9% of the total amount of sale. eBay Store Subscribers pay 12%. Plus, there is a $0.30 per order fee.
Sneakers over $150: If you are an Individual seller, the final value fee is 8% of the total amount of sale. eBay Store Subscribers pay 7%. Per-order fees are waived in this category.
One benefit of using eBay to sell sneakers for money is that its seller protection policy protects you from fraud. So if a buyer never receives their shoes or they are not as described, you will be covered. The downside, however, is that the high commissions may eat up your profits.
2) Mercari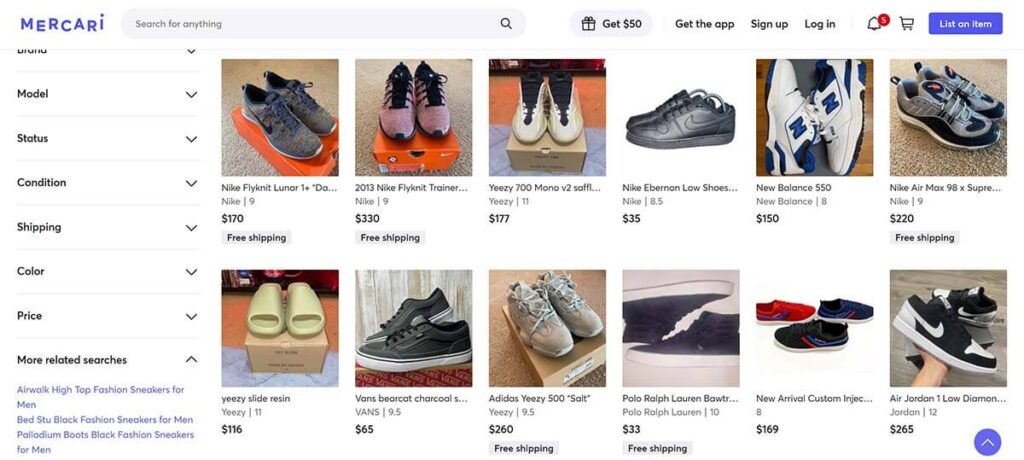 Mercari is a free app for selling shoes, clothes, electronics, collectibles, and more. It is available on both iOS and Android devices.
Mercari makes selling items on the marketplace easy. There is no charge for listings, and all you have to do is snap a few photos, add a description, and set your price. Once your shoes sell, Mercari will email you a shipping label to print and attach. Simply ensure the package has a valid tracking number and drop the package off within three business days.
After the buyer receives the package, they have three days to confirm the contents and leave you a review. Mercari then shares your rating and releases the funds net of their fees. The platform charges a 10% commission on all items sold, a 2.9% processing fee, and $0.50 per sale.
3) Poshmark

Poshmark is a resale app that you can use to sell your sneakers, clothing, and other accessories for cash.
Poshmark also has a social media component where you can follow other users, like and comment on their listings, and join virtual "Posh Parties." These parties are themed events where users can browse and buy items from specific categories. For example, there may be a "Sneakerhead Party" where users sell and buy shoes.
It is always free to list shoes on Poshmark. But the website does take a flat fee of $2.95 for orders under $15, and 20% for orders over $15. This makes Poshmark one of the most expensive platforms to sell sneakers.
4) GOAT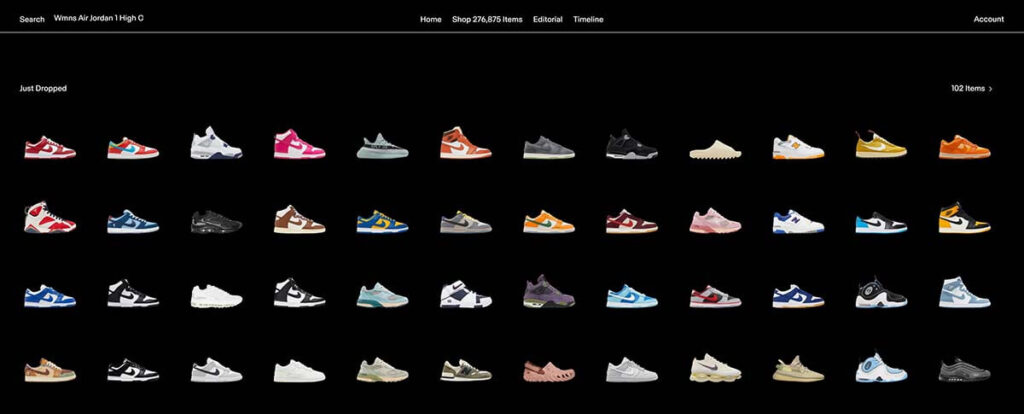 GOAT is a sneaker-focused resale website. If you have a pair of Jordans, Yeezys, or Gucci, you can snag top dollar by selling them on GOAT.
However, you must apply to sell on GOAT and it can take a few days to get approved. To create a listing, you need the product's SKU which you can find inside the sneaker or the original box. Like other platforms, GOAT will send you a prepaid shipping label once your shoes have sold.
GOAT has a unique commission structure which varies based on performance. Sellers start at the lowest level of 9.5% plus a flat $5 fee. But if there are sneaker verification issues or you repeatedly cancel transactions, your seller fee can increase to 15% or even 25%.
5) StockX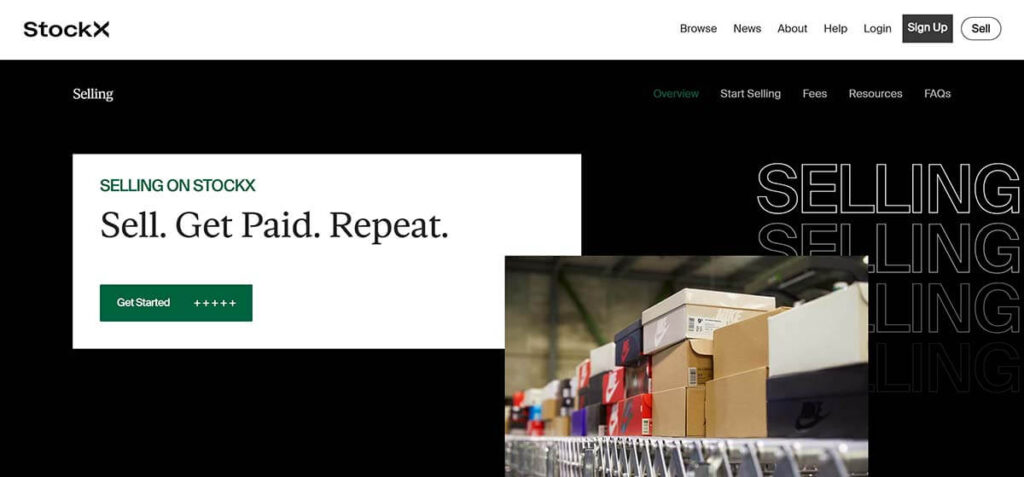 StockX is a sneaker, streetwear, trading cards, collectibles, and handbag resale website. Unlike other places where you can sell sneakers, StockX has a unique procedure. Before shipping to the buyer, items are sent directly to StockX for product verification.
Like eBay, StockX offers both "ask" and "sell now" prices which give the seller some flexibility. For every sale, StockX charges a 3% payment processing fee and transaction fees depending on your sales history. New sellers pay a transaction fee of 10%, and over time this fee is reduced to 8%.
StockX mostly caters to the high-end market. Its best-selling sneaker brands include Yeezy, retro Jordans, and Adidas. And, unfortunately for some sellers, the site does not accept used sneakers.
6) OfferUp

OfferUp is a local marketplace app where people sell everything from cars to clothes to furniture. OfferUp stands out by offering meet-up spots where buyers and sellers can safely exchange items for cash. These places are in highly-visible locations, such as police departments and retail stores.
Listing items on OfferUp is free, and most sales transact locally. Once an item is sold online, you can meet the buyer in person or ship a package. If you choose to ship the item, the buyer is responsible for the shipping costs and the seller pays 12.9% of the final price (with a minimum fee of $1.99).
7) thredUP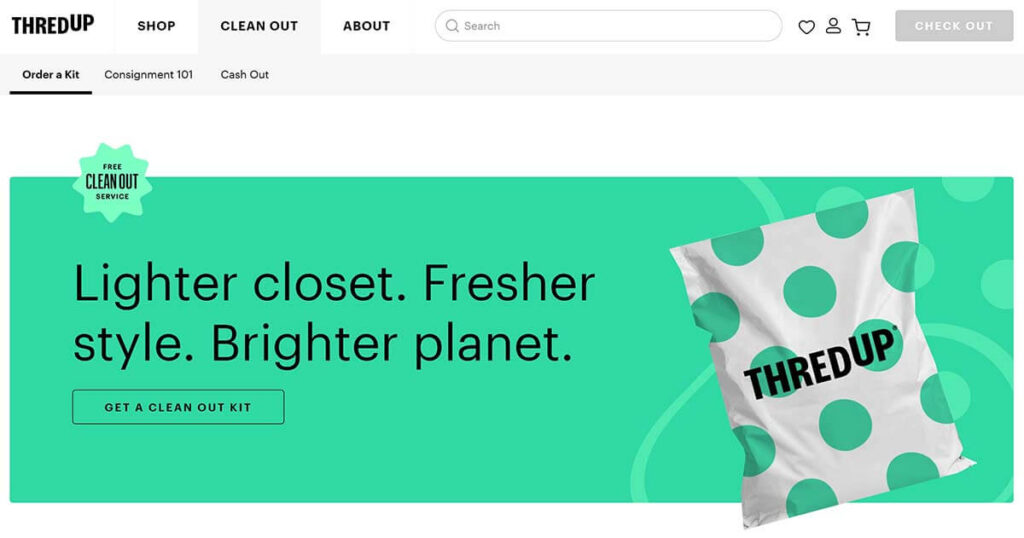 thredUP is an online consignment and thrift store where you can sell your gently used sneakers for quick cash. To sell on thredUP, order a clean-out kit and pack up your shoes and any other items you want to flip or get rid of.
When they receive your package, thredUp will inspect the items to determine resale value before listing them. Not all items are accepted though. So, ensure they meet the platform's quality standards 一 no signs of wear, damage, or alterations.
If your shoes fall under the "value and mall brands" tier, which includes Nike, Target, Old Navy, and Gap, they will be listed for 60 days. "Premium and designer brands" like Gucci, Prada, and J.Crew, on the other hand, will be listed for up to 90 days.
Once the footwear sells, you will be paid via PayPal, Stripe, or thredUP shopping credit. Payouts vary based on the listing price, with $50 to $99 items seeing a 40% to 70% fee. Items $100 to $200 see a 20% to 40% fee, and items $200+ see a 20% fee. Although the website offers great convenience, thredUP does have the highest take rate on this list.
8) Kixify

Another great place to sell sneakers for cash is Kixify. To sell on the platform, you must set up a storefront. Creating a store and listing items is free—you just need to pay a 10% transaction fee once the shoes are sold. Your earnings from sales on Kixify are deposited directly into your PayPal account.
One upside of using Kixify to sell your sneakers is that you can create a custom store policy that outlines important information buyers may need to know before making a purchase. The policies can include shipping, returns, exchanges, or damages.
Although the site offers a great deal of flexibility, it may be overwhelming if you only want to sell one pair of sneakers. Kixify is probably best reserved for power sellers or sneaker flippers.
9) Flyp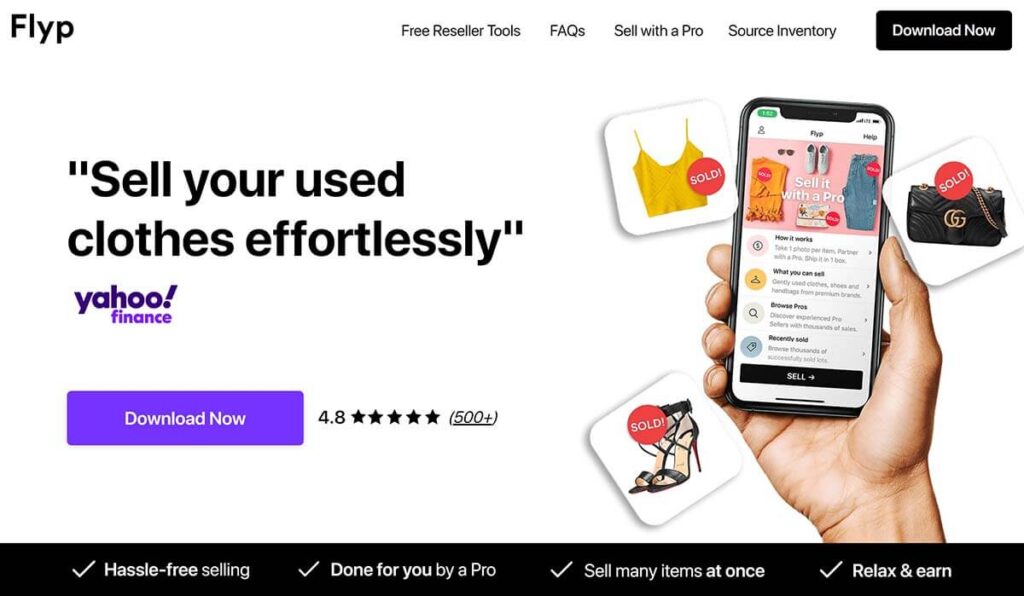 Flyp is a resale website where you can sell designer sneakers and other items for quick cash. But the selling process with Flyp is quite different from other sites. Flyp connects you to a network of independent Pro Sellers who handle everything, from listing and pricing to negotiating with buyers and shipping the products
To sell on Flyp, take photos of your sneakers and match with a Pro Seller. Your Pro will sell items on your behalf and split the profits with you. Flyp itself also takes a 5% platform fee for connecting you with the consignor.
One major advantage of selling items with Flyp is that you don't have to lift a finger. You only receive a portion of the profit, but you don't have to deal with the headache of selling.
10) Grailed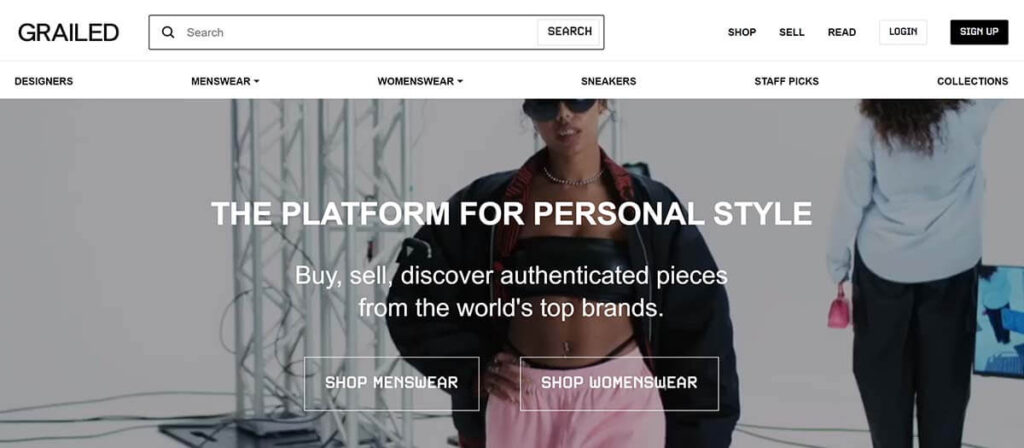 Another popular online marketplace to sell sneakers for cash is Grailed. Grailed focuses on "authenticated pieces" from high-end and luxury brands. So if you have a rare pair of Yeezys or Louis Vuitton trainers, this is the platform for you.
To sell on Grailed, create an account and start listing items for free. You only have to pay a 9% commission to Grailed and payment processing fees of 3.49% plus $0.49 (or 4.99% plus $0.49 for international payments).
11) Craigslist

If you want to sell sneakers for cash locally, Craigslist is always an option. Although there are some risks to using the platform, like meeting up with strangers, it is still a popular place to sell items quickly. Plus, there are no fees at all.
To sell on Craigslist, create a post with photos of your sneakers, a description, and your asking price. Then, wait for buyers to contact you via email. Once you agree on a price, meet up with the buyer to complete the transaction.
Just be sure to take precautions when conducting the transaction. Meet in a public place, bring a friend, and don't hand over the shoes until you have received the cash.
Expected earnings from selling sneakers
To get a better sense of the fees that each of these platforms charges, the table below summarizes the potential earnings from a sale of a $50 pair of sneakers, a $200 pair, and a $500 pair. Shipping costs are not included—we assume those are covered by the buyer.
Keep in mind that this table also assumes you can sell the sneakers on every platform, which is not always the case. Sellers always have to balance fees with demand for their products.
| | $50.00 | $200.00 | $500.00 |
| --- | --- | --- | --- |
| eBay | $43.25 | $184.00 | $460.00 |
| Mercari | $43.05 | $173.70 | $435.00 |
| Poshmark | $40.00 | $160.00 | $400.00 |
| GOAT | $40.25 | $176.00 | $447.50 |
| StockX | $41.00 | $174.00 | $435.00 |
| OfferUp | $43.55 | $174.20 | $435.50 |
| thredUP | $30.00 | $160.00 | $400.00 |
| Kixify | $45.00 | $180.00 | $450.00 |
| Flyp | $23.75 | $95.00 | $237.50 |
| Grailed | $43.27 | $174.53 | $437.06 |
| Craigslist | $50.00 | $200.00 | $500.00 |
Flipping sneakers as a side hustle
Flipping sneakers for cash is a great side hustle to consider. However, getting started can be intimidating, especially if you don't know where to buy the footwear.
To start dabbling in the space, create an account on a consignment store like StockX or thredUp. Also, keep an eye on Facebook Marketplace and Craigslist for local deals. At first, learn to spot opportunities and find a niche that you can master. From there, you can expand your reach and branch out into other brands, vintages, or even product types.
Before you put any money on the line, make sure you know these 5 things about flipping sneakers for cash:
1) Know the types of shoes that sell
Not all sneakers are in high demand, so you need to know which brands and which product lines sell fast. Don't get caught investing in a pair that you can't unload quickly. The last thing you want is to be stuck with a bunch of inventory that is not moving.
2) Choose a platform that aligns with your goals
Are you looking to flip one pair, or build an empire? Do you want to minimize your fees or appeal to the largest possible audience to make money fast? Think about your goals and then select the platform that suits you best.
3) Don't overlook your local market
You could sell your sneakers on a national platform like StockX, but you might get a better return by selling locally. By connecting with buyers and sellers in your area, you can avoid shipping fees and the waiting process.
4) Understand value
Just because a shoe has a high retail value does not mean it is a wise investment. You also need to consider things like condition, desirability, and rarity. Oftentimes limited edition shoes that sell out quickly can be resold at a much higher price than they were initially offered. But not always. Keep your finger on the pulse of the market to get a sense of what's valuable and what's not.
Final thoughts
If you are looking for a fun and easy way to make money online, selling sneakers is a great option. With platforms like StockX and thredUp, it is easy to get started. Just create an account, keep an eye out for opportunities and act quickly when you see them.
The key to success is understanding the market and focusing on shoes that you know will sell quickly. By following our guide and choosing a platform wisely, you can start making money off sneakers in no time. Happy deal hunting!
Selling sneakers FAQs
What is the fastest way to sell sneakers?
The fastest way to sell sneakers is usually going to be through a consignment store like StockX or thredUp. You can also sell locally through Facebook Marketplace or Craigslist. With this approach, you may have a smaller market but you get to collect the cash immediately.
What should I do if my sneakers don't sell?
If your sneakers don't sell, you might consider lowering the price or relisting them on a different platform. You could also sell them to a consignment store, but they will take a cut of the profits.
What is the best platform to resell sneakers?
The best platform to resell sneakers depends on your goals and the product you have to offer. If you are looking for the highest possible return, consider selling locally to avoid fees. But if you have extremely rare sneakers and want the widest possible audience, consider StockX or eBay.
Where can I sell used sneakers?
There are many platforms where you can sell used sneakers. eBay, Poshmark, and OfferUp all allow used shoes that are in good condition. Depop is another place to sell used products, especially vintage clothing and limited edition sneakers.