Before the advent of the internet, most people were content working as employees and spending their lives under the umbrella of safe money and few managerial responsibilities. But those days are long gone.
Nowadays, entrepreneurship is in. The freedom and control of being your own boss have enticed entire generations to want to start a business or side hustle. This hunger for success, combined with recent technological advances and the unprecedented rise of social media platforms, has made people more creative than ever.
One popular way to express creativity and entrepreneurial desire is through a candle-making business. If running your own candle-making business excites you, but you are not quite sure where to begin, you have come to the right place.
In this article, we provide step-by-step instructions on how to start a candle business as well as the pros and cons of doing so. So grab a notepad and pencil, and let's jump in!
How to Start a Candle Business: The Skinny
Here is a broad overview of what's required to launch a successful candle-making business.
Now that you know what to expect, it is time to dive into the nitty-gritty of how to start a candle business step-by-step!
7 Easy Steps to Launch a Candle Business
Business rarely goes according to plan, but it is best to have a rough idea of where you are headed. Here is a step-by-step guide on how to start a candle business that will help you get going with confidence.
1. Research the Target Market
The first step to take before you start a candle business, or any business, is to research the target market.
This research process is crucial because it will help you choose manufacturing materials, candle scents, packaging, and even the marketplaces where you will sell your products.
In the candle market, there are three main categories to choose from based on quality, price point, and perceived value.
High-End Customers
The first and most expensive category includes high-end customers looking for luxury candles. What differentiates luxury candles is their unique and refined scents, elegant packaging, and careful attention to materials in the candle wax. These candles are often found in department stores and specialty retail.
Mid-Market Customers
The next category of customers is found at a mid-market price point. These customers are willing to pay up for quality, but likely have a budget in mind. More traditional candle supplies are used here and popular scents like maple, basil, and rose make up the bulk of sales. Packaging should be attractive enough to grab customers' attention but should not dramatically affect costs. Mid-market scented candles sell well in retail stores and online shops.
Mass-Market Customers
The last category is mass-market customers. These customers are the most approachable and budget-driven. Products targeting this audience should look to minimize packaging and branding costs. Instead, focus on creating broadly popular scents like peppermint and vanilla at the best possible price point. In this case, volume and distribution will greatly impact your ability to turn a profit.
During the research process, consider the materials you will use to create your candle wax and your vision for the brand. Brainstorm where you will market your candles, and what type of marketing costs will be necessary to generate sales. Once you have a handle on who your ideal customer is and how your candle will fit in their home, you can move forward with your candle-making business.
2. Master the Craft
After deciding on your target audience and creating your customer avatar, focus on mastering the craft of making candles. This step is especially important if you plan to get creative with your candles.
Before starting with mass production, experiment with a wide variety of scents, shapes, and ingredients. Find customers in your target market and ask them to test your initial batches. Gather feedback and iterate on your initial candle line.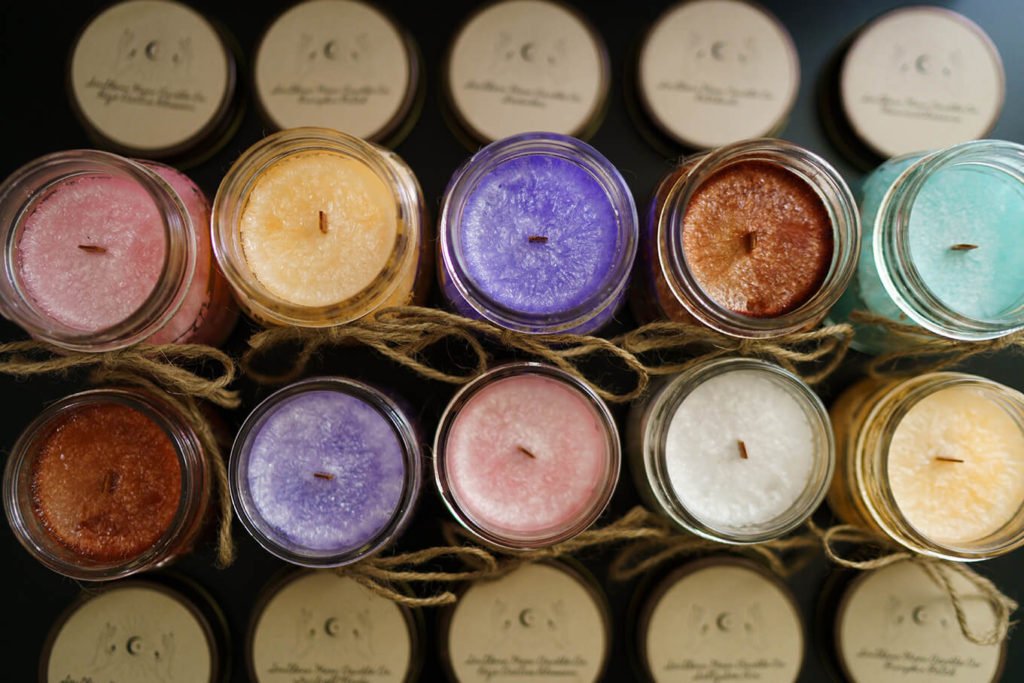 Ask for feedback on your scents in particular. Are they too floral or too weak? Do they create the right mood? According to the National Candle Association, scents are one of the most important factors in driving candle sales "with three-fourths of candle buyers saying it is "extremely important" or "very important" in their selection of a candle."
Also, pay close attention to the candle's burn time. Customers should be able to get at least four hours of use out of a single candle. If your candles are burning too quickly, consider using a higher grade of wax. Conversely, if your candles are taking too long to burn, try reducing the thickness of the wick.
The key to success is to be patient and take the time to perfect your craft. Candles are relatively simple products, but there is a wide variety of ways to produce them. By focusing on quality and customer feedback, you can create a line of candles that are sure to sell.
3. Build the Brand
To make money selling candles, you will need to create a recognizable brand that will attract customers' attention and stand out from competitors.
Personality
Begin by choosing a personality for your business. For instance, use a brightly-colored theme and trendy candle names to target younger generations. Alternatively, use classic monotones and elegant names to target older women who may opt for a more calm and relaxing theme in their homes.
Story
Humans, by nature, are empathetic, and an inspiring backstory can help customers connect with your candles on a personal level.
A brand story should include an inspirational message, a goal, and a hopeful narrative. To write a successful one, think about the reasons you started this business and what impact you want to leave on your customers. This story will especially come in handy if you decide to sell on your own website.
Brand Identity
After personality and backstory are complete, turn your attention to brand identity. Brand identity includes the brand's name, logo, and packaging.
The business name should reflect the personality of your brand and be easy to remember, pronounce, and spell. Short, catchy names are helpful when directing customers to purchase on your website. If you choose a long and complicated name, you risk typos and lower brand recognition. Try using an online name generator if you feel stuck coming up with ideas that fit these criteria.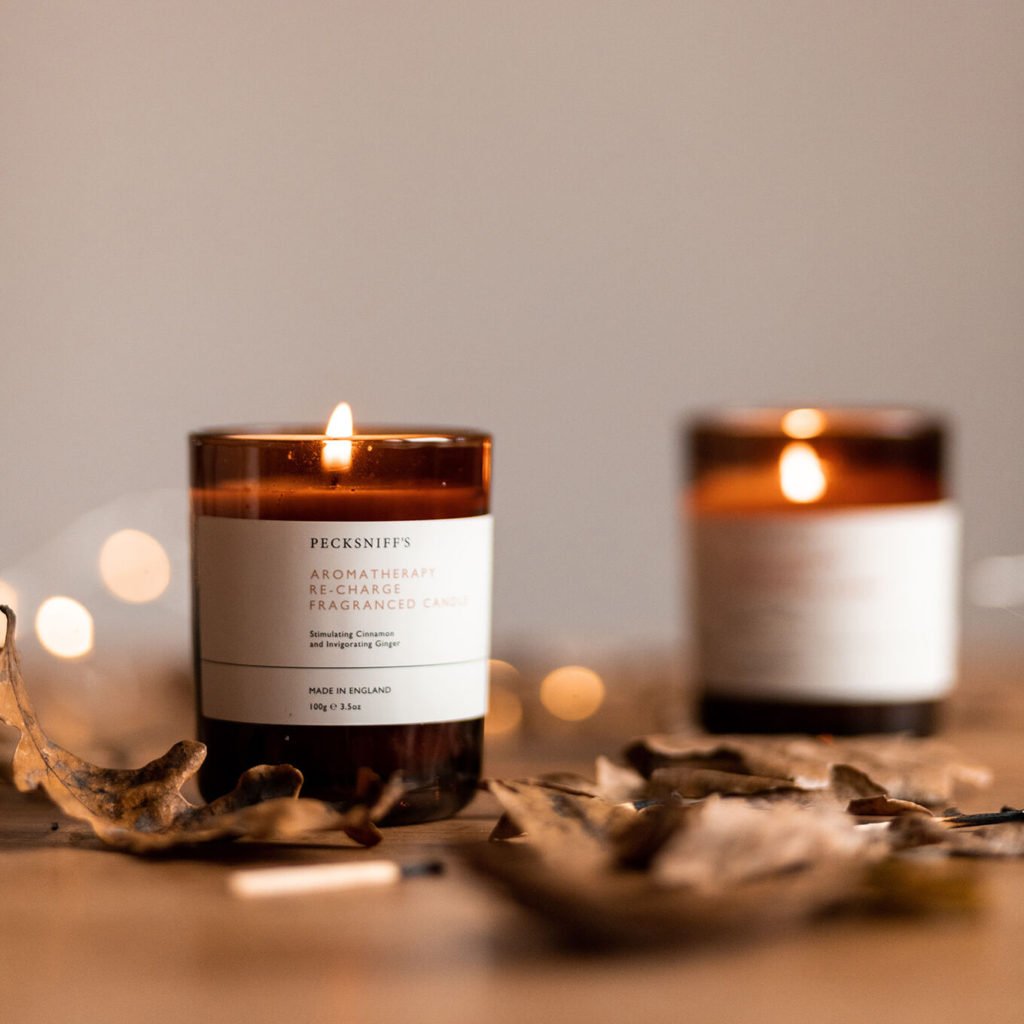 The logo and packaging should reflect the style and quality of your candles. Consider whether your target market would prefer a minimalist logo or something more elaborate. The same goes for packaging—will customers prefer sleek and modern packaging or something more rustic? Pick up the best label printer and experiment with different looks until you get it right.
Draw from your market research to make informed decisions. Do not overlook packaging, which is often a key driver in sales. Strive to create a unified look that will reinforce your branding and pop on store shelves.
4. Create a Business Plan
Once you have wrapped up the creative part of starting your own candle business, shift gears to the analytical side of things. Whether you want to formalize it or not, every business owner needs to spend time thinking through a business plan.
Your business plan should include your business model, key objectives, and financial projections. Jot down where you will source your packaging, supplies, and materials, and your estimated unit costs. Include where you intend to market your products – this could be wholesale, retail at a local craft store, or on your own ecommerce site.
Then, calculate your estimated gross margin and overhead costs. How much will it cost to produce and ship each candle? How much will you charge for each candle, and what will your profit margins look like?
Lastly, determine how you will fund the initial expenses of your business venture. Will you contribute personal assets to the business bank account or raise funds? This financial analysis will help you set objectives and manage your small business expenses.
If you are new to this and feel overwhelmed, look for an online business plan template and fill it out. But do not forget to customize each section to fit your unique business needs.
5. Get the Paperwork Done
Before you start generating sales, knock out all of the legal paperwork needed to run a business.
Business Structure
Start by forming a business entity at the federal level. Most small business owners begin with an LLC, or limited liability company, for simplicity. LLCs offer certain benefits like personal asset protection and pass-through taxation. After creating an LLC, apply for an employer identification number through the IRS.
Once your business is established at the federal level, proceed to register it with your state government and apply for any local permits or licenses.
Finances
Next, open a business bank account and any business credit cards that you may need. Having a business bank account is essential because it will help you separate business and personal finances. This simplifies tax and accounting, and can ensure you retain the legal protections associated with an LLC.
Business Insurance
Finally, determine what business insurance you need. If you are selling online, product liability insurance and general commercial insurance should suffice. These insurance plans offer protection in the event of fire or allergic reactions to scents or waxes. If you open a physical store, on the other hand, you will need commercial property insurance. And if you hire employees, you will be required to carry workers' compensation and unemployment insurance.
If you feel unsure about your business insurance needs, contact a local business lawyer to ensure you are in compliance. They will help you with all the paperwork needed in the candle-making business and your local jurisdiction.
6. Prepare Your Products
With your candle-making business formed, it is time to start production! Choose a limited number of initial scents and designs for your launch to minimize inventory risk and allow your business to adjust to customer demands.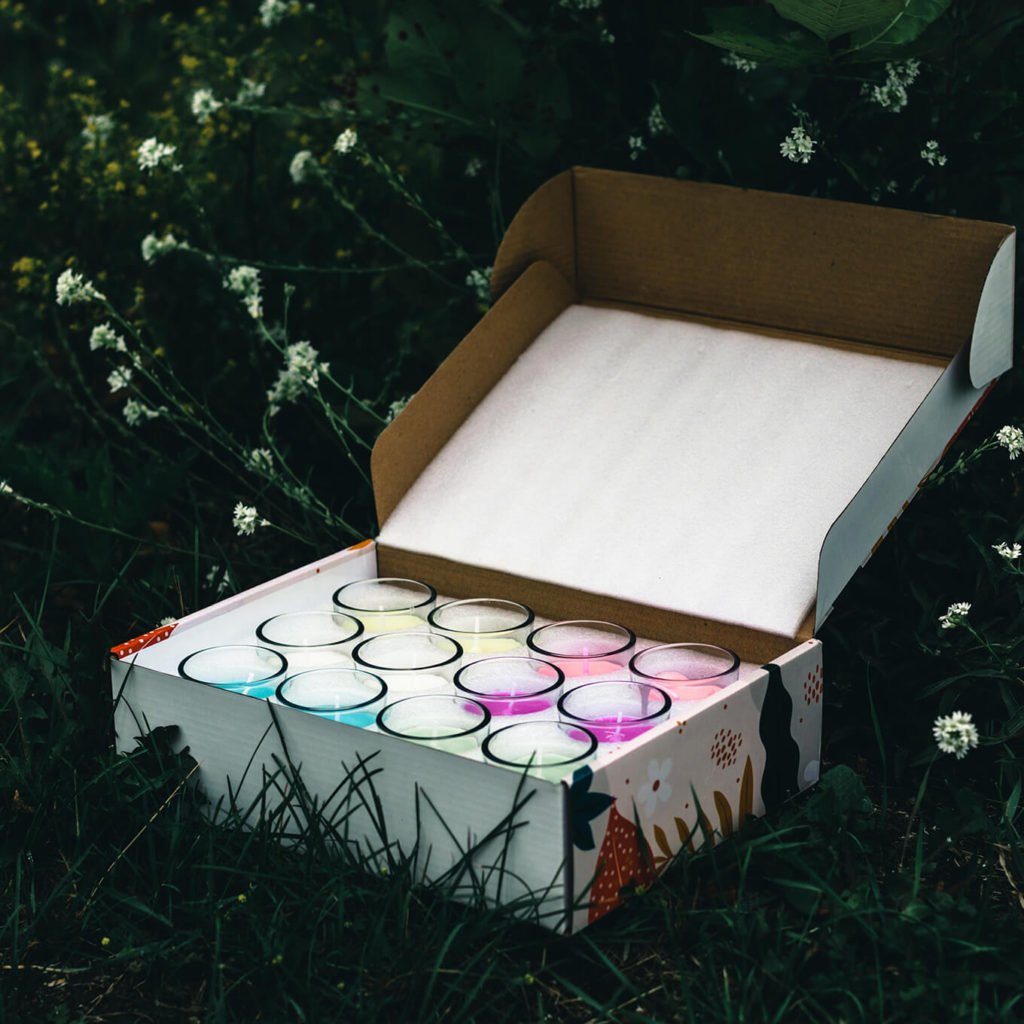 To start, order small batches of supplies from vendors. You can always increase your order quantity later as your business grows.
As you produce each batch of candles, document your procedures so that you can replicate them in the future. This will help ensure product quality and consistency over time.
Keep track of your production costs so that you can price your candles accordingly. Also, take pictures or videos of each product to use on your website. Film behind-the-scenes content to share on social media accounts like Instagram and TikTok.
During this process, try to come up with a catchy name for each product. Use the scents of the fragrance oils as inspiration and keep your audience in mind.
Finally, package your candles for sale. If you are selling online, invest in high-quality shipping materials and envision the unboxing experience. You want to nail the first impression and ensure your customers receive their candles in perfect condition.
7. Market the Candles
You nailed the branding, formed a business, and made quality candles. The final step is to get out there and sell! As you form a marketing strategy for your homemade candle business, consider both online and offline marketing channels.
Online marketing
To market your small candle business online, buy a web domain and sign up for a free trial from Shopify. Then, launch a website and blog and post on social media to generate visitors. Platforms like Instagram, Facebook, and TikTok are great for sharing product photos and videos of the production process. You can also use social media platforms to run ads targeting people who fit your target demographic.
Remarket to both buyers and potential buyers with email marketing. By capturing email addresses during the checkout process and through pop-ups, you can create targeted campaigns to convert a higher percentage of website visitors. Email marketing is one of the highest-margin forms of digital marketing, so be sure to keep it top of mind!
Offline marketing
To market your business offline, consider passing out flyers in local neighborhoods or exhibiting at local craft fairs. You can also collaborate with other small businesses in your area to promote each other's products and services.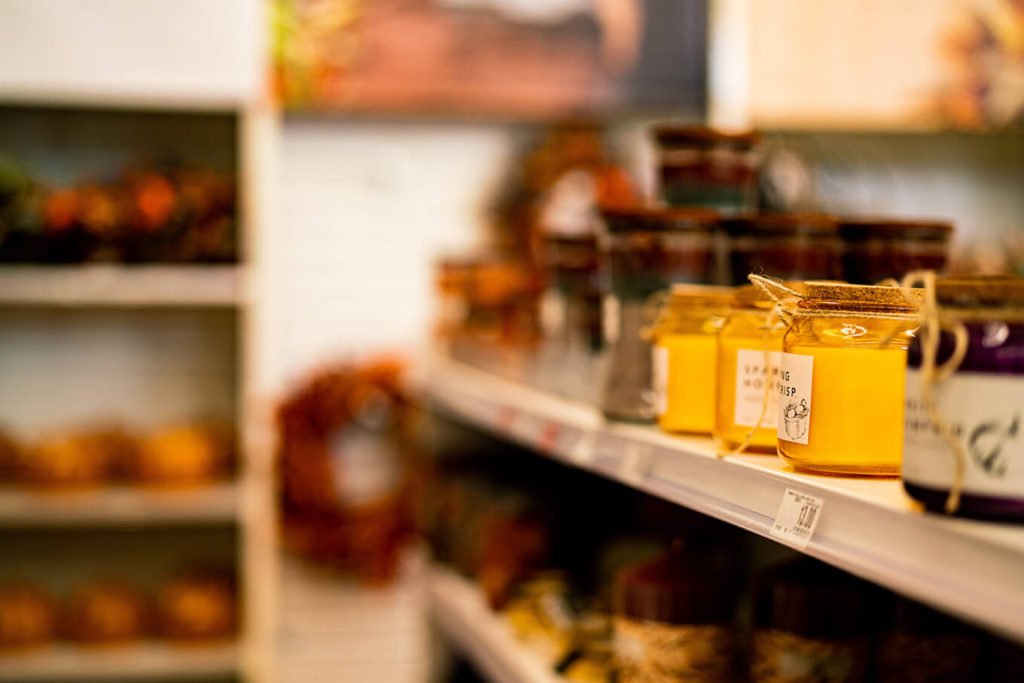 Next, create a wholesale price list that you can send to local retailers. Keep in mind that wholesale transactions tend to be lower margin but higher volume. These partnerships can be a great way to generate brand awareness in the candle-making industry and reach new customers.
Finally, do not forget about the power of word-of-mouth marketing! As you sell candles to more and more customers, encourage them to spread the word to their friends and family. Positive customer reviews can be a great way to attract new business.
Candle Making Business Model: Pros and Cons
Now that you understand how to start a candle business, let's weigh the pros and cons of doing so. Here are a few of the most important considerations:
Pros
Low Startup Costs
Unlike many other businesses, selling homemade candles does not require a large amount of initial investment. The majority of the necessary supplies can be purchased online or at a local craft store.
High Margins
The great thing about selling candles is that they offer a high-profit margin. For example, if a candle costs you $5 to make and you can sell it for $20, that is a 75% profit margin!
This leaves plenty of room to reinvest in the growth of your business, cover any additional costs, and still take home a healthy profit.
Growing Market
Candles are an evergreen product that people will always need and use. As long as you create a quality product, there will always be potential customers for your business.
Back in the day, candles were associated with select holidays like Christmas and Channukah. However, they are now widely used as home decorations and self-care products. According to Grand View Research, the candle industry is expected to continue growing at a 3.3% rate through 2028.
Simple Business Plan
Putting together a business plan that requires a significant investment or many employees can be difficult to execute. However, the process is much easier with a candle-making business. Whether you write it yourself or use an online business plan template, it will take you no time to determine your business's finances and objectives.
Ability To Work From Home
The best part about starting a small business is that you can manage almost everything from the comfort of your home. If you choose, you can make candles at home and sell them online. You can also hire marketing and customer service employees who work from home, allowing you to manage all business operations virtually.
Pleasant Work
Making candles at home is a fun and rewarding process. Testing fragrances, colors, and designs is enjoyable work that makes the day-to-day operations of your business feel more like a hobby than a job.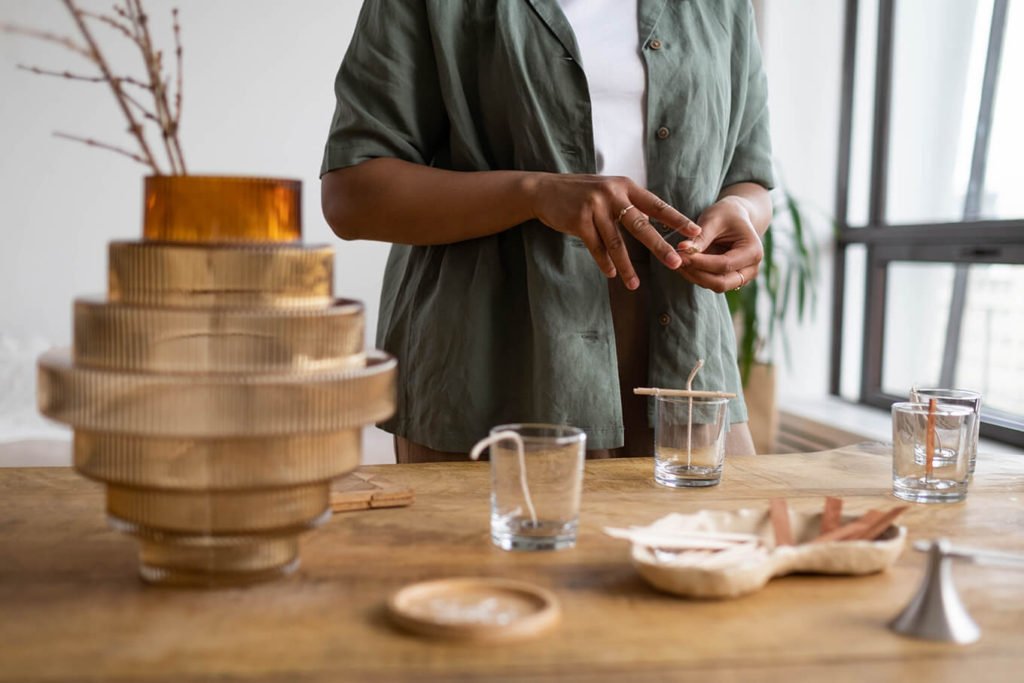 Cons
High Competition
The downside of the growing popularity of candles is that there is more competition in the market. With so many businesses selling candles, it can be difficult to stand out from the crowd.
To overcome this challenge, be sure to focus on creating a unique product and brand identity. Offering customization options, unique fragrances, or eco-friendly packaging are all great ways to make your business stand out in the candle industry.
Inconsistent Pay
Another potential downside of working in the candle industry is that your income may be inconsistent. While you may have months where sales are through the roof, there may be other months where sales are slow.
To combat this, you will need to make sure you have enough cash flow to cover any lean months. One way to do this is by setting aside a percentage of each month's profits in a savings account. This way, you will have a cushion to fall back on when business is slow.
Minimal Physical Activity
If you are looking for a business that requires you to be physically active, making candles probably is not the right fit. The majority of the work can be done sitting down, which may not be ideal for everyone.
Legal Precautions
When starting any business, it is important to be aware of the legal implications and take the necessary precautions. This is especially true for businesses that involve manufacturing products, like candles.
Nobody likes legal paperwork, but it is important to carefully manage allergy statements, essential oils data sheets, and fire hazard warning labels. While hiring a professional to take care of the paperwork can make the process easier, some entrepreneurs still view this as a hassle.
Repetitive Work
If you are the type of person who gets bored easily, you may not enjoy candle-making. The process can be repetitive, which some people find to be monotonous.
If this is a concern for you, consider hiring employees to help with the day-to-day operations of your business. This way, you can focus on other aspects of running your business, like marketing and sales. Developing new fragrances and business ideas may be a better use of your time.
Reaching Potential Customers
The final challenge you will face when starting a candle business is reaching potential customers. With so many businesses selling candles, it can be difficult to get your product in front of the right people.
You will need to focus on marketing and create a comprehensive strategy that includes online and offline methods. Social media, paid advertising, and PR are all great ways to reach new customers and grow your business.
Final Thoughts
Starting a candle-making business can be a great way to achieve your entrepreneurial dreams. It is important to be aware of the challenges you will face, but with hard work and dedication, you can overcome them.
After reading this article, we hope you have the confidence and know-how to start a candle business. Creating a unique product, building a strong brand identity, and focusing on marketing will help you stand out in the competitive candle industry.
So, if you are ready to take the plunge, grab a candle and dive in! Now that you know how to start a candle business, you can begin your journey toward success.