Admit it. You lurk, snoop, and spy on your competition.
Everyone does – it's a normal part of business. And until recently, looking through competitors' ad campaigns meant scrolling endlessly, searching for their winning creatives and latest landing pages. But the Facebook Ad Library has changed all of that.
Now, it is easier than ever to view an archive of ads from any page on Facebook. In one central location, you can survey the competitive landscape, understand what your audience is already seeing, and find inspiration. As you formulate a marketing strategy, learn how to lean on the Facebook Ad Library and let your research guide your advertising execution.
What Is The Facebook Ad Library?
The Facebook Ad Library is a database of all active ads that are running across the Meta ecosystem. Advertisers can explore Facebook, Instagram, Messenger, and Audience Network ads from every industry through a searchable and easy-to-use interface.
The Facebook Ad Library also stores all inactive ads that require an "issues, elections, or politics" disclaimer. Facebook made these records public, beginning in 2018, in an effort to increase advertising transparency for consumers after receiving accusations of election interference.
Regardless of Facebook's intentions, the Ad Library has flipped the digital marketing landscape on its head. Never before have marketers had so much free access to real-time and real-world marketing inspiration. The Facebook Ad Library has unlocked a wealth of resources that advertisers of all levels can use to improve their ad campaigns and their businesses.
How To Use The Facebook Ad Library For Inspiration
The Ads Library itself is a simple tool. The real value lies in how effectively you can browse, search, and filter through the more than 10 million advertisers on the platform. To get the most out of Facebook's radical transparency, use the tactics below to keep up with trends, watch competitors, validate ideas, and more.
Analyze Your Competitors
By researching your competitors' ads in the Ad Library, you can analyze their strategies and find new ideas for your own campaigns. Here's how to get started:
Visit the Facebook Ads Library
Under Search ads, select your country and an ad category
Search for a competitor by their page name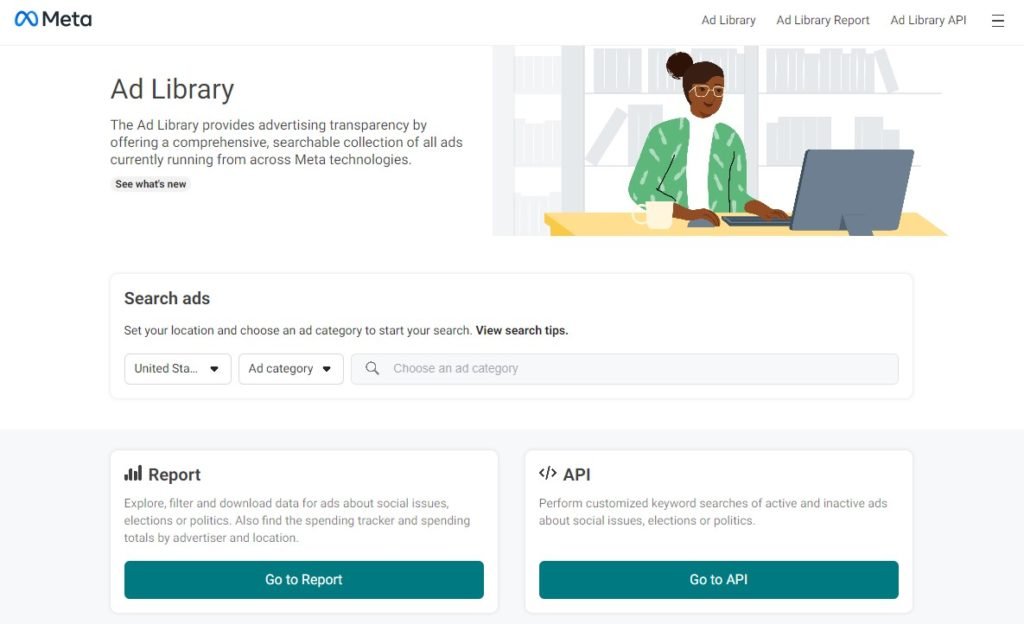 Now that you have located these active ads, take note of the following attributes:
Campaign Messaging
Pay close attention to the copywriting in your competitor's ads. How do they position themselves in the market and what unique selling points do they emphasize? While the Facebook Ad Library does not reveal exact demographic targeting, often their value proposition will make this clear.
Jot down any wording that applies to your business or appeals to you. It may be worth testing similar language or explaining how your product differs in future campaigns.
Visual Style
Next, take a look at the visuals in your competitor's ads. Do their images feature people, products, or both? Are they shot in the studio or on location? What colors are present and what kind of emotions do they evoke?
If you see an example that catches your eye, take a screenshot. Use compelling ad creative from other brands to create a mood board that can be passed along to other team members. It is important to realize that every ad in the library is being actively promoted by an advertiser, wi
Media Type
Developing a successful Facebook ad strategy is difficult because of how many variables there are to test. From campaign type to bidding strategy to copy and ad creative, the possibilities can be overwhelming. Instead of testing every angle, use your competitors as a launching point. Analyze what media types and formats they are using, and how these choices relate to their campaign messaging and visual style.
Do they use studio imagery with their carousel ads and lifestyle shots for Instagram stories? Or is their advertising strategy consistent across all media types? While this is not a fool-proof method, it likely indicates where your competitors are finding success.
Branding Presence
Use the Facebook Ad Library to see how heavily branded your competitor's ad campaigns are. Do their ads prominently feature their logo or is it hidden in the corner? Are their product images watermarked? How does their level of branding compare to other advertisers in your industry?
This is important information because it can help you understand to what degree their campaigns are brand driven versus product focused. This can give advertisers a cue about the concerns of their target audience, and how they value product features relative to trust and brand recognition.
A/B Tests
The Facebook Ad Library also provides a valuable glimpse into what your competitors are A/B testing. Although Meta does not reveal A/B tests directly, there are two main ways to determine this information.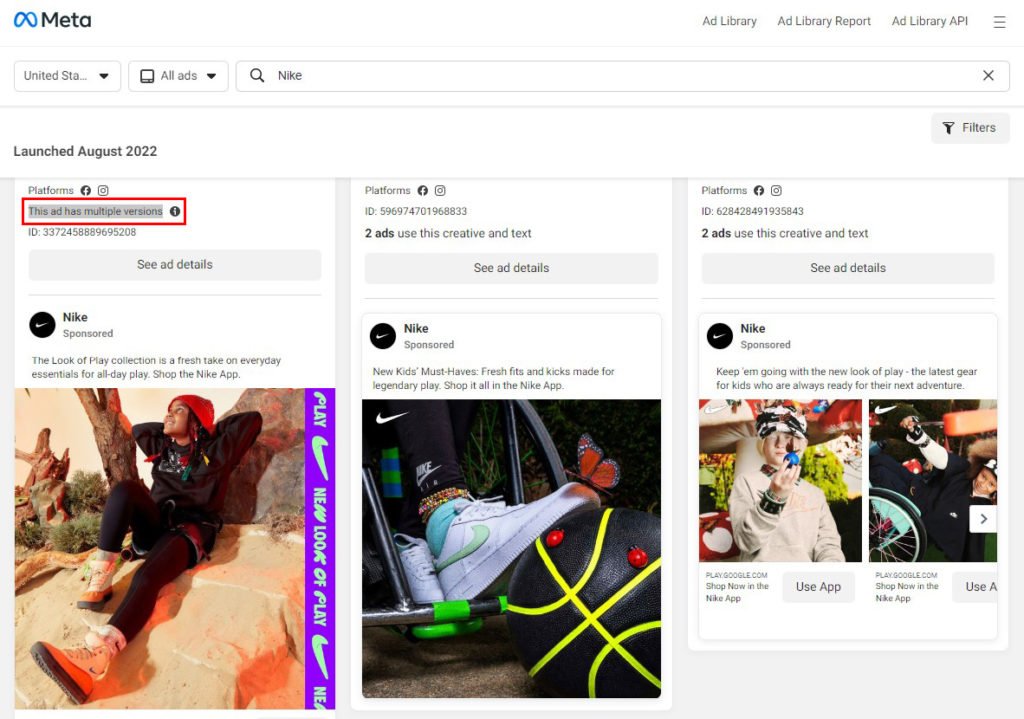 Look for ads with a line of text that reads "This ad has multiple versions." When you come across such an example, click the "See ad details" button. Near the bottom of the page, you can click through the variations that are being tested.
Check for multiple ads with the same media but different text, or the same copy but different ad creative. This is a common method of testing one angle of an ad campaign.
After identifying an A/B test, try to reverse engineer what your competitor is testing. This can help you understand where they see room for improvement in their campaigns and give you ideas on what to test in your own ads.
Customer Journey
Lastly, don't forget to consider the customer journey. Click through the ads in the Ad Library and continue your research on the landing page. This process, known as funnel mapping, is crucial for optimizing your conversion rate.
After all, earning a click from an ad is only the first step. Follow the remainder of the journey up until (and even including) check out to better understand the competition and their remarketing strategies.
Explore Other Verticals
Competitors are clearly the most relevant businesses to analyze, but for maximum creative inspiration don't stop there. Consider exploring other industries that have little to do with your business. With a little luck, you may come across unique ways of demonstrating products, grabbing the attention of your target audience, or capturing customer information.
For example, if you are selling shoes, look at how beauty brands are using video advertising. Can you leverage their techniques to promote your products? Maybe you can produce creative unboxing videos, or use close-up footage to highlight intricate details of the shoes in action.
Adopting new ideas from other verticals will be challenging, but oftentimes the most successful advertising campaigns are ones that break industry norms. Before replicating a creative style, pay attention to the longevity of the ad that inspired you. If an ad has been running for months on end, it's likely safe to say that it has performed well. Newer ads, on the other hand, may still be in the learning phase, and thus, yield less information.
Finally, key in on industry trends. If multiple online brands embrace a new campaign or creative strategy, consider giving it a try yourself. By the time every advertiser has taken note, it may be too late to capitalize.
Search for Keywords
To find competitors or better understand a market, make use of the Search tool. The Facebook Ad Library empowers users to search through every ad in the entire library by keyword. The results will surface matches from the copy of ad campaigns and page names.
This may be the single fastest way to find creative inspiration. Simply enter in a keyword related to your product or service, and let the ads come to you. From there, start taking note of ad creative that stands out, and methods you can adopt in your own campaigns.

To illustrate how The Money Maniac may take advantage of this feature, imagine we are planning to create an ad campaign in which we give away our financial resources to attract email subscribers. We may enter "financial freedom" in the search box to generate ideas for the appropriate visual. Marketers can drill down for even more granular results by using the filters available on the right-hand side of the page.
Take Advantage Of Filters
When researching a large advertiser, the number of ads may shock you. Nike, for example, has 4,400 Facebook Ads currently running. To use your time more effectively, refine your search with Filters.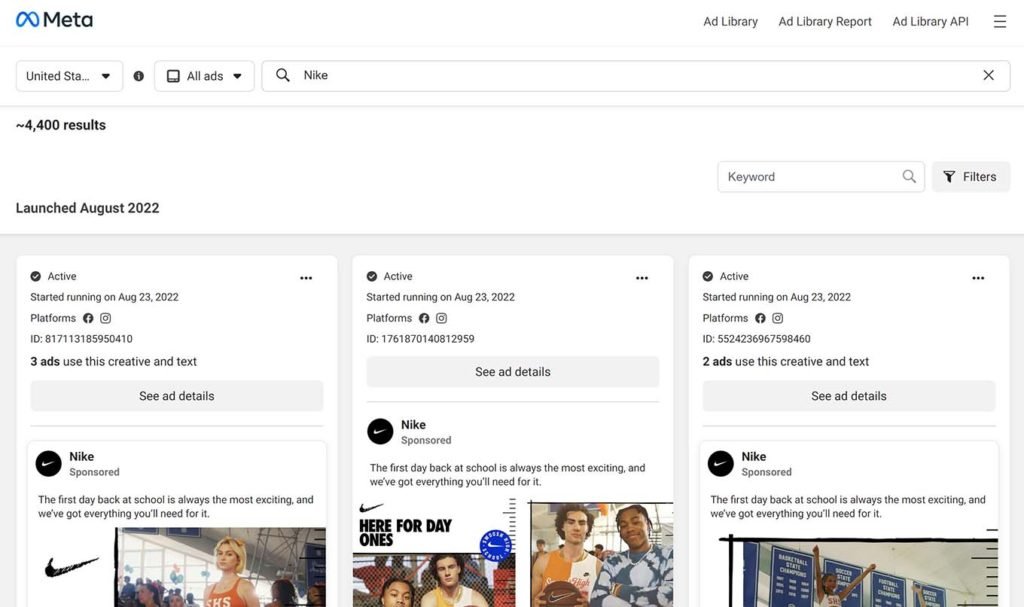 Platform
Use this filter to analyze ads from one particular platform or a subset of the Meta ecosystem. The options include Facebook, Instagram, Audience Network, and Messenger.
Media type
This filter refines the Ad Library results to one of the following: Images with little to no text, Images with text (Memes), Images and memes, Videos, and No image or video.
Date
Choose a start date and end date to narrow the search results to a specific time period. Unfortunately, because inactive ads are only stored when Facebook deems them political, this filter may not be as useful for non-political advertisers. If you are able to search by date, however, this filter can be helpful for understanding past performance and guiding future promotions.
Search
Lastly, and most importantly, is the keyword search bar. Like the platform-wide search tool, this functionality allows marketers to search through messaging on features, products, services, collections, and more. Continuing with the Nike example, we see that the term "wicking" significantly narrows the results and reveals how Nike communicates the benefits of their Dri-FIT line.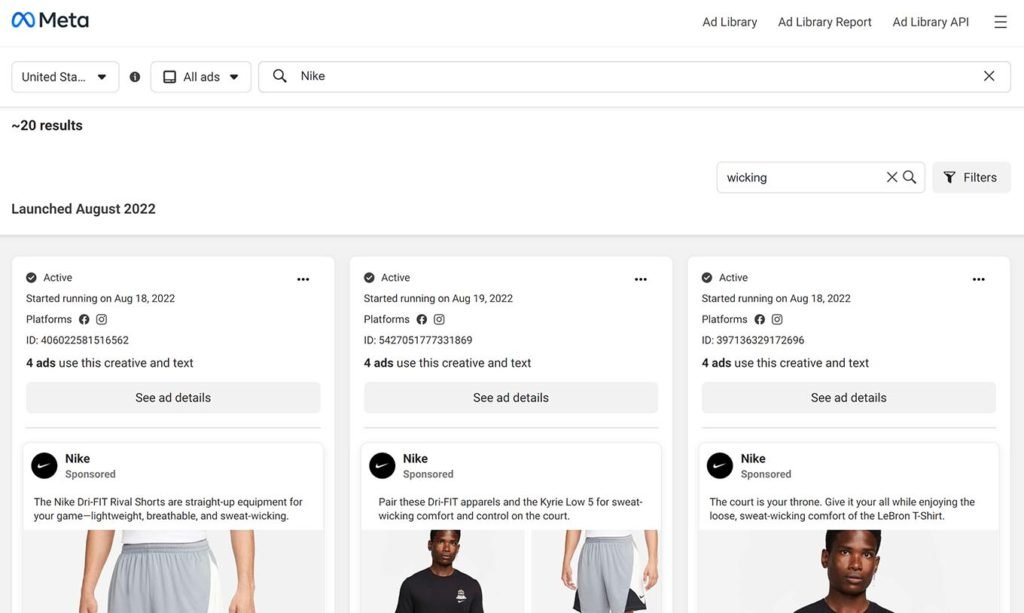 Use The Report Feature
The report feature is another powerful part of the Facebook Ad Library that is most beneficial to political advertisers. The Report interface allows marketers to analyze, compare, and download data for advertisers who "are spending on ads about social issues, elections or politics across Meta technologies."
Anyone interested can pull data by date range, by advertiser, or by location and look at the total spend and number of ads in the Ad Library. Customizable daily reports are downloadable in CSV format anytime from May 7, 2018, to about 48 hours ago.
Final Takeaways
There are many approaches to marketing but few are as powerful as Facebook ads. To make the most of your spend, explore the vast resources available for free on the Facebook Ad Library. Within minutes, you can analyze trends, popular brands, video ads, carousel ads, political ads, and more.
Even for Instagram loyalists or TikTok converts, the Facebook Ads Libray is an incredible way to unveil effective online marketing strategies. So, what are you waiting for? Start your research today!
Facebook Ad Library FAQs
Is the Facebook Ad Library free?
Yes, the Facebook Ad Library is completely free and public. In fact, you can access the massive database account even if you don't have a Facebook account. The Ad Library allows all consumers to search, download, and analyze advertising data.
How to access the Facebook Ad Library?
There are two main ways to access the Facebook Ad Library: direct and through a Facebook page. To visit directly, the URL is https://www.facebook.com/ads/library/. To visit through a Facebook page, look for the "Page transparency" section on the left-hand side of a page. Then, scroll to the bottom and click the "Go to Ad Library" button.
Does the Facebook Ad Library show all ads?
The Facebook Ad Library shows all active ad campaigns that are currently running. It also saves all inactive ads on social issues, elections, and politics going back to mid-2018. Keep in mind that the database is not personalized to you. The Facebook Ad Library shows all active ads whether you have personally seen them before or not.
How do I see my competitors on Facebook ads?
To see your competitors' Facebook Ads, visit the Facebook Ads Library, select "All ads", and search by their page name. From here, you can view their active ads, how long they have been running, and which platforms they are using.
Are Facebook ads worth it?
Facebook is still the most effective social media marketing platform around. With the largest global reach and a straightforward Ads Manager, every business should at least test Facebook advertising. Facebook offers a variety of campaign types from conversions to lead generation to brand awareness and app promotion, so no matter your business model there is a way to make Facebook ads work for you.