If you're an inventor or entrepreneur with a great idea, don't let the opportunity to cash in on your creativity pass by. There are companies that pay for ideas, and you can get top dollar if you know how to market your vision.
From software ideas to physical products and everything in between, companies are constantly looking for fresh concepts. Whether you want to get paid and move on or collect passive income with ongoing royalties, companies that pay for ideas are out there and ready to hear your pitch.
Keep reading to learn how to sell your ideas, who to sell them to, and how to structure the deal.
How much can you earn for ideas?
If you have a creative or innovative idea, companies may be willing to pay you for the right to pursue it. Often you will part ways with the intellectual property for a few hundred dollars, but companies have also been known to shell out over a million dollars if they see a promising concept.
The amount of money you stand to make from an original idea will vary based on its potential, how you present it, and how you structure the sale. Here are the three main ways to sell an idea:
Fixed sale
In fixed sale arrangements, companies pay a one-time fee for ownership of your new idea.
The upside of this structure is that you receive payment upfront regardless of the implementation, execution, and performance of your idea. If the purchasing company botches the idea or the concept doesn't prove to be fruitful, you still get paid.
To lock in this benefit, however, you also forfeit your upside. If your unique idea proves to be a hit, you won't receive any additional income.
Equity ownership
Companies that pay for ideas via equity ownership or profit share agreements offer a different set of tradeoffs.
Under this structure companies will give you a stake in the project's success in exchange for control of the idea. If you have a million-dollar idea that comes to fruition, this option will make you more money than a fixed sale alone.
However, even with innovative and unique products, success is not guaranteed. Plus, once you cede ownership of the idea, you lose all control. This means that you can't ensure it is pursued to its full potential. And in this scenario, you could walk away with nothing — no intellectual property, and no earnings to show for it.
Royalties
Royalties are a popular mechanism for companies that buy ideas. With this structure, companies pay a flat fee per item sold or a fixed percentage of the revenue generated by your product idea.
Like equity ownership, this structure can de-risk investments for companies that pay for ideas. Instead of shelling out money on day one, businesses can tie their capital outlays to sales performance and returns.
For the owner of the great idea, royalties can actually be preferable to equity ownership. Because you, as the seller, don't have any control over the resulting business model or expense profile, profit-based distributions can be manipulated to your disadvantage. Royalties, on the other hand, ensure that you are compensated the second sales come in the door.
How to protect your idea
Many people with invention ideas are deterred by the risk of having their valuable intellectual property stolen. And we get it — going toe to toe with a huge company can be daunting.
Fortunately, there are measures you can take to safeguard your property. Before pitching companies that pay for ideas, consider the following:
Draft a Non-Disclosure Agreement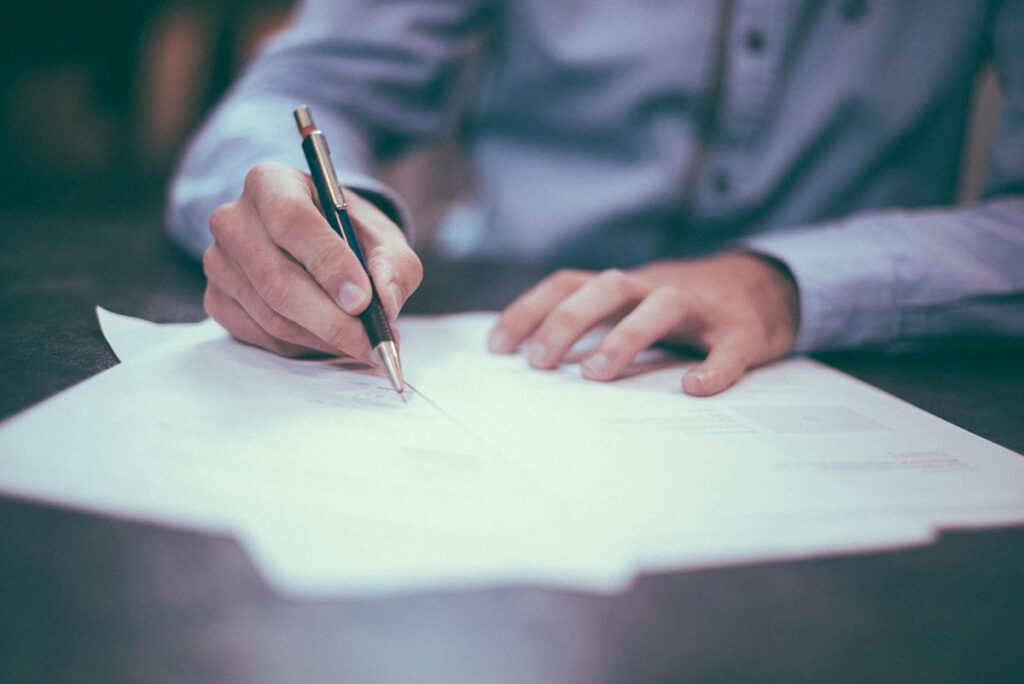 The most common way to protect a creative idea is with a Non-Disclosure Agreement (NDA). NDAs are legally enforceable agreements that potential buyers must sign before they can access and explore your idea.
This document ensures that counterparties do not disclose information or use the idea without permission. NDAs explicitly bar signers from using the provided information without your consent.
To draft a bullet-proof NDA, consult an attorney experienced in IP law. This will ensure that you can take legal action if the contract is ever breached.
File for a patent
In some cases, companies will only accept patent-protected ideas. And there's good reason for this — patents offer legal protection for your intellectual property.
Patent holders have the exclusive right to make and sell products that use the protected idea. This comforts companies that buy ideas because they will be the sole beneficiaries of any returns your idea generates. And in the event of any infringement, the purchasing company can sue and win damages in court.
According to the U.S. Patent Act, an idea must be "statutory, novel, useful, and non-obvious" to qualify for a patent. If you think your idea meets these criteria, try to file for a patent yourself. The United States Patent and Trademark Office (USPTO) provides detailed instructions and resources on how to apply and protect your invention.
If approved, your patent can be transferred, assigned, licensed, or used by you. You should note, however, that patent protection can be rather costly, so be sure to consider the financial tradeoffs.
Register a copyright
Copyrights protect original authors or creators of particular categories of work including literature, music, art, and software. Unlike patents, copyrights are not issued for ideas themselves — they only protect the expression of an idea in tangible form.
With copyrights, there are no formal requirements to register your creative work. If there is an ownership dispute, it's up to you as the creator to prove that you are the original author. To make your case, you'll need evidence like a dated draft of your work or photographs of its development.
Copyrights are a form of property, meaning they are transferable to other parties. As the idea owner, you can control its use, prohibiting or authorizing how it is copied, performed, broadcasted, or adapted by others.
The process of obtaining a copyright is relatively easy and inexpensive. In the United States, you can register with the U.S. Copyright Office to get started.
Document as much as you can
If you decide not to pursue one of the previous suggestions, the next best solution is to document your idea as much as possible. Keep meticulous records of the dates and times you worked on the idea. Take photographs of your product while building it. And put everything you deem relevant in writing.
While this does not guarantee legal protection, it can offer evidence that you are the original owner of the idea. And if you ever run into any legal issues or end up in court, these records could shift the balance in your favor.
15 companies that pay for ideas
Once you have protected yourself legally, it's time to create a list of potential targets for your idea. To get you started, here are 15 companies that buy ideas:
1. Procter & Gamble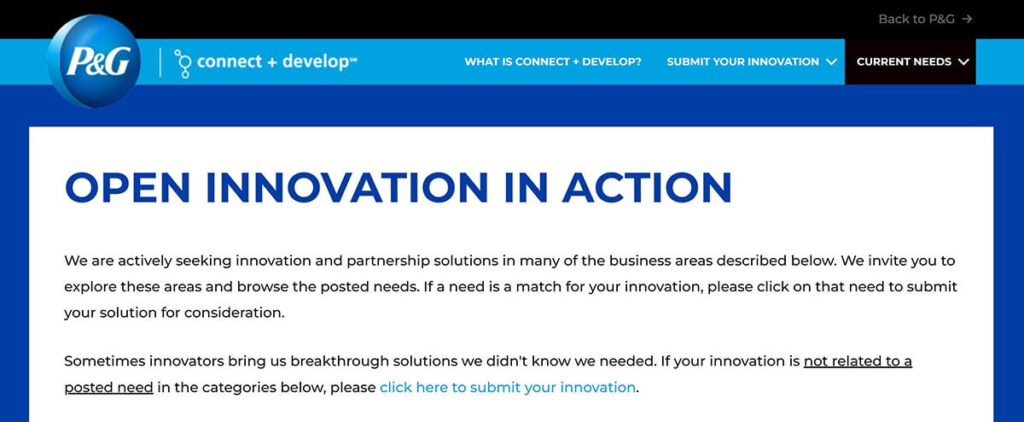 Procter & Gamble is open to practical innovations for their global consumer brands. As a leader in the kitchen, bathroom, and household care spaces, P&G maintains a list of specific categories in which it is looking for partnership solutions.
To submit an idea, use the company's online submissions system. If P&G is interested in learning more, the company will sign an NDA and coordinate an in-person meeting for further review.
2. Sharper Image
Sharper Image is a well-known retailer of unique gadgets, novelties, and high-tech lifestyle products. If you have an innovative idea for a consumer good, Sharper Image will accept ideas via email.
To submit your idea, simply contact productideas@sharperimageonline.com. Include a comprehensive product description and any photos or videos you have, and note whether it is currently being sold anywhere. The company strives to respond to all idea submissions within 14 days.
3. 3M
3M, one of the most popular companies that pay for ideas, aims to make life easier with science. The company has over 60,000 products in its portfolio and is always looking for new ideas. 3M's top brands operate in the medical equipment, office supplies, and electronics sectors.
3M will accept unsolicited ideas that are patent protected and aligned with its mission. To begin the idea submission process, read their policy and fill out their online submission form.
4. Henkel
Henkel, a chemical and consumer goods company, is always looking for invention partners to help them solve consumer challenges. Their top products include adhesives, beauty products, and laundry and home care items.
If you think your idea can help Henkel, visit the company website and fill out the contact form here. They are primarily looking for patented ideas that can be prototyped and tested for consumer feedback.
5. Allstar Innovations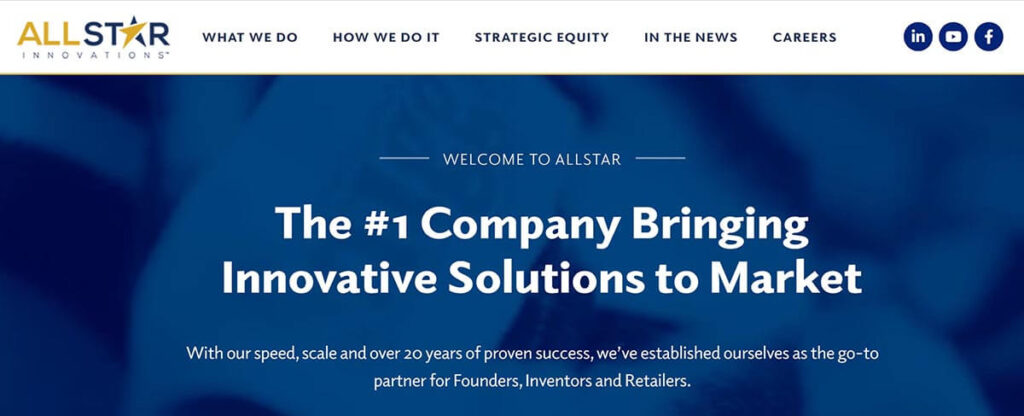 Allstar Innovations has over two decades of experience in bringing products to market in partnership with founders and inventors. The company has launched over 300 innovative ideas contributing to more than $8 billion in total sales through retailers like Walmart, Amazon, Target, and more.
If you have an invention idea, Allstar Innovations has a straightforward submission process. Visit the company website, navigate to their idea submission form here, and select from one of 26 categories. Allstar is open to product ideas from beauty to automotive, pet products, and more.
6. Rico
Rico is a sporting goods manufacturer that sells licensed gift products for major sports leagues like the NFL, NBA, and NHL. So if you're a sports fan with new product ideas, Rico is your best bet.
Before you share your ideas with Rico, read their product submission policy and follow the detailed instructions.
7. Wilson
Wilson Sporting Goods is one of the preeminent companies that pay for ideas in the sporting niche. The company has manufactured and sold sports training products for over 100 years under brands like Wilson, Louisville Slugger, DeMarini, and EvoShield.
Wilson has a dedicated innovation submission portal for "great ideas." To pitch a new idea, submit your email here, select a relevant sport, and describe the idea in under 1,000 characters.
8. Coca Cola
Coca-Cola is well-known as one of the world's largest multinational companies in the food and beverage sector. But did you know that Coca-Cola will also buy ideas on everything from sustainable packaging to promotional products?
The company is very particular about the ideas they accept. They mostly focus on eco products and explicitly prohibit ideas around marketing or formula changes. However, if you have a great idea that fits their bill, submit it for consideration and wait for review.
9. Idea Buyer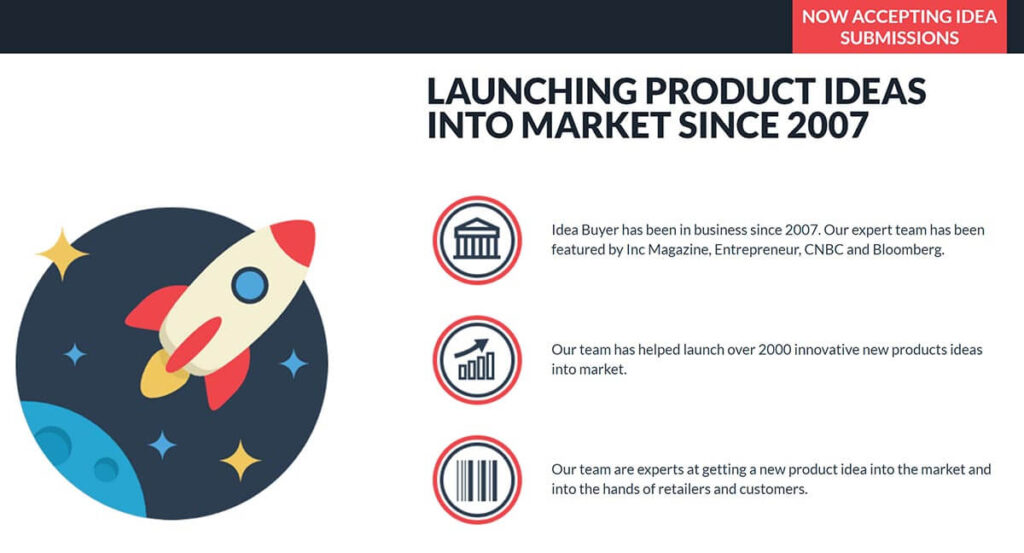 As the name suggests, Idea Buyer specializes in sourcing and developing new product ideas. The company works with established partners as well as budding startups to bring invention ideas to market.
With over 15 years in business, Idea Buyer has brought more than 2,000 products ideas to market and into the hands of retailers like Cabela's, Target, and Macy's.
Idea Buyer has a simple idea submissions form available from their home page. If selected, the company will help you bring your product idea to life in exchange for a royalty or equity in the business.
10. IdeaPros
IdeaPros offers entrepreneurs with a product, invention, or app idea "the last partner [they] will ever need." The company supports creators by building out new app ideas and helping to launch and distribute finished products.
If you have an innovative app idea but don't know how to get it off the ground, contact IdeaPros through this form.
11. Invention City
Since 1986, Invention City has been in the business of helping inventors bring their innovative ideas to life. One of the most popular things about Invention City is that they offer a licensing agreement as soon as your product idea is approved. This allows you to start earning royalties without the hassle of finding manufacturing and operations partners.
Invention City accepts new ideas of all kinds, from mobile apps to food and hygiene products. While only about 1% of product ideas are accepted, you can always pay $95 for a "brutally honest feedback" session. Use this idea submission form to get started.
12. FastCap
FastCap is a manufacturer and retailer specializing in woodwork, cabinetry, tools, and equipment. If you are handy and have a great idea from your hobby, consider submitting it to FastCap for consideration.
To submit the idea, record a video demonstrating the invention and upload it to their website. If selected, FastCap will pay you 2% to 5% royalties for the life of the product.
13. Unilever

Unilever is a global consumer products giant with over 400 brands in their portfolio. The company sources new product ideas from the public and regularly reviews submissions for potential use in the market.
The best way to submit a product concept to Unilever is through their Innovate With Us page. Here you can fill out a brief form, upload any relevant files, and share your innovative ideas for products in categories like food and beverage, cleaning agents, and personal care.
14. Escalade
Escalade is one of the most well-respected companies that pay for ideas in the sporting goods and outdoor recreation category. Their portfolio includes brands like Goalrilla, Dura, Rave Sports, and more.
If you have an idea for a new sporting goods product, send in your pitch using this online form. A panel of experts will review and test your concept, and if it meets their standards, Escalade will make you an offer.
15. Bosch
Bosch is a German engineering and technology company that manufactures power tools, home appliances, security devices, and other tech products. They are always on the lookout for invention ideas to improve their product line, and they offer the chance to partner and co-create.
If you have an idea that falls into any of their product categories, you can submit it here, and you will receive a response from the team within a couple of weeks.
How do I sell my invention idea for top dollar?
If you have a great invention idea and want to get the most value out of it, there are a few key steps to take:
1) Protect yourself
Depending on the potential value of your new idea, determine how to best protect your intellectual property. Filing a patent typically costs thousands of dollars, but it enables you to safely share your idea without fear of theft. Otherwise, consider drafting an NDA and requiring companies to sign it before you disclose any information.
2) Research companies that pay for ideas
Revisit this article on companies that pay for ideas and start to create your own list of potential targets. Try to narrow down companies that are in the same industry, have similar products, or could serve as strategic partners.
If you find a good fit, also look into their competitors. Chances are if one company is willing to pay for your idea, then others in the same space would be too. Having a few companies to approach will not only boost your chances of getting a good offer but also give you more leverage in negotiations.
3) Begin the outreach process
Once you have your shortlist of companies lined up, start to contact them one by one. Be sure to include a detailed explanation of your idea, what problem it solves, and how it might be monetized.
Your goal at this stage is to generate interest and sell a vision. Help your target companies see a future in which your idea gains traction and mass adoption.
4) Negotiate
If all goes well, companies will see the potential value in your idea and start to make offers. At this point, the power dynamic shifts in your favor. Use competing offers to negotiate for better terms, and don't be afraid to ask for what you want.
If you prefer an upfront payment, make that clear. If, on the other hand, you want to share in the upside of the product's success, then push for a royalty agreement instead. Think about the risk and reward profile of each deal structure and present your case to the companies.
5) Close the deal
Even the best product ideas have risks — execution risk, market risk, legal risk, and more. So remember, to close a deal and get paid for your idea, there needs to be enough opportunity for all parties involved. Although it's important to stand your ground, don't lose sight of the ultimate goal.
Stay flexible, stay focused, and do whatever it takes to seal the deal. The right idea can provide you with a life-changing payday and propel your career to the next level.
Related reading: How To Create A Money Mindset That Manifests Wealth
Final thoughts
While companies that pay for ideas are relatively few and far between, they offer an incredible way to monetize your creativity. Use this list as a starting point to find companies that match your product idea. Then, present them with an innovative vision, negotiate the right deal structure, and close the deal. Good luck!