Disclosure: The Money Maniac is an Amazon Associate that earns from qualifying purchases at no cost to you. However, all opinions are our own. We stand by every recommendation we make, and provide only objective and independent reviews.
If you're looking for a way to make your home business more successful, consider investing in an embroidery machine. Embroidery machines allow you to add custom embellishments to clothing and other products, which can help you charge more for your products and stand out from the competition.
To help you choose the best embroidery machine for home business, we reviewed every popular machine on the market and created a list of our top 7 recommendations. Check out these highly-reviewed embroidery machines and start creating more professional-looking products in no time!
What Is the Best Embroidery Machine for Home Business?
The best embroidery machine for home business is the Brother SE1900. A powerful embroidery and sewing machine, the SE1900 is unmatched when it comes to time-saving features, quality construction, and affordability.
At a price point that most home businesses can manage, the Brother SE1900 delivers a large workspace, fast execution, and a wide range of built-in designs, fonts, and sewing stitches. With a large touchscreen that offers step-by-step tutorials, there are few reasons to stray from this hugely popular embroidery machine unless you need a more expensive multi-needle option.
7 Best Embroidery Machines: A Buyer's Guide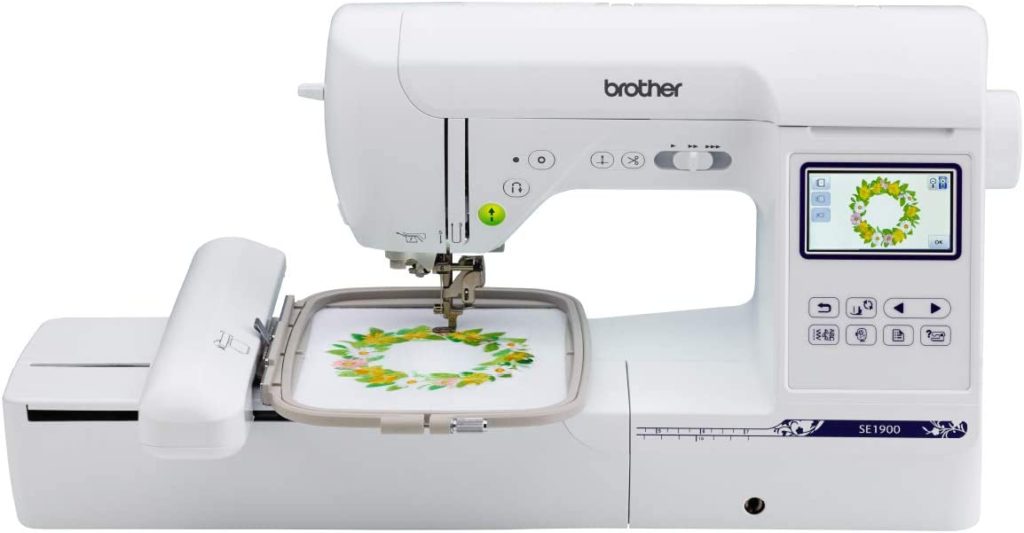 Best Embroidery Machine for Home Business
The Brother SE1900 is a two-in-one sewing and embroidery machine with a 5" x 7" embroidery field that accommodates a variety of project sizes. The 3.2″ color touch screen makes it easy to control the machine's stitching, design, and preview functions.
Its sensors have the ability to automatically detect the tension of different materials and adjust accordingly for the perfect stitching. This allows the machine to handle difficult fabrics including vinyl, rubber, and leather. The automatic needle threader and bobbin winding system minimizes delays with an easy color-switching process. With dual capability to embroider and sew and broad compatibility with .pes files, the SE 1900 is a great embroidery machine for small business owners, industry veterans, and beginners alike.
Pros
Maximum speed of 850 stitches per minute
240 sewing stitches, 138 built-in embroidery designs, and 11 fonts
Automatic needle threading for easy color switching
Comfortable 5″ by 7″ embroidery area
Cons
Single needle machine
Does not come with any digitizing software
Buy on Amazon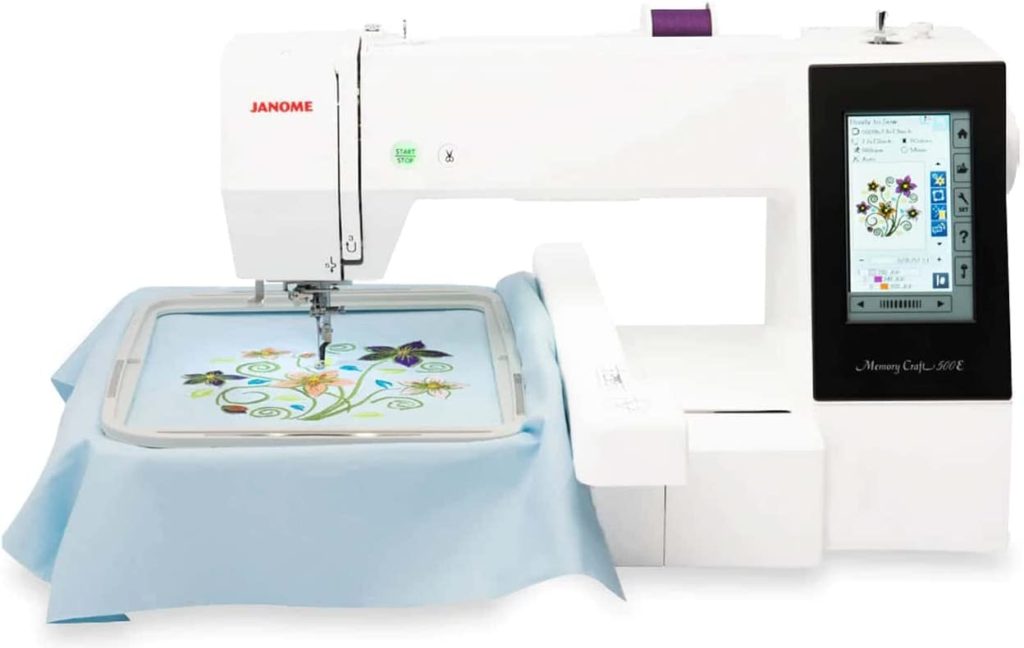 Best Value Embroidery Machine
The Janome Memory Craft 500E Embroidery Machine features a full-color touchscreen with on-screen editing functions including enlarging and reducing, rotating and flipping, dragging and dropping, and more. This is a good embroidery machine for home business because it is lightweight (at only 20 pounds) and can fit in practically any space.
This Memory Craft 500E features an automatic thread cutter, an advanced needle threader, and a huge 7.9" x 11" embroidery area. It is one of the easiest single needle machines to learn, and it is built with a beautiful, scratch-resistant surface. With four embroidery hoops, six fonts, and a USB port for uploading designs, this machine is beginner friendly and relatively affordable.
Pros
Multiple on-screen editing capabilities
160 built-in embroidery designs and 6 fonts
Automatic thread cutter and advanced needle threader
Versatile 7.9" x 11" embroidery space
Cons
Single needle machine
Limited speed at only 600 stitches per minute
Buy on Amazon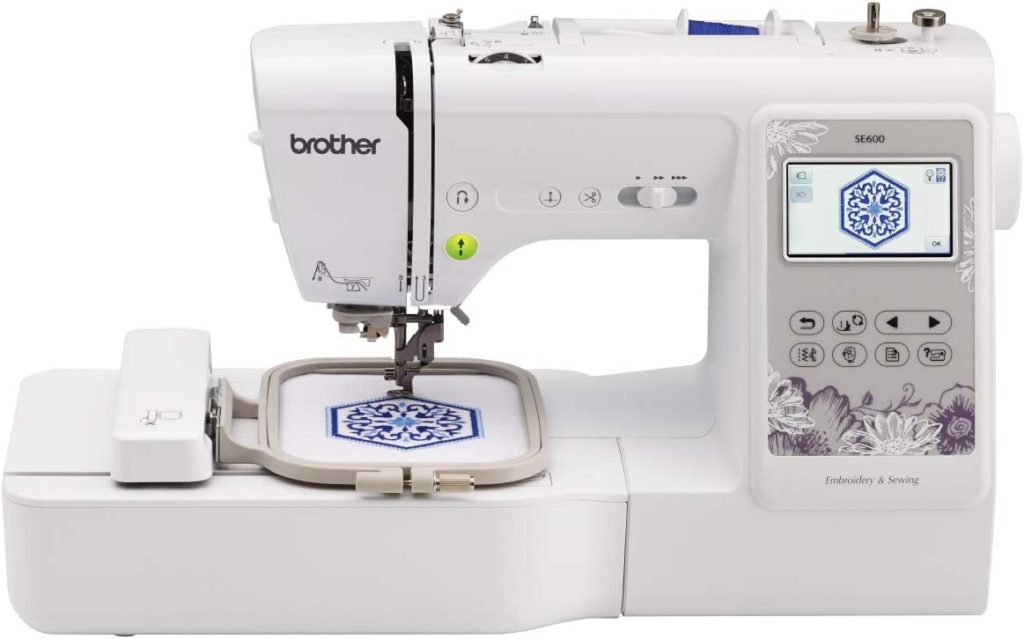 Most Affordable Embroidery Machine
The Brother SE600 is one of the most affordable combination sewing and embroidery machines available – maybe that's why it is Amazon's #1 best seller in the Embroidery Machines category. Coming in at only 26 pounds, the SE600 is transportable and user-friendly, making it a great machine for small business owners. The single needle embroidery machine supports .pes, .phc, and .dst data files and features a 3.2″ LCD touchscreen display.
Pros
103 sewing stitches, 80 built-in embroidery designs, and 6 fonts
Capable of up to 710 stitches per minute
Automatic needle threader and drop-in top bobbin
The LCD screen offers a preview mode
Cons
Single needle machine, meaning you have to change the thread after every color
The 4″ by 4″ hoop size is somewhat limiting
Buy on Amazon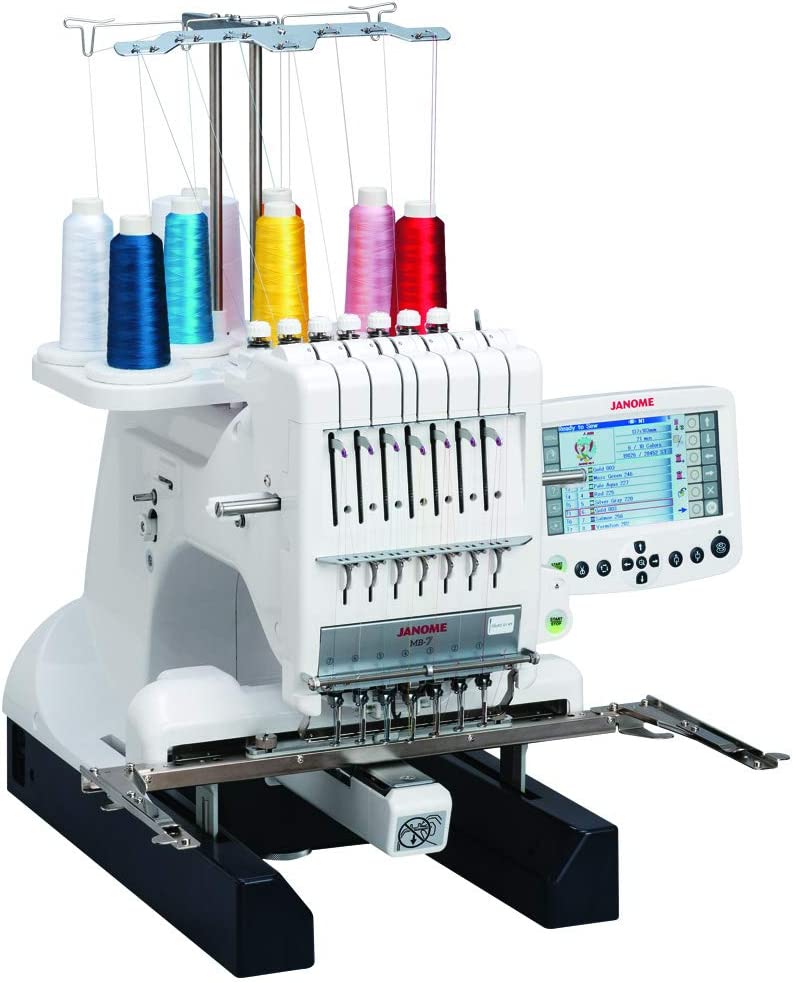 Best Multi-Needle Embroidery Machine for Small Business
The Janome MB-7 is the best embroidery machine to help you tackle your next job because of its unparalleled speed and accuracy. This multi-needle embroidery machine is designed to work with formats used by all industry professionals, such as jef+, .jef, and .dst. The large 9.4″ by 7.9″ embroidery area makes it possible to embroider on all types of items such as bags, totes, and jackets. Plus, with 8 spool spins, you can work with multiple threading materials simultaneously. The embroidery machine also has six white LED lamps, which keep your workspace bright, safe, and easy to use.
Pros
7 separate needles
Capable of up to 800 stitches per minute
50 built-in designs and 10 fonts for monogramming
5.7" remote computer screen display
Independent bobbin winder
Cons
Steeper learning curve than smaller machines
No automatic threading
Buy on Amazon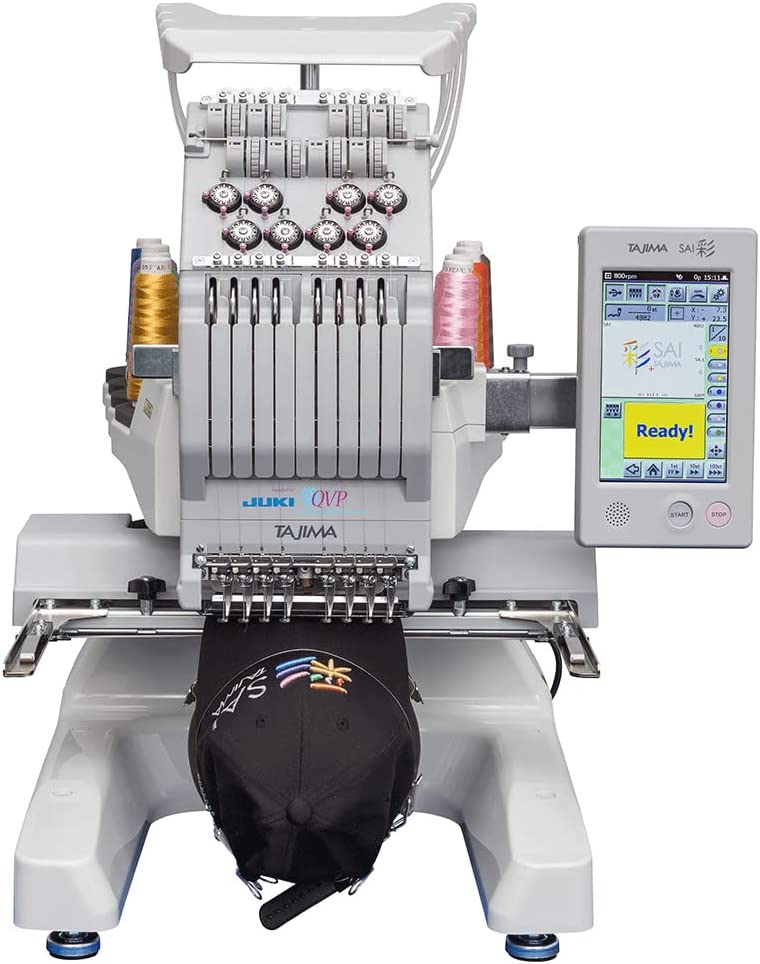 Best Commercial Embroidery Machine
The Juki Tajima embroidery machine features eight needles, which allows operators to create multi-color designs with minimal thread changes. This commercial embroidery machine offers a 12" by 8" embroidery field, capable of tackling even the largest of projects.
At 82 pounds, this machine is heavier than most but is built durably for professional use. The Juki Tajima includes an auto thread cutter, a thread breakage detection system, and accurate laser positioning. The nearly 7″ full-color touch panel is easy to operate and the slim cylindrical free arm makes working on small objects a cinch.
Pros
Maximum speed of 800 stitches per minute
200 built-in embroidery designs and 31 fonts
Includes Writer Plus digitizer software
Huge 12″ by 8″ sewing field
Cons
The most expensive machine on this list
Weighs more than 80 pounds
Buy on Amazon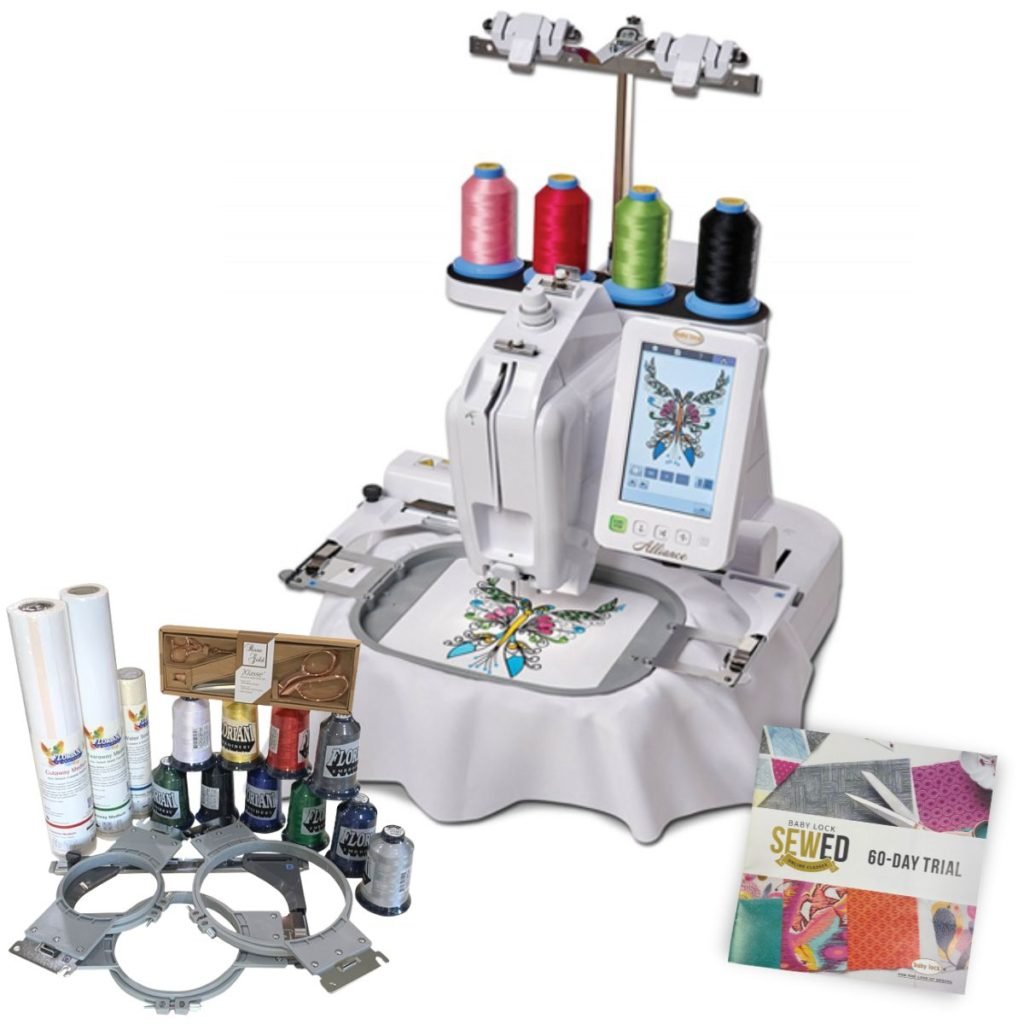 Best Embroidery Machine for Tight Spaces
The Baby Lock Alliance Embroidery Machine (BNAL) features a free arm that gives its users the ability to maneuver in tight spaces and embroider on three-dimensional projects. The narrow embroidery arm and small hoops and frames provide more flexibility than most other machines.
The BNAL is an excellent single-needle embroidery machine with a number of handy features for embroidery and sewing projects. The machine has a needle beam for accuracy, an automatic needle threader, and a built-in bobbin winder. Plus, the embroidery machine comes with accessories like a stylus, accessory case, pre-wound bobbins, scissors, spools, tweezers, and much more. The BNAL machine has the highest embroidery speed on our list and the greatest stitch reading capacity. This puts it in the conversation for the best embroidery machine for home business owners.
Pros
Maximum speed of 1,000 stitches per minute
25 included fonts
7″ LCD touchscreen with estimated time display and stitch count
Large 8″ by 8″ hoop size
Built-in memory of 1MB
Cons
Single needle machine
Cumbersome at 68 pounds
Price
$4,999.00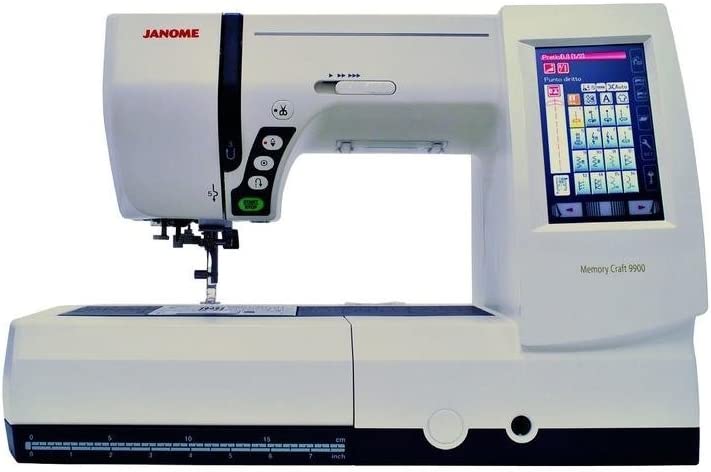 Best Embroidery Machine for Extra Memory
The Janome Memory Craft 9900 Embroidery and Sewing Machine has 3MB of built-in memory and an embroidery speed of up to 800 stitches per minute. This machine flaunts a wide work area of 6.7″ by 7.9″ and a handy reverse button that enables quick erasing of any mistakes with minimal damage to the material.
The Janome Memory Craft 9900 includes an automatic threader and 175 built-in designs. The USB port allows you to upload custom designs, provided they are formatted as .jef and .jef+ files. This is a great home business embroidery machine because it operates quietly, efficiently, and with great precision.
Pros
Lightweight 23-pound machine
Maximum speed of 800 stitches per minute
200 stitches and 175 built-in designs
Automatic thread cutter and needle threader
Largest memory capacity of 3MB
Cons
Single needle machine
Outdated user interface on the LCD screen
Buy on Amazon
How to Choose the Best Embroidery Machine for Home Business
Now that you know what some of the best embroidery machines are on the market, it is time to figure out which one is the best for your home business. Here are some factors to keep in mind when making your decision:
Single Needle vs. Multi Needle Machine
Multi-Functional vs Embroidery Only Machine
Maximum Embroidery Size
Portability
Stitches Per Minute (SPM)
Fonts and Designs
Digitizing Software
Budget
How Can Improve My Embroidery Business?
Two of the best ways to build a profitable embroidery business are to produce high-quality products, establish trust, and create an online store.
To master the embroidery process and create your own designs with custom stitch work, first purchase an affordable embroidery machine. Most modern embroidery machines will allow you to load designs via the USB port, preview the design, and resize or edit it on the machine's built-in display. Many machines even come with a library of built-in designs and fonts, which can be a great starting point for new embroiderers.
Next, create your brand with openness and transparency. Potential customers love to see behind-the-scenes videos, such as how you set up your workspace, the thread and fabric colors you use, and your creative process. This type of content will help you attract organic traffic and build trust with your audience. Plus, it gives your friends and family a way to help promote your home-based embroidery business.
Finally, consider selling your products online. Face-to-face events, like craft shows and trade meets, are great for drumming up wholesale business. But to reach a broader population of customers, an online shop is a must. Not only will this give you a larger platform to showcase your work, but it will also allow you to take orders 24/7.
When first starting out, take advantage of Shopify's free trial to build a custom storefront. This will allow you to find a niche, build an audience, and encourage your social media fans to help spread the word. Plus, once you hear that cash register ring with every online order, you'll be hooked!
Final Thoughts
Embroidery is a fun and rewarding hobby that can easily be turned into a profitable business. With the right machine, some creativity, and a bit of hard work, you can produce high-quality products that customers will love.
We hope this guide has helped you choose the best embroidery machine for your home business. Our recommendation for most beginners is the effective and affordable Brother SE1900, but take a look at the reviews and decide for yourself.
As you begin your business journey, remember that the sky is the limit with embroidery designs, so let your imagination run wild! And when you are ready to start finding customers, make sure to brush up on the most effective marketing models in today's digital-first world.
Frequently Asked Questions
How can I start an embroidery business?
To start an embroidery business, look at our list of top embroidery machines. Determine how much you are willing to spend, what type of projects you want to tackle, and what features are most important to you. Once you have a machine, it is time to start creating products, promoting your embroidery services, and landing clients!
What do I need to buy for an embroidery business?
As an embroidery business owner, you should buy machinery and end products. Start with the best embroidery machine for home business, a label printer, and a computer to digitize your designs. Then, buy blank caps, t-shirts, polos, tote bags, skirts, jackets, sweatshirts, and whatever else you may want to embroider on.
How can I market my online embroidery business to maximize profits?
To maximize the profits of your embroidery home business, market your business both online and offline. Test a variety of approaches to marketing, including social media, SEO, and in-person events. Focus on selling only premium products and creating high-quality promotional content, in the form of photos, videos, and blog posts.
What type of embroidery sells the best?
Polo shirts and button-ups are among the most frequently requested embroidery items, especially if you are looking to produce in bulk for businesses and schools. Other popular items include tote bags, towels, jackets, and hats.