Disclosure: The Money Maniac is an Amazon Associate that earns from qualifying purchases at no cost to you. However, all opinions are our own. We stand by every recommendation we make, and provide only objective and independent reviews.
Science fiction films and video games depicting the future often show viewers stunning shots of an endless cityscape covered with digital signage. Over the last decade or so, this trope in science fiction has become an everyday sight.
From shopping centers to airports, nearly every public space contains these mesmerizing digital signage graphics, and it's easy to see why. Digital signage, unlike traditional posters and billboards, is immersive. It draws in customers with flashy displays and can get a business's message across in a unique way, all while being fully customizable and easy to update.
Digital signage is no longer reserved only for big companies or retail giants. Nowadays anyone can — and should — use digital signage if they want to forge stronger connections with their target audience and disseminate information. So, whether you're looking for digital signage for your small business, big business, restaurant, or church, here are the best digital signage software tools to help you get the job done.
What Is the Best Digital Signage Software Solution?
Yodeck is the overall best digital signage software solution. Yodeck is a powerful, web-based digital signage tool that enables users to tailor their digital signage in great detail, all while maintaining a friendly, easy-to-use interface. Plus, with 24/7 worldwide customer support, Yodeck is the top digital signage software provider for both beginners and veterans alike.
The best part is that you can start using Yodeck digital signage for free. If you're brand-new to digital signage systems or you are hesitant about the technology, you can give it a spin before spending any money.
The basic plan allows users to operate digital signage displays on a single screen from a laptop or computer. To cast to a separate display, upgrade to the standard plan for just $7.99 a month. When you subscribe, Yodeck will send you a palm-sized digital signage media player and you will gain access to hundreds of layout templates and a trove of stock images and videos.
Although Yodeck is our recommended digital signage software, it may not be the best solution for everyone. So here is a list of the top four digital signage applications that meet every type of digital signage need. And the last one is a digital signage hack that can be used to create a free digital sign. Read on for our full buyer's guide to digital signage solutions.
Best Digital Signage Software Tools: Ultimate Buyer's Guide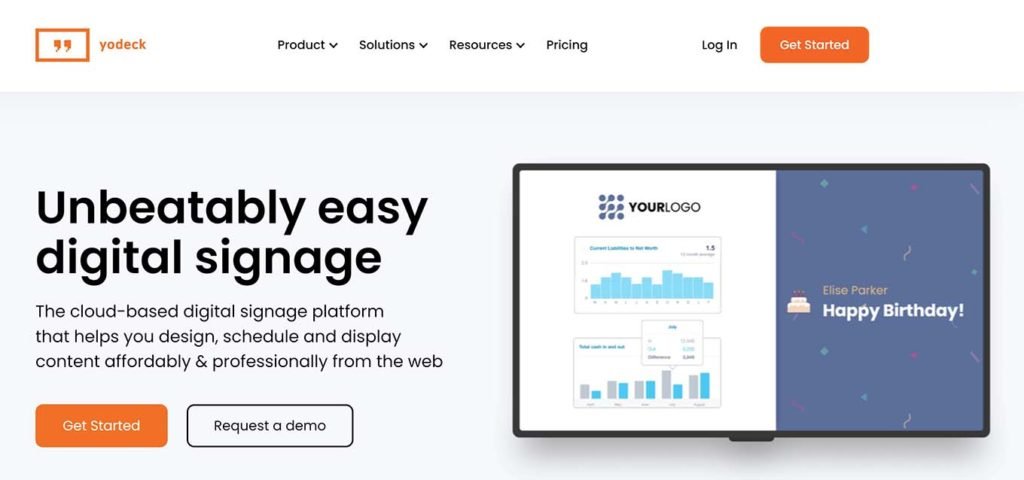 Overall Best Digital Signage Software for Both Beginners and Professionals
This platform offers an unbeatable price-to-functionality ratio and a wide range of customization options. Yodeck's digital signage solution can cast most major media files including images, videos, PDFs, Excel, Word, and PowerPoint. It can display live streams, YouTube, and webpages and even integrates with calendars, weather applications, and social media and news websites.
Pros
Competitive pricing packages, including a free plan
Highly customizable digital signage that can be managed remotely
Easy-to-use and install
Hundreds of layout templates
Supports many media file types
24/7 customer support
Cons
There is no mobile app
Not all businesses are willing to pay a monthly subscription for digital signage software packages
Price
Free, without a Yodeck digital signage player
Paid packages range from $7.99/month to $12.99/month per screen, and annual plans include all necessary hardware
$79.99 to buy the Raspberry Pi signage player outright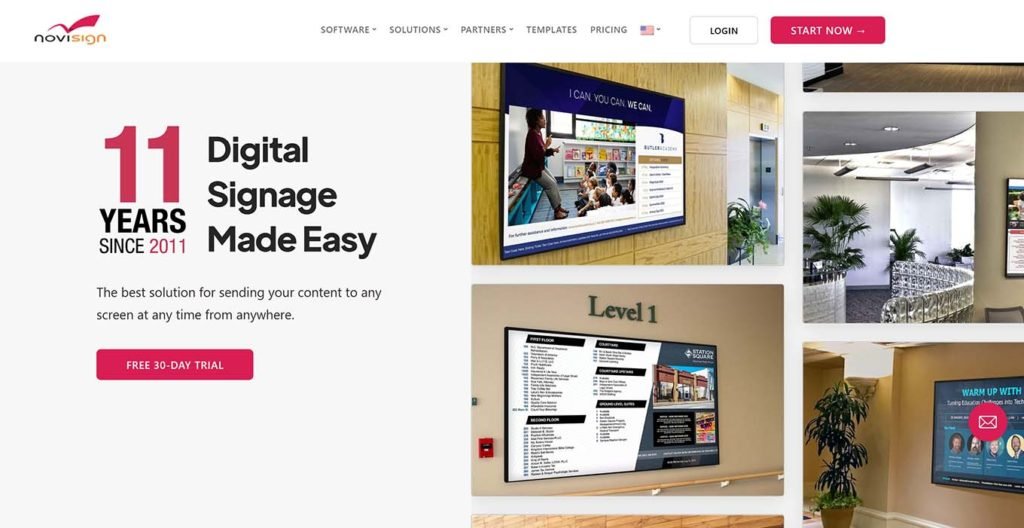 Best for Digital Signage Pros and Larger Businesses
NoviSign is probably the most recognizable digital signage software in the game, and for good reason. This company has been around since 2011 and partners with big companies like Delta Airlines, Autodesk, Adobe, Domino's, Deloitte, and Swissport. It comes with almost all of the same digital signage features as Yodeck but does not require any additional hardware. Instead, it runs as an app on any Windows, Chrome, Samsung, or LG device.
NoviSign's user interface is a bit more complicated and allows for a greater degree of customization than other digital signage systems. It can even be set up for interactive digital signage on touch-screen kiosks. For these reasons, NoviSign is recommended for users who are already comfortable using digital signage software.
NoviSign digital signage is also considerably more expensive than Yodeck, starting at $18/month per screen with their most basic package, but they do offer a 30-day free trial if you want to give it a shot and play around with the customization.
Pros
Broadcasts to interactive digital signage touch-screen kiosks
200+ professional, eye-catching digital signage templates
Simple drag-and-drop widgets
NoviSign digital signage software runs as an app on any Windows, Chrome, Samsung, or LG device
Cons
The highly customizable user interface may require a learning curve
More expensive than other digital signage applications
Only allows administrative access for one user
Does not support casting from Apple devices
Price
A 30-day free trial is available
Paid packages range from $18 to $44 per month per screen

Best for Commercial Enterprises
BrightSign is a powerful digital signage platform. It is the real deal in digital signage — but its price point is not for everyone. BrightSign offers digital signage for large, corporate conference rooms; immersive, multi-screen video walls for convention shows; and massive, commercial-grade interactive touch-screen options.
BrightSign is ideal for tech-savvy bigwigs and it is hands-down the best choice for commercial enterprises. While small businesses, retail shops, and restaurateurs can go quite far with Yodeck or NoviSign, BrightSign's digital signage is ideal for those looking to seriously upgrade the digital signage in their office buildings, public plazas, or other large spaces.
Pros
Large-scale and high-quality digital signage capable of 4k resolution
Multiple sleek and powerful digital signage players to choose from, including the entry-level LS model, middle-tier HD models, and advanced XD and XT models
Higher-end models support multiple videos running simultaneously on a single screen
Remote and instantaneous signate updates, even for multiple screens
Wi-Fi and Bluetooth are not built-in but can be installed
Ethernet connectivity between multiple digital signage players allows communication and synchronization between multiple screens to create stunning video walls
HDMI ports are available on certain digital signage solutions
Digital signage can be controlled via smartphones and other mobile devices
Cons
A premium and expensive solution
The challenging interface is best for tech-savvy users, and may not be suitable for digital signage beginners
Price
Each Brightsign is compatible with one screen:
$295 for the LS model, on the low end
$730 for the XT model, on the high end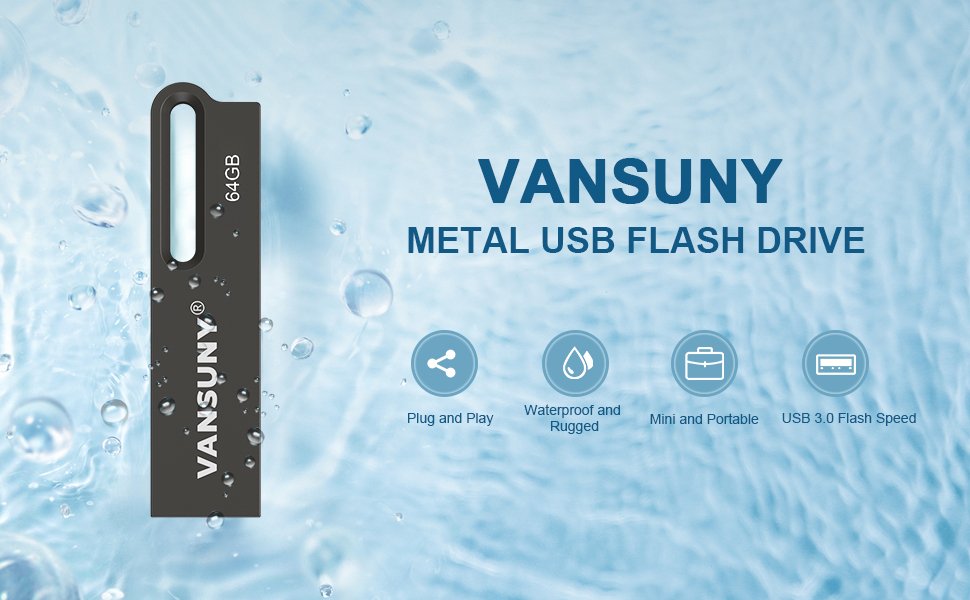 Best for Simple Digital Signage Needs
If you are looking for low-cost or free digital signage software, here is an effective digital signage DIY-type hack. Create your own custom digital sign with a USB thumb drive and an old monitor or television. This solution is best for those with very simple digital signage needs, such as displaying a single image or scrolling through a short list of announcements.
Here's how the free digital signage hack works:
Load the images and videos onto your thumb drive. Make sure they are set to the same resolution as your TV screen so that your digital signage fits nicely and doesn't create any letterboxing. Plug the drive into your screen and select it on the input channel.
Typically there is an option to play the media as a slideshow. And boom — free digital signage! It's as simple as that. Most modern TVs will allow you to set the amount of time each image stays on the screen before moving on.
Pros
Very affordable (almost free) digital signage
Simple to set up
Allows for customization with any photo and video editing software before uploading
No maintenance or scheduling required
Cons
No integration with widgets, live feeds, social media, or calendars
Can not make changes on the go, or from a mobile device
Your TV may not be able to play both images and videos
Can not display multiple videos and images simultaneously
Price
As little as $10 for this 64GB USB drive
Why Use A Digital Signage System?
It's the 21st century and information is increasingly visual. Digital signage systems are a simple yet aesthetically pleasing way to convey information and promote brand recognition. The philosophy behind digital signage is simple: Grab and hold your target audience's attention the second they look in your direction.
Unlike a static print ad or commercial, which can be easily ignored, digital signage systems are interactive and engaging. They are also far more cost-effective than traditional marketing mediums and easier to update and customize.
Think about it. If you are a shop owner holding a sale, what is more likely to attract shoppers: a stagnant poster or a flashy high-definition digital screen? Instead of the word "SALE" in big red letters, you could highlight happy customers using your products while displaying the promotional details. Now that's an effective approach to marketing!
And if you are the manager in an office, would you rather print and post new bulletins manually or update your digital signage remotely and in real-time? Ultimately, digital signage is a modern-day solution for modern-day businesses.
Plus, digital signage screens can be used in a variety of settings, such as:
Businesses: In office lobbies, waiting rooms, and employee break rooms
Retail stores: On product shelves, at the register, or in dressing rooms
Restaurants: In the front of the house or in the kitchen
Event venues: In hallways, meeting rooms, or on stage
Healthcare facilities: In waiting rooms, lobbies, or patient rooms
Educational institutions: In classrooms, hallways, or cafes
Hospitality industry: In hotel lobbies, elevators, or pools
Important Features in Digital Signage Software
When evaluating digital signage software, look at these key features to determine the best digital signage software for your unique needs:
Customization: To what degree do you need to customize your images and videos?
Interactivity: Do you want your digital signage to be touch-screen? Do you want to be able to edit and interact with your digital signage from mobile devices?
Cost: What is your budget? How important is digital signage for your bottom line?
Ease of use: Are you a techie, or are you new to digital signage?
Extra features: Does your digital signage need all the bells and whistles? Do you need to integrate live streams, social media, webpages, and weather updates, or are you content with just images and videos?
Final Thoughts
Digital signage systems are an excellent way to market your business and improve communication in any setting. If you are looking for the best digital signage software, consider the customization, interactivity, cost, ease of use, and extra features that are important to you.
With so many affordable and user-friendly options on the market, there is no excuse not to try digital signage today. So go ahead and take your business to the next level with one of these top-rated digital signage software tools!
Frequently Asked Questions
What is digital signage software?
Digital signage software is a tool used to create, manage, and deploy digital signage content. This content can include images, videos, live streams, social media, web pages, and weather updates.
What is Yodeck?
Yodeck is a cloud-based digital signage software that allows you to create and manage your content using a simple drag-and-drop interface. Yodeck also offers a variety of features, such as touch-screen support, interactive content, and remote management.
What is Raspberry Pi digital signage?
Raspberry Pi is a credit card-sized computer that can be used to power a digital signage system. Raspberry Pi is a low-cost and energy-efficient option for businesses that want to create and display their own digital signage content.
What is smart digital signage?
Smart digital signage is a new type of digital signage that uses sensors to gather data about the viewer. Information like demographics, attention span, and engagement level can then be used to customize the content that is displayed. For example, a retail store might use smart digital signage to display different products to different viewers based on their age, gender, or perceived interests.