Cryptocurrencies have become a global phenomenon. As talent and venture capital money continue pouring into the space, it can be hard to keep up with all of the progress and development in crypto.
Fortunately, there is no shortage of experts willing to share their take. Here at The Money Maniac, we have covered everything from NFT stocks to digital real estate and the best crypto newsletters. But if you prefer learning via audio, we have just the solution for you…
Find the best crypto podcast around with our updated rankings for 2023! After listening, reading, and checking reviews, we pulled together the 10 best podcasts to get your weekly (or daily) crypto fix. Stay up to date on crypto news, updates, gossip, and more.
The Best Crypto Podcast of 2023: Our Top 10
1. The Bad Crypto Podcast
Host
Joel Comm and Travis Wright, are technologists and crypto enthusiasts looking to demystify the world of crypto.
Content
Don't let the name mislead you. The Bad Crypto Podcast is one of the best cryptocurrency podcasts around. Comm and Wright's crypto podcast is tailored toward newbies and covers everything from crypto assets like Bitcoin, Ethereum, and altcoins, to trends like NFTs and DAOs.
The Bad Crypto Podcast offers commentary on the latest scandals and crashes, and alerts investors to potential scam coins and rug pulls.
Joel Comm and Travis Wright give you their take on short-term price movements in individual coins as well as in the crypto market broadly. While the podcast can't offer financial advice, it is a great way to keep up to date on the latest news in the world of crypto.
If you are looking for an insightful podcast that provides crypto news alerts and breaks down cryptocurrency for beginners, The Bad Crypto Podcast is for you. It is a perfect mix of crypto-related news and amusing banter.
Stats
Episode length: 45-65 minutes
Release cadence: Weekly podcast
Reviews: 4.6/5 (1k reviews from Apple Podcasts)
Twitter followers: 21.4k
2. Tales from the Crypt: A Bitcoin Podcast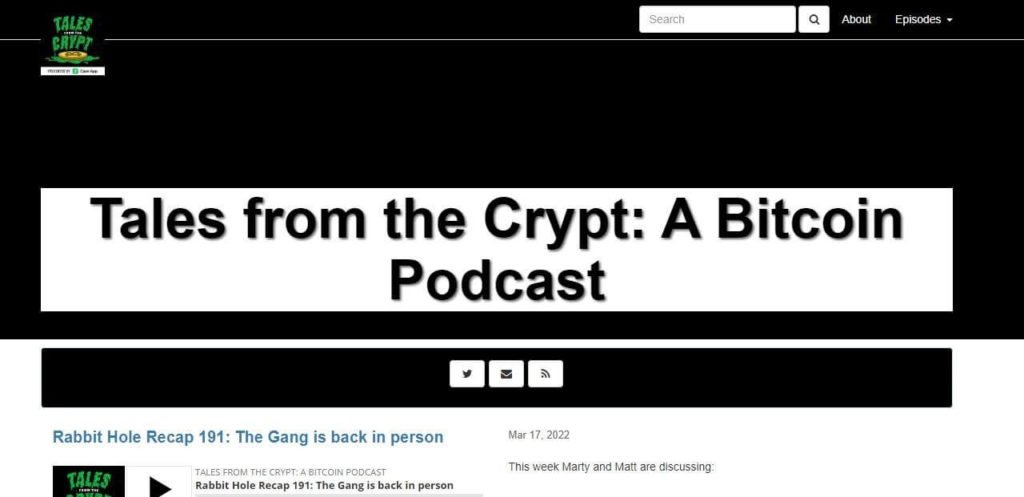 Host
Marty Bent is the editor-in-chief at Marty's Bent, a popular Bitcoin newsletter.
Content
The title of this podcast is a reference to Tales from the Crypt, a popular HBO horror series back in the late eighties. Marty invites guests on his podcast to discuss a wide range of exciting topics related to Bitcoin.
Topics are anchored around Bitcoin and its potential political and economic implications. From geopolitics and energy implications to more detailed topics like mining, monetization, and software, Marty and his guests cover it all.
Marty's take on these topics and his high-energy delivery make for a captivating listen. For a more distilled weekly summary, check out his roundup of cryptocurrency news in the "Rabbit Hole Recap."
Tales From the Crypt is the top Bitcoin podcast for seasoned investors and anyone interested in the Bitcoin ecosystem.
Stats
Episode length: 70-120 minutes
Release cadence: Twice per week, plus a weekly Rabbit Hole Recap
Reviews: 4.8/5 (630 reviews from Apple Podcasts)
Twitter followers: 33.5k
3. Unchained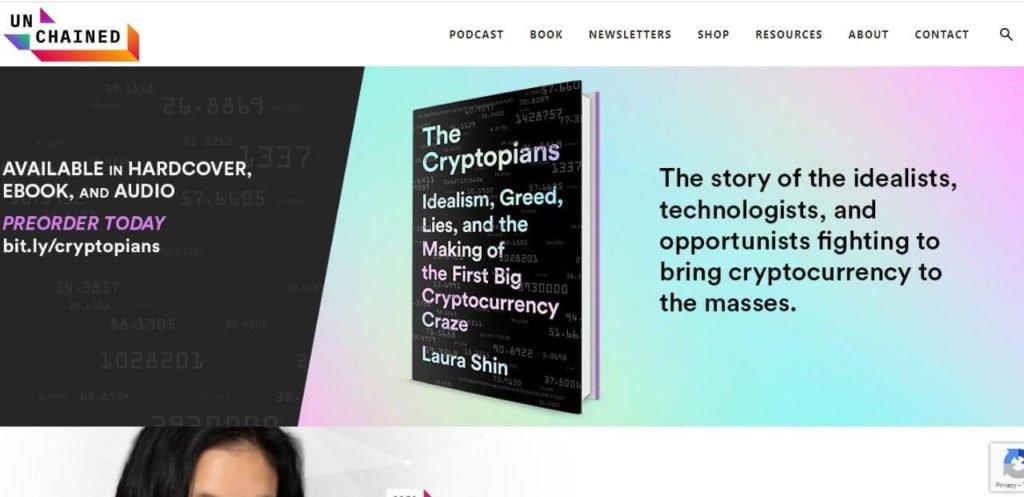 Host
Laura Shin is a former senior editor at Forbes and the author of The Cryptopians, a book on the origin stories of Ethereum.
Content
Hosted by Laura Shin, Unchained is one of the most popular cryptocurrency podcasts for keeping up-to-date information on the day's top crypto stories. Unchained is more than a Bitcoin podcast as Laura has covered crypto comprehensively for years.
With degrees from Stanford and Columbia, she has the credentials to attract A-list guests. Past interviews include Changpeng Zhao (CZ), CEO of Binance, and Vitalik Buterin, creator of Ethereum.
Host Laura Shin invites founders and industry leaders to talk about major crypto events and the evolution of the ecosystem. These episodes are conducted like interviews rather than more personal conversations, which allows listeners to hear directly from thought leaders in the space.
Due to the wide selection of previously recorded episodes, Unchained is also a great resource for beginners who want to build their knowledge from the ground up.
Stats
Episode length: 40-80 minutes
Release cadence: Twice per week
Reviews: 4.6/5 (1.1k reviews from Apple Podcasts)
Twitter followers: 11.5k
4. The Pomp Podcast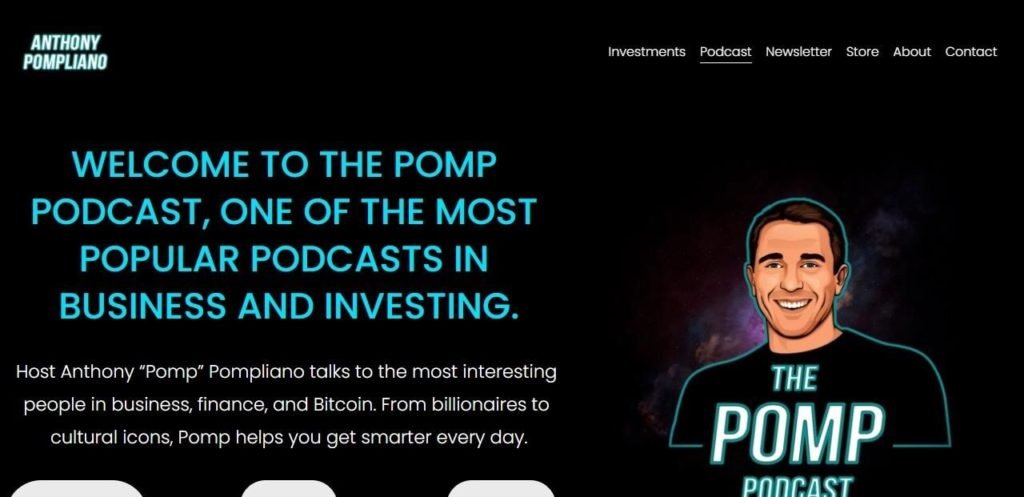 Host
Anthony Pompliano, also known as Pomp, is an entrepreneur and investor who has built and sold several companies. He's also the producer of "Off The Chain," a prominent crypto newsletter.
Content
Pomp offers his listeners a wide range of engaging content, covering finance, entrepreneurship, technology, and economics. This podcast specializes in providing authentic opinions and expert perspectives by hosting the who's who in the crypto space.
Pomp invites diverse guests to his show, ranging from self-made millionaires who've made a name for themselves in the crypto industry to influential CEOs who can discuss the impact of crypto on corporations. Pomp addresses cryptocurrency adoption and its impact on mainstream business and economics.
Pomp's passion for Bitcoin and blockchain technology is clear. From his Twitter account, his newsletter, and his podcast, Pomp shares a unique perspective on cryptocurrency news. Whether you're new to cryptocurrency or an expert in the space, give The Pomp Podcast a listen – there's always something worth learning.
Stats
Episode length: 20-60 minutes
Release cadence: Daily
Reviews: 4.7/5 (1.6k reviews from Apple Podcasts)
Twitter followers: 3.2k
5. What Bitcoin Did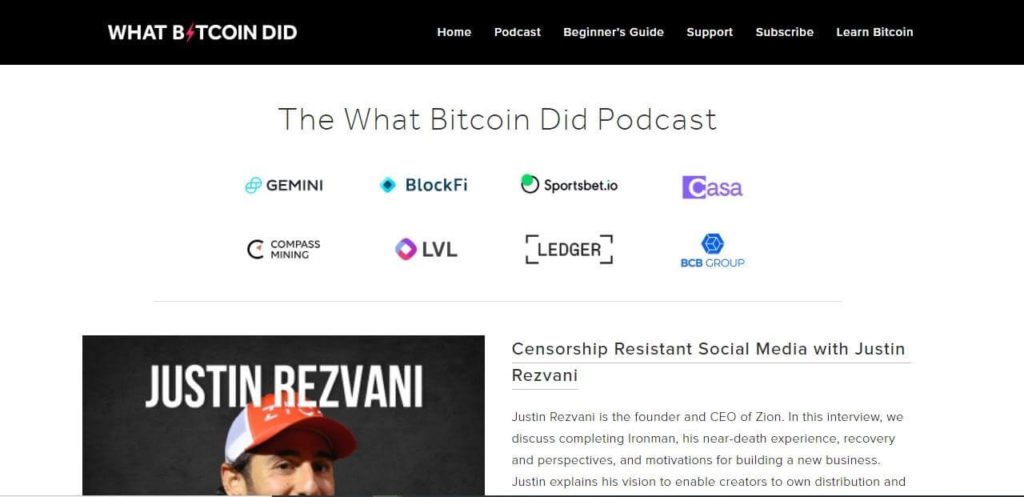 Host
Peter McCormack is a journalist and Bitcoin evangelist.
Content
'What Bitcoin Did' covers precisely what the title suggests. It is one of the most popular cryptocurrency podcasts that deals with the societal impacts of Bitcoin. Peter McCormack looks at the relevance of Bitcoin in today's economy and educates listeners on how Bitcoin can be used to solve some of the major problems facing our economy today.
This podcast is perfect for beginners, seasoned technologists, and crypto enthusiasts alike. Peter began the podcast as a beginner himself, which has led to a gradual evolution in the complexity of his episodes.
Early episodes cover the ins and outs of blockchain technology as well as the core issues Bitcoin seeks to solve. Whereas later episodes begin to dive into the potential impact of Bitcoin and more complex second-order effects.
The Bitcoin podcast features engaging conversations with both influential minds in the crypto industry as well as Bitcoin critics. This effort to provide a balanced perspective is a rare treat for listeners, who may otherwise hear only partisan opinions.
With over 450 episodes since its launch in 2017, What Bitcoin Did is considered one of the best crypto podcasts for beginners.
Stats
Episode length: 80-100 minutes
Release cadence: Three times per week
Reviews: 4.8/5 (2k reviews from Apple Podcasts)
Twitter followers: 40.8k
6. The Breakdown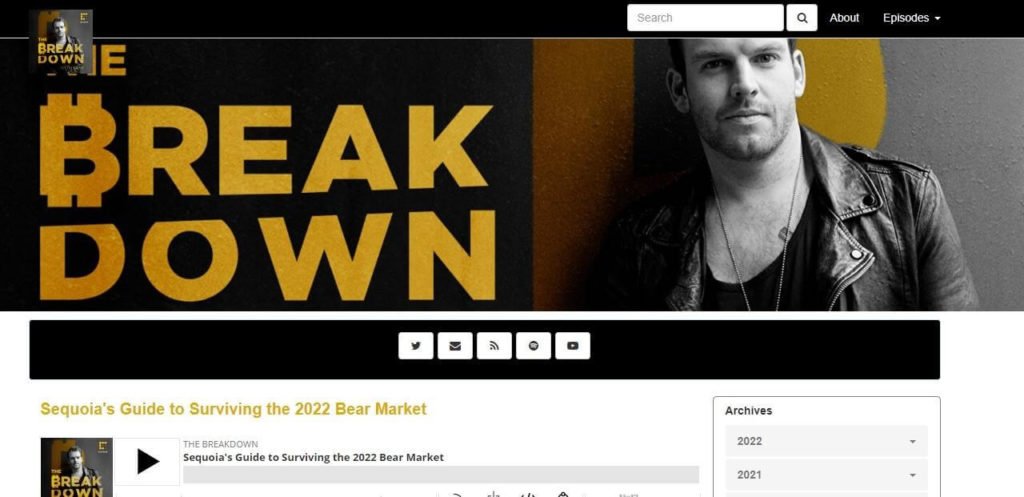 Host
Nathaniel Whittemore is an independent strategy and communications consultant for several leading crypto companies.
Content
The Breakdown, hosted by Nathaniel Whittemore, is your go-to daily podcast for real-time crypto news alerts. Each episode is only 10-20 minutes long, and Nathaniel covers cryptocurrencies, the financial system, and the impacts of geopolitics and macroeconomics.
Nathaniel invites prominent guests on his show to talk about concepts rarely covered by other crypto podcasts, like DeFi and stablecoins, regulatory oversight, and international adoption.
For this reason, The Break Down is one of the best crypto podcasts for long-term investors. Nathaniel helps listeners analyze their portfolios in the context of regulations, taxation, geopolitics, macroeconomics, and more.
Since the episodes are short, they cut out the fluff and offer a focused look at the most important topics in cryptocurrency news. Plus, they are more convenient to incorporate into your daily routine. Listen to the newest episode over coffee, during a workout, or even on your way to work.
Stats
Episode length: 10-20 minutes
Release cadence: Daily
Reviews: 4.9/5 (470 ratings on Apple Podcasts)
Twitter followers: 3.8k
7. The Money Movement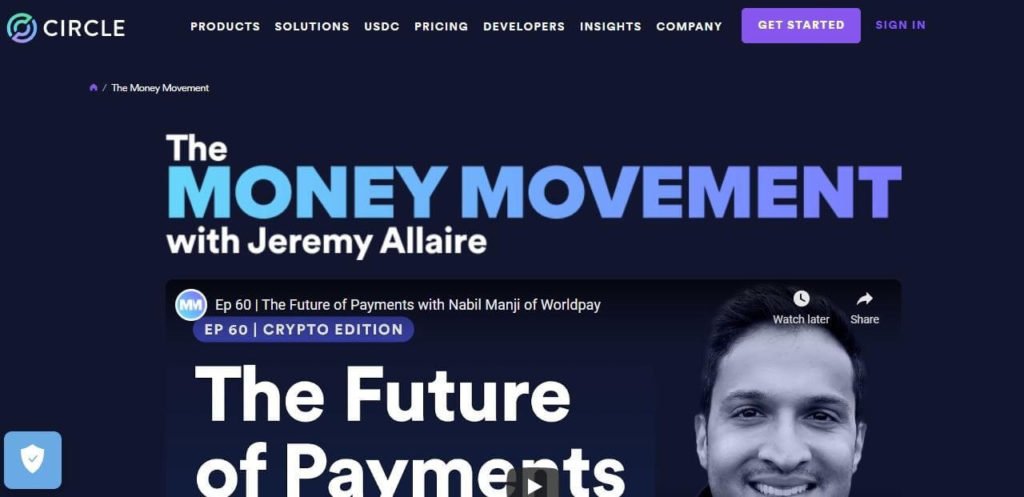 Host
Jeremy Allaire is the CEO and co-founder of Circle. Circle is the company behind USDC, the fourth-largest cryptocurrency and the second-largest stablecoin by market cap.
Content
The Money Movement is a video podcast series by Jeremy Allaire that chronicles the ideas and issues underlying the crypto space and digital currency. The cryptocurrency podcast features thought leaders and innovators in the world of Bitcoin, blockchain technology, and macroeconomics.
As the global economy faces unprecedented changes, The Money Movement discusses the inevitable takeover of blockchains and worldwide digital currency. This disruption creates opportunities for individuals and companies alike, and Jeremy seeks to explore these possibilities. In doing so, Jeremy helps listeners understand the fundamentals of the new age of digital money.
This crypto podcast is perfect for anyone looking to understand blockchain technology and its implications across different industries. Both investors and beginners will find the information Jeremy shares helpful and insightful.
If you're looking to deepen your understanding of cryptocurrency and blockchain, The Money Movement is worth a listen.
Stats
Episode length: 25-45 minutes
Release cadence: Once per week
Reviews: 5/5 (10 reviews on Apple Podcasts)
8. Stephan Livera Podcast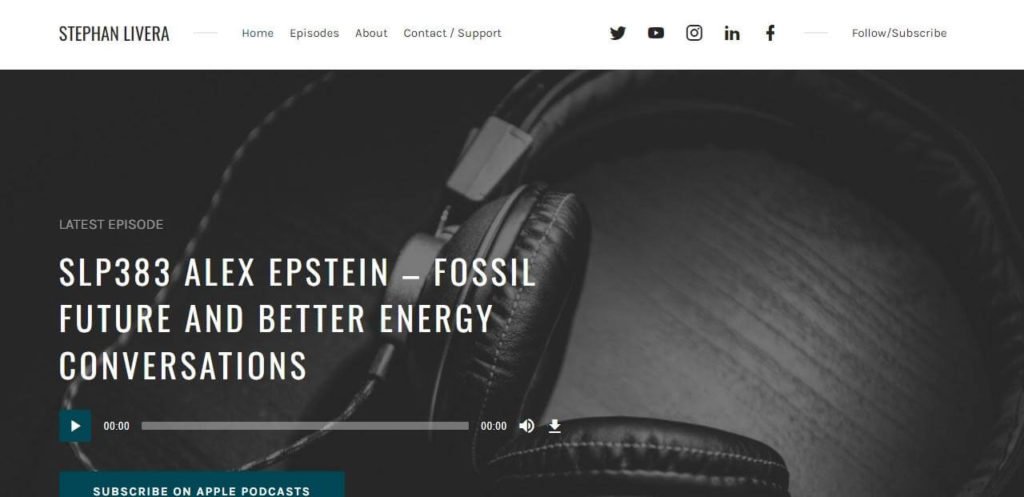 Host
Stephan Livera is the founder of the Ministry of Nodes and a partner at Bitcoiner Ventures. He currently works as a tech auditor in financial services.
Content
Livera's podcast is considered by many to be a vital source of trusted information on detailed Bitcoin topics, like mining, node operation, and trading. Livera gives listeners a solid base to build their understanding and educate themselves on Bitcoin and the technology behind it.
Livera also dives into related ideologies like Austrian economic theory, libertarianism, and macroeconomics. While these topics may sound daunting to a beginner, Livera is particularly skilled at taking complex ideas and technical jargon and communicating them in an easy-to-understand way.
If you're interested in the inner workings of Bitcoin and learning how to invest like Livera, give his podcast a listen. You will hear insights from industry leaders in Bitcoin, Ethereum, alt coins, token generation events in DeFi, the broader crypto market, and more.
Stats
Episode length: 40-80 minutes
Release cadence: Twice per week
Reviews: 4.9/5 (370 reviews on Apple Podcasts)
9. Crypto 101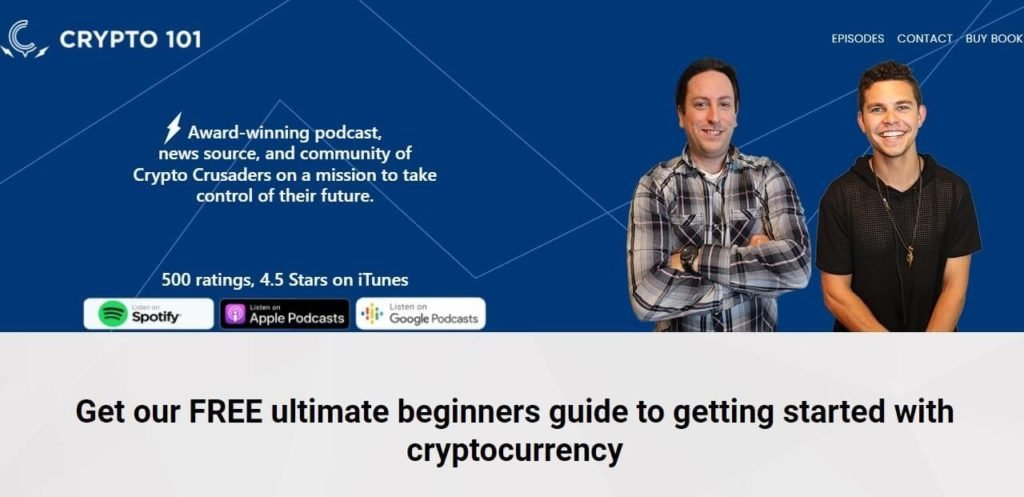 Host
Crypto 101 is co-hosted by Bryce Paul, a renowned pro in the crypto world, and Aaron Malone, a cryptocurrency advisor, data mining expert, and researcher.
Content
Crypto 101 is one of the best cryptocurrency podcasts for beginners looking to learn the basics of crypto and blockchain technology. The hosts cover everything crypto from how Bitcoin works to deep discussions on token generation events, market trends, and other crypto opportunities.
As the name suggests, the podcast covers cryptocurrency for beginners. Crypto 101 is a guide that helps to build crypto knowledge, teach about the blockchain economy, and get new enthusiasts up to speed.
Crypto 101 is an award-winning podcast that has been hailed for its ability to break down complicated blockchain concepts into easy-to-understand clips. Launched in 2017, the show now has an impressive catalog of more than 400 episodes. If you are entirely new to the world of cryptocurrency, there is no better place to start your journey.
Stats
Episode length: 30-50 minutes
Release cadence: Twice per week
Reviews: 4.3/5 (700 reviews on Apple Podcasts)
Twitter followers: 8.7k
10. Token Metrics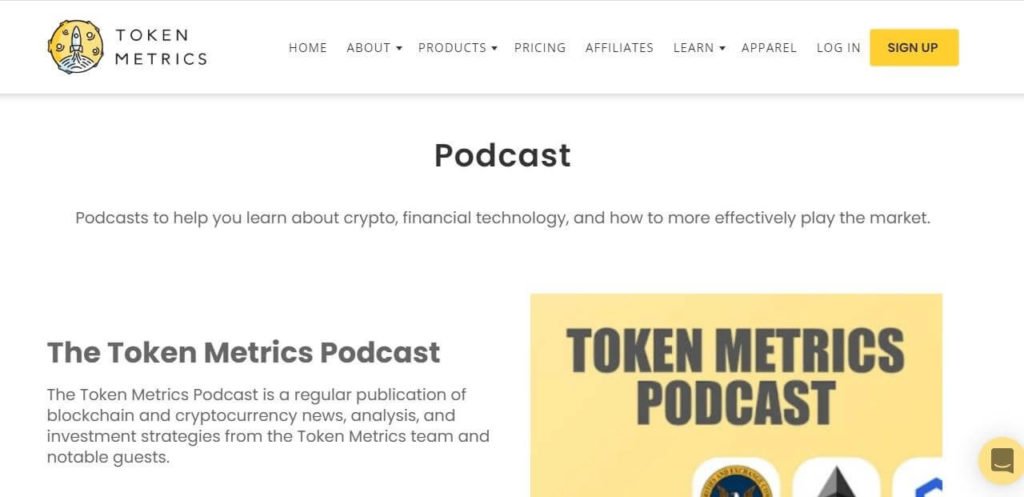 Host
The Token Metrics podcast is published by Token Metrics, a crypto platform that helps users leverage machine learning to become better crypto investors.
Content
The Token Metrics podcast covers blockchain and cryptocurrency news, market analysis, and investment strategies. The podcast features the Token Metrics team as well as notable guests, and provides in-depth analysis of various cryptocurrencies. The goal of the podcast is to help eliminate the emotions of investing and find profitable investment opportunities.
Both intermediate and advanced crypto investors can listen in to learn how to maximize market opportunities. The podcast gives insight into topics like digital assets, blockchain, FinTech, and their impact on today's world.
Since this podcast is geared toward active trading and investing, it might not be the best option for crypto beginners. But after learning the ropes, more experienced traders looking for expert advice and new ideas will love the unique angle or the Token Metrics podcast.
Stats
Episode length: 40-90 minutes, depending on the topic
Release cadence: Every weekday
Reviews: 4/5 (90 reviews on Apple Podcasts)
Twitter followers: 41.2k
Final Thoughts
The crypto space is constantly evolving, which is why listening to cryptocurrency podcasts is so helpful. With just a few minutes per day, you can learn about the latest news from the perspective of full-time crypto enthusiasts and thought leaders.
To stay ahead of the curve in one of the most exciting new industries of our time, find the best crypto podcast for your interests. Then incorporate it into your weekly schedule, and try to capitalize on the insights from some of the sharpest minds in the crypto world.
Crypto Podcast FAQs
What can I learn from crypto podcasts?
Crypto podcasts are your go-to source for the latest news in the world of Bitcoin, blockchain, and decentralized money.
Some podcasters cater to cryptocurrency for beginners, covering a range of topics like Bitcoin, Ethereum, and general cryptocurrency news. Others may dive more deeply into geopolitics and big-picture power shifts.
No matter your starting point, picking up a crypto podcast will help you demystify the world of crypto and keep up with crypto-related news.
What is the best crypto podcast for beginners?
Crypto 101 is among the top crypto podcasts for beginners looking to understand the basics of blockchain technology. Hosts Bryce and Aaron break down how bitcoin works, how to use the blockchain, and what drives market trends. This wide range of crypto topics is covered using easy-to-understand language that allows beginners to grasp complex concepts.
Who is Crypto Casey?
Casey Leigh Henry, also known as Crypto Casey, is a blockchain technology expert, serial entrepreneur, software architect, and cryptocurrency educator. She was an early adopter of Bitcoin back in 2011 and has been following the development of digital currency and crypto assets over the years. Crypto Casey now creates educational content on YouTube to help beginners learn about crypto.
What is FUD?
FUD is an acronym used among Bitcoin and cryptocurrency investors. FUD stands for Fear, Uncertainty, and Doubt. FUD is a strategy used to influence the crypto market by spreading negative or misleading information.
What does HODL mean?
HODL stands for "hold on for dear life" and is commonly used as a rallying cry among crypto investors. The term is derived from the misspelling of the word "hold," referring to the traditional buy-and-hold investment strategy. HODL originated from Reddit back in 2013 and is now widely used to encourage holding Bitcoin and other crypto-assets through the ups and downs of the market.
Why should I learn about cryptocurrency?
Although it is still relatively new compared to fiat money, cryptocurrency has now been around for more than a decade. Crypto markets have survived numerous crypto winters, and continue to attract new investment
Many corporations have begun accepting payments through cryptocurrency, and some even hold crypto on their balance sheets. At this point, learning about cryptocurrency appears to be worthwhile both financially and technologically. So find the best crypto podcast for your individual interests and start investing in yourself today!