If you want to learn more about business, it can be difficult to know where to turn. Almost everyone has an opinion, but who has the firsthand experience to really help you grow?
The answer is business podcasts. Thankfully, podcasts have become a popular way to share information, insights, and advice on a variety of topics, and business is no different.
The best business podcasts give you direct access to some of the brightest minds and most experienced entrepreneurs, so you can learn from their successes (and failures). This article rounds up 20 of the top business podcasts and summarizes what each has to offer.
1. Entrepreneurs On Fire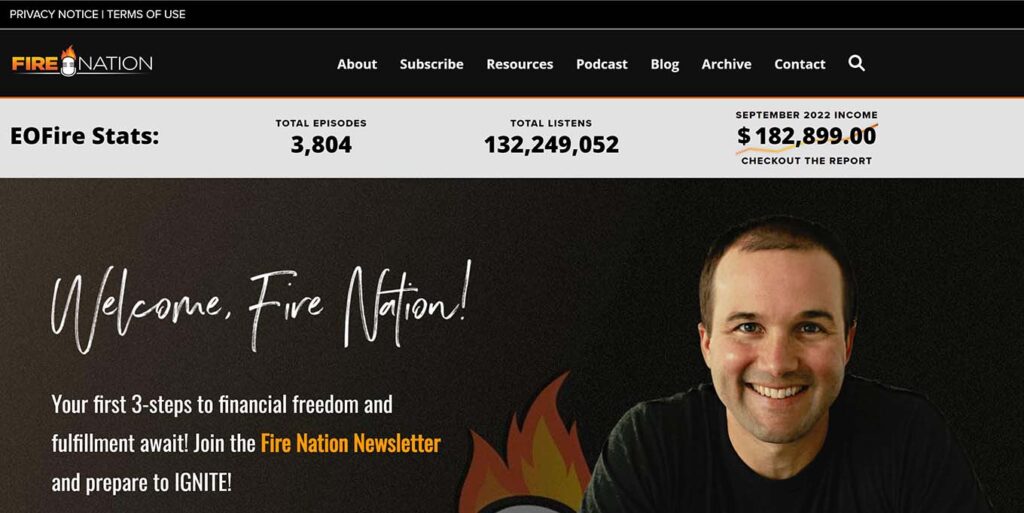 Best for small business owners
Host: John Lee Dumas
Reviews: 4.7 stars, based on 151 Spotify reviews
Entrepreneurs on Fire features success stories from thousands of household names like Tony Robbins, Seth Godin, Pat Flynn, Tim Ferriss, and Gary Vaynerchuk. Dumas touches on a wide variety of business topics, from mindset and productivity to sales and marketing in his ~30-minute daily shows.
With a catalog of more than 3,800 episodes to choose from, there's a lot of content to learn from. It's no surprise that Entrepreneurs On Fire was awarded 'Best of iTunes' in 2014.
2. How I Built This
Best for startup founders
Host: Guy Raz
Reviews: 4.9 stars, based on 2,400 Spotify reviews
How I Built This is one of the best business podcasts because it tells the stories of some of the world's most successful entrepreneurs. Guy Raz interviews founders like Mark Cuban, Sara Blakely, and Tony Hsieh to discover how they turned their businesses into global brands.
Raz dives deep into each founder's backstory, uncovering the challenges and failures they faced along the way. How I Built This by NPR is an inspiring listen for startup founders and anyone who dreams of starting a business.
3. My First Million
Best for new business ideas
Hosts: Sam Parr and Shaan Puri
Reviews: 4.9 stars, based on 1,800 Spotify reviews
My First Million uncovers opportunities hidden in plain sight. Sam and Shaan discuss trends, business models, and new ideas that are waiting to be tapped. With guests like Palmer Luckey, Rob Dyrdek, and Neil Patel, the podcast highlights the many ways that entrepreneurs have made their first million.
The hosts deconstruct how businesses are making money, offer their takes on current events, and provide actionable tips for listeners. My First Million is a fun, educational listen for anyone who needs a business idea.
4. The Mind Your Business Podcast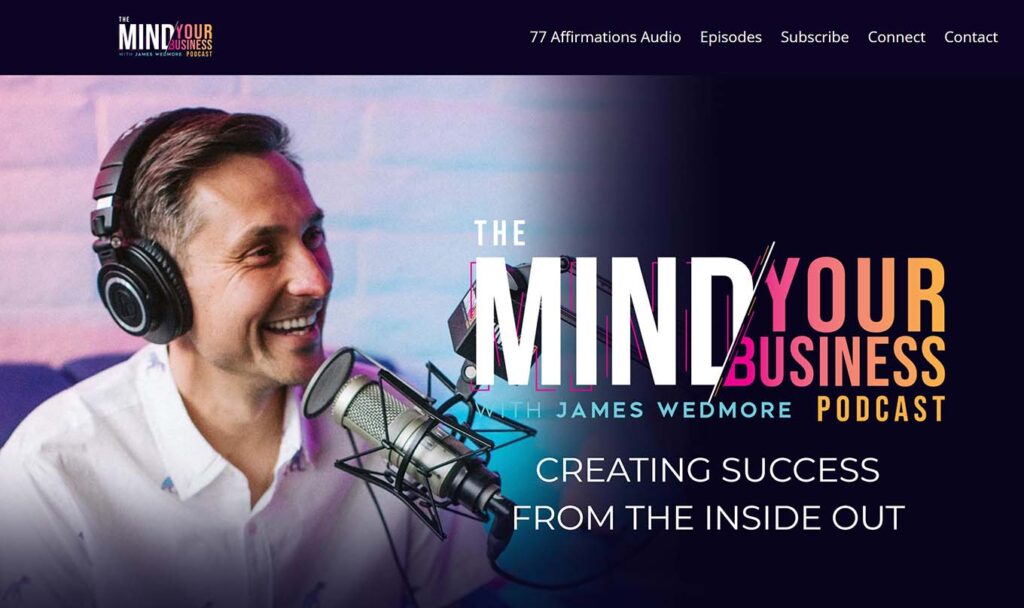 Best for mindset
Host: James Wedmore
Reviews: 5.0 stars, based on 93 Spotify reviews
The Mind Your Business Podcast is an excellent listen for anyone looking to level up their career. In each episode, host James Wedmore explores how mindset and attitude affect success. He challenges the hustle and hard work crowd, urging listeners to reframe their mental approach to business.
Wedmore's weekly episodes average about an hour and are packed with tips on manifestation, goal setting, and self-belief. If you want to change the way you think about business, this is the podcast for you.
5. The Game
Best for sales and marketing
Host: Alex Hormozi
Reviews: 5.0 stars, based on 4,300 Spotify reviews
The Game is one of the most underrated business podcasts on the charts.
Host Alex Hormozi gives "Mozi-nation" a behind-the-scenes look at how he and his wife Leila scaled Gym Launch from zero to $50 million in annual sales in less than two years.
Hormozi is intentional about providing actionable advice on sales and marketing, mindset, and business growth. I listen to it every day to think bigger, more strategically, and break down mental barriers about what is possible.
6. The $100MBA Show
Best for practical business tips
Host: Omar Zenhom
Reviews: 4.8 stars, based on 40 Spotify reviews
The $100MBA is an award-winning podcast that is available in easily digestible 15-minute episodes. The daily show is perfect for busy entrepreneurs who want to learn new business skills but don't have time for any fluff. Episodes cover topics like how to launch a business or product, invest in personal growth, or build an email list.
The $100MBA Show is especially actionable and provides listeners with real-world examples of the concepts being discussed. It's a quick way to get tactical advice from business leaders who have been in your shoes.
7. The BizChix Podcast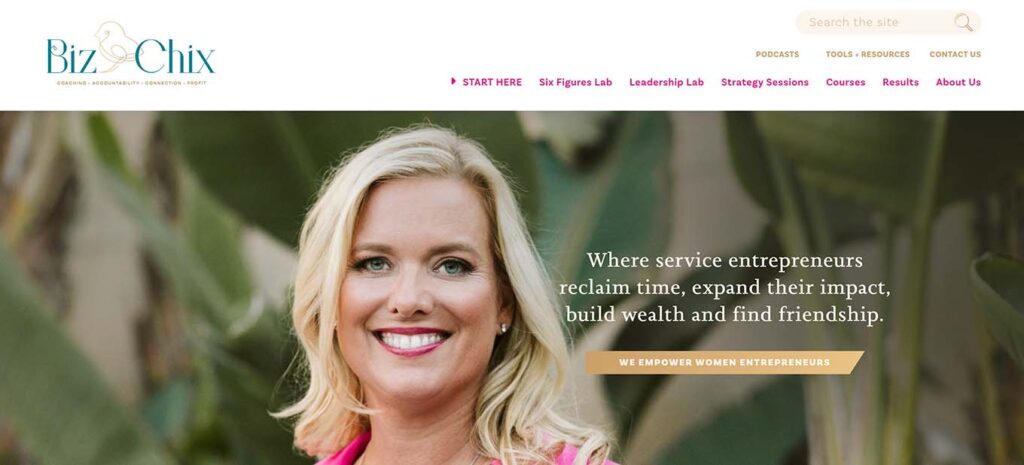 Best for women
Host: Natalie Eckdahl
Reviews: 5.0 stars, based on 14 Spotify reviews
Natalie Eckdahl, executive coach for high-performing women, created The BizChix Podcast to help propel female entrepreneurs. The show addresses the unique challenges that women face in business with on-air coaching calls and expert interviews.
Natalie is particularly talented at teaching women how to master their mindsets, maximize efficiency, surround themselves with talent, and scale their operations. If you're a woman who runs or wants to launch a business, this podcast is a must-listen.
8. World Business Report
Best for a global perspective
Host: British Broadcasting Corporation (BBC)
Reviews: 4.7 stars, based on 307 Spotify reviews
The World Business Report is a podcast from the BBC that covers the latest business and finance news across the globe. Episodes are released twice daily, ranging from 25 to 30 minutes, and cover markets, geopolitics, and more.
The World Business Report is a simple way to stay up-to-date on the biggest stories in business, as well as get a sense of how they might affect your own company.
9. All-In
Best for tech news
Hosts: Chamath Palihapitiya, Jason Calacanis, David Sacks, David Friedberg
Reviews: 4.9 stars, based on 8,700 Spotify reviews
The All-In podcast is hosted by four industry veterans. The "besties" cover all things economic, social, political, poker, and tech. Never afraid to speak their minds, the hosts debate every hot-button issue in the news. Their pragmatic takes and balanced viewpoints make for a refreshing listen.
This weekly podcast drops every Saturday morning. It's perfect for tech entrepreneurs and aspiring business owners who want direct access to some of the most influential minds in Silicon Valley.
10. The Tim Ferriss Show

Best for lifestyle design
Host: Tim Ferriss
Reviews: 4.9 stars, based on 4,500 Spotify reviews
Tim Ferriss is a well-renowned entrepreneur who is best known for his New York Times Best Seller The 4-Hour Workweek. Ferriss uses his unique perspective to dissect guests' success stories and extract insights into the tricks, tactics, and tools his listeners can mimic to grow their businesses.
Ferriss has interviewed prominent business leaders and celebrities, including Lebron James, Peter Thiel, Malcolm Gladwell, and Ray Dalio. The show has been named one of the best business podcasts on the Apple charts for three years running.
11. Startup Stories
Best for inside looks
Host: Andrew Warner
Reviews: 4.6 stars, based on 33 Spotify reviews
Startup Stories gives listeners an inside look at how the world's top businesses came to be. Andrew Warner, founder of Mixergy, interviews entrepreneurs about their businesses, from the early days to the present.
Warner's unique interviewing style allows listeners to learn from the product, marketing, and strategic decisions that led each business to the next level. The show covers a wide range of topics, from fundraising to product development. So if you're looking for perspective on life inside startups and tech behemoths, this is the business podcast for you.
12. The Tony Robbins Podcast
Best for personal growth
Host: Tony Robbins
Reviews: 4.8 stars, based on 439 Spotify reviews
bestselling author Tony Robbins is a renowned motivational speaker who creates a handful of powerful podcast episodes per year. Robbins has interviewed notable business experts, including Ray Dalio, Jeffrey Gundlach, and Shazam co-founder Chris Barton.
Robbins shares strategies and tactics that transcend business to help people live extraordinary lives. He seeks to improve his listeners' relationships, finances, and well-being. If you want to experience Tony Robbins' world-renowned teachings but can't make it to one of his seminars, this business podcast is the next best thing.
13. The Goal Digger Podcast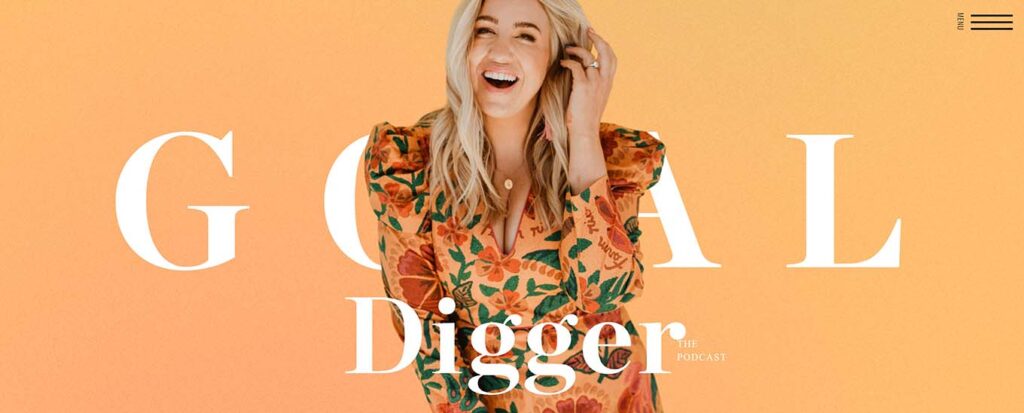 Best for crushing goals
Host: Jenna Kutcher
Reviews: 4.8 stars, based on 245 Spotify reviews
The Goal Digger Podcast is one of the best business podcasts for social media tips, digital marketing strategy, and productivity hacks. Host Jenna Kutcher offers valuable business advice intended to ignite your entrepreneurial fire.
Despite Kutcher's deep expertise in the business world, the show is relatable, funny, and authentic. You'll appreciate her Midwestern charm as she interviews guests on a wide range of topics, including goal setting, time management, and self-care.
14. The School Of Greatness
Best for self-reflection
Host: Lewis Howes
Reviews: 4.9 stars, based on 3,300 Spotify reviews
The School of Greatness explores what it takes to achieve success in all areas of life. Lewis Howes, a New York Times best-selling author, All-American athlete, and entrepreneur, interviews leaders in business, sports, science, health, and entertainment.
Howes shares inspiring stories and looks for patterns among the world's most successful people to help listeners spark their inner greatness. Episodes average about an hour and come out three times per week.
15. HBR IdeaCast
Best from the Ivy League
Host: Harvard Business Review
Reviews: 4.7 stars, based on 420 Spotify reviews
HBR IdeaCast features interviews with some of the world's top business thinkers, offering insights into what it takes to succeed in today's competitive landscape. Each episode focuses on a different topic, making it a wonderful resource for broadening your business knowledge.
The hosts, Harvard Business Review editors, do a great job of keeping the bi-weekly conversations engaging and informative. With guests like reporter Kara Swisher, Satya Nadella of Microsoft, and former U.S. President Bill Clinton, this podcast is perfect for anyone looking to gain an edge in business and management.
16. The GaryVee Audio Experience

Best for motivation
Host: Gary Vaynerchuk
Reviews: 4.8 stars, based on 2,600 Spotify reviews
Gary Vee has become a household name as an online marketing guru, social media pioneer, and serial entrepreneur. The GaryVee Audio Experience is a collection of his best keynote speeches, panel discussions, and interviews from events around the world.
If you're looking for a motivational boost, this is the best business podcast for you. Vaynerchuk's high-energy delivery and no-BS attitude will leave you feeling inspired to level up your game.
17. WorkLife
Best for work-life balance
Host: Adam Grant
Reviews: 4.9 stars, based on 931 Spotify reviews
Everyone experiences burnout at some point in their career. Organizational psychologist Adam Grant tackles this universal issue in his popular business podcast WorkLife. Grant interviews leaders across a variety of industries to understand how they establish a sustainable work-life balance.
This weekly podcast looks for ways to improve your productivity, reduce stress, take criticism positively, and handle frustrations. If you're struggling to find harmony between your personal and professional life, this show is worth a listen.
18. The Rachel Hollis Podcast
Best for finding joy and purpose
Host: Rachel Hollis
Reviews: 4.4 stars, based on 624 Spotify reviews
The Rachel Hollis Podcast is a feel-good show that aims to leave you inspired, motivated, and ready to take on the world. Hollis, a best-selling author and lifestyle expert, shares her insights on business, motherhood, relationships, and personal growth.
The show features a mix of solo episodes and interviews with guests ranging from actresses to athletes. No matter what you're going through, you're sure to find comfort and encouragement in Hollis' relatable stories and sage advice.
19. Business Wars

Best for history
Host: David Brown
Reviews: 4.8 stars, based on 1,600 Spotify reviews
Business Wars takes a close look at some of the biggest corporate rivalries in history. The podcast examines the strategies, tactics, and real-world impact of these business battles. Brown, the former anchor of Marketplace, looks at what motivates competing executives and how the "wars" shape consumer buying habits. New episodes drop every Wednesday.
20. Think Like An Owner
Best for acquisition entrepreneurship
Host: Alex Bridgeman
Reviews: 5.0 stars, based on 37 Spotify reviews
Think Like An Owner is one of the best business podcasts for small business owners and entrepreneurs. Alex Bridgeman interviews business leaders to understand how they've built successful companies from the ground up.
You'll hear actionable advice on topics like marketing, sales, hiring, and product development. But this show is more than just tactics and strategy. Bridgeman also dives into the mindset and principles that guide successful business owners. Whether you're just starting out or you've been in business for years, this podcast will give you the insights and inspiration you need to take your company to the next level.
Final thoughts
There you have it — the 20 best business podcasts to learn tactics, strategy, and mindset. Whether you want exposure to the best minds in tech, online marketing tips, or a new SAAS idea, there's a podcast for you.
So, what are you waiting for? It's time to sit back, hit play, and soak in some of the best business advice out there. Trust us, your future self will thank you.
Business podcast FAQs
Why are podcasts good for entrepreneurs?
Podcasts are a great way for entrepreneurs to consume actionable content while on the go. You can listen to business discussions while you're driving, working out, or doing chores around the house. The right lessons can help you avoid common mistakes, identify the right opportunities, and reach success faster.
How do I pick a good business podcast?
The best business podcasts offer insights, strategies, and tactics from top business experts who have conquered their respective fields. Look for podcasts that feature entrepreneurs, CEOs, and other business leaders sharing their experiences and advice.
What are the top 10 business podcasts right now?
The 10 best business podcasts available right now are:
– The Game
– The $100 MBA Show
– My First Million
– The BizChix Podcast
– How I Built This
– All In
– Entrepreneurs On Fire
– The Tim Ferriss Show
– The School of Greatness
– The GaryVee Audio Experience