Whenever a new market sprouts, you can count on entrepreneurs to find creative and unexpected ways to profit from it. Thanks to the explosive growth of retail e-commerce over the last decade, one of the most unique ways some people are making money is through pallet flipping.
Pallet flipping is the act of buying entire pallets filled with unused or returned items and selling the individual products for a profit.
Pallet flipping is a popular side hustle that is flexible, straightforward, profitable, and recession-proof. With relatively little capital and some spare time, anyone can take part in this opportunity. This article covers everything you need to know about pallet flipping and how to start your own pallet flipping business.
What Is A Pallet?
A pallet is a flat transportation structure, usually made of wood, upon which commercial goods of all shapes and sizes are stored. The shape of the pallet makes it easy to transport in trucks and shipping containers, and store large amounts of stacked items.
The pallet is undoubtedly the most recognizable base for a shipping load. Since pallets were invented back in 1925, they have become an integral part of commerce around the world.
What Is Pallet Flipping?
Goods arrive at major retailers on wooden pallets and then make their way to store shelves for sale at retail price. However, products that don't sell quickly enough often find their way back onto pallets for longer-term storage or disposal.
Many retailers offload their overstock items, customer returns, and out-of-season goods on liquidation pallets. These pallets, sometimes containing thousands of pounds of items, can be purchased wholesale at liquidation sites. That means you can buy the entire collection of goods for a fraction of their cumulative selling price. This margin is what allows arbitrageurs to make money pallet flipping.
However, it's important to realize that purchasing pallets is not a risk-free side hustle. To turn a profit you must learn how to locate high-quality pallets through proper research, re-sell items quickly to recoup cash, and create systems around time-consuming tasks.
To master these skills, start by purchasing one pallet from one of your local warehouses. Through trial and error, you will hone your craft and start to make money pallet flipping.
Where To Buy A Pallet
Before you can start selling, you first need to know where to get your hands on the pallets. Even though retailers want to liquidate their slow-moving inventory, you generally can't walk up to a store's loading dock and strike a deal. instead, begin your pallet search in one of these locations:
Liquidation Warehouses
This is the first place any aspiring pallet flipper should check. Liquidation warehouses have contracts with retailers and manufacturers to move large amounts of overstock. These businesses get items ready for quick sale and often sell by the pallet.
Nowadays, most liquidation warehouses sell pallets online, but if there's a warehouse in your local area, you can stop by to take a look at the inventory. Liquidations warehouses sometimes hold bids on pallets, but it's worth checking if you can buy them for a set price.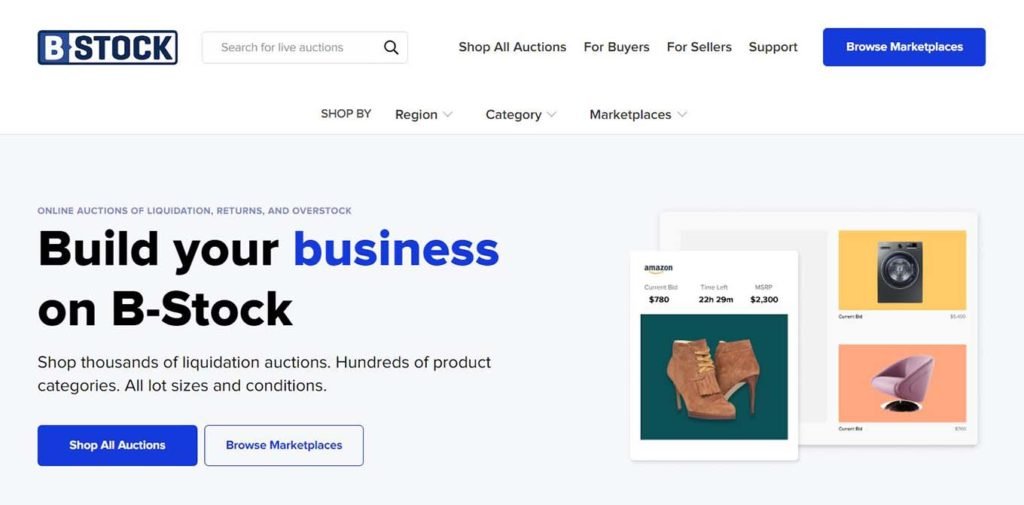 Liquidation Websites
If you can't find any liquidation pallets near you or you don't want to shop for pallets in person, this is your next best bet. Liquidation sites like bstock.com and liquidation.com are well known and respected for dealing in quality pallets.
These websites run on an auction model, so you may have to find yourself in a bidding war to get a desirable pallet. But don't forget to factor in the shipping costs when analyzing opportunities.
The best thing about liquidation websites is that you can get access to great pallets that may not be available locally like Amazon returns pallets. But before you purchase a liquidation pallet, conduct thorough research on the website and the included contents. Look closely at the photo and list out as many items as you can spot. Using these clues, you will have to take an educated guess as to the value of the pallet as a whole.
Online Auction Sites
You can also make money flipping pallets from online auction sites such as eBay. However, these auction sites can be risky since they include pallets from websites that do stock clearance. This means you could receive pallets with damaged or unusable items. As always, carefully research the sellers and try to determine where they source pallets.
Facebook Marketplace
When it comes to flipping pallets, Facebook Marketplace is the Wild West. Because you are buying from another individual, rather than an established business, reputation and trust can be more difficult to verify. The person selling the pallet may have bought it from a liquidation website and already retrieved the valuable items, or they could be aggregating all of their non-sellable items.
For these reasons, try to find pallets elsewhere before you start pallet flipping on Facebook Marketplace. This will give you extra experience in determining high-value versus low-value pallets. And if you do find an opportunity to purchase pallets on Facebook Marketplace try to meet the seller in person first to get as much information as possible about the pallet.
How To Make Money Flipping Pallets
If executed properly, pallet flipping can be a highly profitable endeavor. But as with all businesses, profit does not come without hard work. Before you start scooping up every pallet you see, follow this simple 6 step process:
Conduct Thorough Research
Flipping pallets requires making decisions based on imperfect information. For this reason, you must ensure that the dealer you are buying from is reputable. Whether you are purchasing in person at a warehouse or from an online liquidation site, look up reviews from previous customers. There are many great Subreddits and other forums with communities of pallet flippers who share their experiences in dealing with pallet liquidators.
Next, make sure that the pallet you are interested in has valuable and in-demand items. If you purchase in person, the warehouse may allow you to look at the pallet and ask the staff about the contents. If you purchase online, make sure the dealer has a description of everything that is for sale. Do not buy any "mystery" pallets, as these pallets expose you to a 100% risk of your investment.
Once you have gathered all of this information, estimate the total retail value of the items on the pallet. This can be a bit tricky and will take some guesswork since you typically can't see items on the pallet beyond the outside. Be sure to account for the fact that some items may be unusable or damaged, and that you may have to sell items at a discount to retail value.
Finally, conduct a cost-benefit analysis. Consider the time and effort it will require to inventory the pallet, sell, and ship each item. Then, determine if the bidding price on the pallet is worth the perceived value of all of the items.
Buy Wisely
Pallet flipping requires an eye for good deals, but it also requires a great sense of the market. Just because you're getting a "deal" doesn't mean it's necessarily the right opportunity for you.
For example, say you are about to win a bid for a pallet full of brand new cassette tape players (yes, they still make them). The pallet contains 40 boxes of cassette players, each one valued at $20, and the current bid is $500.
Sure, you may see the potential for $300 profit. But do you really believe you can sell 40 cassette players? You might know a couple of Gen Z kids who are into retro items or a few nostalgic folks. But in this case, it's unlikely that a $300 profit justifies the selling effort the haul would require. On the other hand, if the items were toasters or blenders, your potential customer base would be much larger.
As you can see, the key is to focus on items that are in demand and will sell quickly. Fast-moving products allow you to free up cash more quickly and reinvest your profits into more pallets. Keep this in mind as a pallet buyer.
Stay Organized
Once you've landed a pallet, break it down and inventory each item you bought. Create a spreadsheet of every product and take note of condition, estimated retail value, and projected selling price. These figures will allow you to determine how much money you make from each pallet. Over time, you can use these calculations and your sales numbers to guide pallet selection.
Aside from the financial data, also be sure to properly organize your physical products. As you begin flipping pallets in bulk, it will be increasingly important that items are stored securely and in an easily accessible location.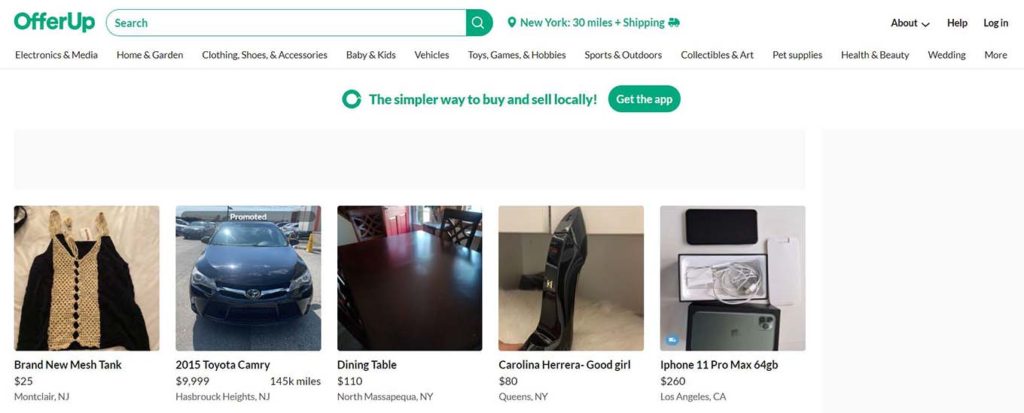 Know Your Selling Platforms
Although websites such as eBay, Craigslist, and Facebook Marketplace are not great for buying pallets, they are perfect for selling individual items! OfferUp is another up-and-coming platform that is perfect for C2C (consumer to consumer) sales.
After inventorying your pallet, take high-quality pictures of each product and post them on your chosen platform(s). In your listing, be sure to include all pertinent information about the item. This should include an item description, as well as condition, dimensions, weight, and any other information that may be useful to the buyer.
If you are selling on eBay, it is also important to set a competitive starting price. This will help ensure that your item is one of the first to appear in a potential buyer's search.
Lastly, maintain a credible profile on each platform. Upload a friendly picture of yourself so that potential buyers know you're real, and answer all customer questions in a timely manner.
Put In The Work
As you begin to sell your first pallet and contemplate buying another, pay attention to how you can scale your operation. Think about how many pallets you can manage yourself, and where you will need support first.
If you're a great buyer, consider taking on a team member to help with listing and shipping products. If you're an eBay marketing expert, perhaps your first hire should support you in sourcing pallets.
However your side hustle develops, understand that you will encounter a lot of trial and error. But don't be discouraged! Each hiccup is a learning opportunity on the path to financial freedom. Just start small, set up your shop, and implement changes and tests over time. Before you know it, you'll find your niche and your unique set of strengths.
Set Goals
Flipping pallets is a great way to make money, but it's no get-rich-quick scheme. Every dollar is earned and success won't come without clear goals.
What does success look like to you? Do you want to replace your income so that you can quit your day job? Do you want to make an extra $500 per month to help with bills?
Get specific with your goals and write them down. Then, break these goals into actionable steps that you can complete each week or month. Doing so will help you track your progress and ensure that you are making the most of your time.
Moreover, these goals will help to keep you motivated when the going gets tough. Because make no mistake – flipping pallets is not always easy. But it is possible to achieve your dreams, so long as you maintain a positive attitude and put in the hard work!
Where To Flip Your Products

eBay is the largest auction site on the planet. It can be a great place to flip your products, provided you're honest about their condition and shipping costs.
Facebook Marketplace is a great place to sell smaller items since there are no listing fees. You can also create a shop on Facebook to increase your visibility.
The platform is best suited for local buyers, but the marketplace does offer shipping services at affordable rates. Just like buyers, sellers need to be alert for scams, though. It's best to accept cash only.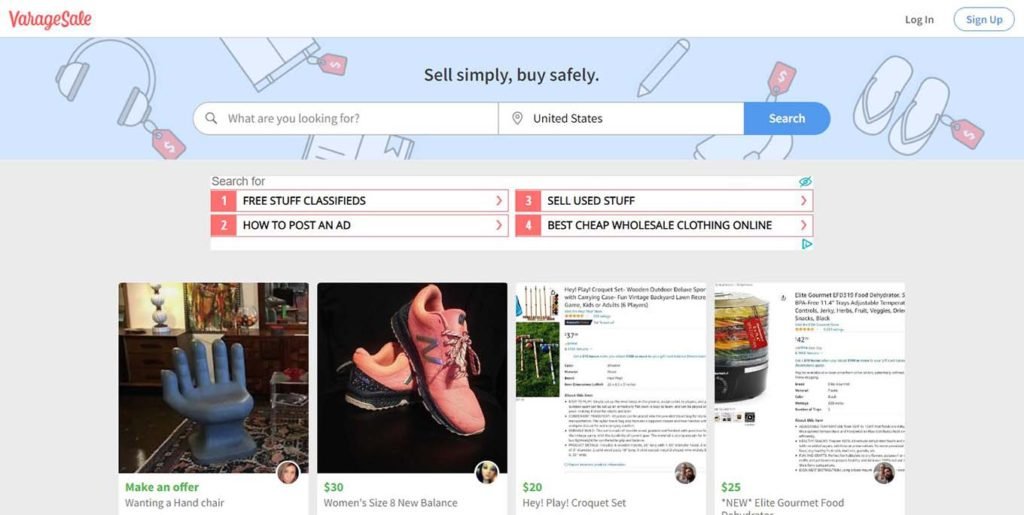 VarageSale and OfferUp are great local options for person-to-person selling. These platforms are perfect for those who want to get rid of larger items quickly, such as furniture or appliances. Plus, sellers have pictures and "About" sections which allow buyers to gauge trustworthiness.
Mercari is a Japanese e-commerce site with operations in the United States and is similar to eBay. The platform is most popular for clothing and other textile products.
Kijiji is a Canadian classifieds website similar to Craigslist but much sleeker and more modern. It's another great place to sell items locally if you're in Canada.
Craigslist is the ideal platform for selling hard-to-ship products like furniture and machinery. It has an easy-to-use layout that can help you sell your products quickly, especially if you price them well.
That said, because it's local only, you'll likely find the most success in bigger cities. Just be sure to meet in a public place and bring a friend for safety!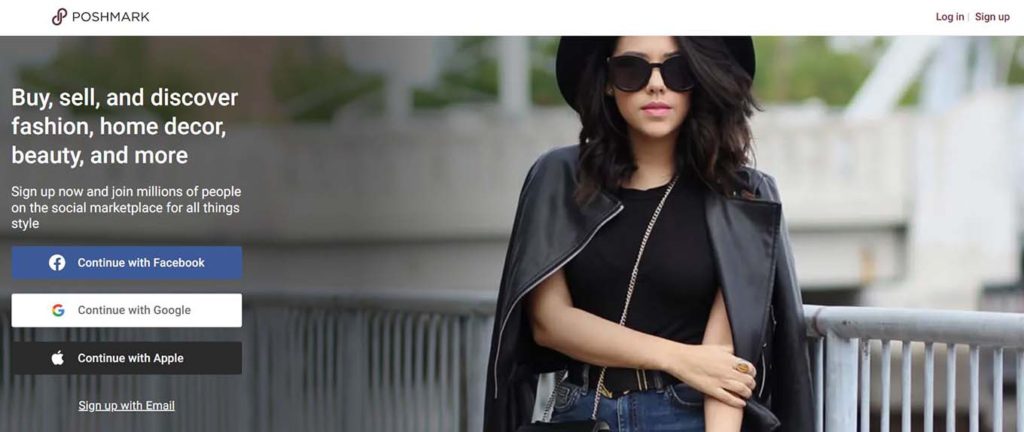 Mostly popular with second-hand fashion, home goods, and electronics, Poshmark is an ecommerce platform that operates also like a social media website. It is easily integratable with Instagram and other platforms. Poshmark operates in the United States, Canada and Austrialia.
Pallet Flipping FAQs
Is selling pallets a good business?
Yes! Flipping pallets can be a great business. Not only is it easy to get started, but you can also make a decent profit. Just be sure to set goals, do thorough product research, and focus on turning over your inventory quickly.
How do you profit from pallets?
There are a few ways to profit from pallets. The most common is to find free or low-cost pallets and sell them for a profit. You can also refurbish pallets and sell them for more than you paid. Finally, you buy pallets of retail goods from liquidators and flip the individual products using websites like eBay and Facebook Marketplace.
How do you flip a wooden pallet?
Flipping wooden pallets is easy! First, find a high-value pallet from a local liquidator and strike a deal. Then list the individual items at just below retail pricing on various selling platforms. Finally, reinvest your profits into purchasing more pallets and scaling up your operation.
How much is an Amazon return pallet?
Amazon return pallets typically sell for around $100. However, the price can vary depending on the condition of the pallet and the products included.