From startup costs and bank loans to finding manufacturers and hiring a team, there are many barriers to entry when starting your own business. For many people, these hurdles prevent them from turning their entrepreneurial dreams into reality.
But that doesn't need to be the case. Thanks to the explosion of e-commerce over the last decade, virtually anyone can start a business from the comfort of their own home with little money. With the right combination of product, sales channel, and marketing efforts, you can build a successful business capable of scaling to six, seven, or even eight figures!
There are many e-commerce business models including dropshipping, wholesaling, private labeling, and more. But the easiest and most beginner-friendly way to get started is by working with Amazon. To learn how to start an Amazon FBA business with little money, keep reading! We'll recommend the necessary tools and cover the entire 8-step process from start to finish.
What Is Amazon FBA?
Fulfillment by Amazon (FBA) is a service that allows Amazon sellers to outsource the storage and shipping of their products to Amazon itself. This means that Amazon will keep all of your products in their warehouses, pack and ship your products, and even handle the customer service and returns for those orders.
All in all, it's a pretty sweet deal. You can run an e-commerce business from the comfort of your home without ever having to see a pallet.
But what kind of products can you sell with Amazon FBA? And where do you even source these products? Plus, what is all of this going to cost to get started with an Amazon FBA business?
Stay tuned! We will answer all of these questions and more in our simple 8-step framework for how to start an Amazon FBA business with little money. Before you know it, you will have kickstarted your journey to making money online as a bona fide business owner!
Why Create an Amazon FBA Business?
Creating an Amazon FBA business is one of the quickest, easiest, and least costly ways for aspiring entrepreneurs to start their own businesses. The advantages of creating an Amazon FBA business over other e-commerce business models include:
Minimal startup costs (as little as $500)
Large built-in customer base
No advertising is required (though it can certainly help)
Simple to scale
No need to store or ship your own product
Returns and exchanges are handled by Amazon
Faster order delivery to customers
Easy to iterate and improve product listings
Helpful Tools for Selling on Amazon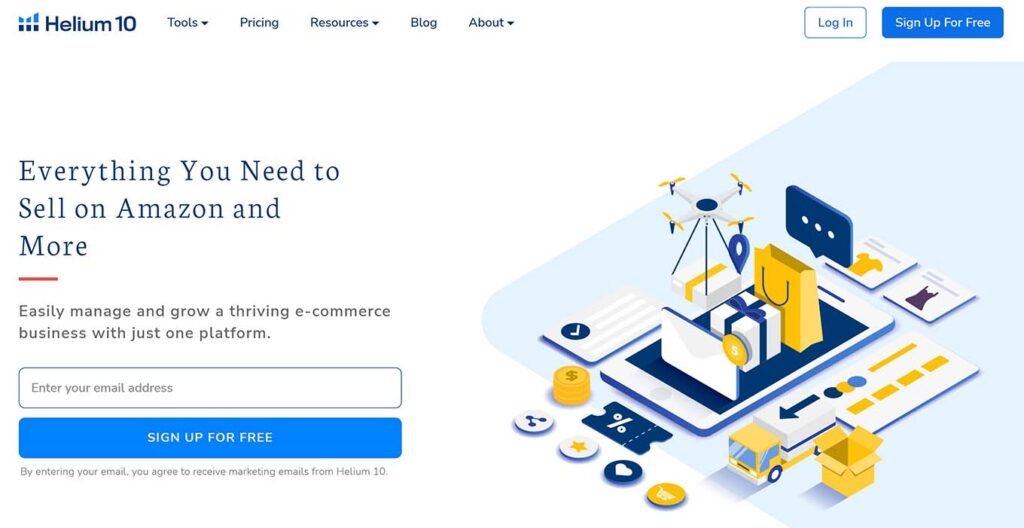 Helium 10 is a subscription-based Amazon seller tool that assists with product research, keyword research, and marketing strategy.
The comprehensive tool helps identify profitable products that already generate sales. With over 450 million unique listings in their product database, Amazon sellers can explore seasonal trends and estimated profit margins. These calculations take into account the sales price and Amazon costs like shipping and storage.
To get a sense of the sales potential of your new product, Helium 10 also offers a keyword tool that surfaces both backend keywords and low competition phrases. Before you spend money putting your business plan into action, ensure that there is enough interest in your product line to make it worthwhile!
Helium 10 is available for as little as $29 per month. The starter plan should be sufficient for those interested in learning how to sell on Amazon and testing the online business model. As you develop a more successful FBA business, you may have to upgrade to the Platinum or Diamond tiers at $84 and $209 per month, respectively.
Before committing to a professional account, Helium 10 also offers free tools available to test out the features. However, there are usage limitations that make the paid subscription worthwhile if you're serious about selling products on Amazon.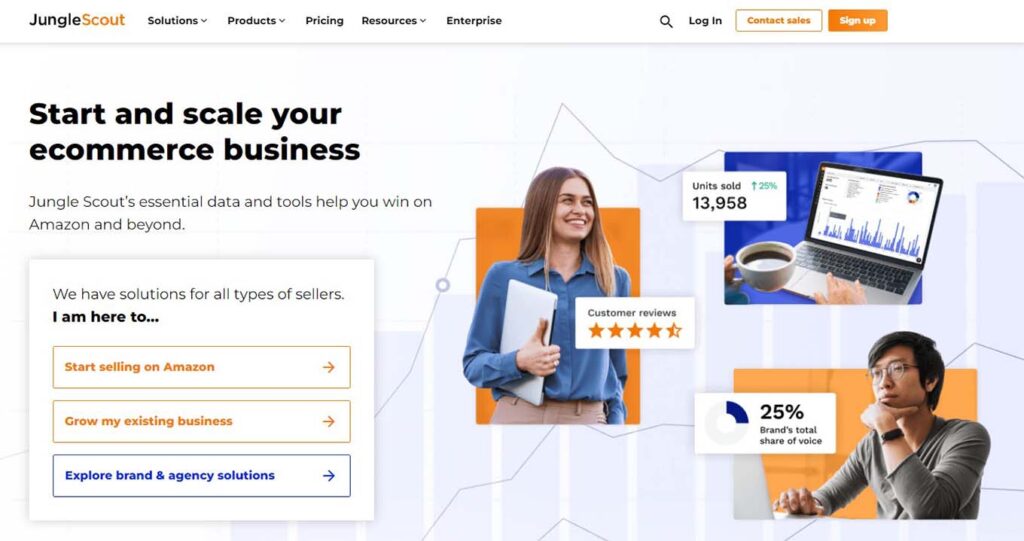 Jungle Scout is another powerful research tool that every Amazon FBA seller should consider. The software assists with product research by assigning an opportunity score to various search terms and keywords on Amazon. This rating is especially helpful for new sellers as it gauges the demand and competition for products related to your target phrase.
Jungle Scout also provides estimates of monthly sales and profit margins for every item that shows up for your search term. And the Opportunity Finder tool highlights the best-selling, lowest-competition listings in your selected markets. Before making a huge investment, Jungle Scout is an excellent way to identify profitable items and validate demand.
Like Helium 10, JungleScout starts at $29 per month with an annual plan. However, there is a seven-day free trial period where you can test features and cancel at any time. While this software is not necessary to start selling on Amazon, it will expedite the road to success by removing a massive amount of guesswork and research on your part.
If you don't want to pay for Jungle Scout, the next best way to guess your potential competitors' monthly sales is by looking at their products' Best Seller Rank or BSR.
The sellers rank shows you how well a product performs in its respective category. While a "good" BSR is highly subjective, with sales performance varying across different niches and markets, the closer to 1 the better. A common rule of thumb is that anything lower than 10,000 is considered acceptable.
How to Start an Amazon FBA Business With Little Money
1) Choose a Niche
Before starting your Amazon FBA business, you need to consider who, specifically, you're going to be selling to. Who is the target audience? What are their interests and passions? Is this market niche large enough for you to succeed but not so broad that you'll get lost in a sea of competition?
With these high-level questions in mind, you will want to look for a niche product category. Let's say, for example, that you want to break into the home goods market. Since "home goods" is such a broad descriptor for almost anything that you can put into your home, let's narrow it down a bit.
What is an in-demand category that people are passionate about? What niche has minimal competition but countless customers to sell products to? Perhaps you have an insight, an interest, or experience from previous online businesses.
And if not, how about plants? House plants are a common household item that people love. If you browse through social media apps such as TikTok and Instagram, you'll find massive communities of plant owners who show off their collections. This is particularly common among millennials and Gen Z'ers, who are notorious Amazon shoppers.
So, for the sake of this blog post, we've found a niche: house plants.
2) Find Product Ideas
The next step as a prospective Amazon FBA seller is to find a killer product that will sell well to your target audience. To help refine your search, look for something with a product price between $10 and $50.
Your product should sell for more than $10 because Amazon's fees, including shipping and storage costs, can eat into your margins. However, you also want a competitive product price that is available to the mass market. Many Amazon purchases are impulse buys, which is good news for you as an Amazon seller. By keeping your product under $50, it'll be easier to generate more sales and cash in on impulse purchases.
As a new Amazon FBA business owner, you'll also want to consider the staying power of your product. Is the seasonal? Is it trendy right now? How well will it sell on Amazon one year from now?
Oftentimes, current sales are not indicative of future potential. To build a lasting Amazon business, think about the fickle attention span of the internet. As seasons and preferences change, make sure you have a product that will stick around for the long haul. Once your Amazon business is successful, you can certainly scale it up to include seasonal and trendy products, but for now, you should pick an item that is timeless and always in demand.
With that, let's revisit the example of targeting plant owners. Plant owners love using decorative and cute planters that give their plants personality and flair and contribute to the overall aesthetic of their homes.
If you search "cute planters" on Amazon, you'll see that most of the products fit perfectly into the $10 to $50 range. And because there are countless "cute" planter designs available on the internet, you might be able to find one that's not yet available on Amazon and make that your flagship product.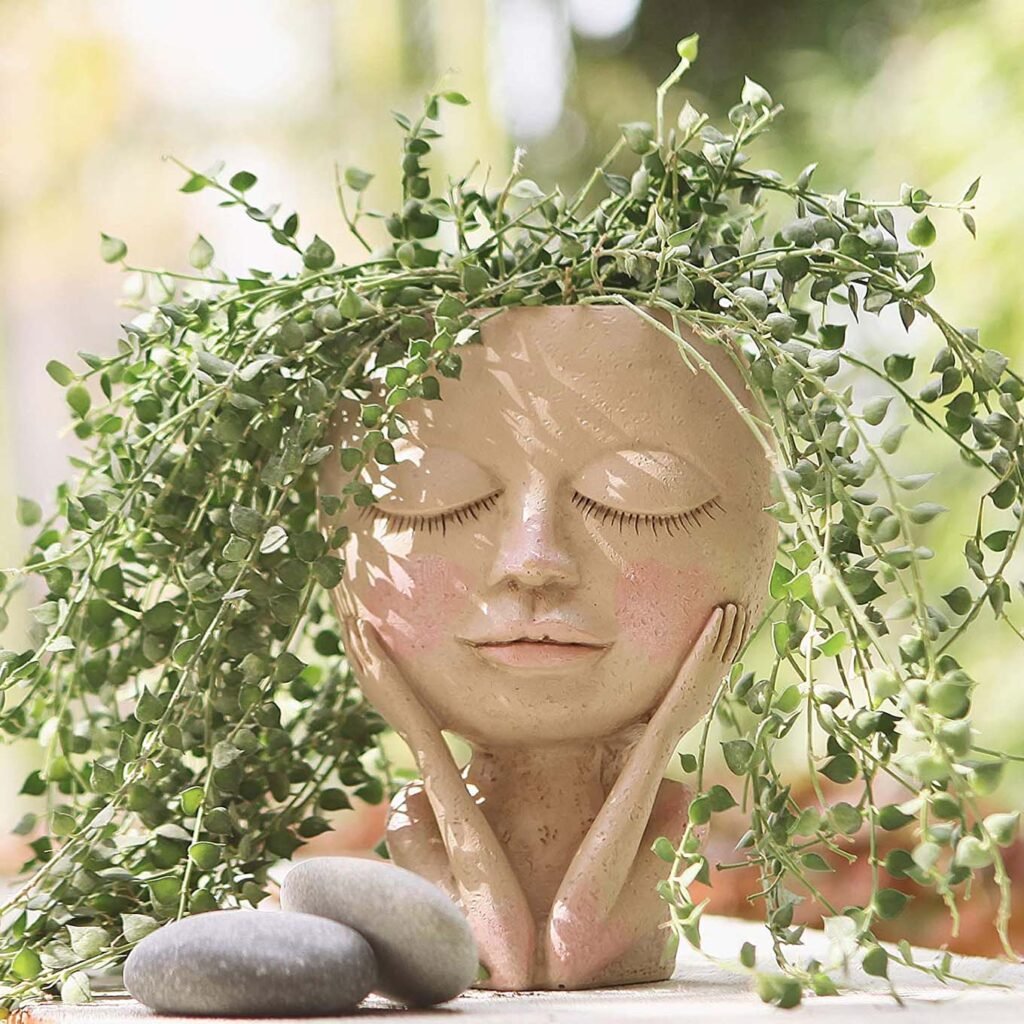 As an example, this planter currently has a BSR of 1,114 in the general "Patio, Lawn & Garden" category and a BSR of 9 in the "Planters" category. If you plug the BSR of 1,114 into Jungle Scout's free Amazon Sales Estimator and select the appropriate category, you will see that this one product averages an incredible 3,000 sales, or $50,000 in revenue, per month!
3) Source Your Products
Now that you have selected a niche and a product idea, you must source the product while maintaining an acceptable profit margin. The best place to start as an Amazon FBA seller is Alibaba.com, the most-popular Chinese wholesale marketplace.
While Chinese products sometimes get a bad rap, almost every non-consumable item you've ever purchased on Amazon was made in China and purchased wholesale by the shop you bought it from. This is because there are plenty of high-quality products available on Alibaba if you know where to look. The trick is to find a reputable supplier that you can build a long-term relationship with, as this will result in the best possible products and prices.
To get started on Alibaba, create an account and then contact the supplier directly to negotiate initial terms. Remember that planter we saw selling for $16.99 on Amazon? Here it is on Alibaba, selling for just a couple of dollars in bulk.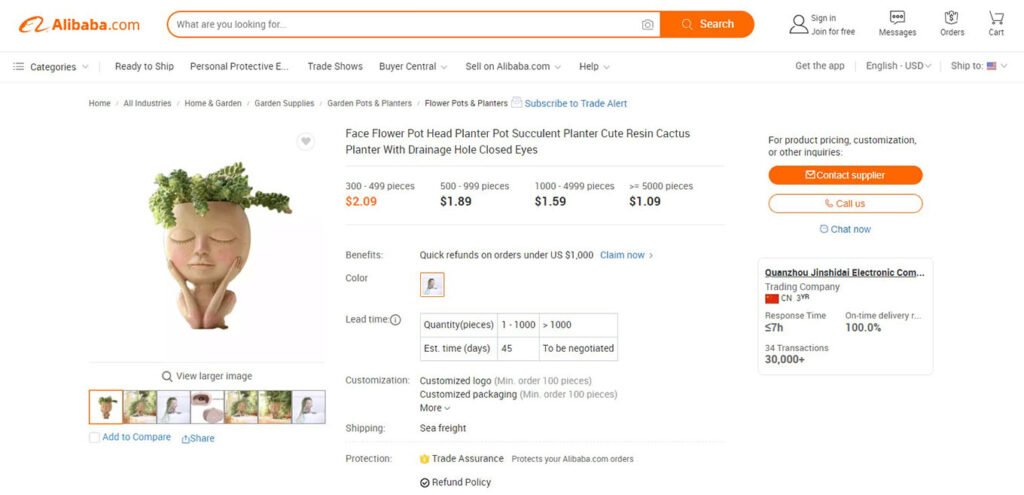 Do you see how Amazon FBA businesses can be so profitable?
Continue to scope out possible products on Alibaba and check if there are already sellers on Amazon with these products. Once you have a few possible products for your FBA business, don't go gung-ho and order the items in bulk right away.
Instead, select around five Alibaba sellers and order samples from each to examine the quality of their manufacturing. Keep in mind that because these items are shipping from China, they can take several weeks to arrive in the United States (but more on shipping options later).
4) Choose A Business Model
There are a few popular ways to start a successful Amazon FBA business with a small budget. Here is an overview of three business models that you can use to create a profitable venture.
Retail Arbitrage
Retail arbitrage is the process of purchasing sale items from a retailer and then re-selling them at market value on Amazon, thereby profiting off the price difference. In this business model, your sales and profit are dependent on your ability to consistently source discounted items.
Because there are virtually no start-up costs with retail arbitrage, it is a great way to launch an FBA business with little money. On the flip side, however, it can be difficult to sustain a full-time business without a retail partner for bulk deals.
This is because your product options are limited to whatever deals you can find at the time. Depending on local competition, the number of nearby sales, and the policies of retailers, you may find locating profitable products your greatest challenge.
Wholesale
If you wanted to move forward with our planter example, you would likely pursue the wholesale business model. This approach involves sourcing existing products from a manufacturer and buying them in bulk.
By ordering in large quantities, sellers can purchase goods for anywhere from 10% to 50% of the product's retail value. This typically leaves enough margin to cover Amazon's fees and still turn a profit.
The appeal of this model is that sellers do not have to create their own products. Instead, they purchase off-the-shelf goods and ship them directly to Amazon fulfillment centers. This makes for a simple online business to manage!
But the downside is fierce competition. With no product differentiation or customization, wholesalers tend to compete on price. Over time, this can lead to squeezed margins and reduced sales.
Private Label
A popular way to start an Amazon FBA business with little money is by private labeling. Private-label products are products manufactured by a third party, but with a private retailer's name and/or logo placed on them. Think of this model as wholesale, plus branding.
Although private labeling does not entitle sellers to exclusive access to the products, it does help to create brand recognition and boost customer loyalty. Private label sellers show customers that they are willing to stand behind their products, which can create trust.
The private label business model is more widely used than you may realize, even beyond the context of Amazon FBA businesses. Apparel, food, and electronics manufacturers often produce and brand products on behalf of major corporations. For more detail on how to customize your purchases, Alibaba has a great step-by-step guide on private labeling.
Custom Products
The most challenging way to launch an Amazon FBA business is by creating your own custom products from scratch. While this approach requires both creativity and project management skills, it also provides the greatest potential upside.
If you can develop a unique product that customers love, you will have very little competition initially. This gives you pricing power and a first mover advantage. Plus, customers will recognize your innovation and view you as more than another faceless, nameless ecommerce brand.
Despite its many advantages, if you want to know how to start an Amazon FBA business with little money, custom products might not be the right place to begin. Typically the product development costs and minimum order quantity are significant, and there is no promise of product-market fit.
Instead, start selling wholesale or private label products. After you have earned some money and learned the tricks of the trade, you can take a bigger risk with fully custom products.
5) Sign Up For An Amazon Seller Account
As an Amazon FBA business owner, you have two options to access Amazon Seller Central: an individual seller account or a professional seller account. With an individual seller account, you pay 99 cents to Amazon for every item you sell. With the professional seller account, you pay a flat fee of $40 per month.

When you first start an Amazon FBA business and you have limited start-up capital, use the individual plan and let the 99-cent cost come directly out of your variable sales. However, as your shop takes off and you begin making daily sales, switch over to the professional plan to reduce your costs.
6) Ship Your Products to Amazon
Unfortunately, this step can be one of the most complicated – especially in the beginning. You have found a product and chosen a supplier, but how do you actually get your shipment from the other side of the world to Amazon Fulfillment Centers? How long will it take? And how much will it cost to cover the shipping boxes, shipping labels, and handling?
In general, there are far too many international laws and regulations for the average person to independently arrange a shipment. This is where freight forwarders come into play. These companies specialize in customs and international shipping, and they are accustomed to guiding Amazon sellers through the process.
Although you still need to search around for the best deal on shipping, hiring a freight forwarder will minimize a lot of the headaches associated with transportation and logistics. To try and minimize this cost, consider looking for a manufacturer who offers these services in-house.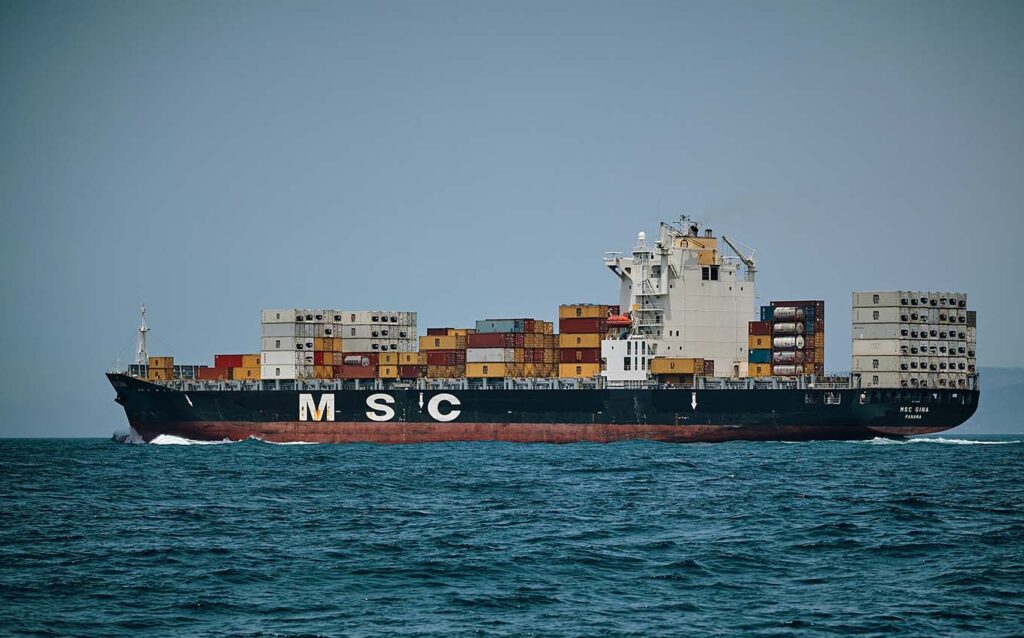 A huge determinant of your shipping costs is whether you use sea freight or air freight. While shipping costs are much cheaper via sea, shipments can take one to three months to arrive at a U.S. port and another one to two weeks to get to Amazon Fulfillment Centers.
Air freight, on the other hand, can be delivered in a matter of days. However, it is sometimes not feasible for larger products and can be five to ten times more expensive even when it is an option.
When you are forming an Amazon business, you may not want to wait for months to get feedback on your first product. But if you are starting with little money, you also may not want to spend what capital you do have on shipping.
Some sellers solve this predicament by placing both sea and air orders simultaneously. This reduces part of the overall shipping cost but still enables them to get started selling right away. Alternatively, you could ship your first order by air. And then if the product proves successful, you could switch to using sea freight to save on future shipping costs.
7) Launch Your Listings
When analyzing successful Amazon listings, you will notice they all have a few key features in common. In fact, their long, keyword-filled listing titles may be the first thing to stand out.
Keyword-Rich Titles
Keyword stuffing, which is generally frowned upon in other types of SEO, is the name of the game when you sell on Amazon. To be discovered on the Amazon marketplace, sellers insert as many relevant keywords into their listing titles as possible.
To find keywords worth targeting, open up the Amazon search bar and start typing in words related to your product. As you type, Amazon will provide you with a drop-down list of suggested keywords. These are all potential keywords you could use in your listing title.
Also, look at competitors' listings and take note of the words they use most frequently. These are likely keywords that you should target as well.
Of course, there are paid solutions for keyword research as well. But when learning how to start an Amazon FBA business with little money, these free hacks are enough to get you going!
SEO-Optimized Descriptions
Product descriptions are also important, but they should be concise and to the point. Utilize bullet points and capitalized words to keep your description digestible and SEO-friendly. If you find yourself struggling to stay within the Amazon character limit, try to focus on the most important features and selling points of your product.
Keep in mind that potential customers will be looking at several product listings at once. So, try to make yours stand out with persuasive copy that sells the benefits of your product.
If your Amazon business takes off, consider hiring a copywriter with experience in Amazon product descriptions. Even a marginal increase in conversion rate will easily repay your investment.
High-Quality Product Images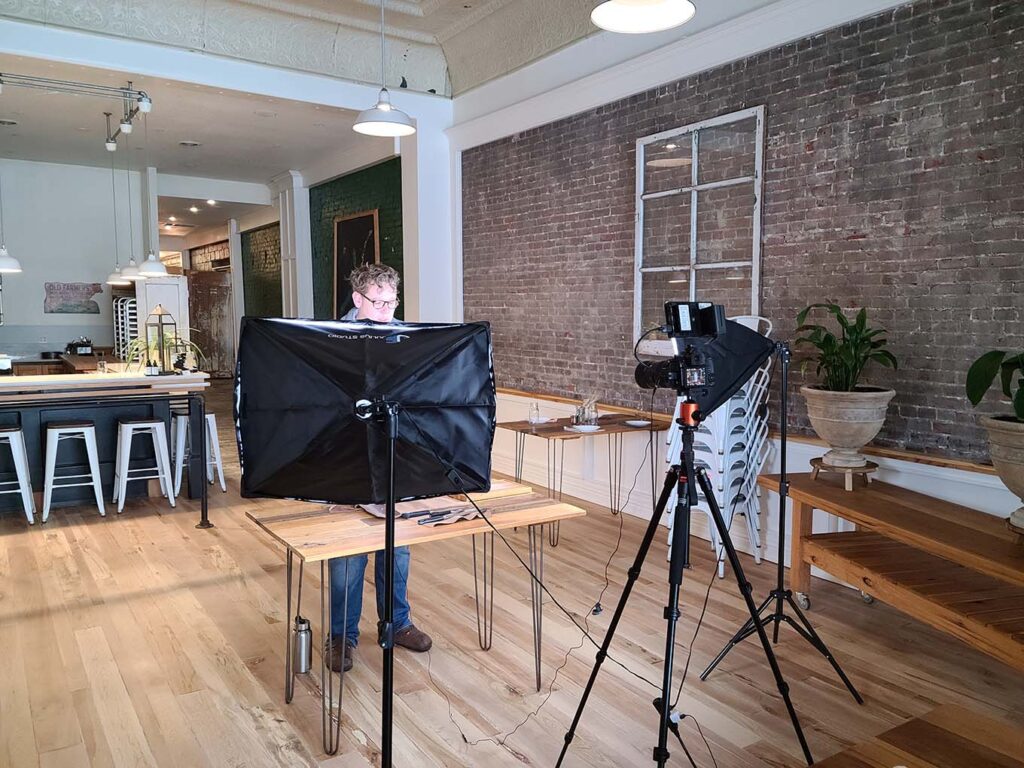 Images are worth a thousand words—especially on Amazon. Most shoppers will make a purchasing decision based on the product images they see in the listing.
To take high-quality product photos, you don't need an expensive DSLR camera. Smartphones are plenty capable of taking high-definition photos! Just be sure to shoot from various angles and use a neutral backdrop to comply with Amazon FBA policies.
To make your product pop, take your photos in a well-lit room or outdoors. Or, to take things to the next level, consider using a lightbox. These accessories are inexpensive and easy to set up, and they will help you sell on Amazon with eye-catching product photos.
8) Generate Reviews
Reviews are one of the most important selling points for Amazon products. Unfortunately, the average review rate of an Amazon business is around 2%, meaning you can expect two reviews per 100 purchases.
One way to boost your review rate is to include a thank-you note for your customers in each package. As you start an Amazon FBA business, discuss this idea with your manufacturer. They may be able to accommodate you for a small extra fee.
To earn reviews quickly, you could also offer your first customers a discount in exchange for feedback. Just be sure not to violate Amazon's terms of service by asking for positive reviews only.
Another way to get more reviews is to simply increase your sales velocity. To do this, optimize your listing title, product details, and imagery for conversions. And if your listing does not reach the top of the search page organically, you can opt for a paid marketing approach.
PPC, or pay-per-click, is Amazon's internal advertising system that allows you to place your product at the top of select pages. This ensures that your product will be seen by potential customers who are already searching for items like yours.
When done correctly, PPC can quickly increase your sales velocity and organic ranking, leading to even more reviews. But beware—if not managed correctly, PPC can become a money pit.
Some sellers use PPC as a permanent marketing strategy, and others use it tactically when needed. This could be to generate excitement post-launch, to land the first few reviews, or to reignite a listing that's no longer selling as well as it used to.
Final Thoughts
While we could write an entire article about each step in this guide, we hope you now understand the basics of how to start an Amazon FBA business with little money!
If you are ready to dive in, download the Amazon Seller App and use the Amazon FBA calculator to start with drop shipping or retail arbitrage. Then, once you have found profitable products, create your own improved versions and make your own listings with your Amazon seller account.
And if being an Amazon seller doesn't appeal to you, there are plenty of other options for starting a side hustle. From ecommerce and freelancing to blogging and taking surveys, there are many ways to make extra money online.