Disclosure: The Money Maniac is an Amazon Associate that earns from qualifying purchases at no cost to you. However, all opinions are our own. We stand by every recommendation we make, and provide only objective and independent reviews.
The audiobook industry is booming. Audiobooks have seen a nine-year trend of double-digit revenue growth, culminating in $1.6 billion in sales in 2021. With 23% of Americans having listened to an audiobook in the past year, the opportunity to get paid to read books aloud has never been greater.
If you're looking for a lucrative side hustle, look no further than reading books aloud. There is no shortage of demand for professional voice talent as many companies are willing to pay top dollar for quality recordings. This article covers everything you need to get started and 11 platforms where you can make money by reading books aloud.
Can I get paid to read books aloud?
Yes! You can absolutely get paid to read books aloud—especially if you have a flair for voice acting or storytelling. Fortunately, you don't even need a degree or formal theater experience (though it certainly can't hurt).
To find success reading books aloud, you will need vocal stamina because some publishers or studios require you to work several hours in one sitting. You will also need to be comfortable creating distinctive voices for each character and performing relevant accents. To do so, you may be expected to research language and pronunciations before each gig.
How much can I get paid to read books aloud?
The pay for an audiobook narrator varies greatly based on the publisher and platform. Most voice actors are paid per finished hour of recording. Beginners typically start at $80 to $100 per finished hour, but more experienced, popular narrators can earn upwards of $200 to $300 per finished hour.
When discussing voice actor pay, it is important to remember how much preparation goes into the final cut. For example, if you spend two hours researching pronunciations and accents and two hours reading in the studio, but the completed audio is one hour, you will only be paid for one hour.
To potentially improve your pay and align your incentives with the publisher's, consider asking for a share of the royalties. This strategy may result in a lower hourly wage but can offer higher total earning potential in the long term if the audiobook is popular. To get a better sense of what this deal could look like, consult with the Screen Actors Guild-American Federation of Television and Radio Artists (SAG-AFTRA).
11 best ways to get paid to read books aloud
There are many ways to make money reading books. Here are 11 of the best options for side hustlers looking to break into the industry:
1) ACX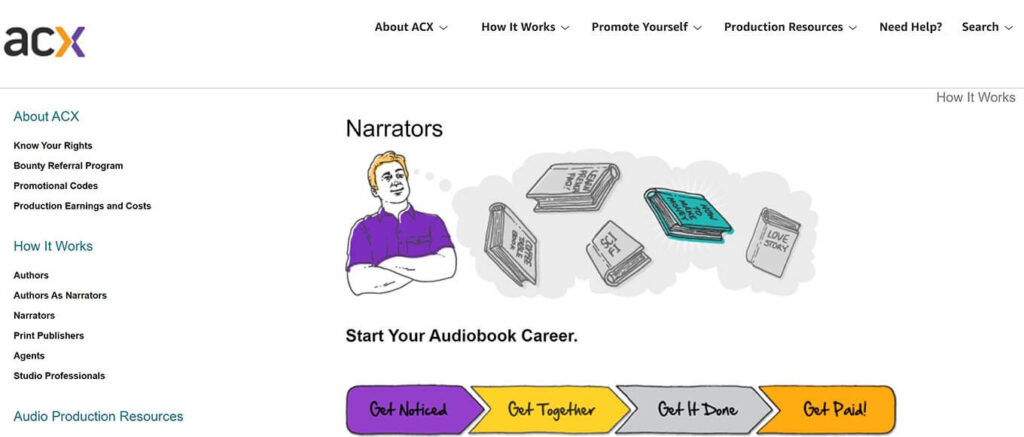 ACX is unique in that it allows voice actors to choose between an hourly wage and payment via royalties. To get started on the platform, first create a profile with samples.
As you see opportunities that match your interests and skills, apply and audition for the roles. If you are selected by the book's Rights Holder, you will typically record the first 15 minutes for approval.
Again, if approved by the Rights Holder, you will be invited to record the rest of the book. Upon completion, you will be paid your per-hour fee. And if you've chosen the royalty option, ACX will pay you every time the book is sold or downloaded.
2) Findaway Voices
Self-published authors in the U.S. often use Findaway Voices for voice talent. This website invites you to create a profile with an asking rate and audio samples categorized by tone or language.
The platform then uses your profile to recommend you for upcoming projects. If the author likes what they hear, they will proactively contact you for an audition. And if the sample recording is approved, you will get paid to read the remainder of the book out loud. As a slightly smaller website than ACX, some professional voice actors report finding less competition on Findaway Voices.
3) Voices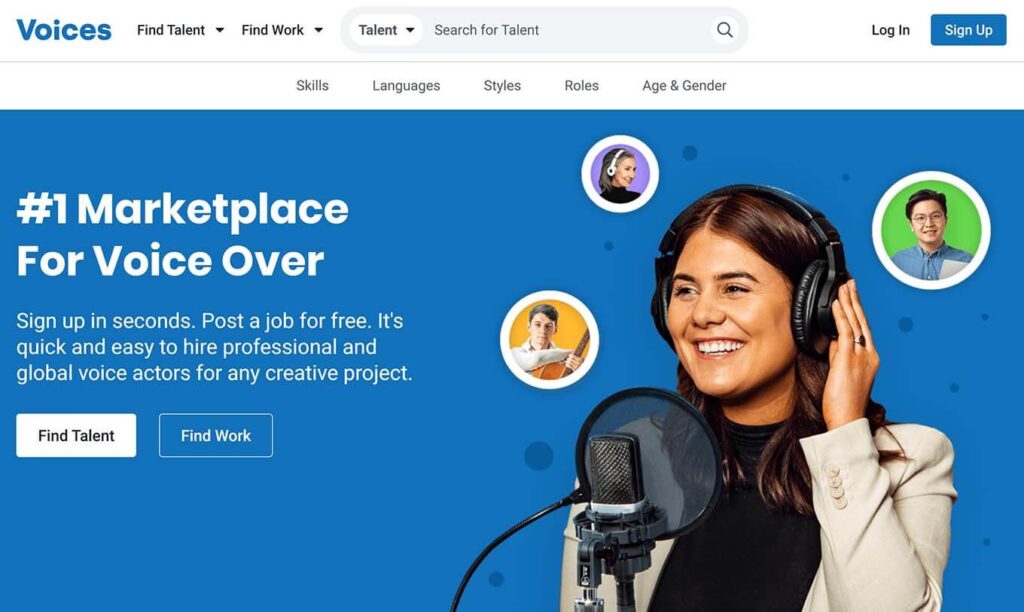 Voices is primarily a platform for authors in search of a voice-over artist. However, publishing companies also use it to find audiobook narrators.
Voices boasts more than 42,000 clients and 5,000 available jobs every month. And their customizable profile allows you to highlight your unique creative talents to stand out as an applicant.
4) BunnyStudio
BunnyStudio is a global talent platform for creative freelancers, including voice-over actors, writers, translators, designers, and audiobook narrators. Unlike other websites, Bunny Studio pays applicants for every audition. But this means that acceptance is not automatic—you have to qualify as a "pro".
Their doors open and close periodically, so if you're interested in applying, keep an eye on this page. While this barrier to entry can be frustrating, it is also how Bunny Studio ensures that its entire roster of talent sees a consistent stream of paid work.
5) Peopleperhour
Peopleperhour is a freelancer website for creative, technical, and business professionals. Like BunnyStudio, you must be accepted before you can create your profile and start getting paid to read books out loud.
Once you are on the platform, an artificial intelligence widget matches you with clients searching for audiobook narration services that fit your skills, experience, and pay rate. You also can search for projects manually, but the website limits the number of projects you can apply to without buying additional credits.
6) Upwork
Upwork is one of the largest freelance platforms on the web, connecting gig workers with businesses from all around the world. The website covers almost every field imaginable, including audiobook narration.
Upwork is free to join and every job seeker gets a set number of free credits that can be used to submit proposals to casting calls. However, if you see a lot of interesting voice acting opportunities, you can always purchase extra credits. Plus, clients can also contact you proactively if your profile catches their eye.
7) Voice123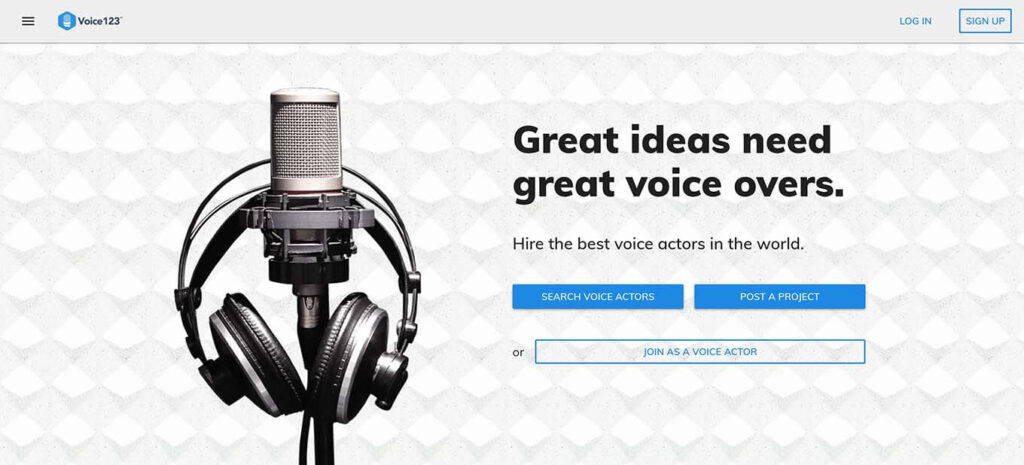 Voice123 claims to be the top choice for voice actors globally. Well-known companies, such as Airbnb, NBC, and Coca-Cola, use the site to listen to audio samples and connect with professional voice talent.
Most of the projects posted on Voice 123 are for commercials, cartoons, and video games. But if you are a voice actor or audiobook narrator, there are plenty of job openings to read books out loud too. The platform sees an average of over 1,000 new projects per month, so there is always something to audition for.
8) Spoken Realms
Spoken Realms is a large producer and distributor of audiobooks that connects authors with audiobook narrators. The site has a rigorous application process and accepts only the most experienced narrators.
Spoken Realms also offers the option to participate in multiple narrator projects where a different narrator voices each character. This can be an exciting way to get paid to read books aloud and connect with other voice talent in your niche.
9) Voice Jungle
While primarily a site for voice-overs, Voice Jungle also offers projects for audiobook narrators. This site is unique because book readers get paid by the word, instead of per hour.
To sign up, you will need a fully equipped studio and the ability to handle 24-hour turnarounds when requested. Plus, the platform requires a demo tape that potential clients can use to determine whether you're the right voice for them.
10) Voquent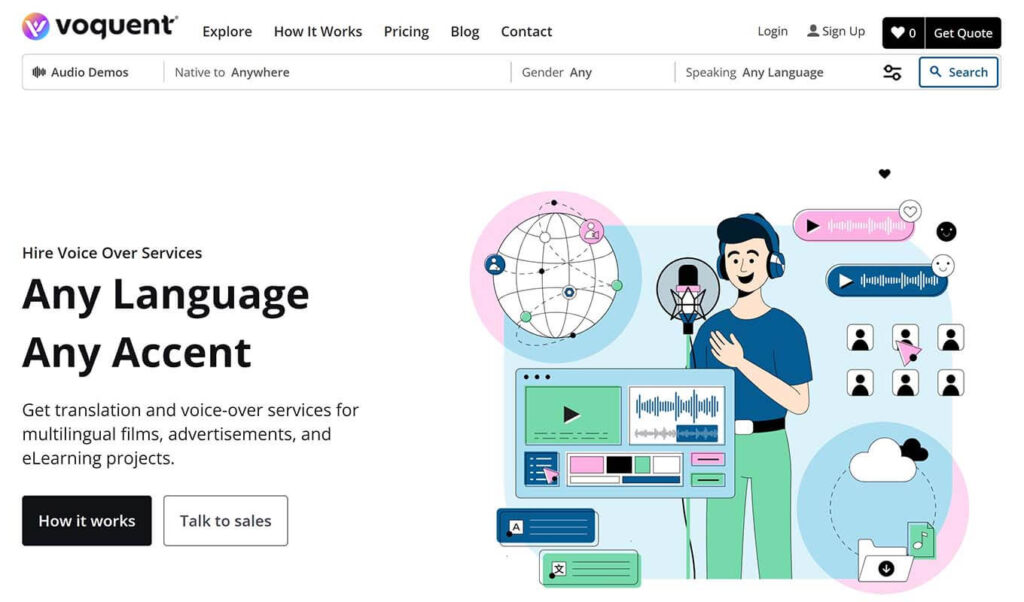 Voquent is a website for experienced narrators that boasts a client list of well-recognized companies such as Disney, Netflix, and Lego. Although anyone can sign up on Voquent as an audiobook narrator, the platform lists the number of years of professional experience you have next to your name.
The website also requests at least five different demos, each with a distinct style and tone. So, if you are new to reading books out loud, this platform might not be your first stop.
11) Boldago
Boldago is a German-based platform for voice-over actors and audiobook narrators. The platform features talent in more than 80 languages and has a global client base. Some of the largest tech companies in the world, like Apple, Microsoft, and Amazon trust Boldago for their international audio needs.
If English is not your first language, this might be the best website for you to get paid to read books aloud.
What equipment do I need to get paid for reading aloud?
If you want to succeed as a freelance or contract voice actor, you will need a professional home recording studio. This is non-negotiable.
Fortunately, turning a spare room or office into a quality recording space is not as difficult (or expensive) as it might seem. Here is all you need to get started making money as an audiobook narrator:
Computer
The minimum requirement is a computer or iPad with at least 4GB of RAM. A computer with less memory may freeze as you read books online. Odds are the computer you already have will be sufficient. However, if you need to buy a new computer, here are a few popular options that fit the bill.
Digital audio workstation
A digital audio workstation (DAW) helps you manage and edit audio files in one simple interface. If you have a MacBook, use Garageband to create audio projects, reduce noise floors, and manage and share audio files. If you have a PC, consider the free software Audacity. Otherwise, LMMS is another popular digital audio workstation that is compatible with PC, Mac, and Linux.
Microphone & mic boom arm
Most computers have built-in microphones, but you'll get better quality by using a cardioid condenser mic that blocks ambient noises. Here's the most popular computer microphone on Amazon.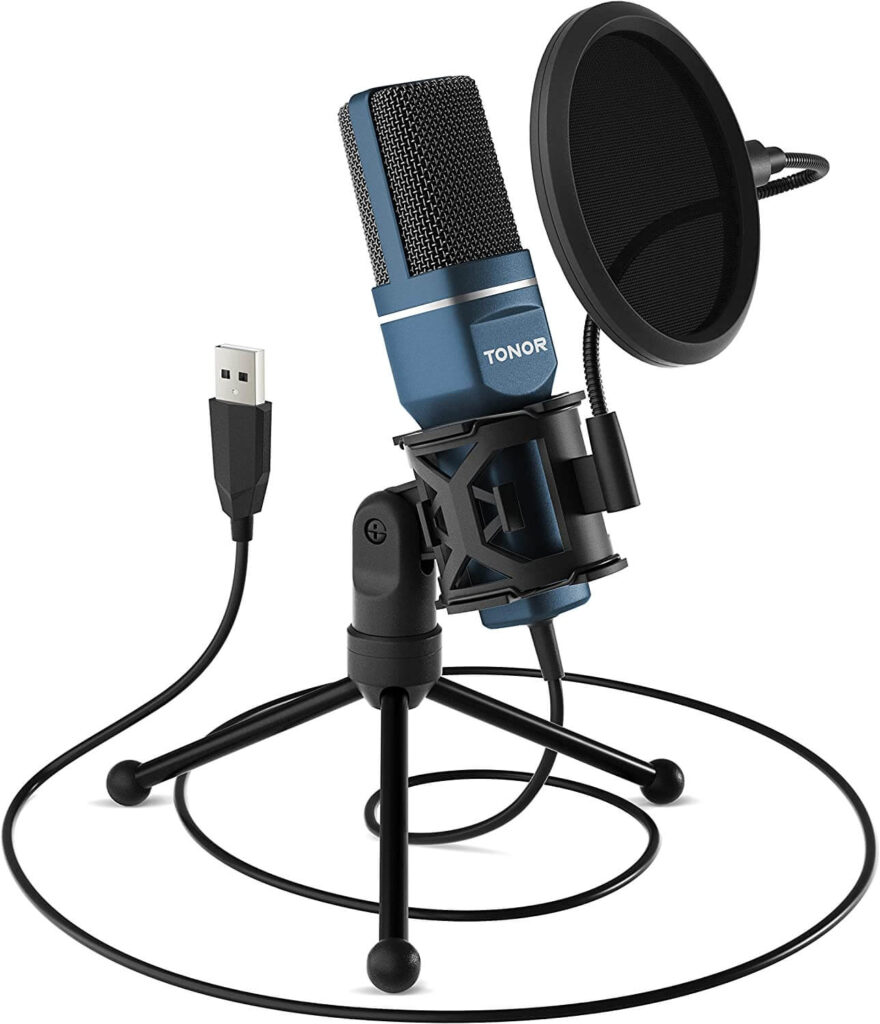 If you want a mic with a boom arm, check out this option which is especially popular among podcasters. The boom arm can adjust the mic's location for the best sound quality and help you improve your posture. After a long day of recording, you will appreciate the comfort!
Pop filter
A pop filter will help you control plosives, which sound like a thump to your listeners. Because it is difficult to equalize them after the fact, we recommend using the pop filter up front. Both of our recommended microphones include pop filters, but you can also buy them separately.
Headphones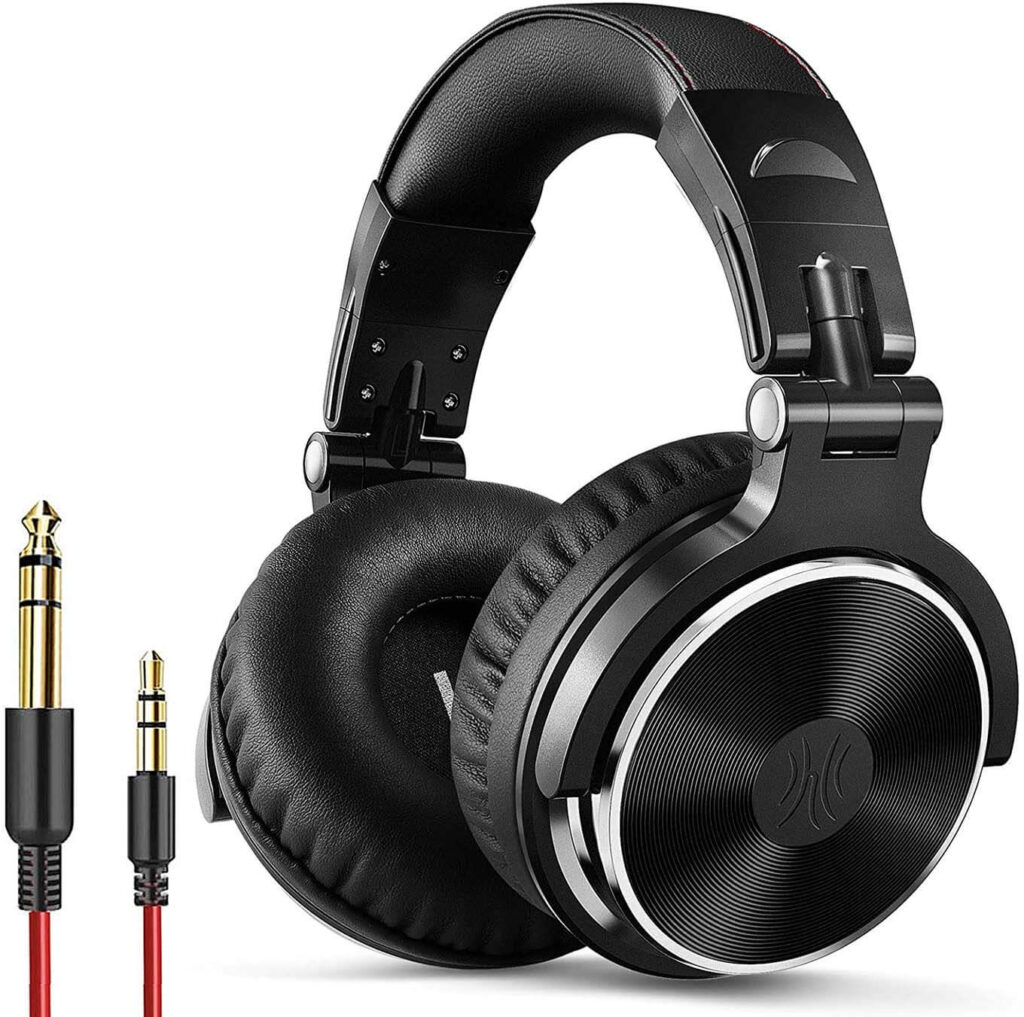 Most voice actors record with over-ear headphones. They provide the best sound quality, comfort, and compatibility with condenser microphones. If you don't already have a pair, these studio headphones offer an unbeatable combination of function and affordability.
Audio editing software
Audio editing software such as iZotope RX or Studio One helps you mix your audio files for the best listening experience. These software suites include features like noise reduction and EQ, which will make you sound like a true professional.
Shock mount
A shock mount helps reduce handling noise and protects your microphone from bumps. This is an important piece of equipment if you plan on recording audiobooks or other long-form narration projects. But if you are just getting started, you can probably get by without one for a while.
Audio compressor
When you read a book aloud, your voice will naturally vary over time. Sometimes you may speak more softly, while other times you will need to project your voice. An audio compressor evens out these variations to create a more polished sound.
You might not need all of this equipment to get started, but it will make your recording sound much more polished. As you begin getting paid, reinvesting your earnings into better sound equipment will help you land more gigs, distinguish yourself as a professional, and charge higher rates.
How do I become a professional reader?
To become a professional book reader, first, get some practice in. Consider volunteering to read aloud to the blind or children, or recording readings for yourself in a quiet space. Listen to your own performance and make note of what you like and don't like.
Also, listen to popular audiobook narrators and pay attention to how they bring the book to life. Try to adopt their techniques, inflections, and pacing.
Next, create a demo reel of your best work. This will be key in landing paying gigs. Be sure to buy a quality microphone and pop filter to produce the best sound possible. Then record a few excerpts from your favorite books. You can also include public domain works or even self-published books. If you don't have a lot of experience, try to find a variety of genres so that potential clients can get a sense of your range.
Finally, market yourself to audiobook publishers, eLearning companies, and others who might need your services. Create profiles on several of the above platforms and make sure to link your audio samples. After applying and auditioning for a few gigs, you should be on your way to becoming a professional book reader!
Related reading: How To Create A Money Mindset That Manifests Wealth
Final thoughts
Anyone can be an audiobook narrator. The industry ranges from self-publishers to major companies and covers every genre imaginable, so there's a place for everyone.
Book readers get paid to add inflection and emotion to the written word, turning a good book into a great listening experience. So if you have a passion for books and love using your voice, this could be the perfect gig for you.
To get started, build your home studio, practice reading books aloud, and then dive into the world of narration. Before long, you are sure to find your niche and carve out a profitable side hustle!
Audiobook narrator FAQs
How do I get paid to read books?
You can get paid to read books by creating a demo tape and signing up for a few audiobook narration platforms. All you need is a basic home studio and a lively voice that will engage listeners.
What company will pay me to read books aloud?
There are many sites where you can get paid to read books aloud. A few of the most popular websites include ACS, Findaway Voices, Bunny Studio, PeoplePerHour, Upwork, Voice123, Spoken Realms, Voice Jungle, Voquent, and Boldago.
How much do you get paid to read books aloud?
Although a few companies pay by the word, the most common ways to get paid are by the finished hour or through a royalty share. Royalty earnings vary based on how many books are sold or downloaded. As for hourly rates, they start around $80 to $100 per finished hour but can increase to several hundred dollars per hour depending on the narrator's experience and fame, and the client's budget.
How do I gain the skills to get paid for reading aloud?
To get paid to read books aloud, there is no way around practicing. Read aloud in a quiet room away from distractions, or volunteer to read to others. Always record yourself so that you can review your performance and identify areas that need improvement. Also, listen to popular audiobook narrators to get an idea of what skills you should be developing.