While not every side hustle requires an org chart, at some point, every growing business experiences a degree of disorder and confusion. Whether it's at 5, 10, or 50 employees, building an org chart can help you get everyone on the same page (literally).
Organizational charts help managers and business owners visualize the company's structure, understand where team members fit, and identify any gaps in the organization. In other words, an org chart is the best way to map out business processes and ensure everyone is where they need to be.
If drawing out an organizational chart by hand doesn't sound like your idea of fun, don't worry – there are plenty of software solutions out there to make the process quick and easy. That probably leaves you with just one question… What is the best org chart software to use?
To help you make that decision, we've put together a list of the best org chart software tools available on the market today!
What is org chart software?
Organizational chart software is a class of online tools that allow you to graphically map out your company's hierarchical structure.
Typically, you will start by uploading a CSV file or manually entering the names and positions of your employees into the software. Then, with the help of pre-made templates, the tools can automatically generate a professional organization chart that demonstrates the relationship between employees and departments.
Some org chart software tools also include features that allow you to track employee roles and responsibilities over time. When new hires join the company or when employees change positions, this functionality can help with succession planning and other HR initiatives.
Why use org chart software?
Org charts create transparency and improve collaboration among team members. However, building an org chart from scratch can be a daunting task. Not everyone is a design wiz, and handmade organizational charts call for constant erasing, redrawing, and realignment as the company grows.
This is where org chart software comes in handy. These tools can save time and energy when you need to create relationship maps, model your workforce, or assign team members to specific projects.
Here is a quick overview of the benefits of org chart software:
Visualize your organization's structure
An organization chart enhances the visibility of your workforce relationships. Everyone can see who they report to, who does what, and how they relate to fellow colleagues, departments, and functions.
Ease of use
Org chart software can whip up your company's hierarchical structure in minutes, saving you the effort of having to do it manually. Simply choose one of the chart templates, upload data, and let the software work its magic.
Aids in project management
With org chart software, it is easier to understand the capabilities of your workforce and map out who should be assigned to which project. This can help you optimize resources, avoid duplication of effort, and complete projects on time and within budget.
7 best org chart software solutions
Here's an in-depth overview of the best org chart software to consider.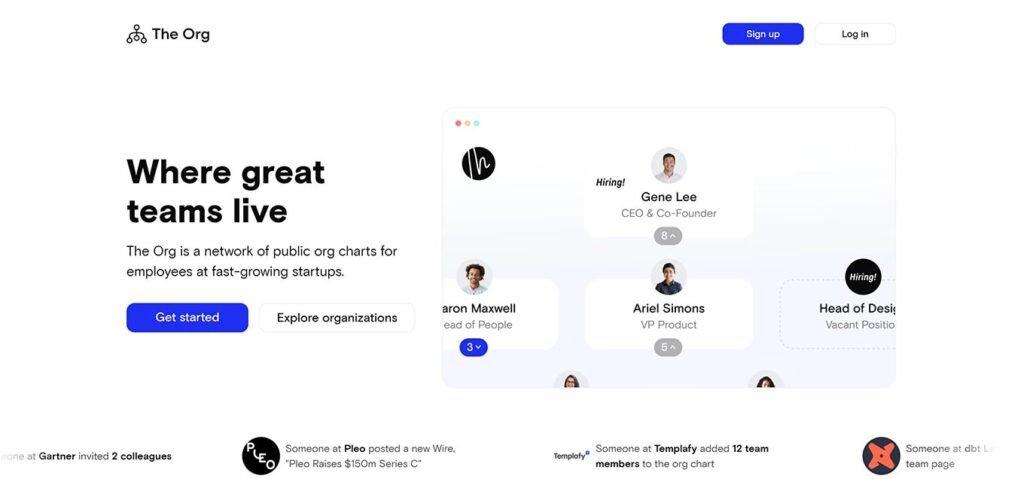 Best for those on a budget
The Org is a free software that allows you to create an org chart and share it with anyone. The best part of this platform is that you can peek into the org charts of leading companies like Google, Amazon, and Tesla for inspiration.
In addition, The Org allows you to add open positions within org charts, so applicants can see who they would be working with and reporting to before joining the company.
Features
Explore companies: Org charts in The Org are accessible to the public, meaning you can discover people and teams, and learn from the management of the world's leading companies.
Open jobs directory: The ability to add open roles directly within org charts helps to attract top talent.
Free resources: Make use of free guides to build better org charts, improve your team's structure, and hone your hiring skills.
Considerations
Not every management team is willing to share their org chart with the world. If privacy is a concern, another software solution may be a better fit.
Price
Free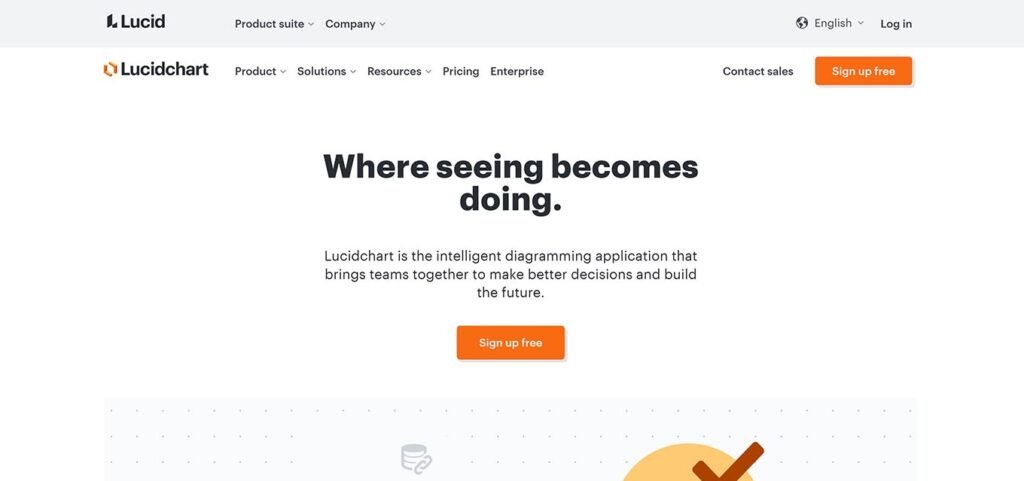 Best for customization
Lucidchart, a cloud-based workspace tool, can help with more than just creating org charts. From brainstorming ideas to visualizing technical systems, such as diagrams, wireframes, flowcharts, and mind maps, you can do almost all of your planning in one place. Lucidchart even empowers users to customize any of their chart templates with colors, shapes, and images of their choice.
Features
Drag-and-drop: The platform offers drag-and-drop functionality, making it easy to change user roles or departments in the org chart.
Diagraming: Easily diagram your people, processes, and systems to communicate complex ideas.
Auto-visualization: Instantly create org charts complete with relevant data and metrics to add context to every diagram.
Collaboration: Lucidchart allows multiple users to work on the same org chart in real-time through in-editor chat and comments.
Integration: Lucidchart integrates with Microsoft Office, Slack, Asana, Salesforce, Azure, Zappier, Quip, ServiceNow, and other industry-leading apps.
Considerations
Lucidchart is a browser-based tool only. Without a downloadable desktop app, users cannot work in an offline environment.
Price
Lucidchart has four pricing tiers, with a free trial available for both the Individual and Team plans.
Free
Individual: from $7.95 per month
Team: from $9 per month per user
Enterprise: Customized pricing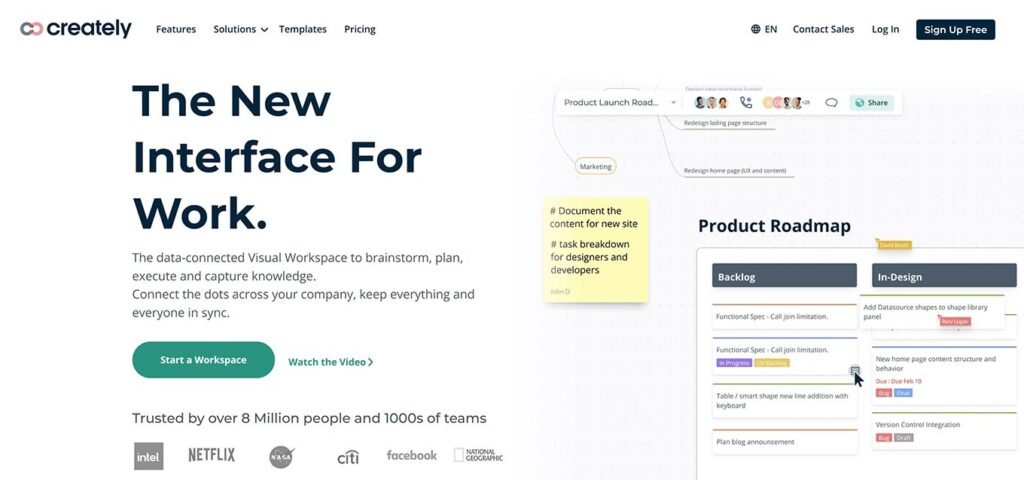 Best for robust syncing
Creately is one of the best organizational chart software solutions for teams that are evolving quickly. With a workspace that goes beyond visuals, you can brainstorm, plan and execute while keeping everything and everyone synced. The cloud-based app lets you create org charts and professional-looking diagrams in minutes.
Features
Everything is always synced: Whether you edit a note, process step, or image, all changes are immediately synced everywhere. This real-time feedback enables both live and asynchronous collaboration.
Data integration: Creately works with popular tools for team collaboration, including Google Drive, Slack, Confluence, and Microsoft Teams.
Multiple tasks roles and flows: The manager dashboard allows you to assign and approve tasks, and track everything in one place.
Real-time collaboration: From customer support reps to sales teams, everyone can work together on the same file simultaneously.
Diagramming and whiteboarding: From organizational charts and flowcharts to ER diagrams, wireframes, mind maps, and SWOT analysis, Creately supports a wide range of diagram types.
Considerations
A limited number of pre-made templates are available.
Changing or canceling an account requires emailing the company.
Price
Creately offers four pricing tiers to choose from:
Free
Personal: $4 per month
Team: $4.80 per month per user
Enterprise: Custom pricing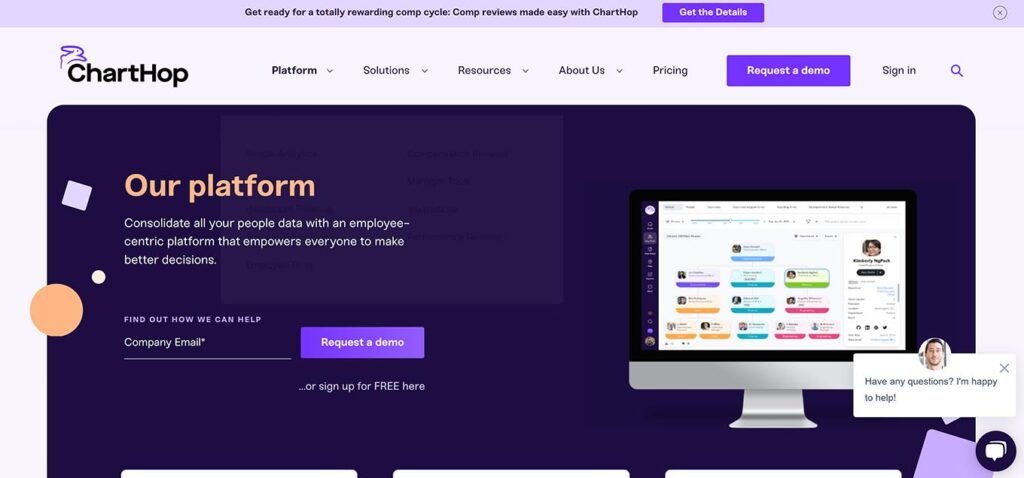 Best for exporting historical versions
ChartHop is the newest consideration in the discussion of the best org chart software. Launched in 2020, this org chart maker aims to foster connection and transparency in a business. It gives management live visibility of the organization's structure and automatically updates org charts as roles evolve.
Features
Data visualization: ChartHop allows you to visualize your "people analytics" at a glance. From DEI insights to employee engagement rates and churn risk, the data tools are designed to simplify decision-making.
Export historical data: The ability to export historical data gives you more control over your organizational chart. When you need to create or revise org charts, you can always compare them to previous versions.
Employee database: With detailed employee profiles, your team can learn more about each other and foster deeper connections.
Integration tools: Simplify how you work with the platform by integrating data from BambooHR, Workday, Gusto, Slack, Namely, and more.
Considerations
The feature-rich platform might be overwhelming for simpler needs, as some functionality is hard to find.
Price
Basic: Free (up to 150 employees)
Standard: $8 per month per employee (billed annually)
Premium: $12 per month per employee (billed annually)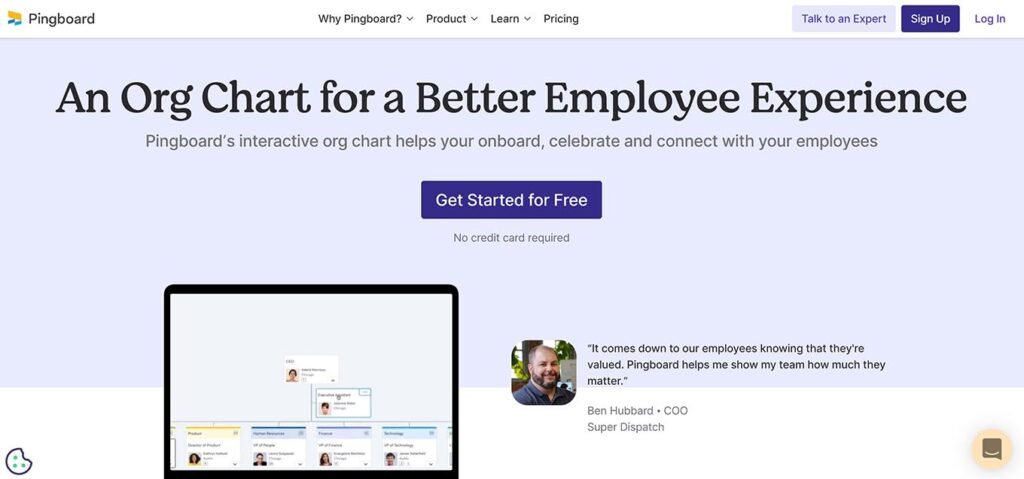 Best for visualization
As the self-proclaimed org chart with "superpowers," Pingboard helps to create org charts that connect teams. Pingboard gives management a birds-eye view of who reports to who and how departments interface. Plus, the platform automatically updates employee data with integrations to most HR or IT software.
Features
Automatic updates: Pingboard automatically updates your organizational charts any time you onboard new hires, change roles, or update employee data.
Publicize open positions: Let your team know about open roles available in your organization. Add job descriptions and expectations, and a link to apply directly in the org chart.
Integrations: Connect Pingboard to platforms like Google Workspace, Microsoft Azure Active Directory, Microsoft 365, BambooHR, ADP, and Microsoft Outlook.
Share your org chart: Pingboard allows you to securely share your organizational chart with designated users both inside and outside of the company.
Considerations
Pingboard is quite pricey compared to its rivals.
Price
Team: $119 per month for up to 50 users (billed annually)
Company: $249 per month for 100 users (billed annually). Additional users cost an extra $1.50 each.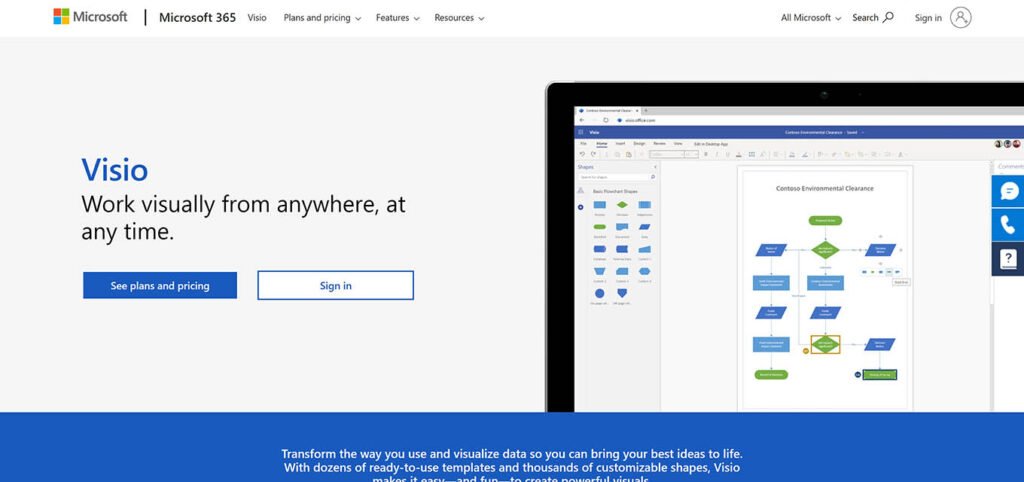 Best for enterprise users
Microsoft Visio is perhaps the most popular org chart software on the market. Vizio's goal is to help companies brainstorm ideas and bring them to life. The platform comes with dozens of pre-made templates to help you build org charts quickly and effectively. With Microsoft Visio, you can automate the creation of organization charts, map out complex structures, or customize charts in minutes.
Features
Wide range of templates: Visualize complex organizational structures with built-in templates in Visio. Quickly add employee data, and Visio will automatically generate your org chart.
Drag-and-drop functionality: Visio offers easy-to-use drag-and-drop features that can speed up the process of creating org charts.
Active Directory: Pull data that is already stored in Microsoft Active Directory to dynamically update, create, and manage your organizational charts.
Considerations
Visio is only available on Microsoft – not Mac or Linux.
Price
Visio Plan 1: $5 per month per user
Visio Plan 2: $15 per month per user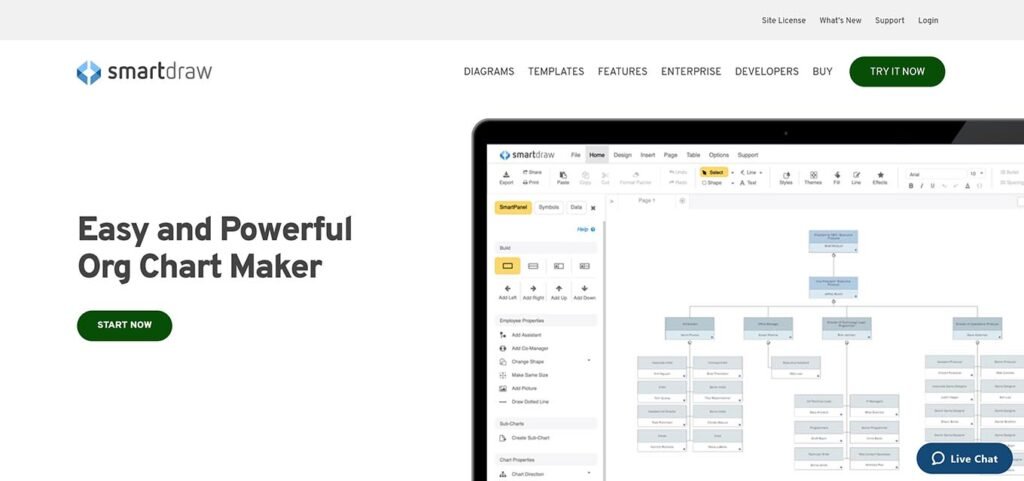 Best for drag and drop
SmartDraw helps companies create professional organizational charts in minutes. The platform features an easy-to-use drag-and-drop interface, making it one of the best organizational chart software tools around. You can easily add, move, or remove employees with a simple click of the mouse. Plus, with SmartDraw, you can create charts manually, or automatically with imported data.
Features
Drag-and-drop: The simple interface makes creating professional org charts a breeze.
Data management: Manage employee data by integrating with popular HR solutions like BambooHR or Workday. Plus, as you update employee functions, you can effortlessly push these changes to your org chart.
Sharing: Share your organizational structure with employees in PDF, PNG, or SVG format.
Visualization: SmartDraw offers various design and visualization elements that make it easy to customize existing templates. You can create sub-charts for departments or teams with just a click of a button. In addition, you can enrich your chart with various colors, shapes, and images to improve the visual appeal.
Collaboration: You and your team can work on the same org chart in real-time by saving it in a shared folder. With the help of tools like Microsoft Teams, Slack, and Confluence, collaboration is made easy.
Integration: SmartDraw works with various tools, including Microsoft Teams, Google Workspace, Confluence, Jira, AWS, Dropbox, and more.
Considerations
SmartDraw's intelligent formatting can restrict users looking for more advanced customization of their organizational charts.
Price
Free version
Individual: $9.95 per month (billed annually)
Team: $5.95 per month per user (billed annually)
Site: $2,995 per year
Final thoughts
Org charts are an essential tool for evolving businesses. From visualizing the business at a glance to simplifying the onboarding process, org charts can help a company grow… without the growing pains.
To recap, here are the top 7 software tools to help you do just that:
Org chart software FAQs
What is the best free organizational chart software?
The best free org chart software is The Org. It offers everything you need to build an org chart and scale your business. From free in-depth guides to help you create better org charts to the ability to peek into other companies' charts for inspiration, The Org offers great features at no cost.
What's the best way to create an org chart?
Even with org cart software, diagrams can still become an eyesore if not carefully maintained. Here are a few tips to create effective organizational charts:
– Right size your org chart to fit a single page
– Be consistent with shapes and colors
– Show assistants with a sidebar below the manager
– Use consistent spacing
– Hyperlink to more information
Does Microsoft have an org chart tool?
Yes, Microsoft's org chart software is called Visio. Microsoft Visio includes a wide range of pre-made templates to help you build org charts faster. You can spin up a beautiful org chart in minutes with its drag-and-drop functionality.
What is the best org chart software for Mac?
While there is no best org chart software for Mac specifically, there are several cloud-based tools that Mac users can enjoy. Pingboard, Lucidchart, and Creately are three great options that offer a wide range of features and templates to choose from.