One of the hottest trends in small business is customization. The Direct-to-Garment (DTG) Printing Industry has powered this trend by enabling consumers to express themselves through highly personalized designs and graphics.
Whether you are looking to start a side hustle or you already own a screen-printing shop and want to take on more customized jobs, a DTG printer could be the perfect solution for you.
As you evaluate your options, check out our detailed reviews below to find the best DTG printer for small business printing.
What are DTG printers?
A direct-to-garment printer (or DTG printer) uses inkjet printing technology to translate full-color digital image designs directly from a computer to a garment.
The print heads of a DTG printer distribute CMYK ink onto the garment, and then heat is applied to dry the ink. This process allows detailed inks to adhere to the fabric and remain in place.
Why use a DTG printer?
A DTG printer offers numerous benefits to small businesses, including the following:
Detailed, multi-color prints
DTG printers are capable of producing high-resolution multi-color prints. They are popular for shirt printing and for jobs that require detailed, quality prints.
Cost-effective
A DTG printing machine requires a relatively low initial investment compared to other printing methods. Plus, ongoing production costs are very competitive.
Easy to use
Operating a DTG printer is as simple as 1-2-3. Just load an image onto the printer, prep the garment, and print!
Supports customization
Direct to garment printers can process orders of as little as one garment. This allows printers to easily change the design size to match the garment size. Various images, texts, and fashion trends can be tested and explored without investing significant time or money into inventory.
Environmentally friendly
Screen printers use inks that contain phthalates, PVC, and other chemicals, to create images that adhere to garments. DTG printers, on the other hand, are OEKO-TEX 100 certified, so their inks are water-based and safer to process and clean up.
Fast output
Direct to garment printers enable you to go from idea to finished product in a very short amount of time. This allows printers to experiment with new concepts, accept custom orders, and still complete production quickly.
Minimal setup time
Screen printing requires an extensive setup and can only handle a few colors at a time. The printer must squeegee each color of ink onto the shirt separately, wait for dry time, and repeat.
However, with DTG printing, you only have to load the garment onto the plate and upload your design to the printing machine.
Expansion of business
Direct to garment printers do not replace screen printing. Instead, they offer a different method of printing that is well-suited for complicated designs and small production runs. As such, purchasing a DTG printer is a natural expansion for a garment printing business.
Little space required
DTG printers don't require a large footprint for operation. All you need is space for the printer itself, a computer, a pre-treater, and a heat-curing device. With a DTG printer, your small business operation can be fully set up in less than one room.
Versatility
With direct-to-garment printing, you can print any design anywhere on the garment. You can even print in areas that you couldn't otherwise access, such as seams, zippers, pockets, and shoulders.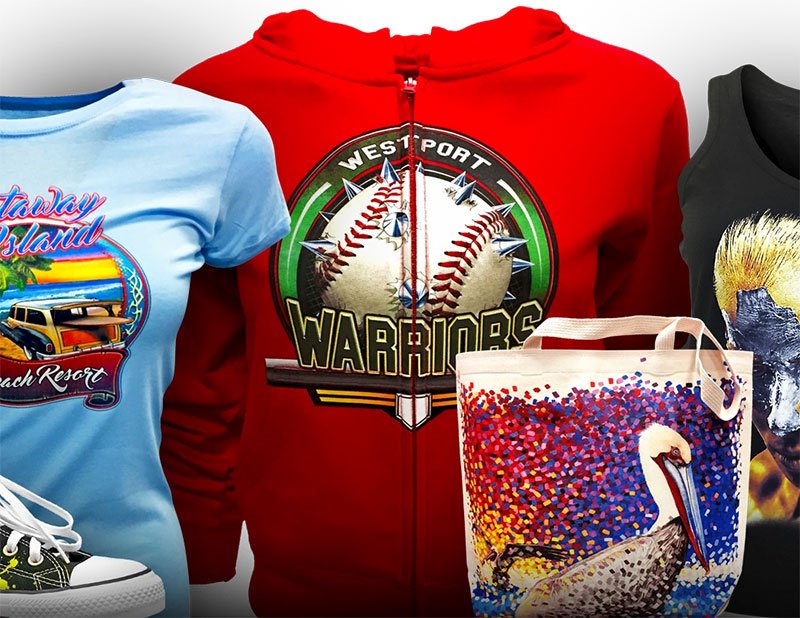 Plus, DTG printers support cotton, polyester, and other materials. Both light and dark custom t-shirts can enjoy the printing quality and superb details of a DTG printer.
Full-color printing
Great flexibility
Superb details / high resolution
Long-lasting
How to Choose the Best DTG Printer for Small Business
A complete direct-to-garment printer system can cost anywhere from a few thousand dollars on the low end to upwards of $30,000 on the premium end.
With so many features to evaluate and compare, it can be difficult for small business owners to decide which DTG printer is best suited for their business. We recommend answering the following questions to help guide your search.
What is your print volume?
If your business requires a high print volume, the A3 DTG printer is capable of handling larger print volumes at higher speeds.
What size is your working space?
Measure your working space and compare it to the dimensions of your desired printer to confirm you will have ample room to work. In general, A4 DTG printers require less space than others.
What fabric do you typically print on?
Some printers are only suitable for thin t-shirt fabrics, while others can support thicker garments.
How much does the printer ink cost?
Printer ink is consumable and can quickly become a significant operating cost for your business. Consider all compatible DTG ink brands and factor the ongoing ink cost into your printer decision.
Do your orders typically require customization?
Detailed, custom printing may require high-resolution printing. To print high-quality garments, consider the DPI potential of the machine.
What is your budget?
Decide what range of DTG printers is best for you. Keep in mind that many printer manufacturers offer financing. You could also look at leasing options to keep your monthly payments low as you start or expand your business.
Best DTG Printer for Small Business: $20,000 – $30,000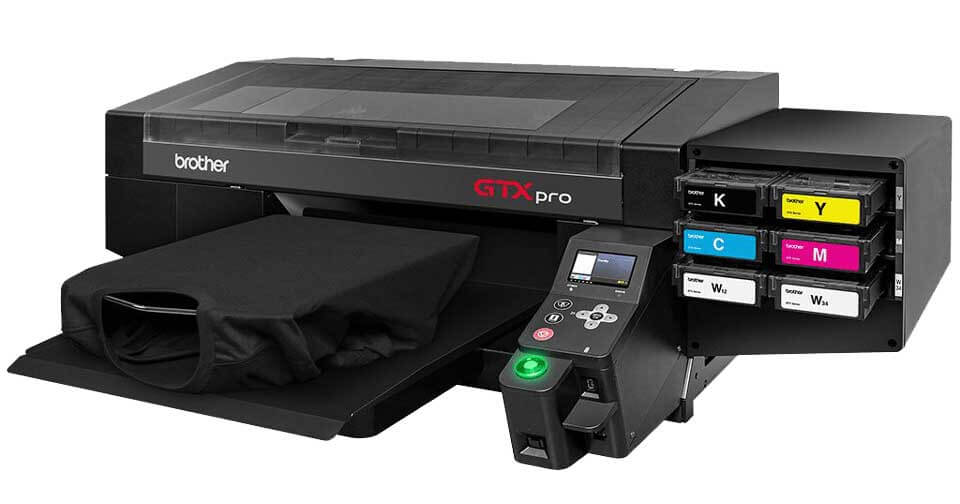 The Brother GTX Pro is well suited for a growing small business seeking additional capacity and functionality. This versatile DTG machine can print on t-shirts, totes, shoes, and other fabrics. The Brother's large print area opens many possibilities for product design. The patented ink flow and automatic ink capping systems distribute ink evenly and reduce ink costs.
Printing specifications
Dimensions: 55" x 51" x 21.7"
Printing area: 16" x 21"
Machine weight: 265 lbs
2 on-demand piezo print heads
8 ink channels
Innobella water-based pigment inks: CMYK + white
1200 dpi x 1200 dpi resolution
Price
$24,800
Pros
Large print area
Fast print speed
Includes easy to use design software
High-quality ink produces vibrant colors
Prints over seams and zippers
Mac and Windows compatible
Cons
Not compatible with third-party white ink
Not an entry-level machine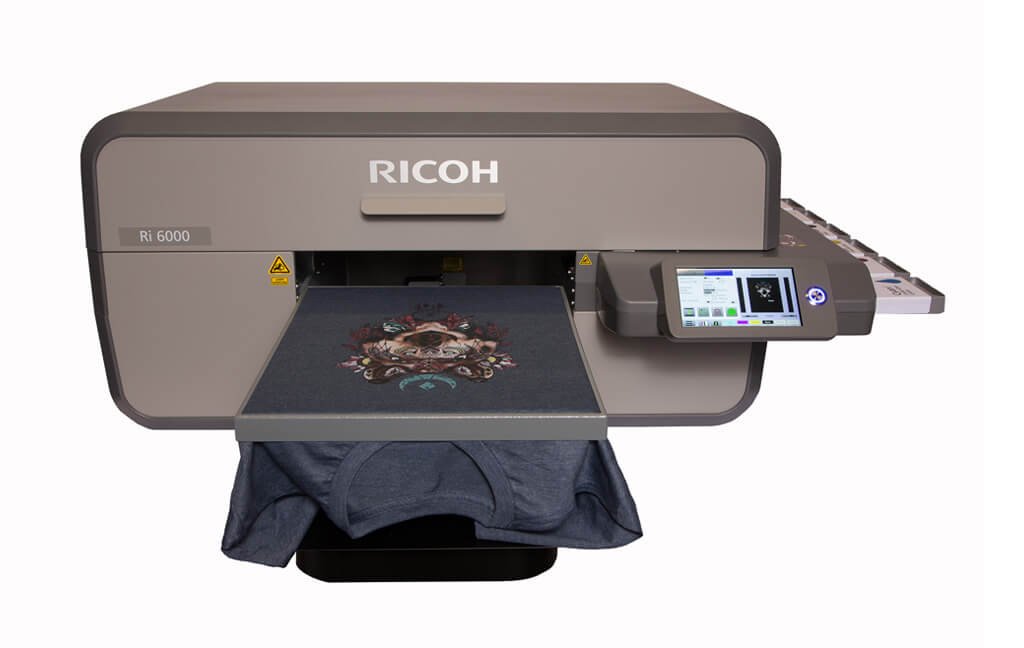 The Ricoh Ri 6000 has many automatic functions that make printing easy. Minimize set-up time with the Ricoh's auto-height adjustment and quick-change magnetic platens. Reduce maintenance downtime with the patented automatic cleaning system.
The Ricoh Ri 6000 is an industrial DTG printer that can print on any fabric, including canvas, and sports an intuitive 7" touchscreen display.
Printing specifications
Dimensions: 44″ x 44″ x 19.8″
Printing area: 14" x 18"
Machine weight: 180 lbs
6x MH2420 industrial-grade piezo-electric print heads
12 ink channels, with 192 nozzles each
Water-based pigment inks: CMYK + white
Maximum print resolution of 4200 x 5400 at 300 dpi
Price
~$25,000
Pros
27-second printing speed
Automatic cleaning feature
Automatic loading and set up alignment reduce downtime
Included AnaRIP software eliminates color separation
Low ink cost of ~$61 per 200 ml
Cons
Not compatible with Mac
Not an entry-level machine
Best DTG Printer for Small Business: $10,000 – $20,000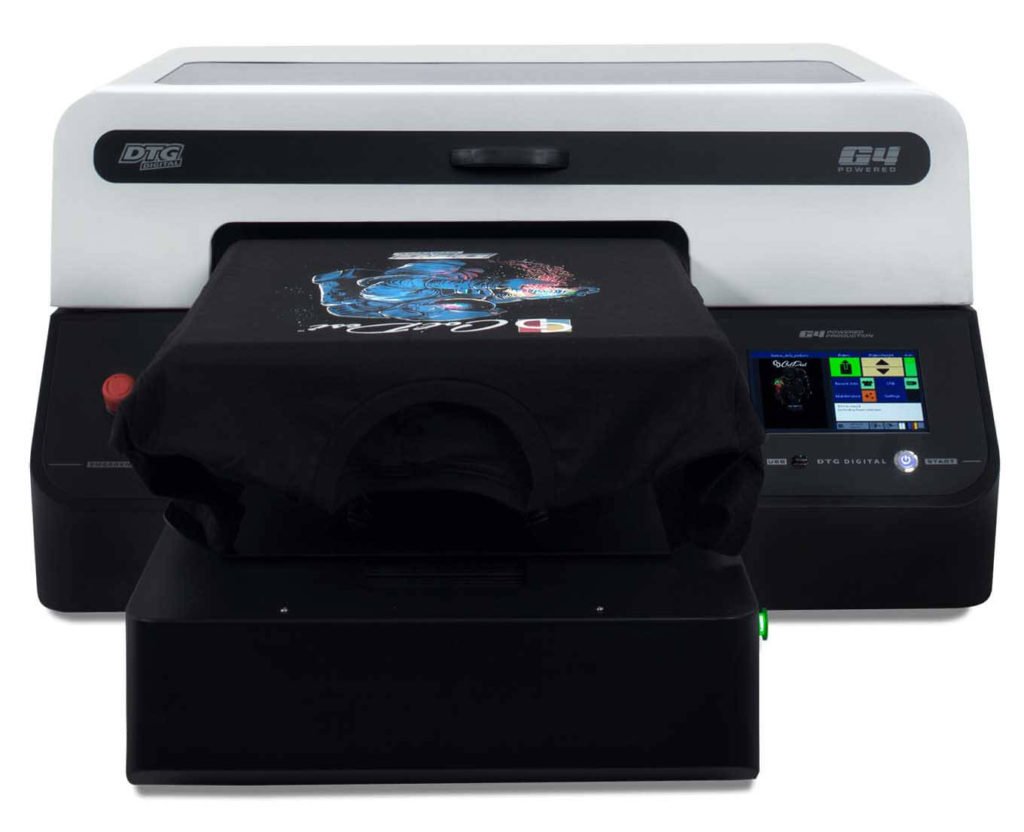 The ColDesi DTG G4 is a fast, efficient DTG printing machine with an intuitive 7" touch resistive display. The printer features automatic table height adjustment and a control panel that prompts you when ink is getting low or when cartridges require agitation. These handy notifications help to reduce maintenance costs.
The printer's large memory capacity can store up to 20 designs in the print queue. The grid design allows vacuum suction to hold platen and fabric in place.
Printing specifications
Dimensions: 54″ x 39″ x 18.3″
Printing area: 16" x 20"
Machine weight: 216 lbs
4x Ricoh Piezo print heads
8 ink channels, with 192 nozzles per channel
Water-based pigment inks: CMYK + 2 white ink spots
1200 x 1200 maximum resolution
Price
$14,995
Pros
Large print area
28-second printing speed
Vacuum platen holds fabric securely in place and reduces maintenance
User-friendly operation increases production speed
Includes design and underbasing software
Cons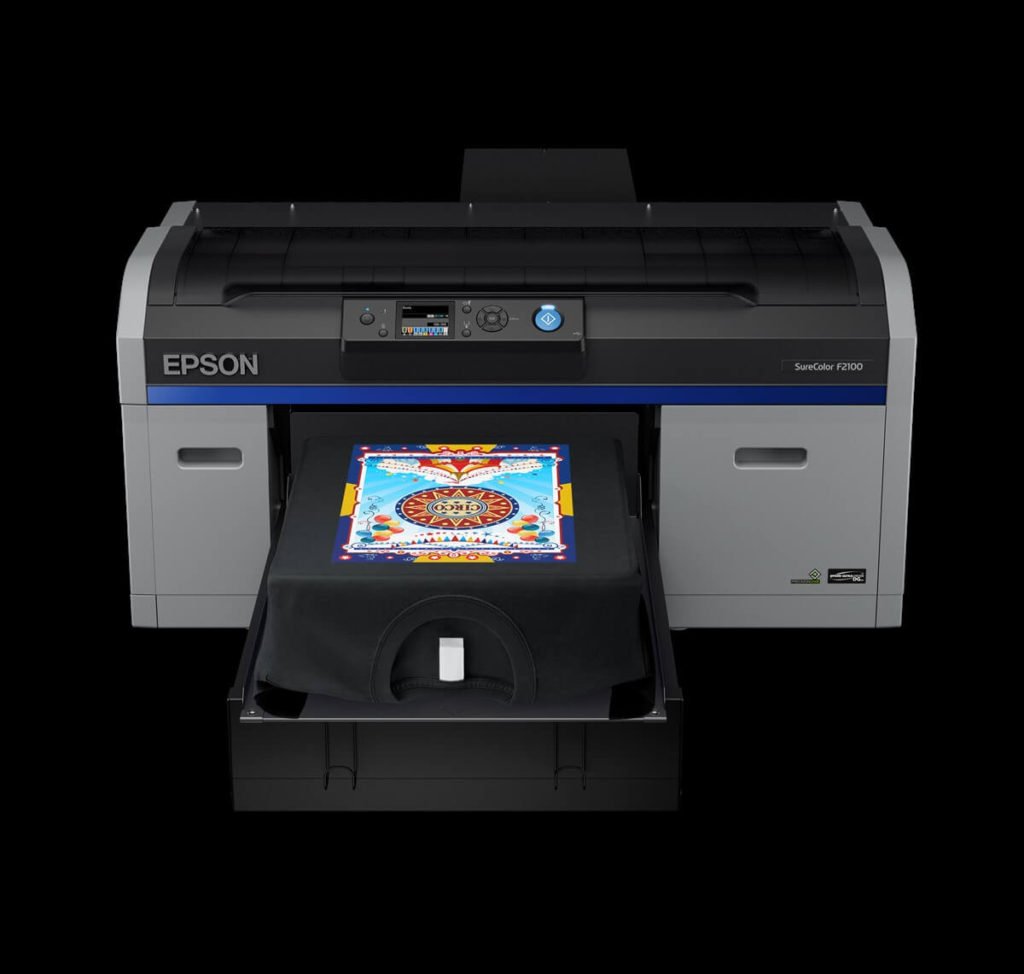 The Epson F2100 DTG Printer has changeable print modes that ensure consistent print quality. Epson's UltraChrome DG inks deliver outstanding color and enhanced image quality in an eco-friendly manner. With a patented fabric wiper and in-line self-cleaning cartridge, the Epson F2100 printing machine is able to self-maintain, which reduces downtime.
Printing specifications
Dimensions: 59″ x 39″ x 20″
Printing area: 16" x 20"
Machine weight: 183 lbs
PrecisionCore TFP print head with 10 channels and 360 nozzles each
6 ink cartridge bays, 1 cleaning cartridge bay
Water-based pigment inks: CMYK + 2 white ink spots
Maximum print resolution of 1440 x 1440 dpi for white ink
Maximum print resolution of 1440 x 720 dpi for color ink
Price
$14,995.00
Pros
Large print area
Epson F2100 includes 250ml of each color ink and a 700ml cleaning cartridge
Self-cleaning system cuts maintenance and downtime
Mac and Windows compatible
Cons
Expensive ink cost of ~$230 per 600 ml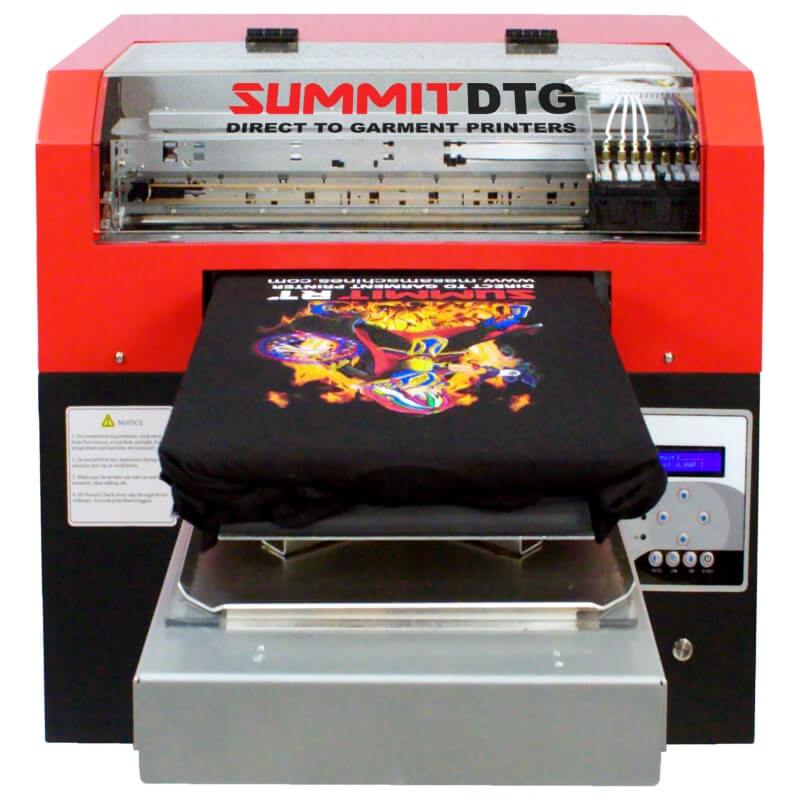 The Summit RT DTG Printer is a cost-efficient machine focused on high resolution, speed, and ease of use. With Epson's R1800 print head technology and Summit's Kothari Print Pro RIP software, printers can control ink droplets as small as 1-1/2 picolitres to create highly accurate photo-quality prints. Setup and maintenance are a breeze with Summit's simple productivity tools and built-in auto-clean feature.
Printing specifications
Dimensions: 32″ x 25″ x 23″
Printing area: 13" x 23.5"
Machine weight: 130 lbs
Epson R1800 print head
Micropiezo 180 nozzles
DTG water-based inks
Maximum print resolution of 5760 x 1440 dpi
Price
$17,995
Pros
Ultra-high-resolution printing
Fast printing speed with One Pass printing
Auto-clean feature reduces maintenance time
Includes Kothari Print Pro RIP design software
Cons
Best DTG Printer for Small Business: Under $10,000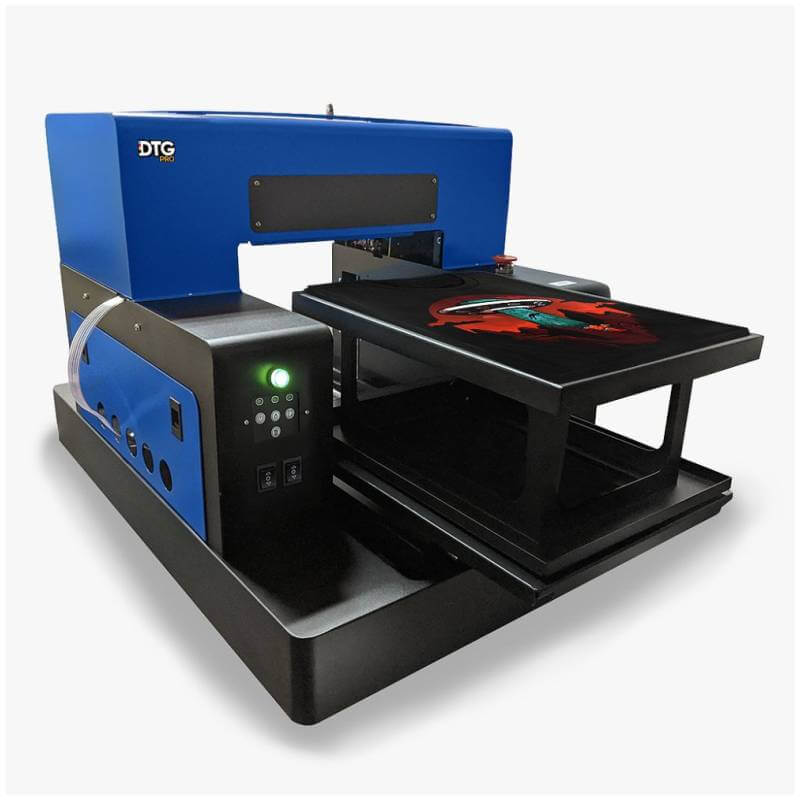 The DTG Pro L1800 Fusion is a built-to-order DTG printer made from an Epson L1800 engine. The printer has been enhanced with a drive train and precision linear rail system in a unibody design. The L1800 Fusion has a modular magnetic platen system that quickly adjusts to various fabric sizes and thicknesses. The printer's continuous ink flow system ensures smooth, even color distribution and accuracy.
Printing specifications
Dimensions: 40″ x 27″
Printing area: 12.5" x 18"
Epson L1800 engine, with DTG Pro engineered base
Print resolutions available from 360 x 720 dpi up to 2880 x 1440 dpi
Price
Pros
Affordable, high-resolution printer
Comes with design software, Epson driver software, manual, and video tutorials
Smooth, even ink color distribution system
Cons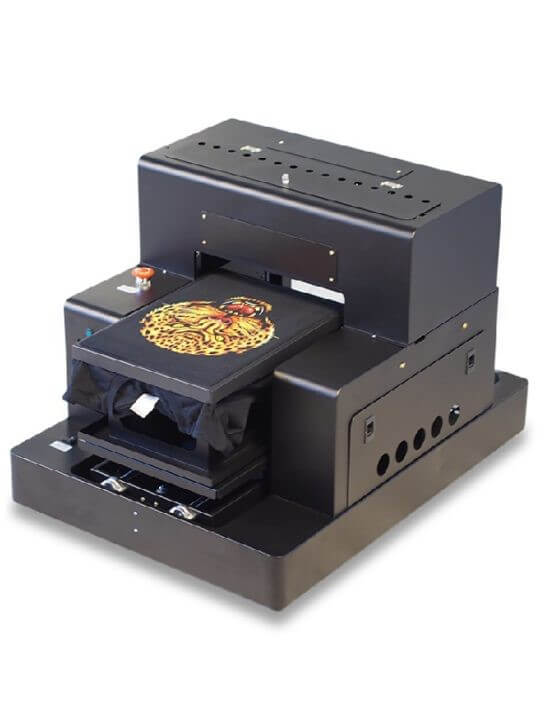 The A3 is one of the best DTG printers for small businesses on a budget. The printer can handle thin or thick fabrics such as cotton, denim, linen, leather, and more. Capable of producing high-resolution and intricate patterns and designs, the DTG printer is designed to create vivid and washable prints. The automatic printing feature and self-cleaning technology help minimize production time, and print time is under 1 minute for most designs.
Printing specifications
Dimensions: 34″ x 25″ x 23″
Printing area: 13" x 19.7"
Machine weight: 105 lbs
Micro piezo print head with 180 nozzles per channel
Water-based pigment inks: CMYK + 2 white ink spots
Maximum resolution of 5760 x 1440 dpi
Price
Pros
Affordable price
Ultra-high-resolution printing
Capable of using both DTG and DTF inks, which keeps printing costs between $0.10 and $0.20 per print
Includes AcroRip 9.0 printing software
Cons
Not compatible with Mac
Slower than the more expensive DTG printers
Other Notable DTG Printers
Steps to Print with a DTG Printer
1. Pretreat and Cure
Distribute a smooth, even coat of pretreating solution on the garment with a pretreament machine or spray gun. Pretreating solution is the base layer that enhances the vibrancy of light-colored inks on darker garments.
Then cure this solution with a heat press or forced-air dryer to ensure an adherent, flat print surface.
2. Prepare the Design
Upload your artwork into the DTG printer's digital graphics program.
3. Print
Place the garment on the platen, lower the head of the machine, and print your design. Depending on the size of your design, this process may take a few minutes.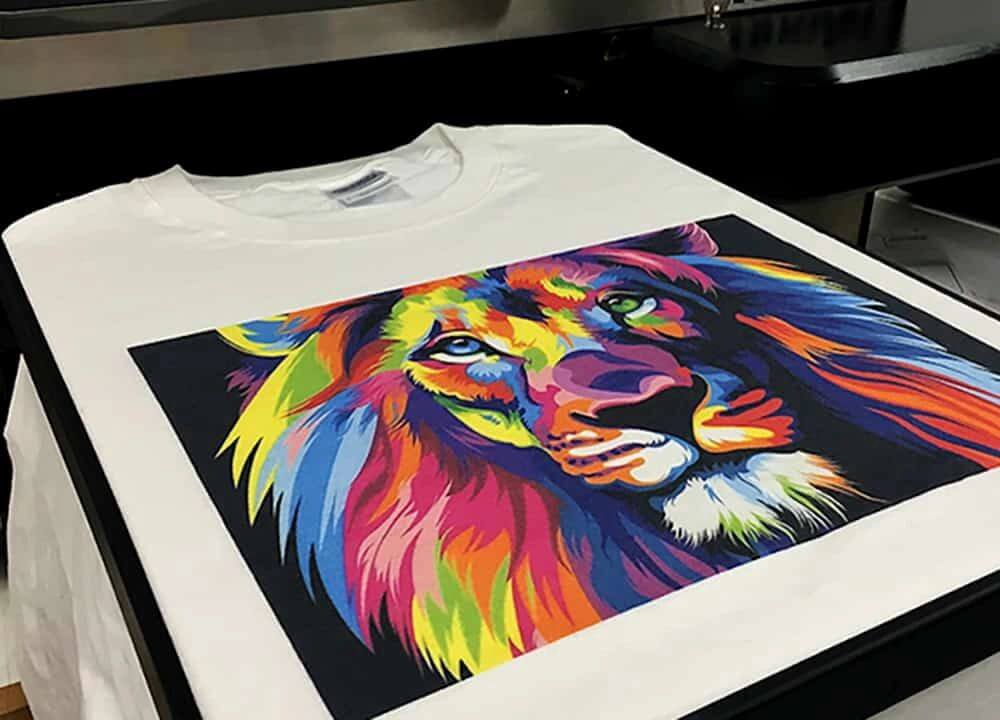 4. Cure the Ink
Put your freshly printed item back through the heat press or forced-air dryer to cure the ink. This process ensures that the ink adheres permanently to your garment and washes well.
Maintenance Tips for DTG Printers
Maintain an Environment Suitable for Printing
To keep DTG printers functioning, maintain a clean, dust-free environment. Regularly monitor the humidity levels and heat, which can damage printed materials. Keep the temperature constant to prevent overheating or moisture accumulation.
Perform Regular Maintenance of the Nozzle
Check the printer nozzle every day before printing. If it is clogged, clean it with demineralized water or cleaning fluid. Any blockage can cause damage to the machine and affect the precision of the printer.
Keep a Smooth Flow of Ink
If your DTG printer has an agitator, it will continuously stir ink to prevent the ink from drying. If your machine does not have an agitator, periodically shake each ink cartridge to maintain a smooth flow during printing.
Clean the Capping Station
Keep your printer clog-free by cleaning the capping station regularly. Open the printer, locate the print head, and use hot demineralized water to fill the capping reservoirs. Dab the area with a lint-free cloth until clean, and then run a print head cleaning cycle, if available. Also, clean the wiper that crosses the bottom of the print head.
Frequently Asked Questions (FAQ)
Are DTG printing businesses profitable?
Yes, DTG printing businesses can be very profitable. On websites such as Etsy, Zazzle, and Cafepress, custom t-shirts can sell for $20 to $25.
If you look at the unit economics, your highest cost will be the t-shirt itself. After that, the operating costs with a DTG printer may only come out to $1 to $3 per print. With gross margins as high as 75%, there is a lot of opportunity to develop a profitable DTG shirt printing business.
How much does a DTG printer cost?
Our guide on the best DTG printer for small business operations covers the best DTG printers from as little as $3,000 to as much as $30,000. Most manufacturers and retail sellers offer attractive financing options that can help make a high-quality printer affordable.
Do you need a pretreatment machine for DTG printing?
Pretreatment machines are helpful but not necessary for DTG printing. Pretreatment involves applying a primer to the base garment in order to print lighter color inks on dark garments and to prevent bleeding. This can be accomplished with a controlled machine, or an electric Wagner spray gun.
What fabric can be used in DTG printing?
DTG printers apply water-based ink to garments, so natural fabrics that absorb liquids work best. Synthetic fabrics, on the other hand, which are plastic-based are not suitable for DTG printing.
Cotton, linen, and certain light-colored polyester blends are your best bet when direct to garment printing.
Can a DTG printer print on hoodies?
Yes, a DTG printer allows you to print on hoodies, which tend to be composed of 100% cotton or cotton-polyester blends.
Is DTG printing good quality?
Yes, DTG printers produce exceptional photo-quality prints with high resolution.
What's the best direct-to-garment printer?
The best DTG printer for small business operations depends heavily on your print volume and budget. Fortunately, there is a great DTG printer for almost any budget.
If you are just starting in the garment printing industry, choose a lower-end printer that is easy to use and has good tech support. As your small business grows and takes on greater volume, consider purchasing a mid to high-end DTG printer. These more expensive machines have more automatic features that save time and maintenance, and allow for further expansion.