Are you tired of living paycheck to paycheck? Do you wish you could quit the rat race and live life on your own terms?
Most people do, but few achieve financial freedom before their zest for life begins to fade. That doesn't have to be you! FIRE blogs can support your journey to financial independence.
Whether you're a newcomer to the financial independence retire early (FIRE) movement or a seasoned pro, these online resources are essential reading for anyone who wants to take control of their finances and reach their dreams.
From expert advice on saving and investing to real-life stories of people who have achieved financial freedom, these financial independence blogs offer you an introduction to the FIRE community.
So why wait? Explore the world of FIRE blogs today and start building the life you've always wanted.
What Are FIRE Blogs?
FIRE (financial independence retire early) is a growing movement that revolves around pursuing financial freedom and living off passive income. FIRE-hopefuls wish to retire from their 9-5 jobs and pursue their passions as soon as possible.
FIRE blogs help people accomplish this.
The best financial independence blogs share strategies, inspirational success stories, and tools that can help you get to financial freedom and retire early. These sites feature tips on how to save money, invest in your financial future, and create passive income streams.
And although not every FIRE journey looks the same, they all contain similar elements. That's why the FIRE blogs in this article cover overlapping topics like investments, budgeting, and retiring early. However, each has its own unique insights and caters to a slightly different audience. So dive right in to find your best fit!
The 13 Best FIRE Blogs For Building Wealth
From frugal living and investing to retirement planning and tax optimization, here are the 13 absolute best FIRE blogs for building long-term wealth:
1) Mr. Money Mustache

Mr. Money Mustache is a personal finance blog founded by Peter Adeney. Peter and his wife achieved financial independence at the age of 30 with a fully paid-off house and a nest egg of around $600k.
Like other FIRE blogs, Mr. Money Mustache advocates for a minimalist and frugal lifestyle to help readers build wealth and retire early. The site's philosophy is centered around the idea of "financial freedom through badassity". And as that may indicate, the writing is often humorous and irreverent, but still full of helpful insights.
The top articles on Mr. Money Mustache focus on Peter's FIRE journey and how he reached financial independence at such a young age. He discusses how to FI on a modest salary, invest money for the long term, and live off passive income.
Peter has built a large and dedicated following of readers who are inspired by his story of financial independence and early retirement. This has translated into an active forum with tens of thousands of members who discuss everything from saving money to real estate investing.
2) Financial Samurai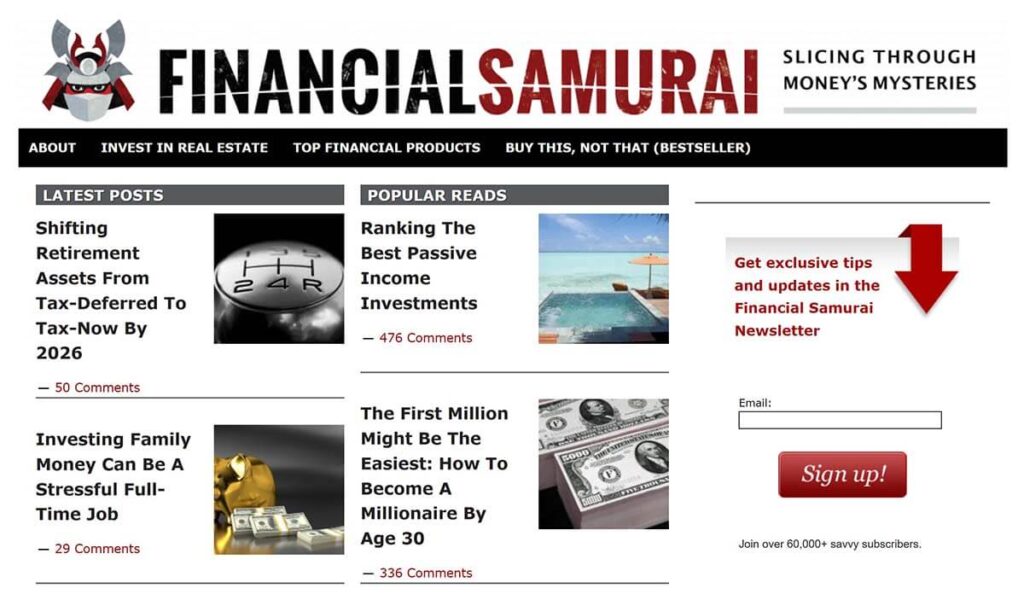 Sam Dogen founded the Financial Samurai in 2009. After working at Goldman Sachs and Credit Suisse for more than 10 years, Sam quit Corporate America to enjoy life as a semi-retired FIRE blogger.
With $80,000 in annual passive income, he had reached financial independence at the age of just 34. However, in the past decade, Sam has gone on to publish more than 2,500 articles, pursue real estate investing, and scale his passive income to nearly $400,000.
His financial independence blog covers a wide range of topics related to personal finance, including retirement planning, investing in index funds and real estate, and tax optimization. Sam is an excellent storyteller who can weave together thought-provoking commentary on economic trends and current events with personal anecdotes from his own journey.
Financial Samurai is one of the best financial independence blogs for those who aspire to a multi-seven-figure net worth. Unlike other FIRE blogs that key in on creative ways to save money, this site is more focused on building wealth, managing investments, and creating an affluent life.
3) The Money Maniac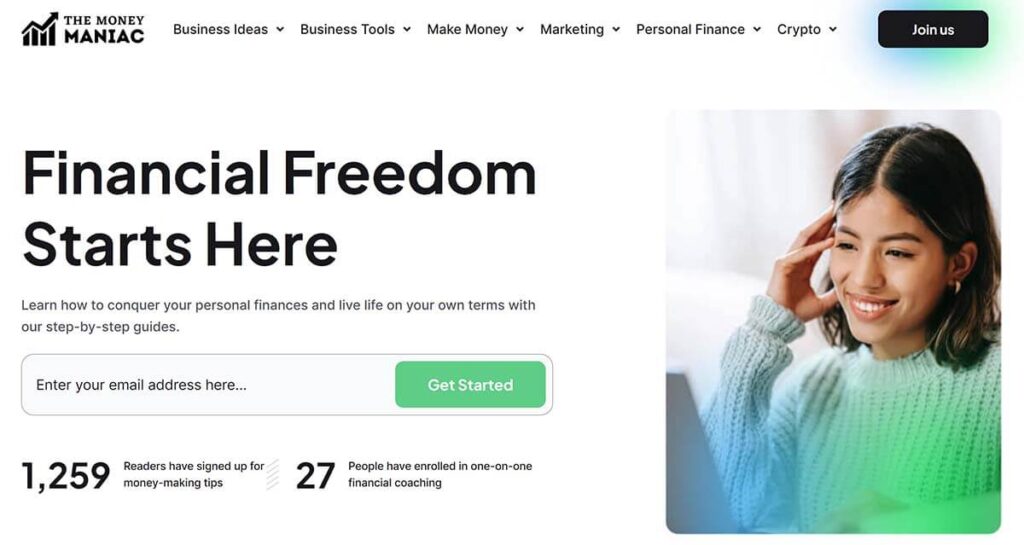 One of the best FIRE blogs on the internet is none other than The Money Maniac. This site is the brainchild of Daniel Anderson, a money coach and personal finance expert.
After leaving his career on Wall Street and generating 8-figures in revenue from online businesses, Daniel set out to teach others how to achieve financial freedom. He writes about his ongoing journey to fat FIRE and how to become financially independent without sacrificing life experiences.
Founded in 2022, The Money Maniac is quickly becoming one of the most popular FIRE blogs among entrepreneurs and aspiring business owners. It offers readers a mix of practical advice on building businesses, generating passive income, and living life to the fullest.
Although budgeting is a key tenet of pursuing financial independence, the Money Maniac is less focused on frugal living than other early retirement blogs. Instead, the site hopes to help readers transform their earning potential and leverage their skills to achieve a higher level of financial freedom.
To take advantage of The Money Maniac's personal finance tips, find us on Twitter or subscribe to our newsletter!
4) Mad Fientist

Brandon Ganch, better known in the FIRE community as the Mad Fientist, is a personal finance blogger and podcaster. A former software developer, Brandon views money as a game and centers much of his content around optimizing his own FIRE journey.
Mad Fientist discusses minimizing taxes, travel hacking, and reducing unnecessary spending. And that's exactly why the Mad Fientist blog is perfect for personal finance nerds.
The site offers readers a wealth of resources for financial planning, including calculators, interviews, and case studies. Brandon even touches on how to launch an online side hustle to make extra money and increase your savings rate.
The FIRE blog is also popular for its Financial Independence Podcast, which hosts A-list guests like Peter Adeney (Mr. Money Mustache), Ramit Sethi (I Will Teach You To Be Rich), and James Clear (Atomic Habits). These interviews discuss the principles of money management, as well as the individuality of each person's path to financial independence.
The Mad Fientist himself also touches on how to enjoy life while progressing toward your FIRE number. His refreshingly open perspective on balancing happiness with long-term thinking is worth a read (and listen).
5) ChooseFI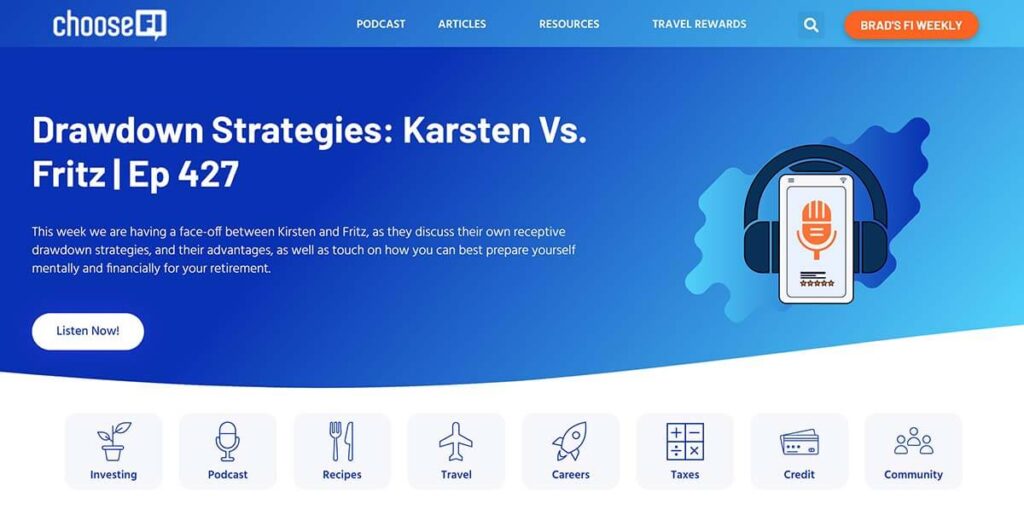 What sets ChooseFI apart from other personal finance blogs is its emphasis on community and collaboration. Founders Jonathan Mendonsa and Brad Barrett have reportedly created the world's "largest financial independence community." This includes a nearly 100,000-member Facebook group, a vast network of local groups, as well as cohort groups for people with similar goals or lifestyles.
ChooseFI features in-depth guides and resources for anyone interested in retiring early. The popular FIRE blog covers the principles of the FIRE movement, and how to achieve financial independence through a combination of smart investing, frugal living, and intentional spending.
In addition to being one of the best early retirement blogs, ChooseFI also hosts a weekly podcast. Jonathan and Brad discuss the latest news and trends in personal finance, share their favorite money-saving tips, and interview other FIRE enthusiasts and experts.
One of the key strengths of ChooseFI is its focus on actionable advice and real-world examples. Jonathan and Brad are both regular guys who have achieved financial independence through their own hard work and dedication. It's clear that they are passionate about sharing their knowledge and experience with others, and they do so with easy-to-understand anecdotes and a dose of humor.
6) BiggerPockets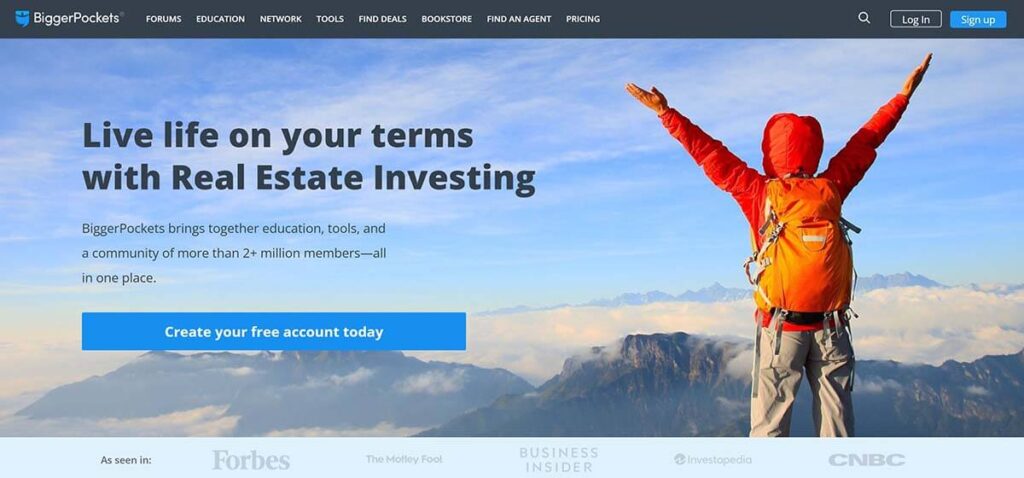 BiggerPockets is a FIRE blog for people who are pursuing financial independence through real estate investing. Joshua Dorkin, a proven real estate investor and entrepreneur, started the blog in 2004 as a way to share his wealth-building strategies with others.
Since then, BiggerPockets has ballooned into one of the leading FIRE blogs on the internet. The brand now operates five podcast shows, weekly webinars, and a real estate forum home to more than 2 million members.
This community of investors and experts regularly contributes to the blog's content. With more than 500 detailed articles on topics such as investment strategies, property management, financing, and market trends, BiggerPockets is the go-to blog for those interested in FIRE via real estate.
What makes BiggerPockets unique and helpful is that it combines educational content, practical tools, and a community of like-minded individuals. The blog boasts a variety of resources, including podcasts, webinars, and online courses, that provide readers with in-depth knowledge and valuable insights.
In addition, BiggerPockets offers various tools, such as calculators, rental property analysis software, and investment calculators. These can help beginning investors analyze real estate deals and make more informed decisions.
7) Millennial Money

Millennial Money is a popular personal finance blog started by Grant Sabatier, an entrepreneur, bestselling author, and self-made millionaire.
One reason why Millennial Money is one of the best FIRE blogs around is because of Grant's unique and inspiring story. In just five years, Grant grew his net worth from only $2.26 to more than $1 million. His personal experience serves as an inspiration for readers and also adds a layer of practicality to the site's content.
The blog covers the full spectrum of personal finance topics, from budgeting and investing to career advice and personal growth. But Grant specializes in teaching his community how to increase their income through entrepreneurship — including side hustles, the gig economy, and launching businesses.
Millennial Money offers a realistic perspective on what it takes to reach financial independence and early retirement. Grant encourages readers to think outside the box and explore creative ways to earn more money and improve their savings rates. And the blog also emphasizes the importance of mindset, gratitude, and how to truly enjoy financial freedom.
8) Budgets Are Sexy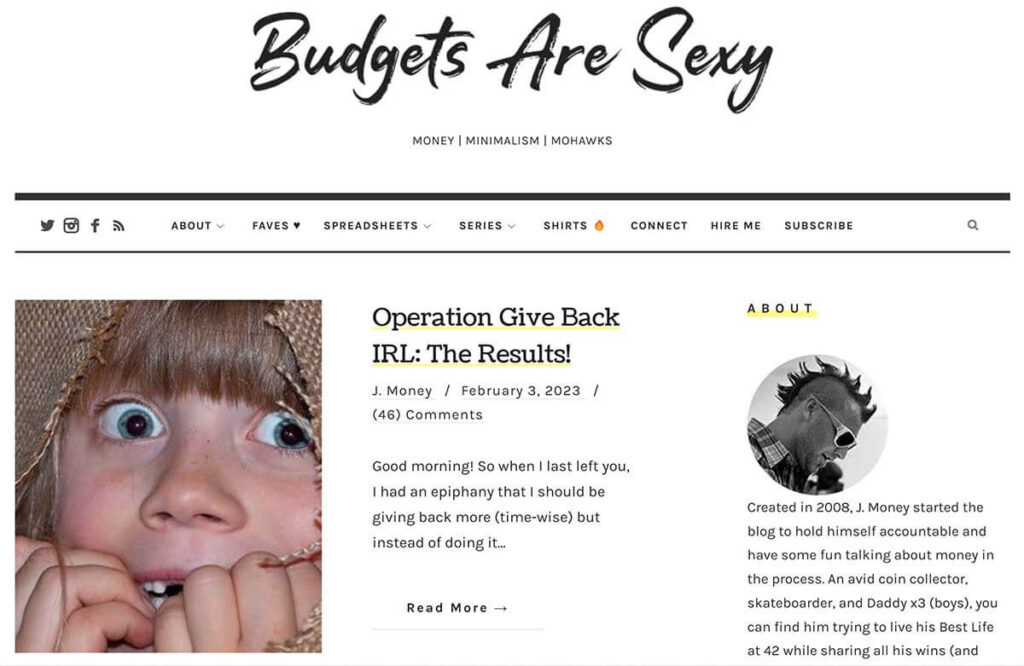 Budgets Are Sexy is one of the most entertaining FIRE blogs around because of its unique and engaging writing style. Founder J. Money brings a fun and relatable approach to personal finance, which makes it easier for readers to understand and apply the advice to their own lives.
Started in 2008, the blog is centered around money, business, lifestyle design, and minimalism. J. Money keeps things fun and engaging, often discussing his own passions like coin-collecting, skateboarding, and being a stay-at-home dad.
The blog's content is focused on helping people take control of their finances and break free from the rat race — but in a lighthearted and relatable way. In fact, J. Money even shares his own losses along with his wins. His "resume of failures" demonstrates his willingness to be open, honest, and vulnerable. This sets the site apart from many other FIRE blogs, which can sometimes make financial success look unrealistically easy.
Budgets Are Sexy is a supportive resource for those paving their own way to financial freedom. The blog shows that it's not only possible to achieve financial success, but also to have fun while doing it.
9) Retire By 40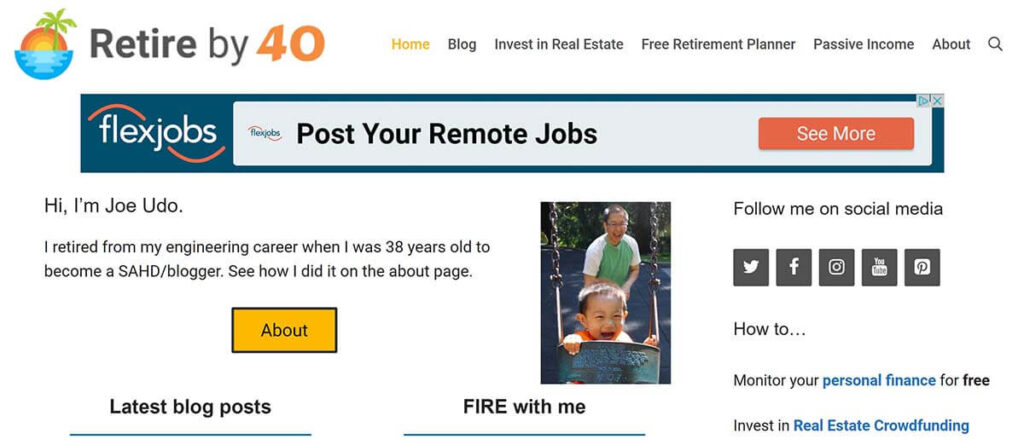 Joe Udo started Retire By 40 in 2010. The blog initially served as a way for him to explore financial independence and plan his escape from the corporate world. And by 2012, Joe followed through — leaving his engineering role at Intel at only 38 years old!
At its core, Retire By 40 is an early retirement blog. Joe writes about his personal journey to financial independence, as well as his experiences as a stay-at-home dad. His monthly FIRE updates break down his family's spending, expenses, happiness, and goals. These regular check-ins are refreshingly real and highlight all of life's ups and downs (beyond just the portfolio).
Retire By 40 strikes a great balance of personal, emotional, and educational. It's easy to relate to Joe's lifestyle, decision-making, and struggles — but the blog also offers plenty of financial advice. Joe covers a range of topics from investing in income-producing assets to budgeting for retirement and lifestyle design.
Overall, Joe gives readers an inside look into his financial independence journey and what it looks like to take full advantage of financial freedom. It's a valuable site for anyone in their 30s or 40s who is serious about leaving the workforce.
10) Physician On FIRE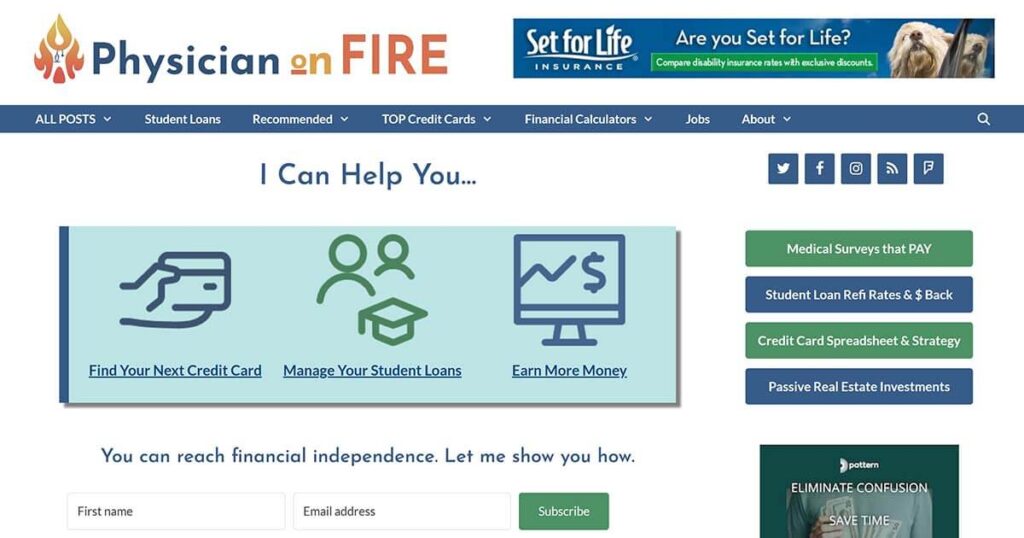 Physician On FIRE is one of the youngest FIRE blogs on this list. Created in January of 2016, Leif Dahleen set out to discuss the unique financial challenges and opportunities facing physicians.
Leif himself reached financial independence at 39 and chose to retire early from medicine at 43. The ex-anesthesiologist now writes several columns per week on personal finance topics as they pertain to doctors and medical students.
This includes managing student loan debt, preventing burnout, living like a resident, and lowering your tax bill. Leif also writes about important lifestyle considerations that come with being a physician, such as the demands of the job and the need to balance work and family life.
And although some of these topics are niche specific, many of the blog's tips and tricks can be applied to other high earners. Lawyers, MBAs, and other post-graduate school professionals regularly comment on the blog, which speaks to its helpfulness for more than just physicians.
Physician On FIRE is an especially helpful resource for those interested in fat FIRE. High earners, or people living in high-cost-of-living areas, stand to learn from Leif's thoughts on achieving financial independence and planning for early retirement.
So no matter your profession, give this blog a read if you are targeting a $2 million to $10 million FIRE number. Leif will help get you up to speed on saving and investing, tax strategies, and lifestyle design.
11) Rick Orford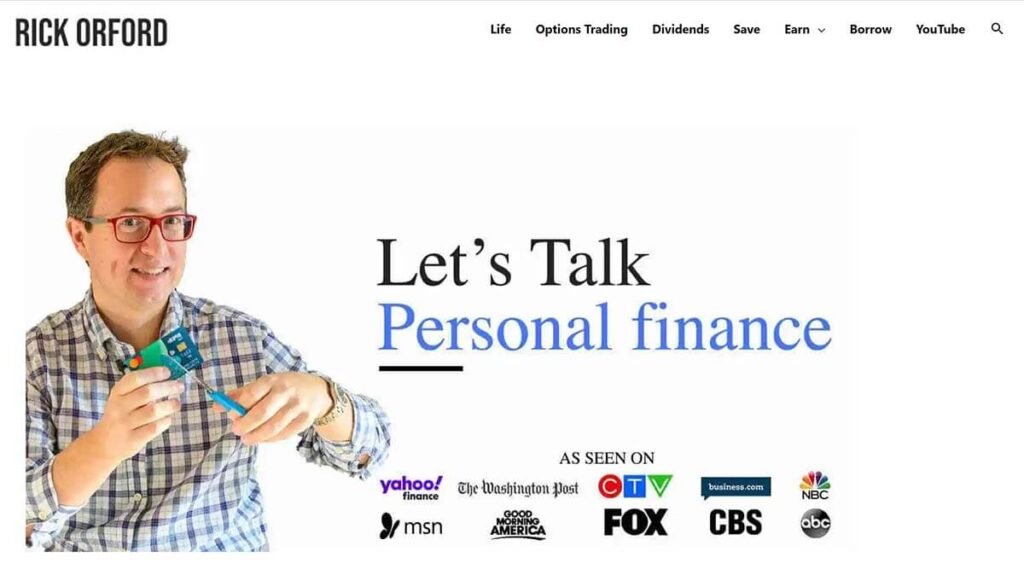 Rick Orford started his namesake personal finance blog in 2019. Since then, the site has gained traction for its focus on dividend investing and options trading.
Rick achieved financial independence at the age of 35 and focuses much of his work on what he would tell his younger self. In addition to writing "The Financially Independent Millenial" in which he reveals the secrets to building a seven-figure net worth, Rick regularly blogs about building passive income streams. And this work has been picked up by major publications like MSN, Business Insider, and Yahoo Finance.
Unlike many FIRE blogs, Rick Orford doesn't tout the benefits of low-cost index funds. Instead, he focuses on generating yield through dividend investing and selling covered calls.
These strategies produce reliable streams of passive income that can be used to reach financial independence. And his detailed breakdowns of Dividend Aristocrats and Dividend Kings are great places to start learning about investing in stocks.
Although Rick doesn't often write about "financial independence retire early" topics, his blog instills important lessons about income generation, tax optimization, and portfolio construction. His site is a valuable resource for anyone looking to get more actively involved in the markets.
12) The Simple Dollar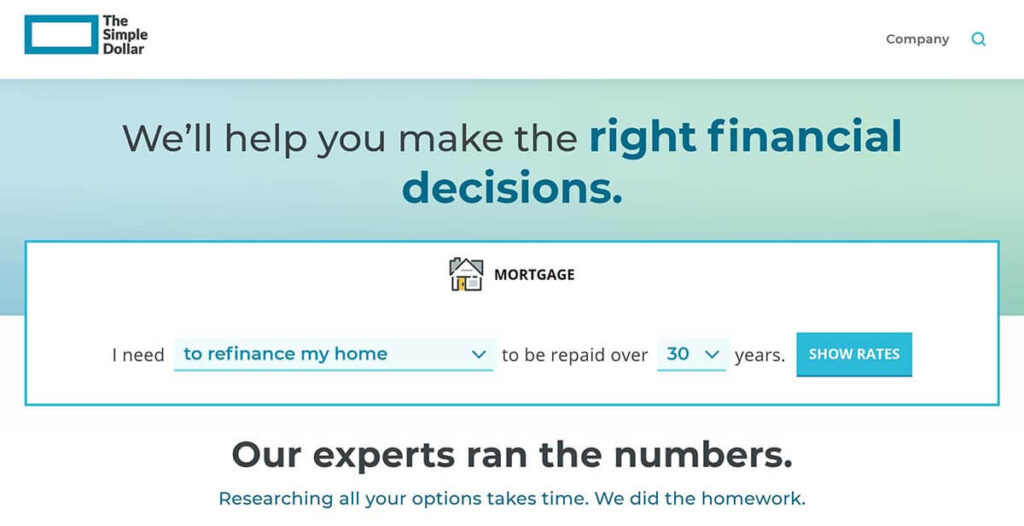 Trent Hamm founded The Simple Dollar to transform his own relationship with money. Despite having a successful career, Trent found himself in debt and struggling to make ends meet. The Simple Dollar began as a way for Trent to share his journey to financial independence with others who may be facing similar challenges.
What makes this FIRE blog unique is Trent's willingness to bare it all. Rather than hiding under the cloak of anonymity, Trent uses his own story to illustrate the concepts he covers. He openly shares his successes and failures so that readers can relate to his experiences and feel empowered to take control of their finances.
The Simple Dollar provides practical advice that teaches readers how to turn around their finances and reach financial independence. Trent and his team emphasize the importance of responsible money management, such as budgeting, debt reduction, investing, and side hustles.
Overall, personal finance beginners will greatly benefit from The Simple Dollar's approachable feel. The blog's straightforward advice and simple explanations can help you start making positive financial changes right away.
However, since the blog's recent acquisition the publishing pace has slowed down dramatically. The historical content is still valuable and relatable, but readers may need to look elsewhere for more up-to-date articles.
13) Frugalwoods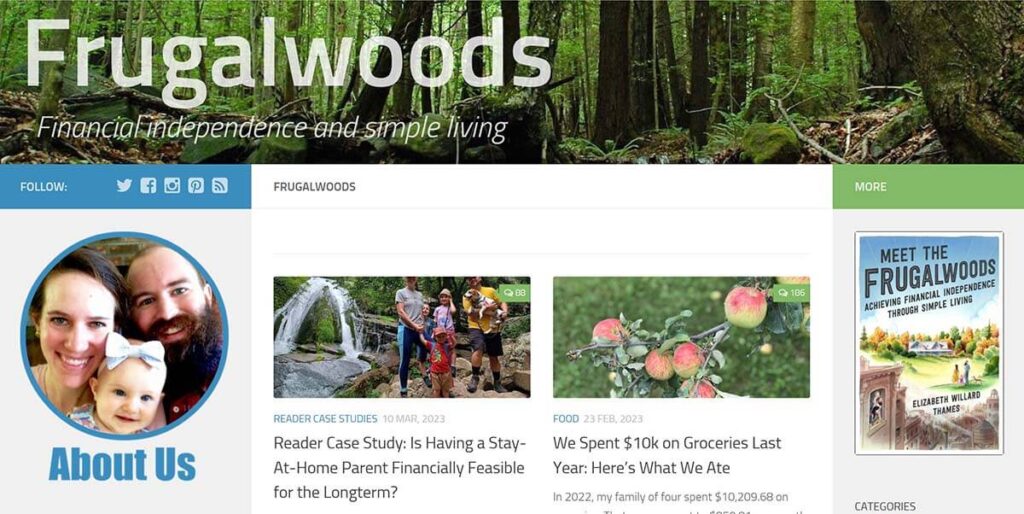 Liz and Nate Thames were inspired by the idea of "Early Retirement Extreme", which rejects consumerism and encourages extreme frugality and self-reliance in the pursuit of financial independence.
The couple started the Frugalwoods blog in 2014 to detail their journey toward financial freedom. At that time, they were urban professionals focused on cost-cutting, saving money, and escaping the rat race.
Now, they live on 66 acres of land in rural Vermont with their two children. And Liz, the primary author, has begun touching on a wider variety of personal finance topics, including investing and income generation.
However, Frugalwoods is still fundamentally a lean FIRE blog. Liz details the steps she has taken to live a more affordable, intentional life, and achieve her financial goals. Her philosophy is to only spend money when it adds meaningful value or joy to her life.
The blog is chock full of practical tips and tricks for "frugalizing" everything from clothing and food to pets and travel. Liz's writing is engaging and relatable for anyone who has ever tried to cut back on their spending without sacrificing fun.
So if you are looking to save more and live a leaner lifestyle, Frugalwoods is worth reading. Liz helps readers find their optimal balance of saving and happiness by focusing on the things that matter most to them.
Final Thoughts
The key principles of the financial independence retire early movement are relatively straightforward. However, these top FIRE blogs go beyond the basics.
They offer readers fresh perspectives on money management, passive income generation, and lifestyle optimization. After all, there is more to life than your net worth.
So whether you're just starting out or have a solid FIRE plan in place, any of these blogs can help you reach financial independence. Think about your own journey, what financial freedom looks like to you, and which FIRE blogs best align with your goals.
Then hit the subscribe button and get ready to make your dreams of early retirement come true. Happy FIREing!