For anyone who spends much of their workday on typing or data entry, dictation software can be a powerful ally. But with so many software solutions on the market, finding the one that suits your needs is no easy feat. You need to weigh their relative strengths and weaknesses and consider your specific use case. Then, you need to decide how much you're willing to spend. To help you find the solution that works for you, use this list of the best dictation software of 2023. It's a good place to begin your research into the cutting-edge world of speech recognition technology.
What Is the Best Dictation Software?
There are plenty of great dictation software options on the market today, but the best dictation software title goes to Google Docs Voice Typing. The reasons are manifold. First, it's one of the most broadly compatible voice dictation solutions on the market. Because it's housed within Google Docs, it's usable on almost any internet-connected device with a modern web browser and microphone. And, it leverages Google's excellent artificial intelligence (AI) as its speech recognition engine, which is one of the most advanced such systems in the world.
But that's not all that Google Docs Voice Typing has going for it. It also features one of the biggest compatible language lists of any voice dictation software on the market, so it's useful for the widest possible user base. And, if you need another reason to love it, it's also free to use with no restrictions for anyone with a Google account. This makes it a great tool to supercharge the productivity of a side hustle without spending a dime.
7 Best Dictation Software Apps
Best Software for All-Purpose Dictation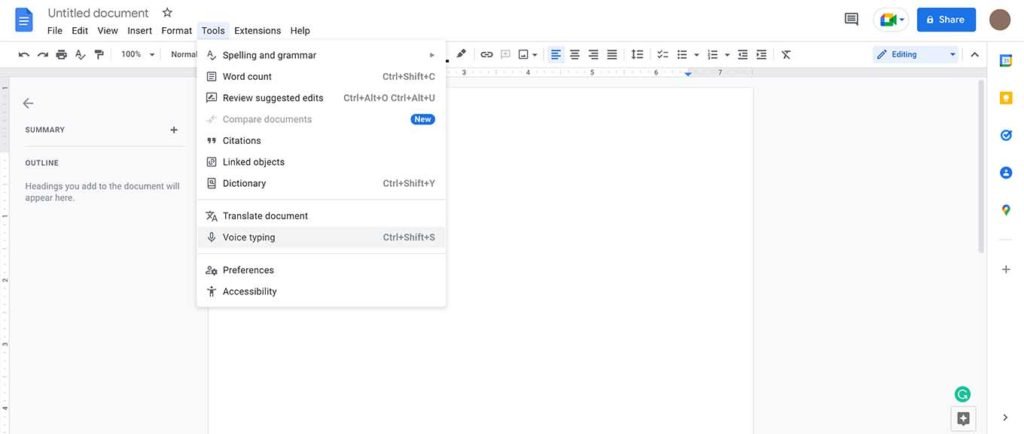 When it comes down to it, dictation software is only as useful as the speech recognition technology that powers it. And these days, all the top speech recognition software relies on AI technology to understand the spoken word and provide an accurate translation to text. That's what makes Google Docs Voice Typing a leader in the field. That, and the fact that it's free to use.
Google brings its best-in-class AI technology to the table to make its speech recognition system one of the most powerful on the market today. And because it's based within the ubiquitous Google Docs platform, it's broadly accessible to most users. No software downloads or installations are required. All you need is a compatible device, a microphone, and an internet connection. Google takes care of the rest.
It's also worth noting that Google Docs Voice Typing supports 125 different input languages, making it one of the most flexible solutions on the market today. It's quite accurate, too. Independent tests found that the system achieves approximately 96% accuracy, with most of its errors relating to capitalization, not word recognition. The only real downside is that you can't use the system if you're not connected to the internet. But with the majority of users always online, that's not a problem many will encounter. Altogether, it's easy to see why Google Docs Voice Typing is the best software around for dictation.
Pros
Highly accurate speech recognition
Understands 125 different languages
Built into Google Docs, one of the most-used word processors worldwide
Works on almost any internet-connected device
Free to use without restrictions
Cons
Has difficulty with capitalization in some cases
Requires a stable internet connection
Price
Free
Best Dictation Software for Apple Device Users
By now, most of the world is familiar with Apple's Siri. It's one of the most widely used voice assistants in the world, and it supports a multitude of voice commands to control the entire Apple ecosystem of products. It also uses the same technology that powers Apple Dictation, the Cupertino-based tech giant's platform-native dictation software. It's built into all of Apple's current-generation products, and it supports unlimited offline use on devices running OS X v10.9 or later as well as any iPhone 6s or newer mobile device.
Just like Siri, Apple Dictation does a great job of translating speech to text and boasts tremendous accuracy. On first use, it's comparable to Google Docs Voice Typing. Like Siri, its accuracy should improve as the system gets to know your voice and its particular inflections and idiosyncrasies. And because Apple Dictation benefits from operating within a closed hardware ecosystem, Apple can ensure that it works well on every supported device.
Where Apple Dictation really shines is in its flexibility. Users can create custom dictionaries to add words that may not exist in the stock dictionary. And it's also possible to create a near-endless string of voice commands, which are useful both for dictation and general device control while the system is in use. If not for the fact that only Apple devices can use it, Apple Dictation would easily top this list.
Pros
Highly accurate and adapts to a user's voice over time
Supports 20 major languages
Available on most modern Apple devices
Works offline
Free for use on supported devices
Cons
An Apple-only solution that won't work on Windows- or Android-powered devices
Limited to 30 seconds of speech at a time on older Apple devices
Price
Free
Best for Customization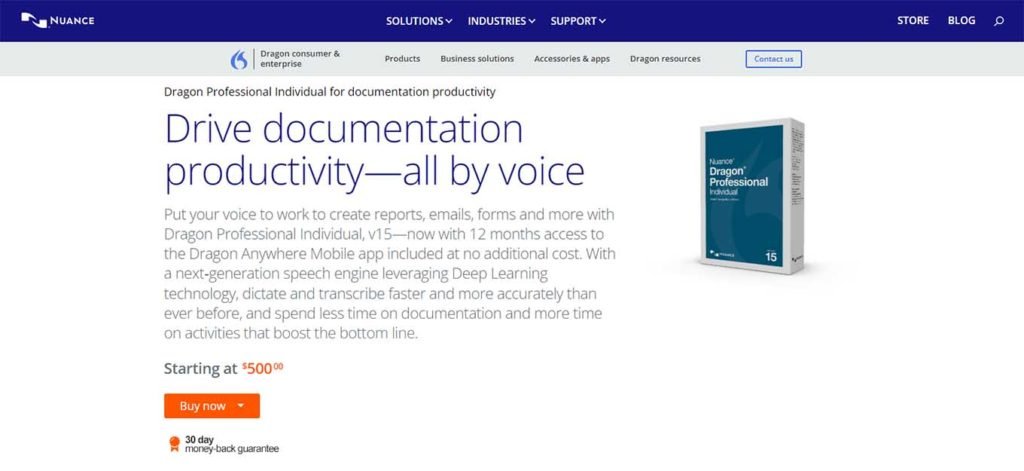 Even though most people regard speech recognition software as a recent innovation, its roots go back further than you might think. The first speech recognition software for consumers came out way back in 1990. And the company that released that software is still around today. Their latest release, Dragon by Nuance, is hands-down the most flexible and customizable speech-to-text software on the market today. It easily earns its place on this list of the best dictation software.
What makes Dragon by Nuance so unique is that it's available in a variety of flavors, each custom-tailored to specific industries. There are general-purpose, legal, medical, and law enforcement variants, each prebuilt to understand the jargon associated with their respective industries. It's so widely used that when you learn how to become a virtual assistant, learning the Dragon platform is all but a prerequisite these days. Beginning with its base features, Dragon by Nuance allows for more customizations than you'll find in most other speech recognition apps.
For one thing, it supports user-specified voice shortcuts that can streamline dictation workflows significantly. And it offers predefined voice commands to enable hands-free document sharing using Google Drive, Dropbox, email, or a host of other options. You can even define simple phrases to replace lengthy, commonly used ones. So, you could input your home address and have the software prepopulate that text without speaking the whole thing every time. It even provides for transcription of audio files.
But Dragon by Nuance isn't perfect. While it's one of the most powerful solutions on this list, it doesn't come cheap. The most robust version could set you back as much as $500, so it's only a good fit when price isn't an object.
Pros
One of the most customizable solutions on the market
Has an established pedigree and lengthy industry history
Comes in industry-specific versions
Works on most operating systems and platforms
Supports user-defined commands and phrase shortcuts
Cons
Expensive, with the cheapest version starting at $150 a year and some desktop editions going for a $500 one-time payment
Poor language support, with only six major languages available
Price
The mobile version of Dragon by Nuance is available for $15 per month or an annual subscription for $150. The Windows version of Dragon Home costs $200 while the Dragon Professional and Dragon Legal versions are $500 each. All desktop versions include complimentary access to the mobile version.
Best for Light Cross-Platform Mobile Use
Google Docs Voice Typing has quite a bit in common with the next entry, Gboard for Android and iOS. That's because it is also made by Google and relies on the same AI technology under the hood. But unlike its higher-ranked cousin, Gboard is a stand-alone app solution that's not tied to the Google Docs platform.
It's really a keyboard replacement for mobile devices with speech recognition technology included. That means you can use it on your mobile device anywhere you can activate the on-screen keyboard. And performance-wise, it's just as accurate as its Google Docs analog. It's also free for users of Android and iOS devices.
Pros
Adds voice dictation capabilities to a variety of mobile apps
Understands spoken words as well as full-blown dictation apps
Learns user's voice over time
Works well in noisy environments
Free for Android and iOS users
Cons
Not as customizable as other options
Limited voice command capabilities
Not available on Windows and other desktop operating systems
Price
Free
Best for Live Meeting Transcription

Unlike the previous entries on this list, Otter.ai isn't strictly a speech recognition tool that's geared toward general use. It's more of a live transcription tool built to create real-time text readouts of meetings and online collaboration sessions. It even integrates with Zoom, everyone's new digital meeting tool of choice.
But what makes Otter.ai stand out is its best-in-class ambient voice intelligence technology. That's a voice-recognition-specific concept that means that the engine behind Otter.ai is always in learning mode. The more you and your team use it, the more it will come to recognize your voices, and the smarter it will become.
And despite being one of the more powerful speech recognition options covered here, it's not terribly expensive. There's a free usage tier that comes with 600 minutes of transcription in 40-minute chunks each month. And the premium plan raises those limits for a nominal fee.
Pros
Works well with Zoom and other digital meeting tools
Learns frequently heard voices automatically without specific training
Easily handles multiple people talking within a single session
Offers a generous monthly dictation limit on its free tier
Cons
Built for a specific use case rather than general-purpose dictation
Advanced features locked behind business-tier pricing
Price
Otter.ai has a free use tier that includes 600 minutes of transcription in 40-minute increments. The Pro tier is $12.99 a month, unlocking higher use limits and partial compatibility with Zoom, Microsoft Teams, and Google Meet. The business tier costs $30 a month per user and unlocks advanced features and priority support.
Best for PC Voice Control and Light Dictation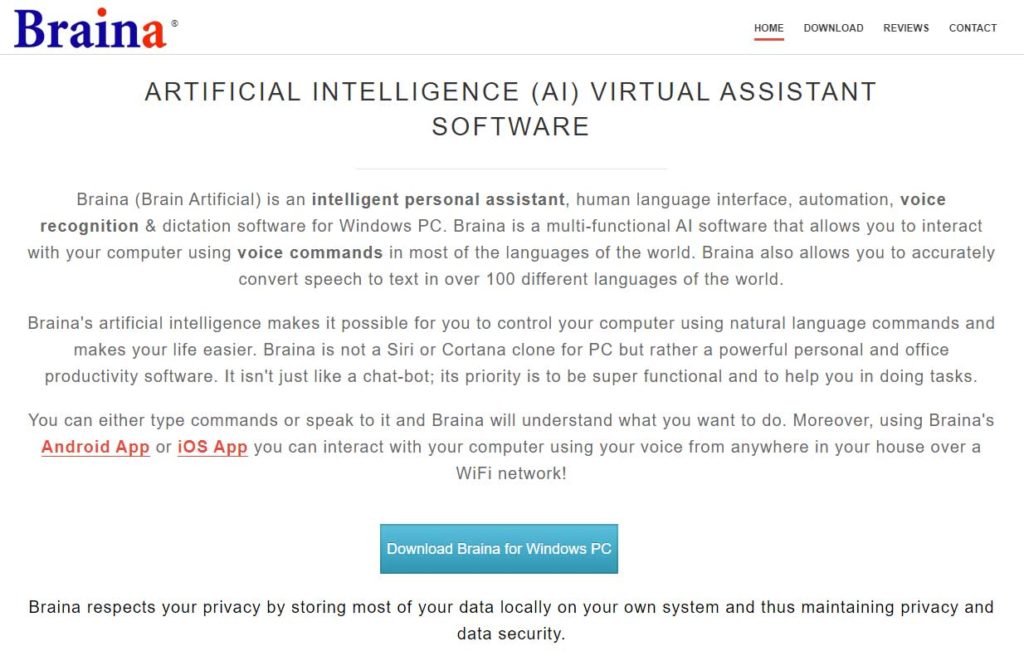 One of the things that many of the preceding options on this list have in common is that they rely on cloud-based processing to make their speech recognition functions work. That means users must trust their data to whoever controls those cloud services. But for those who fear their data falling into the wrong hands, there's Braina.
Braina stores the majority of user data locally on the user's device, thereby addressing the most common privacy concerns. But that privacy comes at a slight cost. For one thing, the free version of the software doesn't include access to the software's most useful features, like use-anywhere dictation, custom voice commands, or the system's novel artificial brain function, which acts as a memory extension for users by remembering information that you tell it.
Pros
Possibly the most accurate speech recognition platform available today, with a reported accuracy rate of 99%
Combines voice dictation functionality with full-fledged device control and automation features
Pro version understands up to 90 languages
Respects user privacy with local data storage
Cons
Free version is feature-limited
Software design appears outdated
Only supports Microsoft Windows, with limited companion apps on Android and iOS
Price
Braina Lite is free while a one-year subscription to Braina Pro costs $79 and a lifetime license costs $199.
Best for Windows-Only Users
The last entry on this list is the built-in Speech app that's included with Microsoft's Windows 11. Because it's built into the operating system, it's integrated into just about everything you can do on a Windows computer. And with Windows 11 now claiming a robust 20% of Microsoft's global desktop footprint, that makes Speech one of the most widely available free dictation software options in the world today.
Under the hood, Speech uses the same voice recognition technology as Windows' voice assistant, Cortana. Without training, it's reported to be about 93% accurate for most users. Microsoft claims it can reach 99% accuracy if you go through the predefined training routine. That is great performance for a free product and is among the highest on this list of the best software for dictation. If you already have a Windows 11 PC, it's well worth trying out.
Pros
Offers excellent speech recognition accuracy with training
Works with virtually all Windows-native apps
Comes built into Windows 11
Cons
No cross-platform support
Supports only seven languages
Price
Free
How to Choose the Best Dictation Software for You
Choosing the best software for you comes down to three simple factors. The first is functionality. If you need dictation software that can handle specific tasks, like the live transcription of meetings or understanding industry-related jargon, your decision must begin with finding the software with the features you require.
The second thing to consider is the platform or platforms you need to use the software on. If you're planning on using a mix of mobile devices and desktops to do dictation, that will limit your options. But if you're willing to confine your use to a single platform, you'll have a wider array of software to choose from.
And last but not least is the price. At the end of the day, the best software for dictation will be the product you can afford. It won't help you choose something that doesn't fit your budget. So, if you can find an option that satisfies all three considerations covered here, you've arrived at an answer.
Getting the Most Out of Your Speech-to-Text Software
In most cases, if you choose a speech-to-text software that closely aligns with your needs, you won't have to do much to get the most out of it. But a couple of quick things can help. The first is to complete any training exercises your software suggests. They will improve the software's accuracy and lead to a better user experience. And the second thing is to take advantage of any customization options your software offers, so you can mold its operations to suit your workflow and usage patterns.
Dictation Software FAQs
What is dictation software?
Dictation software uses speech recognition technology to translate spoken words into text. It's an alternative to typing that can allow for faster document creation and data entry. It's also related to transcription software, which can convert the contents of meetings and prerecorded audio and video clips to text.
What is the best free dictation software?
The best free dictation software is Google Docs Voice Typing. It's a cross-platform, free solution that boasts high speech recognition accuracy. It may be used on almost any internet-connected device with a modern web browser and a microphone.
Do you need transcription or dictation software?
Dictation software is useful for single users who wish to speak to their device and have it translated into text on the fly. Transcription software, by comparison, is best suited for multiuser events like meetings and prerecorded audio or video to create text readouts of everything that was said. No matter what your unique use case is, there are multiple customizable solutions worth trying.