In recent years, much of society has developed an always-online, always-connected lifestyle. Despite this virtual connectedness, by many measures, people are more isolated and lonelier than ever. This widespread problem has created a massive opportunity for those in search of side hustle ideas.
With new chat apps, almost anyone can get paid to talk to lonely people — and make great money doing it. A virtual chat job is one of the best ways to make money online, and it only requires time and good communication skills. If you're a people person and want to get paid to talk, read on for 26 companies that will pay you to chat with lonely people online.
How Much Money Can You Make Talking With Lonely People?
Much like any other kind of freelance work, there's no predetermined limit to how much money you can make providing virtual companionship. Depending on the chat app you're using to sell your services, you may earn a set hourly rate or agree to a flat rate for specific blocks of your time.
In addition, some chat platforms take a percentage of your earnings as a service fee. And of course, the more time you're willing to spend chatting, the more money you can potentially earn.
That said, many people who get paid to chat with lonely people report earning between $15 and $30 per hour. So, if you chat for four hours per day, you could easily make over $100 per day or more. Over time you may even find clients who are willing to pay you premium rates for your services.
Why Would Someone Pay You to Chat With Them?
There are a variety of reasons why people pay for chat sessions. For example, some introverts struggle to talk with people face to face but feel emboldened in establishing relationships over the phone. Others might have interests or personal issues they're unwilling to share with the people in their lives. In these cases, the sympathetic ear of a friendly stranger can serve as a sort of therapy.
Then, of course, there are those seeking the adult element of a chat room. They may crave the no-strings-attached nature of paid chat and prefer it over traditional relationships. Whatever the reasons people have for using paid chat services, as a provider, you can rest assured knowing that your services are in constant demand.
How to Get Paid to Talk to Lonely People
There are more ways to get paid to talk to lonely people than you might think. To get started, all you need is a computer, an internet connection, and a willingness to spend time online.
Here are 26 of the best platforms to make money chatting with lonely people, organized by category:
General Chat Services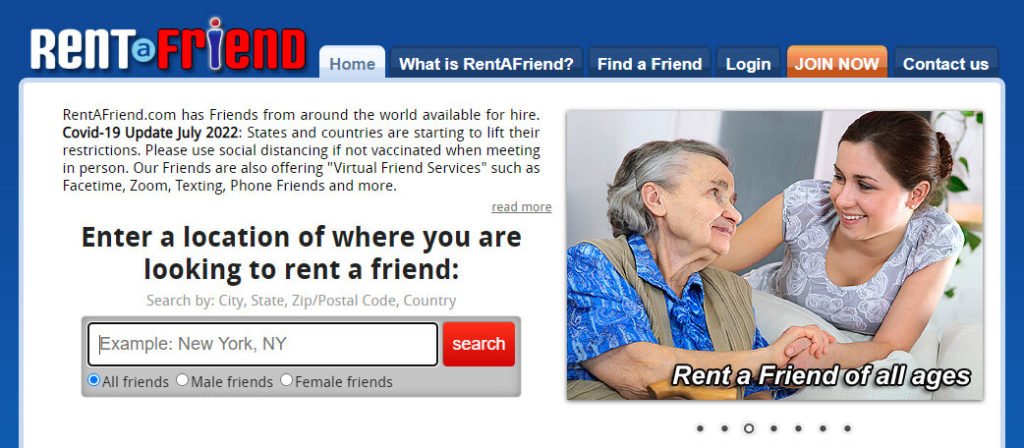 RentAFriend is one of the most comprehensive websites for lonely people looking for companionship. They offer in-person services, phone-based services, and online chat for lonely people. If you join the site to make extra cash, you can set your own rate and schedule, and choose which services you're willing to provide.
Most of the friends on the site charge around $10 per hour, but you can start wherever you would like or even negotiate directly with clients on a case-by-case basis.
Rent A Local Friend is a service that allows you to offer your knowledge, companionship, and expertise to people from around the world. It's a directory that connects travelers with locals who will meet up to show them around, give them insight into local customs, and help them enjoy their travels to the fullest.
The site primarily arranges in-person services but also offers a virtual friend option that's limited to online communication via chat rooms and video calls. Providers are free to set their own rates and negotiate with potential clients, but the company takes a 30% cut of all payments processed through the platform.
Rent a Cyber Friend is a service that provides exactly what its name suggests — cyber friends. When you sign up as a friend, you'll be able to market yourself as a virtual friend to users of the site. But joining the platform requires a paid membership. You'll have to pay a membership fee of $29.99 per month, $49.99 every three months, $79.99 every six months, or $99.99 per year.
After signing up, you can set whatever rate you wish and establish your own hours. Friends on the site are available for as little as 10 cents per minute, but your side hustle mileage may vary.

FriendPC is a site that connects lonely people from around the world with virtual friends to engage with via text, phone, or video chat. Providers on the site get to choose their own rates, with a maximum of $200 per client. Best of all, you can register as a friend on the site for free, with a few restrictions. Free users pay a 30% commission on their earnings and have to relist themselves in the directory every 30 days. As an alternative, you can join as a professional friend or a best friend, for $10 for two months or $25 for three months, respectively. Professional friends pay just a 10% commission on earnings while best friends pay no commission.
Phrendly is a service that connects you with lonely people around the world looking for others to correspond with via text messaging. While it's a site aimed at adults, it doesn't allow any explicit content at all. So, true to its name, Phrendly is a place for you to make money as a virtual friend to people of all kinds. When you join, users of the site may tip you $10 in exchange for eight minutes of your time, or you can earn 35 cents per text chat as long as you reply to all texts within 24 hours.
The CashChat app is something of a hybrid between a social network and a service that lets you get paid for talking to lonely people. By that, we mean that there are very few restrictions on how you use the app. You could, for example, use it just for the fun of meeting new people. Or, you could charge for your time as you see fit. You can even add adult flair to your offerings if you wish. Theoretically, your earnings on this app depend only on your imagination and ability to attract clientele — so it's the perfect side hustle for creative types.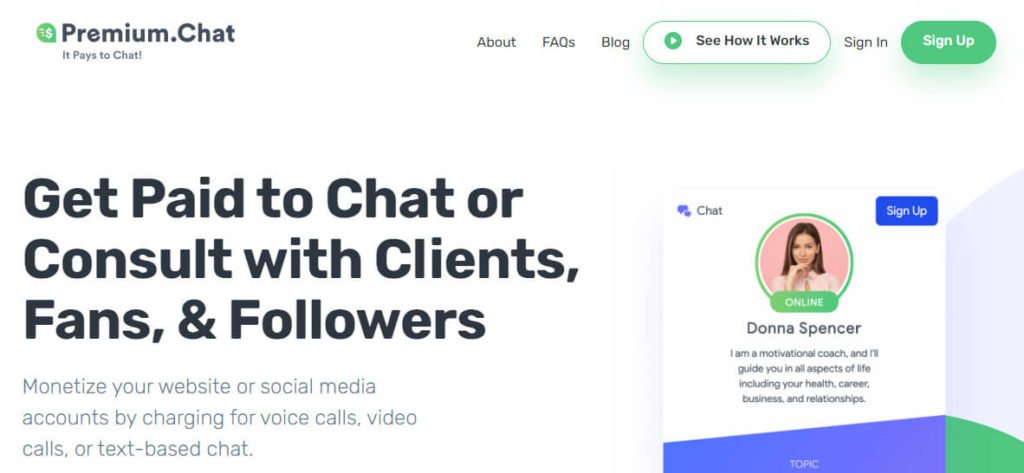 Unlike the previous entries on this list, Premium.Chat isn't exactly a place where you get paid to talk to lonely people. As its name implies, it's aimed at a higher-end market. It's a place for influencers, consultants, and experts to connect with fans or clients for a fee. When you sign up, you get the option of setting a per-minute rate or a flat fee for predetermined text, voice, or video chat lengths. The only limit on what you can earn is determined by your ability to draw in clientele.
For most people, the ultimate side hustle is a hobby that lets you earn money on autopilot. That's McMoney in a nutshell. It's an app that you can install on your Android smartphone that will pay you to receive test text messages from time to time. They do it to test international cell phone network interoperability. You won't earn much for it — about $5 per month — but it's free money since you don't have to do anything to earn it.
Customer Service Chat Operators
Believe it or not, some of the best opportunities to earn money for chatting have nothing to do with providing companionship to lonely people. You can also earn money by serving as a live chat operator for some of the world's best-known brands. That's LiveWorld's specialty. If you take on a job at LiveWorld, you'll be paid an hourly wage and have flexible scheduling to fit the work into your day. In other words, it's a ready-made side hustle!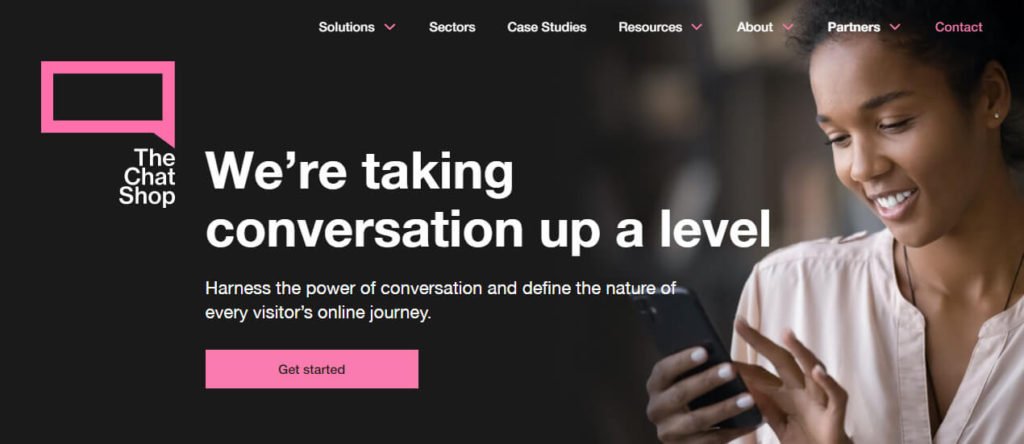 The Chat Shop is another company that provides live chat operators for businesses of all types. Almost all of the jobs available through the platform involve customer service roles, for which you'll be paid around $10 per hour. But it's only available to residents of the United States and the United Kingdom, so it's not an option for everyone.
The third option for those looking for a paid gig as a customer service chat operator is Site Staff Chat. They're a well-established company, having been in business since 2011 and they have a customer base that extends around the world. The only catch is that you must be a college-educated American to work for them. But if you meet those qualifications, Site Staff Chat offers a great opportunity to get paid for chatting.
Adult-Oriented Chat Services
Flirtbucks is a site that offers women a place to flirt with lonely men via text or video chat. As you might imagine, this is a site that offers some of the highest earnings potential on our list. Members of the site can set their own schedules and get paid 10 cents per minute for text chat or 40 cents per minute for video chat. And, there's nothing untoward about the service. There's no nudity involved, and you don't have to do anything you're not comfortable with — just be yourself!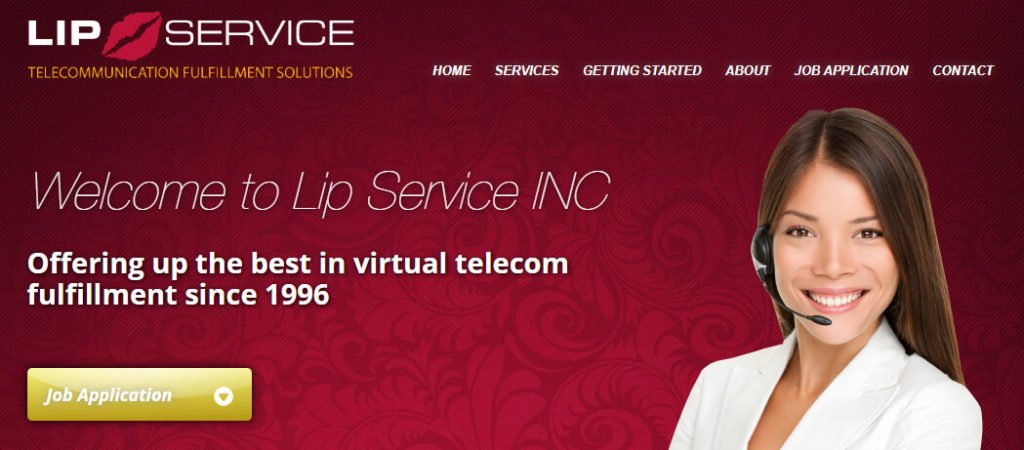 Lip Service is another great site that allows women to get paid to talk to lonely men. But that's not all. They also offer customer care phone operators for some of the biggest companies in the country. All you need is a landline or a high-quality cell phone with a headset. Most people working through the site earn between $17 and $18 per hour. So, while you won't get rich working for Lip Service, it's a more than respectable side hustle opportunity.
Chat Operator Jobs is another potentially lucrative side hustle opportunity that offers you the chance to get paid to talk to people online. In this case, you get to answer text queries — of multiple types, adult and otherwise — with a minimum requirement of 75 messages answered every three weeks. Some users of the site report earning $500 or more each week. But as is the case with the other options here, your earnings will depend on how much time you're willing to put in.
As we mentioned earlier, chat sites that cater to lonely men offer some of the highest earning potential of any online chat service. Chat Recruit is an excellent example of that. It's an adult-oriented platform that offers lonely men the chance to connect with women via text message, chat rooms, phone calls, or video chat. On average, you can earn up to $2 per minute by chatting on Chat Recruit and even more if you choose to offer phone and video options.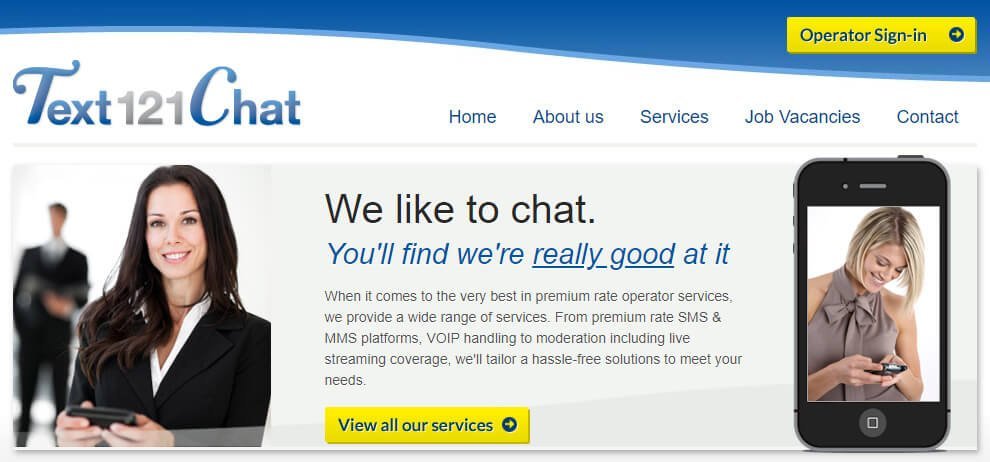 Text121Chat is an adult-oriented site that offers text and phone services. If you don't mind handling some racy conversation, all you need is a high-speed internet connection to get started. That being said, text messaging on the platform isn't very lucrative. You'll only earn between $75 and $100 for every 2,000 text messages you send. But if you're willing to buy a headset and take phone calls, you can earn much, much more.
17. Rent A Date
As the name makes clear, Rent A Date is a service that arranges companions for lonely people. You can earn money by accompanying people to social events, clubs, or a variety of other in-person occasions and you'll be paid handsomely for it. Rates on the platform average around $165 per hour, and there's a two-hour minimum for every transaction. Not bad earnings for a night on the town!
TexKings is another adult-oriented chat service where you can earn good money chatting with lonely guys around the world. You can choose to work as a text chat operator or phone service operator, where you'll earn between $15 and $24 an hour. You can even earn performance-based bonuses if you excel at the job.

If you've never heard of them, sugar babies are women who cater to lonely men in exchange for money and gifts. FundmySugarbaby is a platform that facilitates those arrangements. If you join it as a sugar baby, you control the services you offer. That means you can sell chat services, text messaging services, video chat — virtually anything you wish — on the platform. To join, you'll have to pay a one-time membership fee ranging from $19.99 to $49.99. But from then on, your earning potential is all up to you.
A chat platform that's available to women only is MyGirlFund. It's a site where you can sell your time to lonely guys, by chatting with them, offering custom photos and videos, or even live video shows. Users on the platform report earning between $25 to $50 per hour doing phone calls or videos. But there's no limit to how much you can earn there as long as you find clients willing to pay for your time and attention.
Social Service-Oriented Chat Opportunities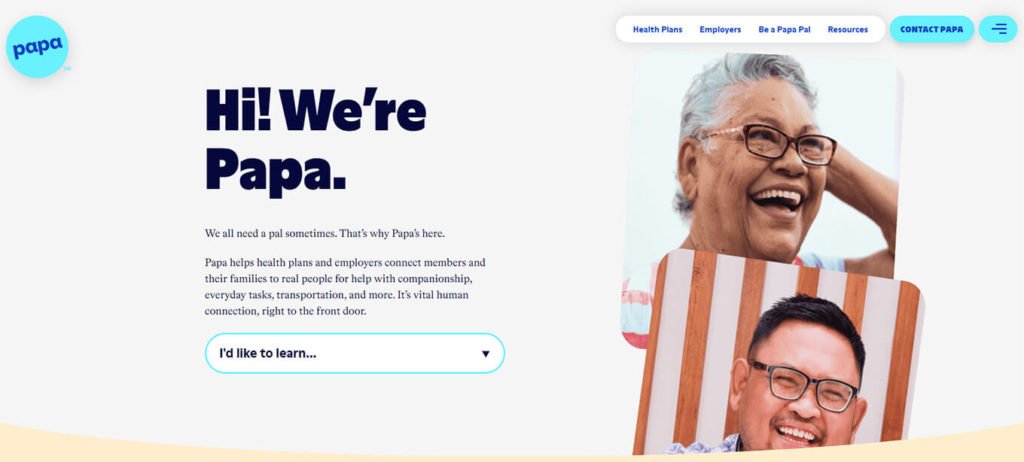 Some of the best opportunities to get paid to talk to lonely people stem from worthwhile social work. A perfect example of that is Papa. It's a site that helps arrange companionship for seniors as well as a variety of other in-person services like shopping assistance, household help, and even transportation. Papa's a great way to make extra money while doing good for people who need your help.
Not everyone seeking an online companion is lonely. Sometimes people crave an anonymous platform to ask questions and discuss their life or have any number of other ordinary interactions. That's where Texting Factory comes in. It's a text-only platform where you get paid to text chat with people about anything under the sun. Platform users earn an average of $300 to $400 per week, and you can even earn bonuses for working during busy times on the platform.
Sometimes people go looking to chat online because they just need someone to listen to them and provide some friendly advice. You can earn decent money by doing just that on LiveAdvice. Once you join, you can set your own schedule, rates, and contact methods. You can offer services including phone calls, chat, and email correspondence. Then, simply offer your sage advice and collect your earnings.
Freelance Chat Operator Opportunities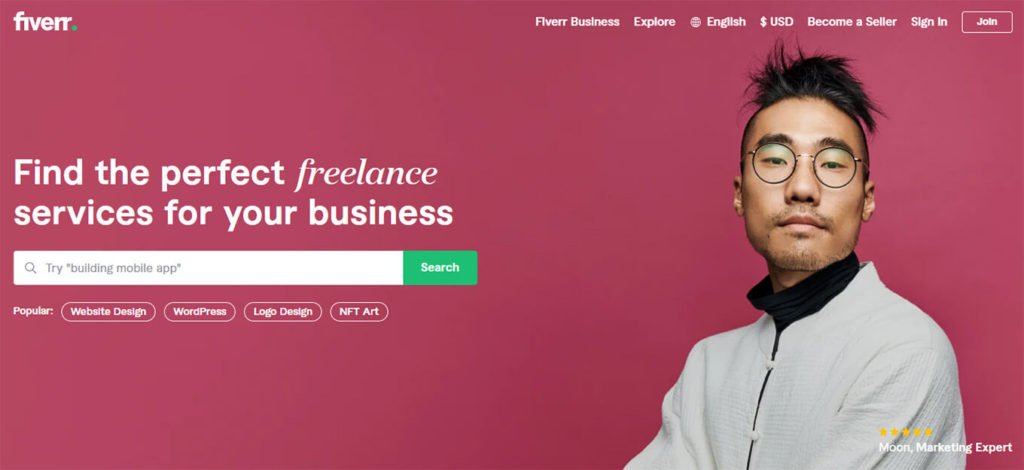 Another way you can get paid to talk to lonely people is to set yourself up as a freelance chat provider on a site like Fiverr. Fiverr is a freelance marketplace where people offer to perform work of all kinds for individuals and small businesses around the world. You can offer whatever you wish, be it access to private chat rooms, phone conversations, or video calls, and set your own schedule and rates. Then, all you need to do is market yourself, and you're off and running!
Like Fiverr, Freelancer is a website that caters to independent workers. It's another place where you can list your services as a chat host for lonely people. Again, you can define your offerings to suit the amount of time and energy you're willing to devote to them and charge whatever you feel your services are worth. And as long as you find clients willing to pay, you'll have an instant side hustle.
Last but not least, you can now get paid to talk to lonely people in cryptocurrency, too. One of the best ways to do this is to use Steemit. It's not strictly a chat site but rather a community of cryptocurrency users who use the platform to talk, barter, and exchange goods. You can use it to advertise yourself as a chat operator by posting about your offerings and rates. From there, you'll earn your cryptocurrency of choice, and you can convert it to your preferred fiat currency if you want.
How to Get Started as an Online Chat Operator
It's simple to get started as an online chat operator. All you have to do is decide what sort of service you'd like to provide and choose the platform with the appropriate clientele and earnings potential. Then, simply sign up for the platform, wait for approval, and begin marketing your availability. Before long, you'll have a steady stream of side hustle earnings coming in.
How to Stay Safe as an Online Friend
Staying safe while working as an online friend is all about managing risk. First, you should never offer a service that you're not comfortable providing. And second, you should never give out any personally identifying information that could allow a client to find you outside of your chosen platform. You should always strive to keep your interactions as professional as possible and make it clear to every client that you're a service provider and nothing more.
Frequently Asked Questions
Can you earn money just by talking to someone?
Plenty of people will pay good money for the chance to talk to someone, and for more reasons than you'd think. Some people just want a friend who will lend them an ear and listen to their problems. Some are lonely guys who crave companionship. And others are homebound individuals who yearn to maintain an active social connection to the world. No matter the reason, there are many needs that your companionship can fill. This makes talking to people online a great way to earn money on your schedule.
How much can you get paid to talk to lonely people?
There's no limit to what you can get paid for talking to lonely people. Depending on the specific services you provide, your earnings can range from hundreds to thousands of dollars every month. Where you end up on the earnings spectrum is completely up to you. You could earn as little as $6 per hour and up to at least $165 per hour according to the published rates of the sites we covered.
What do I need to land a chat operator job?
In general, all you need to land a chat operator job is to be 18 or over, with an internet-connected device and a good grasp of English or your native language. In some cases, you might also need a phone line or a webcam, depending on the type of service you choose to offer.
Can I make money online by chatting part-time?
Yes, you can make money by chatting online part-time. In fact, when you start your side hustle, you can work as much or as little as you wish. Most online chat jobs don't have set hours, so you can shape your schedule to fit into your free time and meet your financial needs.
Is FlirtBucks legit?
FlirtBucks has existed since 2009 and has a decent online reputation. They're known for offering fair rates and paying platform users on time. The only common complaint many users have is that their customer service can be a bit slow at times, but they're otherwise a completely legit work-from-home opportunity.